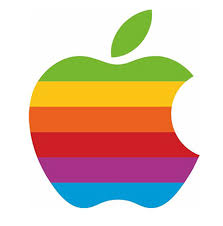 Last week, Apple announced earnings, crossed the $400 mark for the first time which was powered by China iPhone sales between March and June soaring 225% from four million to 13 million, a 62% increase year over year. And by the end of the today, day Apple became the world's most valuable company with its market value overtaking Saudi Aramco. But that wasn't the highlight of the earnings announcement, it was Apple announcing a 4 for 1 stock split. On August 31, trading will begin on a split-adjusted basis, so say if Apple drops to $400 on August 31, each stock will start trading at $100.
Instead of using my instincts to get long, I watch my credit spread take a "L" and ended the day with a $400 lost.
According to a JPMorgan strategists, a stock market correction could occur in the next few weeks with the catalyst being
payrolls numbers on Friday and/or retail sales numbers on Aug. 14 could. Michael Wilson of Morgan Stanley agrees, but thinks the correction will occur in a couple of months due to a resurgence in COVID-19 cases, and uncertainty surrounding the US presidential election.
And JPMorgan's and Morgan Stanley's appears to be endorsed by President Trump as he suggested the rebound in the overall market is in jeopardy if former Vice President Joe Biden wins the November presidential election.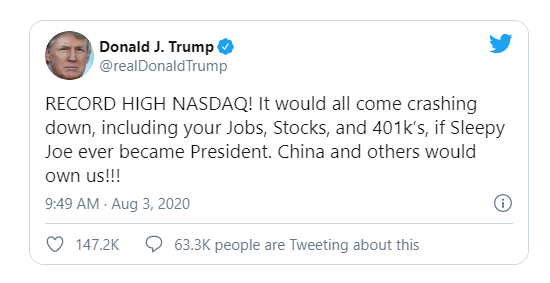 In our call of the day, Deutsche Bank global chief strategist Binky Chadha said in a close election U.S. stocks typically rally after the result, regardless of the winner.

In the 10 postwar "close elections," which include all of the last five — defined as elections where the polls were consistently tight or fluctuating widely, making the result unpredictable — the result has been followed by an average 5% rally to year-end, the bank's strategists said.

"While predictable elections were nonevents, close elections historically have seen equities begin to go sideways starting in July; then rally strongly after on a clear win, independent of who won," Bandha said in a note.

The pattern reflects the "classic buildup of an uncertainty risk premium" as opposed to a reflection on which candidate is better for equity market prospects, he added.
Source
Apple's upcoming stock split will be its fifth. Apple had splits of 2 for 1 in 1987, 2000, and 2005. Then it split its stock 7 for 1 in 2014. And later this month we will see a 4 for 1 split. Now in just three trading days, Apple has added the equivalent in Market Cap to that of Netflix. The stock is way overextended and due for a pullback or at least consolidate for a bit.
So against my better judgement I got long Apple today via options because I wanted to get in before the split. I bought 1 options at the $500 strike price that expires in January.

Some say the split won't be as effective because the money to Smart Money is no object and they will buy what they like regardless of price. Also more and more brokers are offering fractional shares. So I'm playing the psychological game and my instincts told me something about $100 Apple stock will see additional pent up buying demand.
Will I be right, not sure, but apparent it was worth a $2k speculation trade.
This post is my personal opinion. I'm not a financial advisor, this isn't financial advise. Do your own research before making investment decisions.

Posted Using LeoFinance