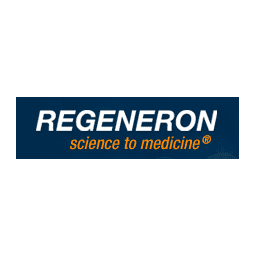 President Donald Trump on Monday said the government's top pandemic fighter, Dr. Anthony Fauci, is a "disaster"and possibly an "idiot" as he claimed that Americans are "tired of" Covid-19, even as the number of coronavirus cases continued spiking in much of the United States.
Dr. Fauci has advised six Presidents on HIV/AIDS and many other domestic and global health issues and was on the White House Coronavirus Task Force. He recently spoke at conference saying where there are over 33 million cases and over 1 million deaths due to COVID-19 and the world has not seen something like this since the pandemic of 1918.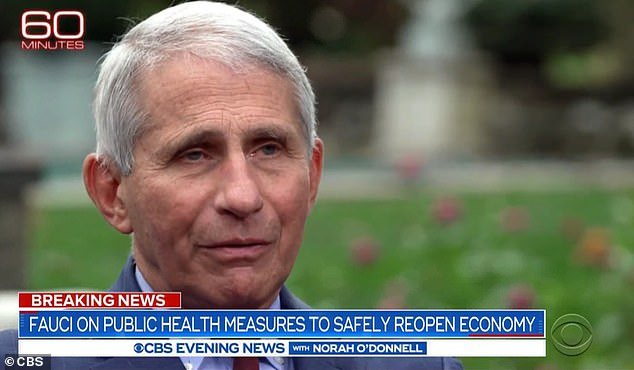 Dr. Fauci is also from Brooklyn, NY and had some words of his own for Trump. He was recently on 60 Minutes and he was "absolutely not" surprised to hear of President Donald Trump's recent diagnosis with the novel coronavirus (COVID-19).
Earlier this month, Trump was admitted to the Walter Reed Medical Center this month after developing COVID-19 and administered an experimental antibody treatment made by Regeneron Pharmaceuticals.
Regeneron Pharmaceuticals, Inc., a biopharmaceutical company, discovers, invents, develops, manufactures, and commercializes medicines for treating various medical conditions worldwide. President Donald Trump applauded Regeneron's antibody cocktail as a "cure" for COVID-19 upon returning to the White House the following week.
Two executives at Regeneron sold $1million in stocks just two after President Donald Trump announced that he had been taking their drug to help recover from COVID-19, according to recent filings from the Securities and Exchange Commission (SEC).

Over the weekend, both the White House and Trump sang praise of

Regeneron's experimental antibody cocktail that has not been approved by the Food and Drug Administration nor has it passed trials.

'They gave me Regeneron,' Trump said in a video he posted to Twitter on October 3 about his treatment at Walter Reed National Military Medical Center. 'It was like, unbelievable. I felt good immediately. I felt as good three days ago as I do now.'
Source
That Monday, when markets opened, Regeneron stock prices surged from $564 to over $600 a share. That was the same day, Joseph Goldstein, a company board director and Marion McCourt, a SVP and Head of Commercial, exercised stock options totaling 10,200 shares for a net profit of over $1 million. Year-to-date, over $100 million more in stock has been sold compared to 2019, while the stock is up over 50% year-to-date as well. The chart suggests to buy Regeneron on a pull back to the monthly demand at $450.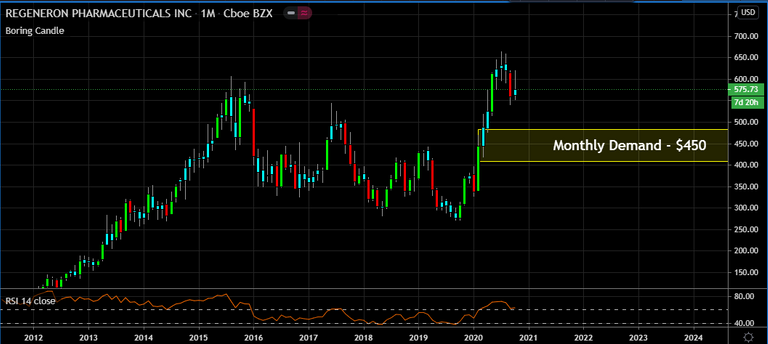 LeoFinance is a blockchain-based social media community for Crypto & Finance content creators. Our tokenized app allows users and creators to engage and share content on the blockchain while earning cryptocurrency rewards.
Follow @leofinance for official updates
---
Posted Using LeoFinance Beta