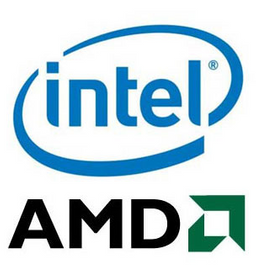 2020 was suppose to be a Turnaround Year for Intel. However, things start to fall apart about one month ago. During Apple's annual Worldwide Developers Conference yesterday, Tim Cook announced that the company was cutting ties with long-time supplier Intel and moving the design of chips for its new line of Mac computers in-house. Tim called the move a "game-changer" because now Apple can seamlessly integrate their hardware and software into all their devices on their terms.
But the bigger concern was AMD continuing to eat Intel's portion of the pie. In November, AMD had 20% of the market vs. 16% in April of 2018. And in late April, AMD said it stole more market share from Intel for the 10th consecutive quarter and had more than 50% share of high-end CPU sales globally. And if things couldn't get any worse for Intel, it did two weeks ago when they announced their quarterly earnings. During the announcement, Intel its next generation of semiconductor technology would be delayed.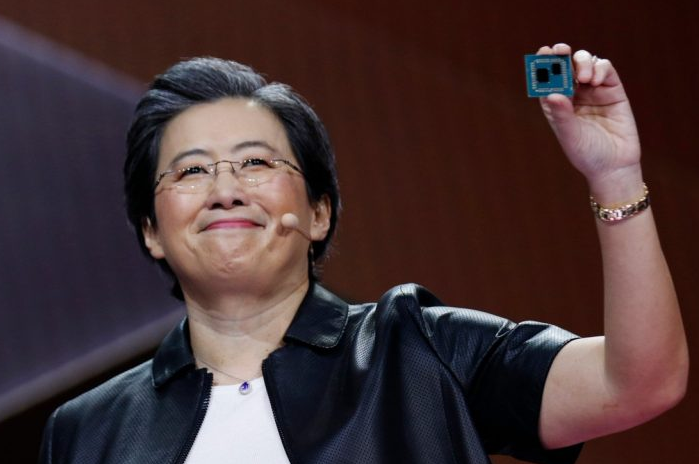 I believe is was the single worst day in Intel's history as the stock price fell like a rocket. Meanwhile, AMD's stock price shot up like a rocket. And when it was time for AMD to announce their earnings, the stock went another leg higher, who already has 7nm chip technology on the market by way of Taiwan Semiconductor.
But Intel wasn't the only ones to get hurt by all the news. So were all the AMD short sellers. According to S3 Partners analyst Ihor Dusaniwsky, AMD short sellers have taken it to the chin with $495 million in losses. When you trade, one usually thinks of profits and losses, but Mark Cuban articulated the domino effect between, AMD, Intel and Taiwan and bigger picture that many, including myself are missing.
Billionaire entrepreneur Mark Cuban said on Sunday that Intel's problems could have much larger implications for the U.S. military.

"If Intel outsources manufacturing, the lack of domestic chip mfg could be the greatest threat to our technological and military future," he wrote.

"We can not control our own destiny if we don't build here...If we want to protect our future, we need to make investments in manufacturing of chips and all advanced technologies a national priority or we will find ourselves on the outside looking in, wondering why we are no longer a global economic and military super power," Cuban said.
Source
From an investment stand point, I think there is still some downside risk in Intel,but it's slowly approaching levels where the Smart Money will start buying the stock.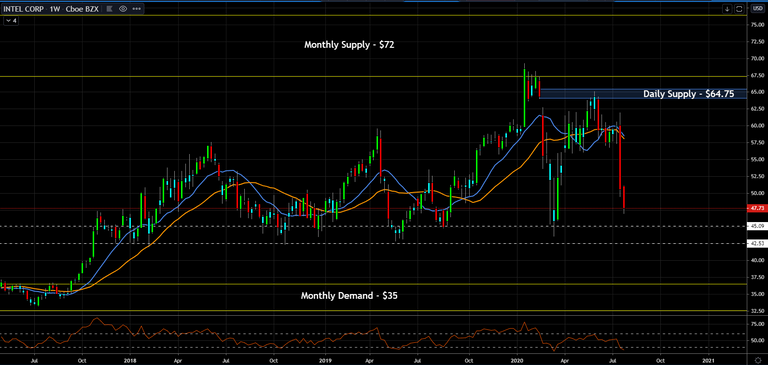 But why take on that extra risk of your hard earn money not working for you by buying Intel only for it to just consolidate and / or potentially take another leg down. I like AMD on a pull back to the $68 level, in anticipation of AMD now taking a bigger chuck of Intel's pie in the future.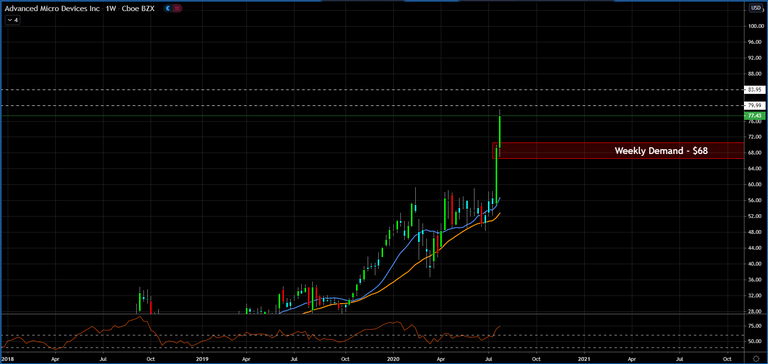 This post is my personal opinion. I'm not a financial advisor, this isn't financial advise. Do your own research before making investment decisions.

Posted Using LeoFinance