A 21st-century type coin set consists of one coin bearing each design produced by the United States Mint during the 21st century. That is an enormous number of coins (commemoratives, state quarters, ATB quarters, Sacagawea dollars, etc) in both circulated/uncirculated and proof finishes. We must not forget the material of the coins like clad, silver, gold, copper, platinum, etc.
The NGC type coin registry takes the one type coin for the series approach. Therefore that is only one State Quarter, one America the Beautiful Quarter, one Sacagawea Dollar and one Presidential Dollar required. They only consider coins that were meant for circulation, so no commemoratives and no gold or platinum coins.
I decided to collect a NGC-like 21st century type coin set but, looking always for perfection, my collection is made only by PF70 coins.
Let's show it, in order of value and year of each coin.
The twenty-third is a PF70 UC 2000-S "Sacagawea" Dollar.
The composition of the coin consists of a core of pure copper with an outer layer of manganese brass consisting of 77% copper, 12% zinc, 7% manganese and 4% nickel. It has a diameter of 26.5 mm and weight of 8.1 grams.
The info below comes from https://sacagaweadollarguide.com/
"The Sacagawea Dollar was introduced in 2000 as the new circulating dollar coin of the United States of America. When the public failed to embrace the coins, they were only struck in limited numbers for numismatic purposes."
NGC graded 15,600 2000-S "Sacagawea" Dollar Proofs, with 2,695 as PF70 UC. 4,047,904 "Sacagawea" Dollar Proofs coins were minted in San Francisco in 2000.
I bought this coin in 2013 for $29.12 and today's price is around $55.00.
"Glenna Goodacre created the obverse design for the Sacagawea Dollar. It features a portrait of Sacagawea, the Shoshone woman who accompanied Lewis and Clark on their expedition from 1804 to 1806. She carries her newborn son, Jean Baptiste Charbonneau, on her back. Since no contemporary image of Sacagawea exists, Goodacre used a 22 year old Shoshone woman named Randy'L He-Dow Teton as a model for the coin."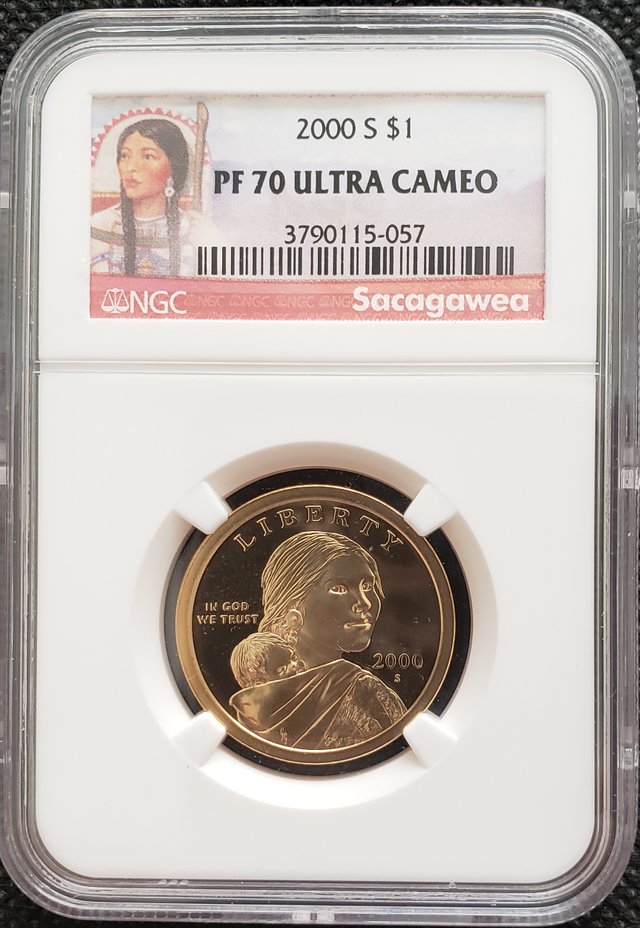 The reverse of the coin portrays an eagle in flight designed by Thomas D. Rogers Sr. There are 17 stars around the eagle, representing each state in the Union at the time of the Lewis and Clark expedition.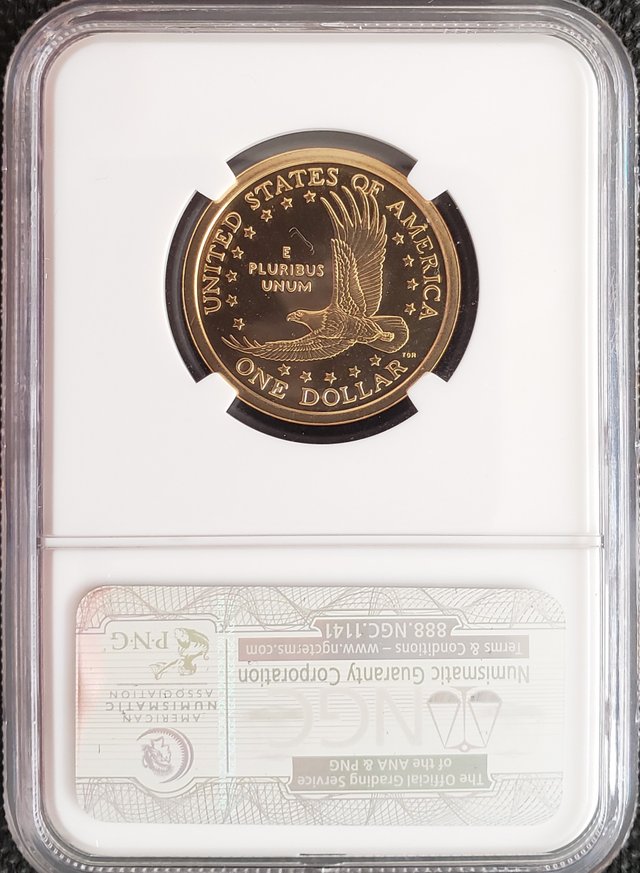 Thank you for reading. Please comment, upvote, resteem and advise me.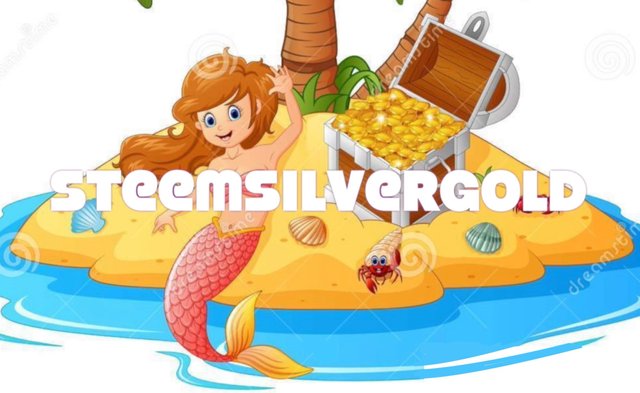 ---
Posted via Steemleo