Hi everyone!
Are you curious about the results of my previous experiment? Well, I let it run for two hours, to get more meaningful results. The goodness of luck was on my side, and the results are positive on both casinos.
Interesting is that I was completely wrong with my expectation.
I believed that the results from LuckyFish to be much better, as they have lower margins from themselves. Yet I discovered that the speed of BetFury was better, and more runs went in this two hours. Profit accumulates, and therefore BetFury is on the first place...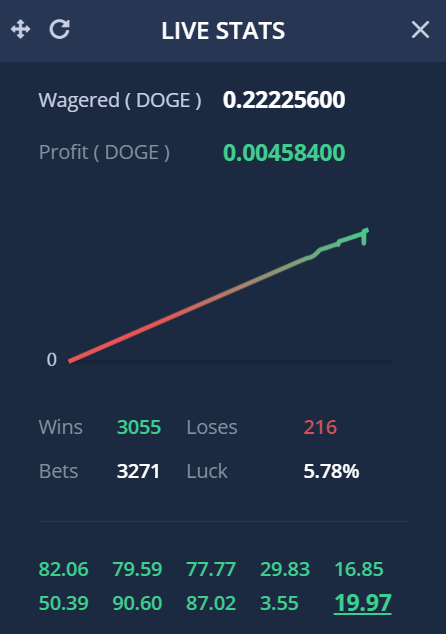 Results after two hours:
BetFury: 0.16781443 (+4.88%)
LuckyFish: 0.16535712 (+3.34%)
Pros and Cons:
BetFury servers were faster, and therefore they gave a better result. In addition, they have their own token (BFG), which is mined every time you make a bet, and these tokes are used at the end of the day to distribute parts of the profit from the casino. This was you can also get your share of profits.
LuckyFish on the other hand offer the services with a lower margin, and they have a better user interface. You get real time statistics, more options for running the games in automatic mode, the possibility to save the configuration for the automatic mode, and reuse it in the future. The speed of the server was lower during my experiment, but they have a VIP mode (for customers with a total wager above 1 BTC) which gives a faster automatic mode. Also, it might be a temporary thing, so I would not rely so much on the observed speed.
Overall I'm positively impressed by both solutions, and will most probably continue to use in parallel.
And remember, if you would like to try it by your own, please use my referral links:
BetFury - referrals benefits: lifetime reward up to 15%
LuckyFish - referrals benefits: multi level system, starting from 25% commission.
Warning: Many countries restrict or ban online gambling. Please obey your local laws!
Posted Using LeoFinance Beta