Hi everyone,
We all remember the post of @theycallmedan challenging us to set personal goals for 2021, and many of us did it. Yet, my experience with New Year resolutions is that they get forgotten in the first weeks of January, and they are worthless if they don't get translated into smaller pieces, with closer deadlines.
As I take very serious the plans I made for 2021, I have already a first follow-up: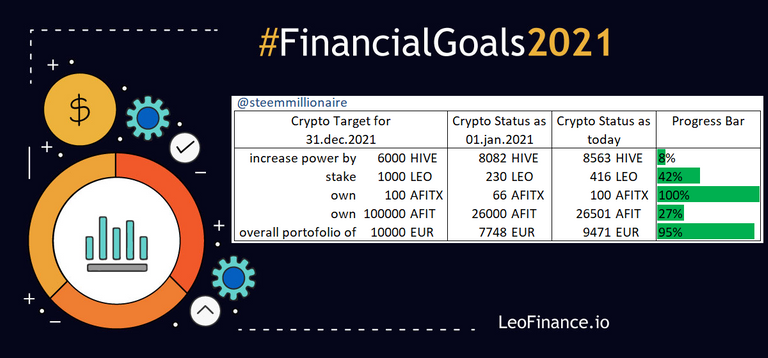 One thing I like to do with targets is to move very fast with one of them, even if this requires extra efforts. It's always better to complete a target sooner than later, but more important, it gives you a reason to celebrate in the very first days of the year. This creates a positive vibe, and keeps you motivated.
For this reason I focused on getting all the needed AFITX. and in the very first day of the year, I've spent 151.98 HIVE, and completed my first target. Getting more active is one of my main goals for this new year, and this was how I wanted to motivate myself.
The second topic on focus was my LEO stake. I started the year with a power of 230 LEO, and now I'm already at 416 LEO. My main target for January is to become a Lion, which according to this post from @taskmaster4450le would be a little over 615 LEO. This will make me more visible on this great platform, and will motivate me to better interact with you.
How about you?
Are you already working on your targets?
Posted Using LeoFinance Beta