Hi Lions,
i hope you are fine and today and earn some juicy cryptos.
Everyone likes to earn some free and easy money in life.Free money are always sweeter when they come easily.
Before some days i receive a notification to my twitter account from a friend about a giveaway from @bagofincome !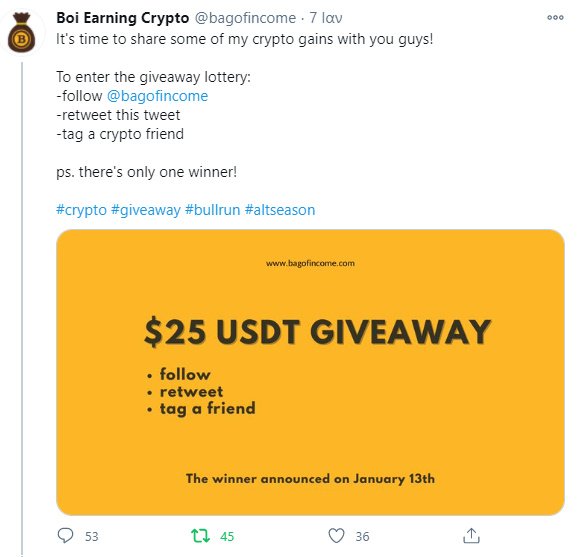 So whenever I find a similar giveaway I do not miss the opportunity and take part immediately.
Τhe steps I had to follow to take part in the competition were very simple.
First of all i had to follow the man who organized it which was @bagofincome .
Then retweet the tweet and also tag one of my friends.It takes to me less than a minute!
Of course I am not the luckiest person in the world and I have never won anything but today was probably my lucky day
But today my day starts with a perfect message to my twitter account .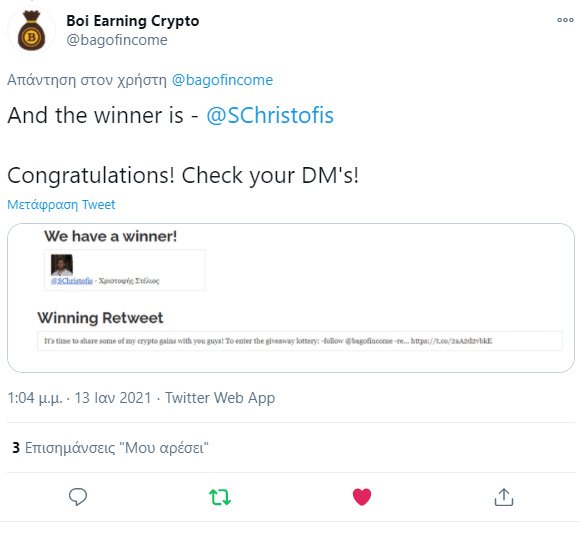 And the winner is @SChristofis...
I didn't know what i had win until i read my messages.
I had won 25 juicy USDT...not bad for 1 minute work...
After 10 minutes the prize was at my personal wallet!!!
Thanks a lot @bagofincome !!!I hope to participate to more giveaways from you and also win and receive more and bigger prizes!!!
Posted Using LeoFinance Beta