There was just far too much wood and rubbish with more on the way, so we succumbed and ordered a rubbish skip (container) and now I have to fill it. I have been amazed at just how much material has been jam-packed into small areas and I am not even sure if this container is going to be enough to take it all. We are only putting the wood scrap in there though as the price for disposal goes up heavily when it is mixed waste. This wood has been out in the rain so can't be used for much now, but I will keep some of what is to come.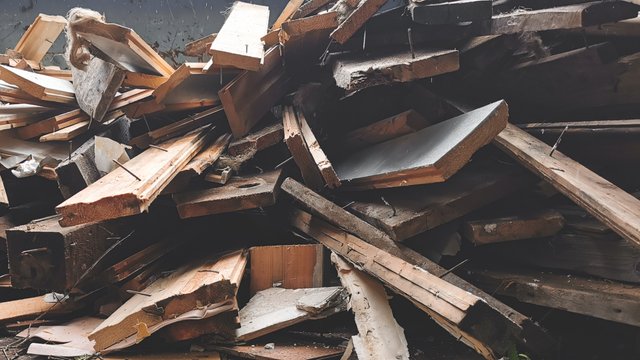 I began this after work and figured that I need to take every opportunity I get to use my fitness watch and started a "general" workout. The watch gives an update every 10 minutes and I found that after each round, I had the idea of "what's another ten minutes" when perhaps I might have quit a little earlier, since I knew I wouldn't get it done tonight. I don't know how accurate the calories burned are, but when I have manually tested the heart rate (counting with finger on pulse), it has been pretty close. 103 average is a nice low-grade rate that is at the bottom end of the fat burning range. I need to work at this range for about another gazillion hours to get to where I should be, about 10 kilos down.
I am not actually that fat, but I am short and rather solid, with shoulders almost as wide as I am tall - Kind of like a wombat - though my nose isn't quite as hairy. Ideally, I would love to be around 72-74 kilos, but I am currently sitting up at 85ish, where I have been for far too long. Part of this is due to the medication I am on as well as having hypothyroidism, but I don't really want to use that as an excuse as I think people use "health issues" far too often to explain their weight. There aren't many diseases that warrant people being 150+kg - other than "lifestyle disease".
Of course, we each have our own life to live and make our own choices, but when healthcare spending is always a political discussion point, we also have to consider our role in the statistics. The amount of disease associated with obesity is vast and is likely far more expensive socially than something like smoking, but doesn't raise the same kinds of taxes but has far ranging implications.
I was also thinking about this from a resource consumption perspective and don't know what the average person would need to eat in order to put on a kilo of fat, but assume that the food weight consumed is far greater than the kilo itself and that all has to be produced and transported around the world also. If you imagine that if every person on earth put on 1 kg (about 2.2 pounds), that would be 7 billion kilos.

I don't know how accurate this is, but that would then require an additional 1000 calories each person or 7,000,000,000,000 (7 trillion) more calories consumed on average per day. That would also go in reverse then, where if (on average) everyone lost 1 kg a week, 49 trillion calories less would be consumed. Many of us could probably afford to lose a few pounds, some could do with putting some on. Don't quote me on these numbers or look at the weight issue in isolation, this is the same with anything - small numbers add up and therein lays our consumer advantage.
The way we consume is what drives economy and it is us who decide which companies get support through the purchases we make. If a company has no customers it fails and that is the same for an entire industry made up of thousands of companies. Small changes in a different direction by the majority of consumers adds up to a mountain of energy moving away from where it once was, to power where it is now headed. What that target is could be anything, but once that mass is heading there to support it, it grows, it evolves, it innovates and it becomes powerful.
One day it could be an economy that we own, but just because we can't skip straight to that point now, doesn't mean we can't start moving in the direction. A billion people buying a dollar's worth of bitcoin doesn't do much, but when we do it daily, it triples the current capitalization in less than a year and, there is then a billion holders of some Bitcoin. In much of the world, a dollar doesn't buy a coffee - in some places, an entire week of dollars won't buy a coffee.
Decisions, decisions - the world is hinged upon them and the more we believe the lie that we as individuals don't matter, the harder it is to understand that it is us in the group that controls all else. Every company, every government, every ideal - is consumer driven.
It doesn't take grand acts by individuals to change the world, it takes small steps by many.
Taraz
[ Gen1: Hive ]
Posted Using LeoFinance