Cameron and Tyler Winklevoss are two of the biggest names in cryptocurrency. The venture capitalists started many projects that are now mainstays in this industry.
Of late, YouTube has been on a tear, deleting accounts of those who, in its view, violate their terms of service. Many feel this is outright censorship.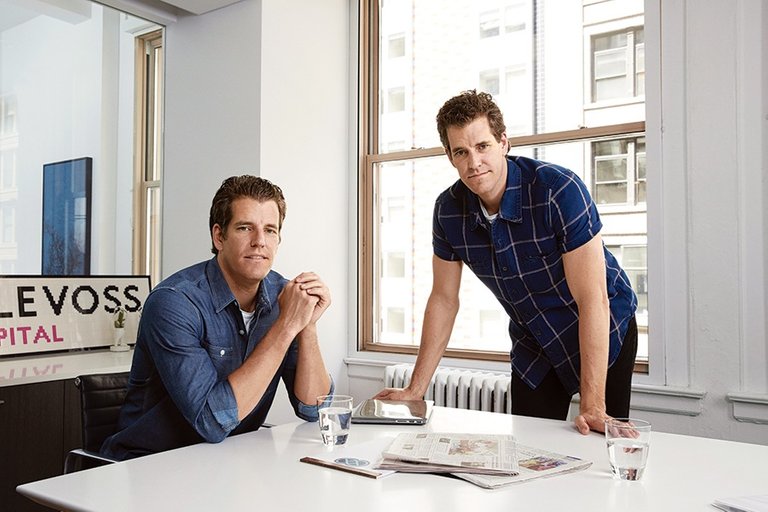 Source
This has not gone unnoticed by Tyler Winklevoss. In the last week, he tweeted about this.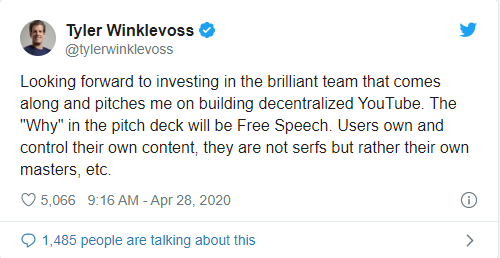 Those of us on Hive are already aware that this is operational. 3Speak is already functional, offering video creators a place to post their works without fear of having it taken down.
Not to be outdone, Cameron added his take on the situation.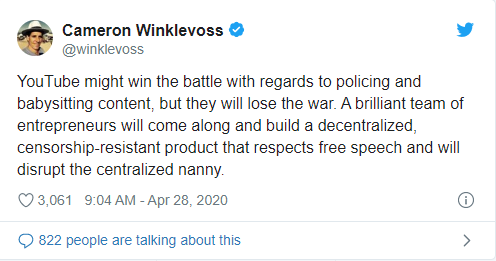 I guess they are not familiar with the efforts of the team behind 3speak.
Fortunately, those who write for Decrypt are:
Some platforms, such as Mastodon and 3speak, have already attempted to clone platforms like Twitter and Youtube. The "free speech network" Gab, which exemplifies Winklevoss' point on forks to new platforms after disagreements, has also gained some traction with over 1 million registered users as of last year.
Wouldn't it be a hoot to see an announcement detailing how the Winklevoss Twins invested in 3Speak. At this point, I am not sure that team is looking for funding or would want to get in bed with a VC group, but the publicity for be fabulous.
Nevertheless, the point is being driven home. YouTube's actions, as well as Facebook, is starting to get on the radar of many people. While content creators are slow to migrate, recent events might just force them to.
It is always interesting, from a strategic and marketing perspective, to look at one's "pond". Do you want to be a big fish in a small pond or a small fish in a large one? Things get really interesting when one is a big fish in a pond that is getting bigger.
As the centralized platforms work to silence dissent, they are apt to turn people against them. People in the cryptocurrency community found this out more than a year ago. Even to this day, the culling still is taking place.
A platform like 3Speak is vital to our ability to resist the propaganda that is being espoused by the mainstream. Facebook and YouTube are now every much a part of the agenda as ABC and CNN. They are not going to question what is taking place in the march towards ultimate control of humanity.
What attracted me to the road map of 3Speak is the fact that the ultimate goal is to have it operating as a DAO. The project team is looking to recoup the money invested, with a small profit, and then operate the system in an autonomous fashion. Having its own token while also providing users with the ability to tokenize their channel further spreads out the ability to control what is happening. Essentially, content creators and their followers become their own decentralized video platform.
Winklevoss was apt to point this out.
"The pandemic has reminded us just how little control we have over our data, and how much power and influence we've entrusted to a very few," Tyler Winklevoss said. "These centralized platforms make up their own guidelines with respect to 'misinformation' and dissent, many of which are arbitrary and at odds with the principles that our country was founded on." Instead of cloning the incumbents, maybe it's time to create entirely new social media platforms with free speech and decentralization principles in mind.
https://decrypt.co/27630/why-tyler-winklevoss-wants-bankroll-web3-social-network
I guess we need to getting word to Tyler that it is already being created and he should take a look at 3Speak.
As we can see, the market is there.
---
If you found this article informative, please give an upvote and rehive.

gif by @doze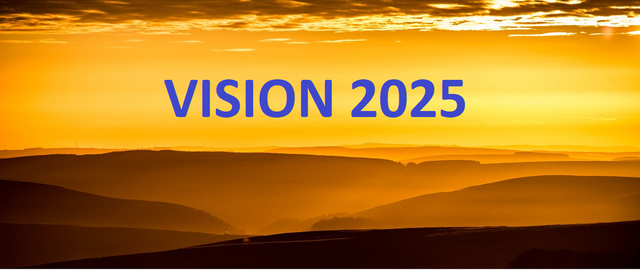 Posted Using LeoFinance