Bitcoin is in a very strong zone. The recent run has put it in position to hit a multi-year high.
Looking at the chart, we exited a period where some resistance was in place. Now we see clear sailing for another $800 which will take us to the next area of resistance.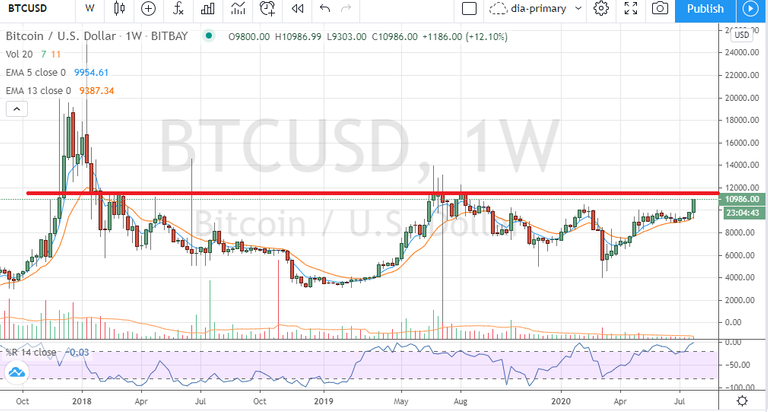 The weekly chart shows two levels where the $11,500 zone could stall things a bit. We will have to watch this level and a reversal could cause many traders to bail.
If the price can move past this zone, then the all time high could be in focus. There is very little between the next level of resistance and the $20,000 area which was hit in the beginning of 2018.
Naturally, the price could break through resistance yet fail to reach the all time high. There is nothing that says the price can't stall in the $15,000-$17,000 range.
Trading is an exercise in risk/reward ratios. For the moment, we should see higher levels. Perhaps as we head into the week, some resistance will be felt. If that is the case, one will have to evaluate what to do.
There is never anything wrong with taking some of the position off the table. Personally, I like to unload roughly half my trade at areas that I feel will be a challenge.
We need to be agile if playing resistance and support lines. For example, if the price does get near $11,500 and pulls back, be prepared to re-enter. Many traders elect to watch the resistance line, entering upon the breakthrough. Here, that line becomes support, providing an exit if the price does pullback again.
By the way, my strategy, for now, is to hold my position as it is. If the price does break through $11,500 on strength, I will likely add to my position knowing that there is a clear path, at least from a technical perspective, towards the $20,000 level.
Each has to assess the situation for oneself. However, being aware where the troubled waters are can be very valuable when trading. Even those who are holders could be well served by knowing where some of the sensitive areas are.
As always this is not financial advice but for educational purposes.
Posted Using LeoFinance