Good day Hiveians!
Join me in analyzing the crypto markets!
Hive is very volatile, much more so than other coins. It therefore has the potential of making very big upward gains (and downward losses). With BTC possibly reaching 45k soon, I think this could catapult Hive to the 60-70 cents range (for a very short time).
This "fan method" of tracing out trend lines has so far worked quite well. We therefore have a good target in the upper 60s. If you look at the chart, these peaks have never lasted long. So it should be a classic "pump and dump". I would expect prices to consolidate in the 50-60 range and then crashing back down to about 20-30 cents (depending on whether BTC makes a further downturn).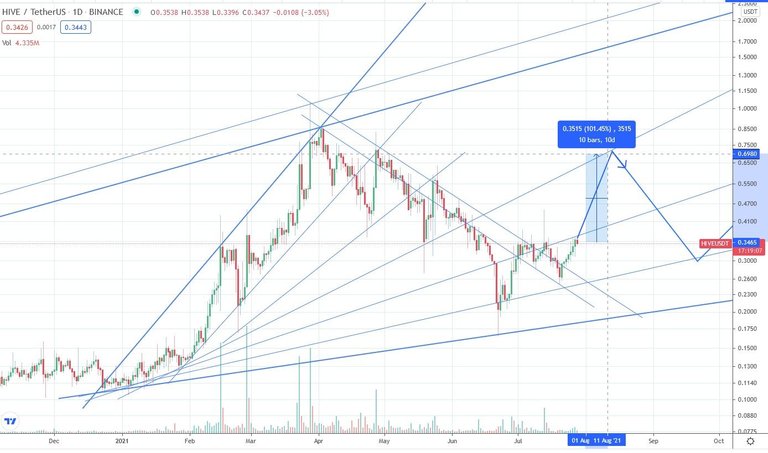 The long term direction could look something like this: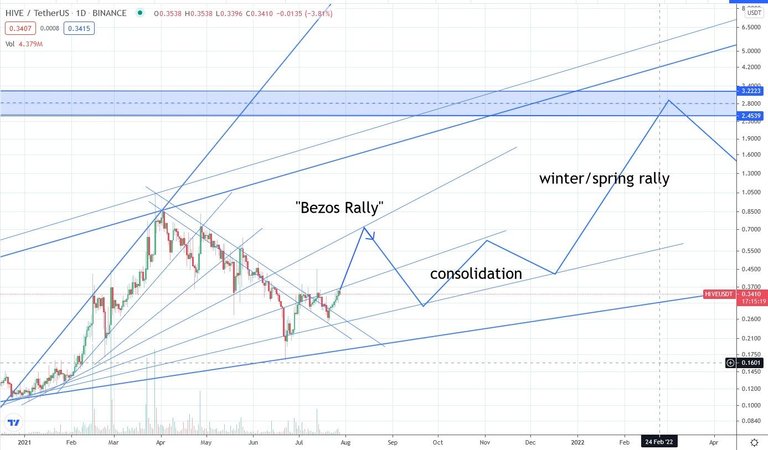 I would expect the "Bezos Rally" to last for about a month to 6 weeks. In September/October there could be a bigger correction and consolidation at lower levels, before finally going into the winter/spring rally. As pointed out in the past there is a very good indication that prices will hit the 2-3$ range. If we are lucky, this won't be the market top, but rather the "middle of the journey". If this plays out, I would then expect a further and last impulse wave to take us upwards of 5$.
---
As a general reminder: Please keep in mind that none of this is official investment advice! Crypto trading entails a great deal of risk; never spend money that you can't afford to lose!

⛅🌦🌧🌦🌧🌨☁🌩🌦⛅🌧☁🌤🌥🌪🌧🌨🌩⛅🌦☁🌤🌥🌤⛅🌤⛅🌦⛅

⛅🌦🌧🌦🌧🌨☁🌩🌦⛅🌧☁🌤🌥🌪🌧🌨🌩⛅🌦☁🌤🌥🌤⛅🌤⛅🌦⛅