Well well, this looks bullish for Hive!

I don't know how many of you follow the reports by @penguinpablo but here is a very interesting graph from his report 2 days ago: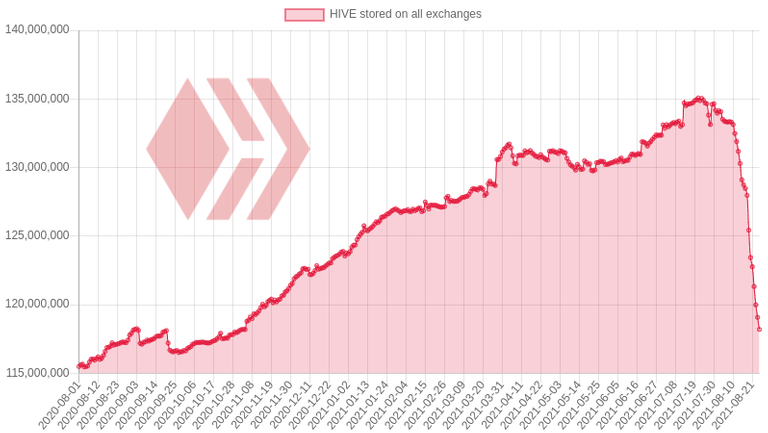 source
Yep, that's almost 10 million hive being bought and leaving the exchanges! I guess we have to thank splinterlands for this!
Hopefully, the trend will continue and if it does we might actually get a crazy pump in this bull market! And all that just to one hive app becoming successful! Now imagine if we had 2-3 splinterlands!
Hopefully a nice price pump and the zero fees will attract attention from more developers and maybe one day hive climbs back to the top-30 of coinmarketcap.
But for the short term I guess I'll accumulate some hive and pray to the gods for a nice juicy pump.
Nfa :p
P.S.: If you play dcity make sure not to miss my giveaway! I'll keep it open for a couple more days! Just head over to: https://leofinance.io/@trumpman/dcity-mega-giveaway
---
---
If you enjoy my quality shitposts, share this post in your circle, and/or sign up with my affiliate links on the below exchanges:
Binance: https://accounts.binance.com/en/register?ref=WAVYXFO1
Kucoin: https://www.kucoin.com/ucenter/signup?rcode=rJGCNNL
Posted Using LeoFinance Beta
---
---