Never Miss a Monday Hive-engine Token Power-up: 500 ONEUP, 50 LEO, 1500 SPT, 200 CTP, 100 LIST, 150k SPORTS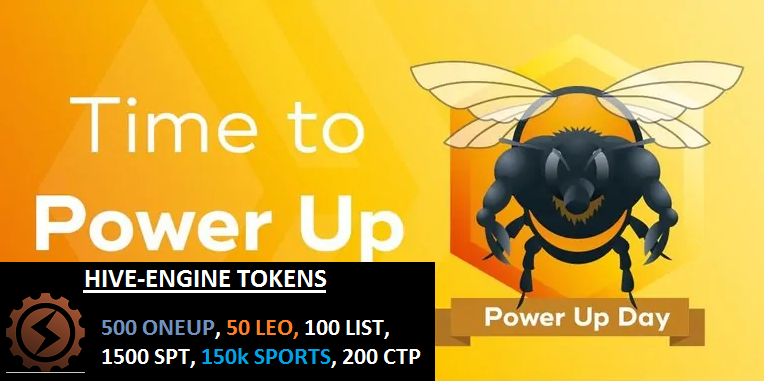 Hi friends, it's another Monday and the beginning of a working week. The beginning of things are crucial for me as it sets a pace to which a goal would be achieved. I have told myself "never miss a Monday Power-up. DO it, either HIVE or Hive-engine tokens". Anyone that has been around this blockchain for Six months would have understood the value of powering up tokens especially with #hpud (Hive Power Up Day), a campaign to encourage all Hivers to power-up at least 10 Hive on the first day of each month. We now have power-up campaigns have Hive-engine like #bpuw (Brain Power Up Week) for the POB token and others.
For me, Hive is a mother of the blockchain tokens and the hive-engine tokens are the children (babies) but with huge potentials of becoming mothers soon to make Hive a grandmother crypto. Since March 2020, I've built my Hive Power from my second layer tokens holdings. I've always followed a flow that looks like the below:
Create Content -> Earn Hive -> Deposit to Hive-engine -> Buy Hive-engine tokens -> Power-up HE Tokens -> Curate posts with HE Token stakes -> Earn curation rewards -> Power-up some and withdraw some to Hive -> Power-up Hive
I'll hopefully make a graphic infographic someday to buttress the fact clearer. I'm very bullish about the Hive-engine tokens and I see each one hit $1 value sooner. Today, being the 8th of November, I decided to power up the following tokens:
Amazingly, when put together, the tokens round to as much as $68. That's a decent investment for me this week beginning today. I'm hopeful we can add some more tokens within the week to hit and even go beyond the $100 mark. I know that a minimum of $100 weekly would mean $5,200 at the end of the year (52 weeks). It can be surprising as such little efforts compounded over time can yield into something terrific and huge.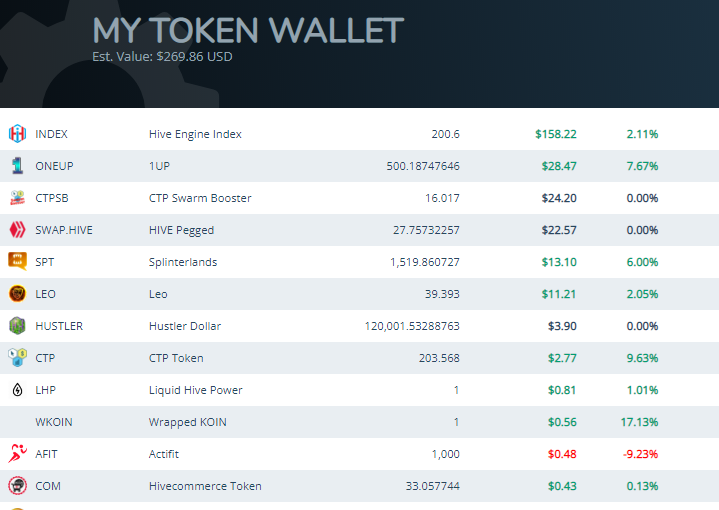 I had to clear my wallet for some of the tokens and I'm hopeful more would be claimed from curation, content creation and even direct purchase. I'm still far from hitting the November goals for almost all the tokens, however, no tiny step is despised. My choice for the tokens has always been usecase and the content-type supported. While some may not have huge expressions at the moment, I am sure the future can only get better with the potentials lurked within them.
Mondays are investment days for me and I try to be sure I don't skip powering up at least a token. It all adds up an soon, the long goal term of holding $1 million worth of Hive-engine token stakes would be real.
On daily basis, the hive communities which basically have their tokens on hive-engine are growing and and are creating more usecases for their token as well. Buying into the tokens now that they're cheaper could be one of the best investment decision one can make.
I'm your favourite hive-engine token Curator.
Posted Using LeoFinance Beta
---
---