Dinosaur Tour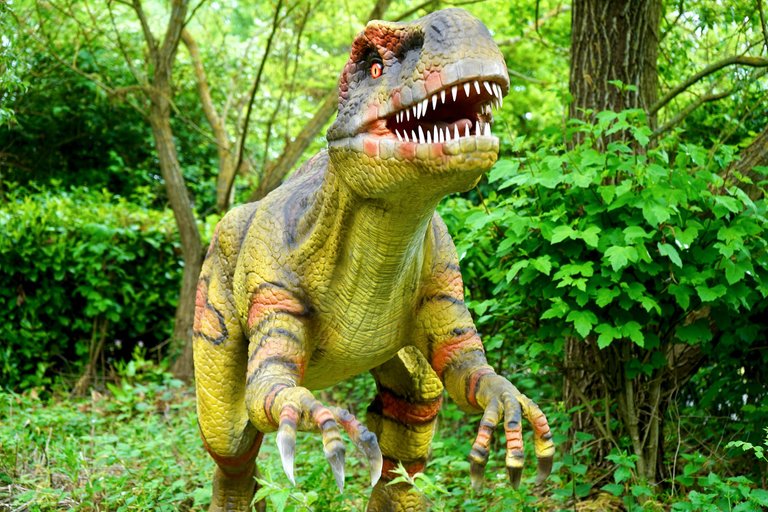 Mike B
DINOSAURS TOUR
Allen gasped in terror when the tour guide fell from the canopy walkway into a seemingly endless abyss filled with dinosaurs.
He had gone with the college to a museum where the remains of various dinosaurs were kept. They had seen the bones of various kinds of dinosaurs like Allosaurus, Apatosaurus, Tyrannosaurus, Brachiosaurus, Ankylosaurus, Spinosaurus, Diplodocus, Stegosaurus, archaeopteryx and a whole lot. At a moment, Alliese his twin sister had vomited into her bag when she sighted a scary-looking Triceratops.
Allen's group had gone to an enclosure where a few extinct dinosaurs that were still alive were kept. They had to walk on a dangerous-looking walkway that shook as one took a step. The guide reassured them that they were safe from any form of danger or attack from any dinosaur. He showed them two baby dinosaurs who lay asleep quietly, supplementing their silence. Allen glanced at his friend, Gallis who stood with a redhead boy from his faculty. He could hear her mind cursing him for convincing her into coming along. They got to a tunnel which had a signpost: DANGEROUS DINOSAURS AHEAD, DO NOT TREAD!
"Calm down. There's nothing in there, trust me. It's only to scare the kids who come here once in a while." The tour guide tried to allay their fears. "It's a good hiding place and seeks."
It was meant to be a joke or an assurance but for reasons, it didn't.
"Are you sure?" Gallis asked as she crossed her hand around the latter's shoulder obviously to make Allen jealous. "I've seen enough already."
Few of them took documentary pictures and jotted a few important notes. Allen kept staring, picturing everything in his head. He smirked in his mind at the thought of how smart he was. It was this time a loud thud followed a scream.
"Help! The tour guide fell into that scary hole over there." A girl in dreadlocks screamed. Her echoes bounced around the cave. Allen rushed forward and saw what happened. He bent down to listen for any sign of him.
"Mr Tour guide?" He waited for an answer but instead a loud growl, louder than ten thousand lions came through. Alliese vomited and two other people had to hold her to prevent her inevitable collapse.
"The dinosaurs! Oh my God!" They didn't want to say what was in their minds. Mr Tour Guide had fallen into a Dinosaur Trap and was dead. Confused, they gathered in groups for no one remembered how they had come in. Allen sat with his twin who had gone red in fear. Then he imagined himself in his room the night before, studying the guide map for the museum. He helped Alliese stand up when an idea hit him.
"I think I know the way_ but I'm not sure of it. So I'll need us to divide into two groups, one that way and the other this side." He said almost sounding like a guide.
"There's no way we're splitting into halves. What if we die in the hands of these monstrous creatures?" Someone said and they all agreed.
Allen reminded them they'll be in more danger if they remained in one place but the group remained unconvinced and they stayed together holding themselves tightly as they followed Allen. The group continued moving slowly until they got to a dead end. Allen remembered that there was an escape route somewhere around the place where they stood but he wasn't sure where it was.
"According to the map, there is supposed to be an escape route here but I'm not sure of where it is," Allen said, speaking to himself but loud enough for others to hear.
"So, what do we do? - Mr Guide." Said Gallis in a half-scared-half mocking tone.
"We'll just have to find out," Allen said.
They all split trying to figure out where the escape route was when someone screamed. It was Ronald, Allen's seatmate.
"Help me! Help!" He screamed in terror as he held his hand writhing in pain. He had found the escape route and tried opening it to get himself out. The door opened a little and when he held it to go outside, it shut instantly, clipping his hand and leaving him in pain.
Allen went to where Ronald was and tried to help him by dragging his hand but instead, it made the injury more painful than it already was.
"Ronald, could you stay calm a little so I can try opening the door?" Allen told Ronald quietly.
"Okay, just make it snappy." Ronald groaned in pain.
Allen turned the knob but the door didn't budge. He tried and tried but nothing happened then he heard a loud grunt. The dinosaurs had heard their noise and were coming for them. He tried using a jack to force the door open and after many attempts, the door squeaked open and everyone including Ronald ran out of the enclosure.
They got out joyfully, holding hands and thanking their stars for leaving the museum. They told their story to other groups who in turn listened in amazement. They all got together and checked out of the museum.
But unknowing to them, and every single person in the museum, the dinosaurs had broken out through the door Allen left ajar.
---
---