DCITY continues to provide us with fun and pleasure, socially as well as strategically. We can highly recommend @luca-legend's new series for players new to the strategies - these are guides by the #1 player showing you how to optimize, and giving out great prizes in the process!
Today we wanted to talk to you as the EX-President, without too much ego I can say that I feel very much a beloved president to you all. I want to share my thoughts about the game and its future, as all of you are also free to do in your posts (feel free to tag me in any dcity post!)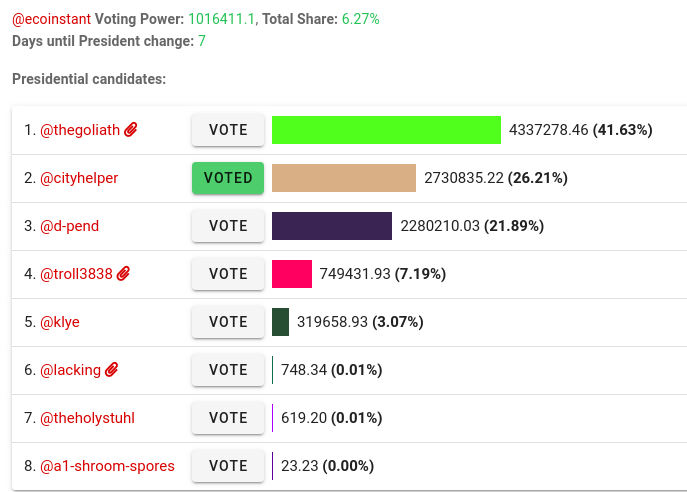 First off, I must address, that many have come to ask if I will run for president again, and to that I will say 'YES!', but 'Not Yet'. For all the fun I did have, I think there is great benefit to having a wide range of experiences at president, from which we can later make conclusions.
In the end, I did not achieve my goal of tweeting at Donald Trump, so I will be back later to try to get in on the action again. But this does not change my mind for the short term.
One single President should not preside too long
I believe this is a good principle, as I said especially getting started, so we can all experience a wider range of variety. Some participatory rotation is healthy and essential for a game and its enthusiasm to stay vibrant and bright.
In this vein, I think a third term for Goliath would be too many. I have voted before for troll3838 and d-pend, but I am currently leaning to the lately registered candidacy of @cityhelper.
For those that do not know, @cityhelper is a discord bot that helps players to manage their dcity tokens and the market, it is coded, maintained and run by @mice-k/mike-c.
Votes don't matter until the last day, so we will be reading the wind this week and teaming up to put a pause on the political ambitions of @thegoliath, at least for a time.
SIM price
The SIM market has been a wonderful place to be lately, coming off a weak lull, we even wrote a post when SIM was at 0.0042 that it was a great time to scoop SIM. In fact, we grabbed as much as two million of it.
Moving forward, what might be the future of the SIM price?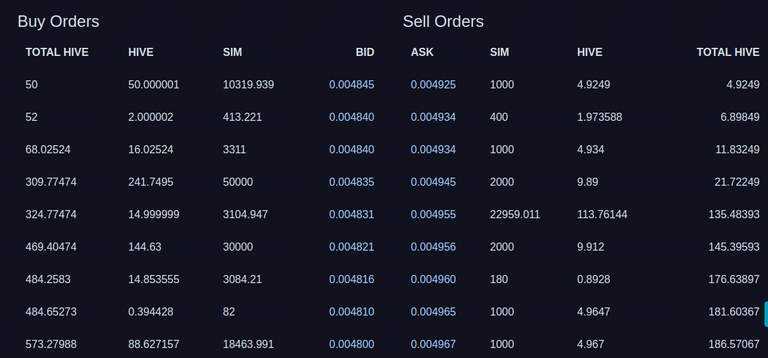 SIM near 0.005 means reward pool growth
When SIM stays high, more players should send HIVE instead of SIM to buy new cards, including the upcoming release of 3rd edition. Sending HIVE leads to REWARD POOL GROWTH, something that I am keeping a very close eye on, and I hope that we will see. So far these SIM pumps have not lead to any significant increase in the reward pool.

We are watching the card markets, there is a great enthusiasm for the game right now, as we are nearing the 3rd edition. Possibly as a result of extremely low taxes as well, the ROI on individual cards is looking really good.
Unloved Galleries and future stories
One of the ways I most like to play this game is to 'buy low and sell high'. Sometimes cards are expensive and sometimes they are cheap, but it takes math, strategy, logic and a bit of luck to figure out what these cards really might be worth.
Recently, one of those risks may have paid off. After collecting a goodly number of unloved ART GALLERIES, which produce no INCOME, but do have 12 popularity and allow background token mining, while they were under 2 hive each, the most recent announcement landed that art galleries will be sharing fixed fees on NFT art auctions, and now the galleries have jumped to over 3 hive each.
Gerber confirmed to me that there are about 9000 art galleries that have been printed, which means that we currently hold more than 10% of the total supply! 😲😲😲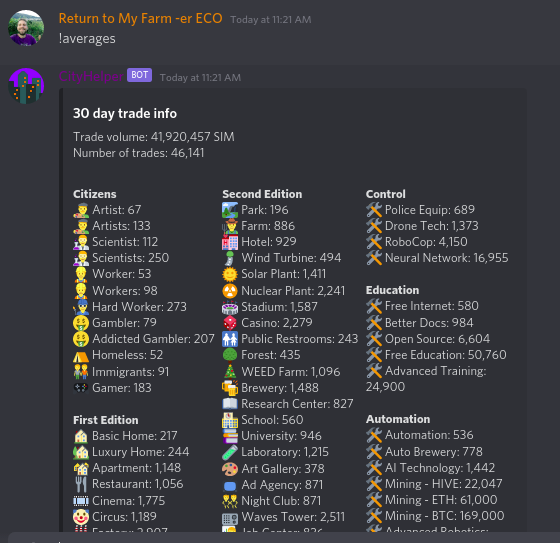 Which cards are cheap today that could go up in price with the new update? Which cards today fetch a pretty penny, but might not carry that value into the future?
@gerber has been playing close to the chest, but eager to drop leaks in the discord. We know SIM will enable staking, and that SIM stakers will be able to propose governance changes to the game. We know there are new techs, and it appears suspected that there will be the combining of cards a la splinterlands. It seems to be confirmed as well that there will be new negative popularity cards to help larger cities manage their population boom and burgeoning social costs.
I don't know any more than you guys, but I am excited to continue to play with you all, both in the markets and on the leaderboard.
Freedom and Friendship!