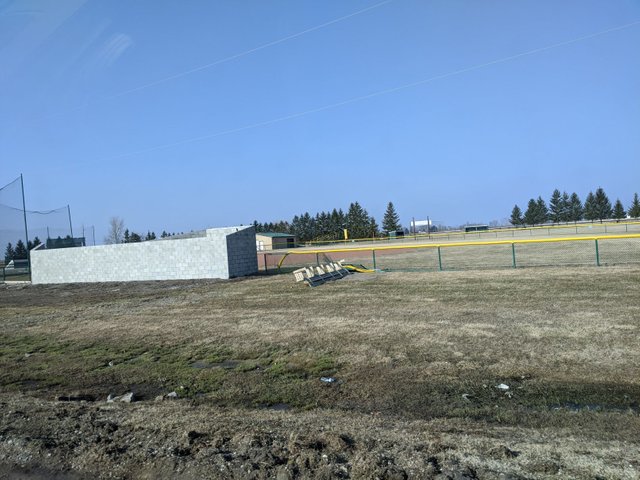 ---
I actually took this photo for a different post that I am going to do on my Sports Talk Social page at at some point. It is going to be about Title 9 laws and although it may sound very dry, it will be an interesting read. Trust me! I may have to cross post it...
@mrsbozz and I headed up to work today to help assemble and distribute meals for our students. I did a lot of walking during the assembly process. It was like working on a line in an auto plant. One red apple, one yellow apple, two pears, two juices, two apple sauces, one box of raisins, one cereal, two breakfast bars, etc.
I think by the time we were finish with our two hour distribution window we had given away close to 350 meals. It was great watching @mrsbozz be able to see some of her students and it was nice being able to help in some small way.
We came home and had a quick lunch, then we went out and took a walk at our local park. It is a pretty nice day out today, so the park was packed! Not like it gets in the Summer, but for the recent weather and global stuff that is going on, it was full.
People were doing their best to keep a safe distance from everyone.
Sadly, I really don't have any pictures for my #wednesdaywalk portion of this post. It's hosted by @tattoodjay and I know he will forgive my oversight.
Now, on to the reason I am a big dirty thief. A short time ago when the markets really started dropping, I took advantage of some money I had sitting in an account and I purchased some stocks. It wasn't a huge amount of money and none of the stocks were more than $2 a share, but now I feel a little guilty.
After seeing all of the backlash against the CEO's who dumped their stock before the markets crashed, I wonder if I should feel bad that I picked up a handful of pharma stocks hoping one of them would spearhead the vaccine and they would boom.
That hasn't been the case yet, but the hope is always there.
Does that make me as bad as the CEO's? Can you honestly say you wouldn't do the same thing they did if you knew your assets were going to take a hit? Look at the number of people who scurried to the bank to pull out cash. Are they bad people?
So if you aren't ready to totally write me off, here is what I picked up...
Oncolytics Biotech (ONCY)
Aethlon Medical (AEMD)
Fortuna Silver Mines (FSM)
John Hancock Premium Dividend Fund (PDT)
To be fair, PDT is one I have been wanting to buy for a while. It pays out a really good dividend. FSM was also important to me because with the current political atmosphere I think a lot of people who are afraid of crypto will be picking up silver and gold. I thought owning some stock in a silver mine might be good.
I use Robinhood for all of my day trades. If you live in the US and you are interested in using my referral link we both get a free share of stock. Just leave me a comment and I will share it with you.
So what do you think? Am I a dirty rotten scoundrel?
This should not be construed as financial advice. Invest at your own risk!
---
---