(I decided to split it up, otherwise it would have been a really long post)
Yesterday I talked with a few people about who to delegate too, sparked by the post of acidyo (Can be found
here
).
(I am not going to continue to tag and spam Acidyo, so you can just copy his name)
I gave a few examples of which accounts you could delegate to in order to help the Hive Ecosystem while getting some liquid hive back (passive hive)
I know a few on top of my head, but I did find a few more afterwards which I want to share here, if anyone is interested in delegating to different accounts.
P.s I will 100% not get all of the accounts/communities or people who do good stuff here
So lets get started with the next batch. These are still straight forward but some of them gives out tokens aswell.
---
@brofi is a project under the BRO-Team (Who also have the BRO token). Its kinda-ish a DeFi project in a sense, where you can delegate every tribe token from HE and you will receive BRO token as a payout, you can also delegate Hive, which I didn't know before a few days back.
I have delegated all of my Tribe tokens to @brofi and receives around 0.04949420 BRO every single day which sells for 0.24 Hive, so around 13% APR.
I don't sell, I just hold and let it compound :D

@qurator is a manual curator account with a curation team behind the account.
Your Quality Content Curator! Delegators receive 80% of all curation, paid out daily
APR seems to be around 13% on average.

I honestly don't know much about this, but it seems like they curate in different communities which is awesome.
We are the HUB between YOU and the CREATORS! Delegate to support us & earn 100% proportional curation rewards for your support! We will never collect rewards in our pocket from your delegation!
Maybe @diyhub can shred some more light on their account in the comments :D

We believe that supporting new users, by motivating them through small but valuable votes, contests and other initiatives, is the best way to contribute actively to the Hive ecosystem.
If you like what we do and want to support us, you can delegate to Discovery-it and receive 80% of the curation fee back.
The APR seems to be around 13% aswell, as everything else :p

@steembasicincome (Hive SBI)helps a lot of users get over the threshold of earning and can be a soild start if you get sponsored. APR is not great as far as I have heard around the block and its not hidden or anything.
@steembasicincome do not give out liquid Hive! What you get is bonus shares which will make the upvote you get from SBI more valuable.
2hp = 1 share.
Social Experiment to provide every Hiver with Stake Based Income ~~ help us change the world

@talentclub is a more exclusive club. I asked them and in order to delegate and receive hive you will have to be vetted and whitelisted.
They do not accept delegation from people who isn't whitelisted.
Daily Upvotes + Monthly Liquid Income | +25% APR* from 50HP to 4,000HP delegations | (*If the member publishes 7 times/week)
You can join their https://discord.gg/E6xkvwJ if you are interested

@amr008 runs his own engagement service over several accounts where you can delegate different tribe tokens.
Read more about it here --> https://peakd.com/hive-167922/@amr008/engagement-project-dividends-report-360-apr-for-pob

On an end note. These are the communities I currently delegate to. I will be delegating to all of these communities on my list whenever I get enough HP :P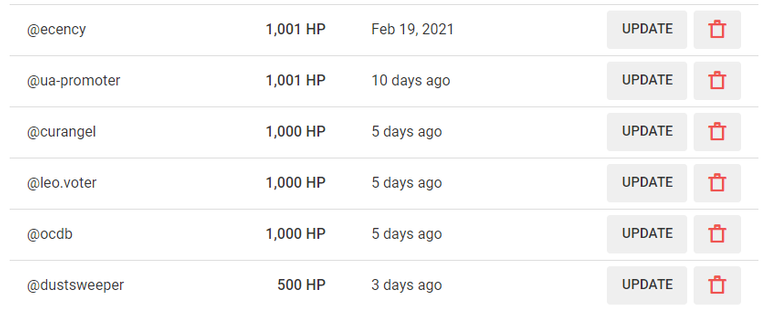 I found 18 (at the moment) different accounts or communities to delegate too.
So thats why I decided to split it up..
---
cc: @amphlux