📸 Camera: Sony A500
🌐 Location: St. John's County Pauper Lunatic Ayslum, Bracebridge Heath near Lincoln
When I get the opportunity, I like to get stuck into a but of Urbex, or Urban Exploration (as it is quite confusingly called). Starting to write about this little bit of civil trespassing was due to some persuasion from @slobberchops, another fellow Steemian Urbexer. Any other urbexers out there?
The UK has a rich history of housing 'inmates' in asylums of varying types and standards. This is one of them, to the south of Lincoln in a small suburb called Braceridge Heath. Like many of these asylums they were built to look quite attractive in a grand style.
In future I aim to get out there, weather permitting and drone some of the ageing and dilapidated sites and infrastructure of the UK. Exploring old ruins is a real pleasure and leaves a lot to the imagination as you wonder of the people that walked the corridors and events that took place. I guess the problem with this particular location is that the events that took place are now largely considered unjust and inhumane. Read (an view) on!
History of St. John's
St John's hospital in Bracebridge Heath near Lincoln was built in 1852 to house and treat people with mental illnesses. Designed by architects Hamilton and Thomas Percy in a grand Italian-Style, the building now is now a shell of its former greatness. The asylum was built using county rates at a cost of around £30,000. The building is of an Italianate design in local 'blue' stone, with dressings of Mansfield stone, and slate, hipped roofs and many stone stacks. The various additions are in keeping with the style of the original building.
Originally called Lincolnshire Lunatic Asylum, the hospital could house 250 patients. The building was expanded in 1889 to house upwards of 680 patients, and by 1902 the site covered 120 acres. By 1926 the site had been further expanded and covered 160 acres. At its height the asylum had 944 beds available for patients, almost four times the original size. The corridors and most of the cells and day-rooms have a honeycomb vaulted ceiling, and a common belief is that the honeycomb pattern was to reduce noise levels, to stop the cries and screams of inmates travelling down the long corridors. The truth in fact is nothing like this at all, these hospitals were nowhere near as horrific as people imagine. The honeycomb vaulted ceiling was a type of fireproofing incorporated into the buildings construction. This style was commonplace in mid-nineteenth century hospitals.
Like many asylums the hospital had male, female and children's wings and used some of the traditional medical techniques in that day to "cure" insanity, including electric shock treatment.
Conditions such as depression and post natal depression were classed as a mental illness and treated the same as someone with schizophrenia. Brain surgery was believed to cure mental illness and was commonly used in asylums such as this.
The asylum grounds also included the hospitals own burial site for those unfortunate enough never to escape from its intimidating walls. Whilst surveyors were excavating the grounds, work had to come to a stop when human skeletons were uncovered. It turned out they had found the burial site. The grounds were tended to by the inmates, including the expansive recreation grounds covering 6 acres. They were tastefully laid out with flower beds, shrubs and trees. Around 30 acres of the land were used as a farm which was partly tended to, and provided paid employment for many of male the patients. A good number of the female patients were employed in needlework
The hospital was closed down in 1990 and is now being privately developed into housing. The new housing developments surrounding the asylum are set on the original grounds. The popular Homestead pub was the director's residence and was also within the hospital grounds.
Source: Behind Closed Doors
The exploration of St. John's
A friend and I visited this place back in 2013, and these are the images of the trip. I've been back since and this is now a full blown hosing development. It must be costing a fortune to redevelop, but the architecture is there to work with. Old buildings like this are not efficient and are way way under the standards for housing now.
To get in here, we had to literally climb a security fence - no big deal! The most open area to scout your way in is the near the 'front door' is quite stunning.
The Italianesque design is evident on all outward facing parts of St. John's, presumably to give a grand and somewhat positive impression of what the place actually is. It still looks good now but as you can see, nature was beginning to once again take hold of the area. I love the overgrown nature of abandoned places. Give nature time and it will pull that masonry down. First things first are to find a way in!
The first rule of urbexing:
Don't destroy any barriers or fencing, this is considered breaking the law. Find a way around it or jump over it! Or, find evidence of someone else's handy work and exploit that.
There is always a way in. I've never been the first to find a site and you probably won't either. Sometimes it can take time to find them and they are generally always forced - like this! Bingo! In through the ground floor window!
Very quickly we were confronted with the ruined corridors which led to the main hall. It is my guess that this was host to shows, events and maybe a bit of light jollity. The corridor with the glass roof must have looked good in it's time. Note the City of Lincoln crest at the apex of each roof strut.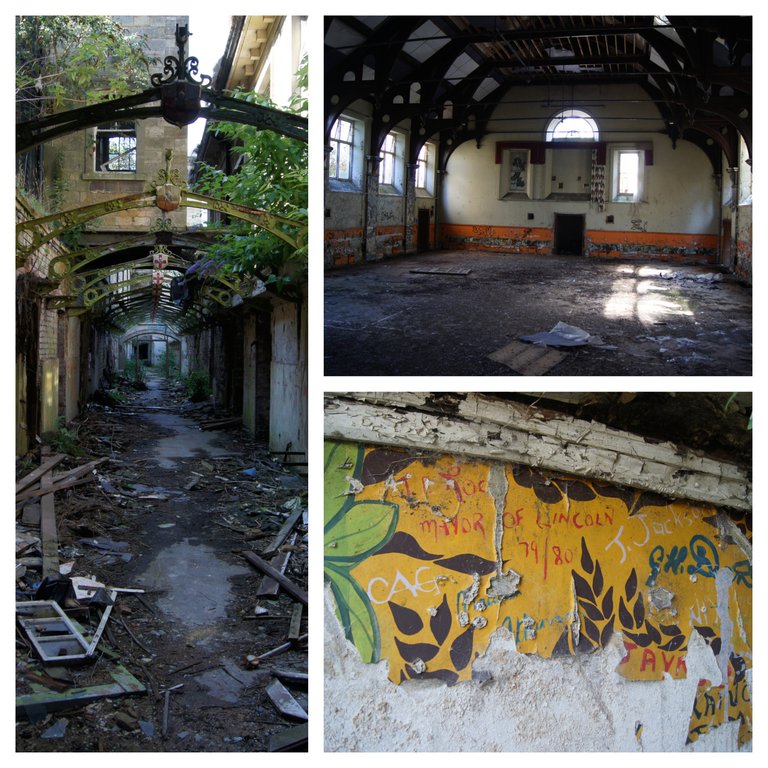 What is it about mental asylums and CORRIDORS? Here are two huge long corridors, each with very small rooms coming off them. In one of them the floor had been totally ripped out. Notice the honeycomb design on the roof, specifically designed for sound proofing. Aka, muting the sound of voices, screams, panic....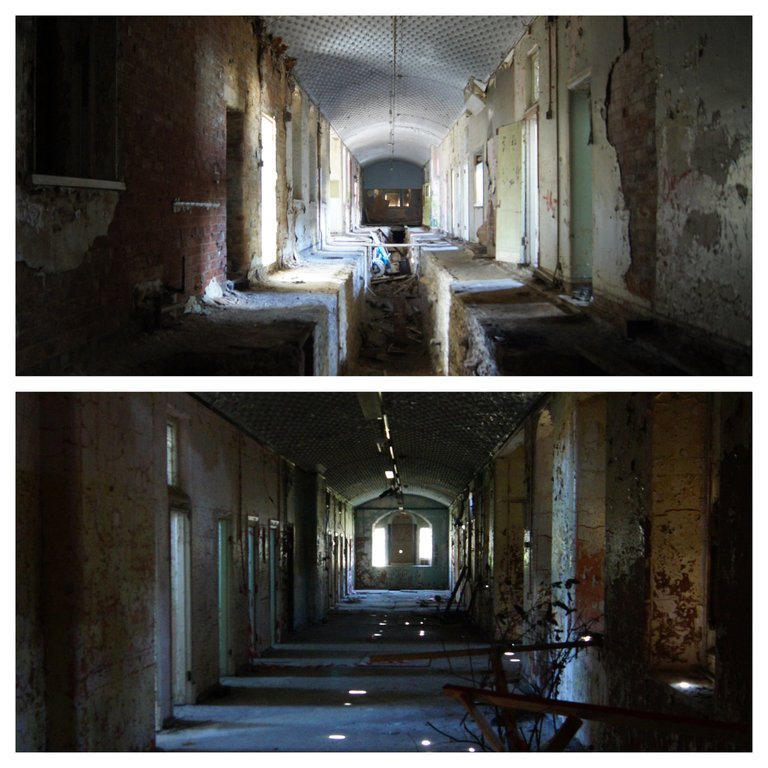 A closer look at some of the honeycombing tiles ad signage across the hospital. It looks like another explorer has painted a bloody hand print above the alarm...
The second rule of urbexing:
Don't destroy or take things away from the site. Urbexers only take images, not artifacts. So leave them for the next curious soul.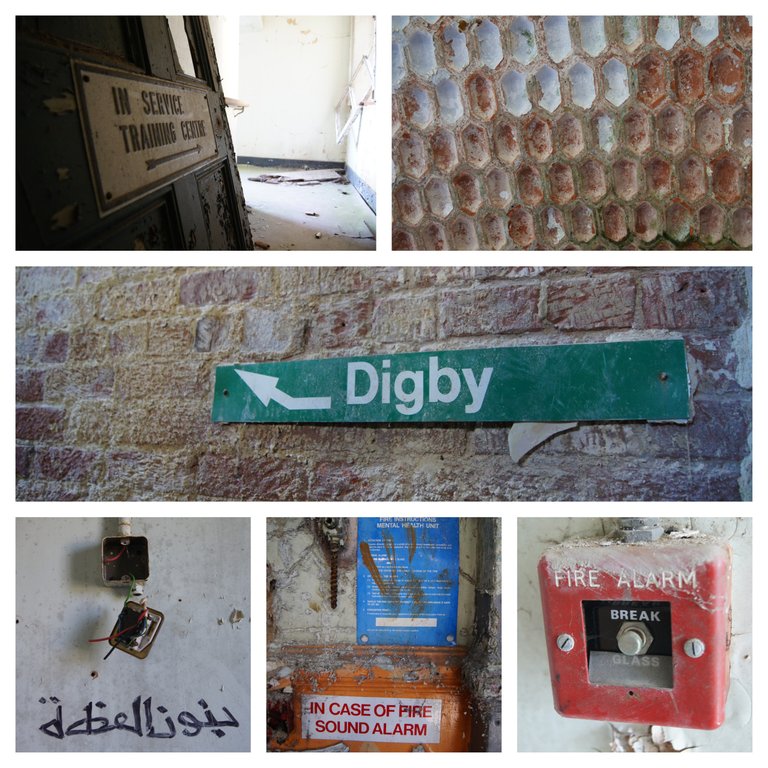 Smashed glass, rubble and broken doors are the main feature of this place and any other site now.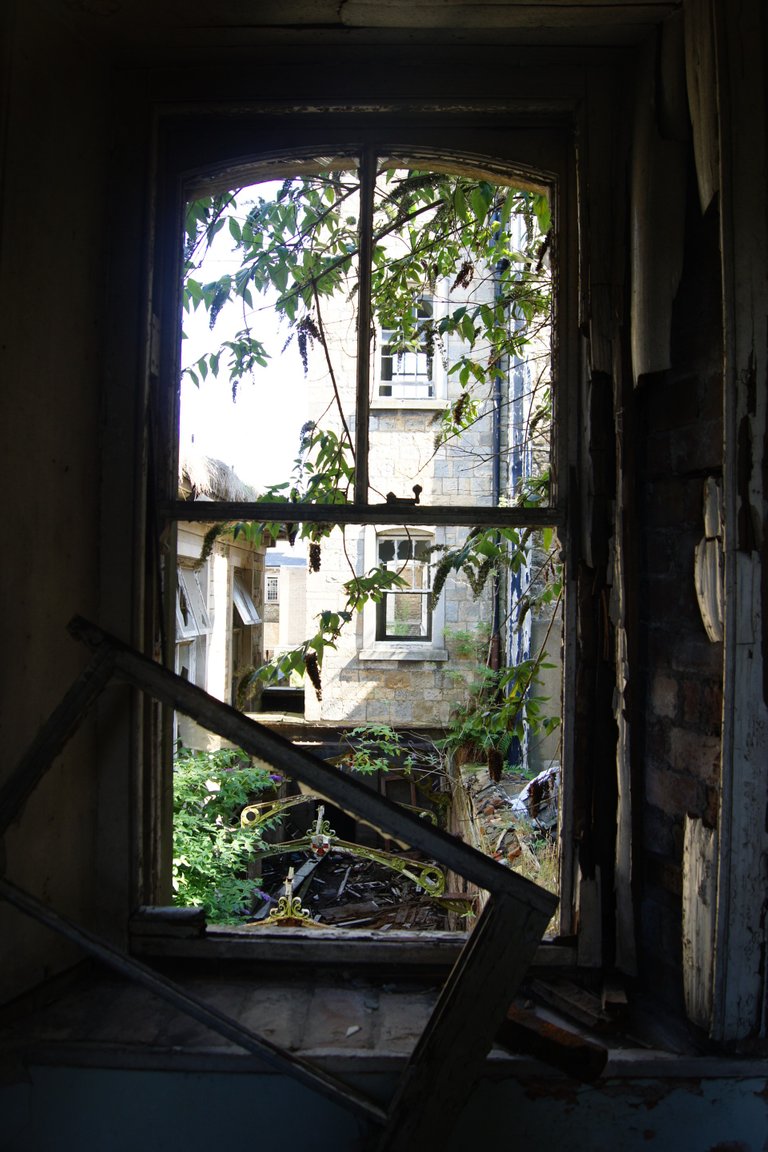 Smashed up.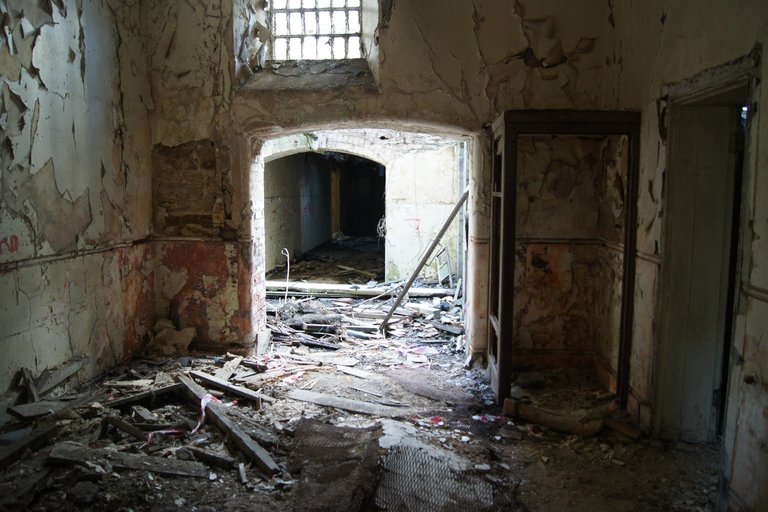 Looks like we found the female patient admin office....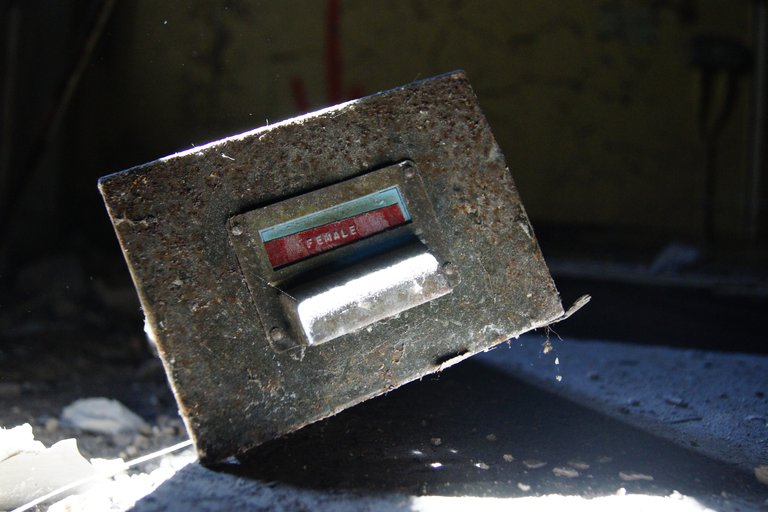 Christ, you do NOT want to down that dark staircase into the basement.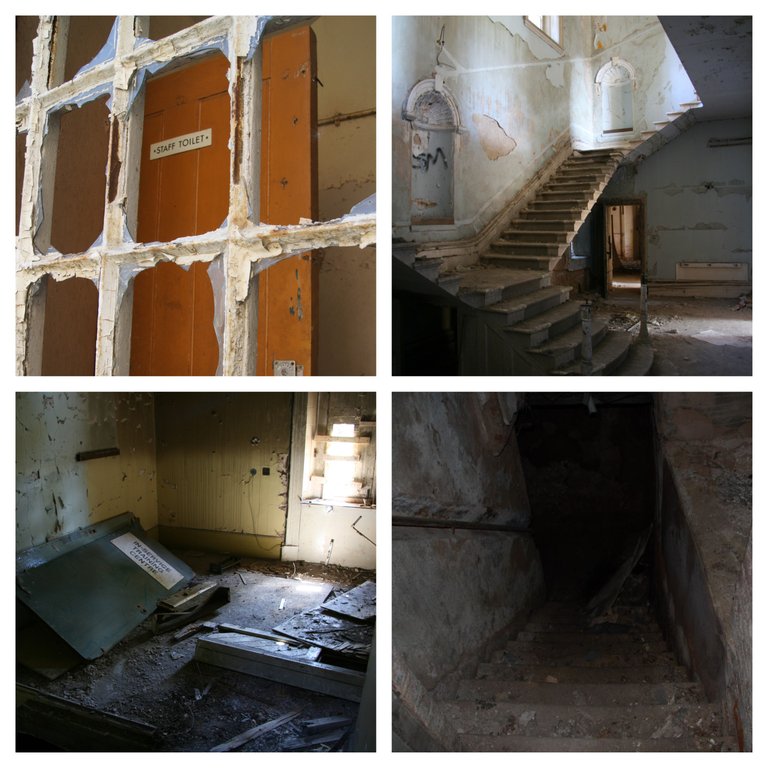 Shower blocks and old bed frames. Nature is permeating the walls, eroding them and pulling the brickwork apart.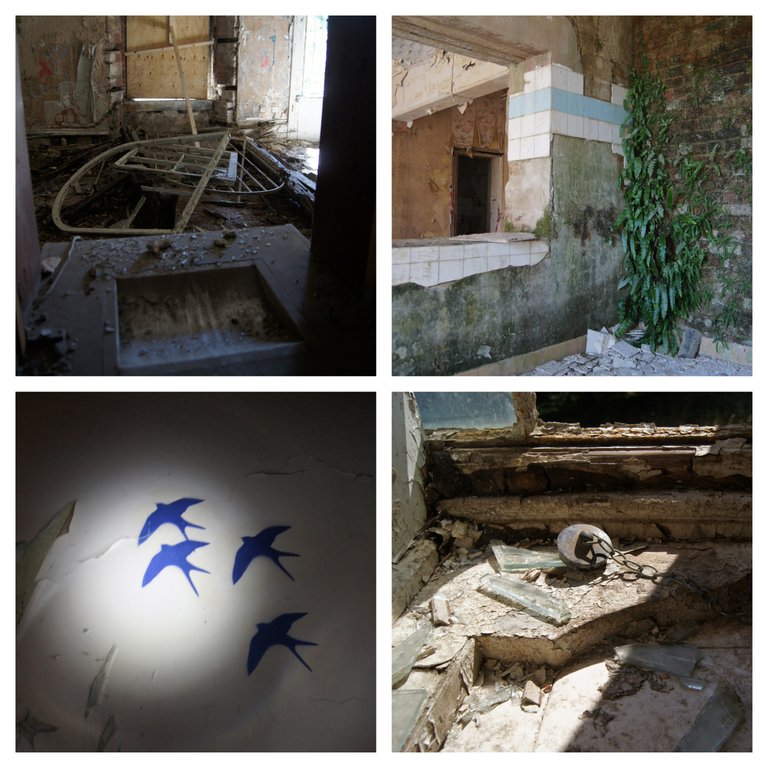 Wooden flooring never lasts. Best to avoid these spots as most sites are dangerous. Glass and broken porcelain litter everywhere as these smash easily. These places are always completely smashed up, probably by the local kids.
The third rule of urbexing:
Tread carefully and avoid tunnels. Seriously.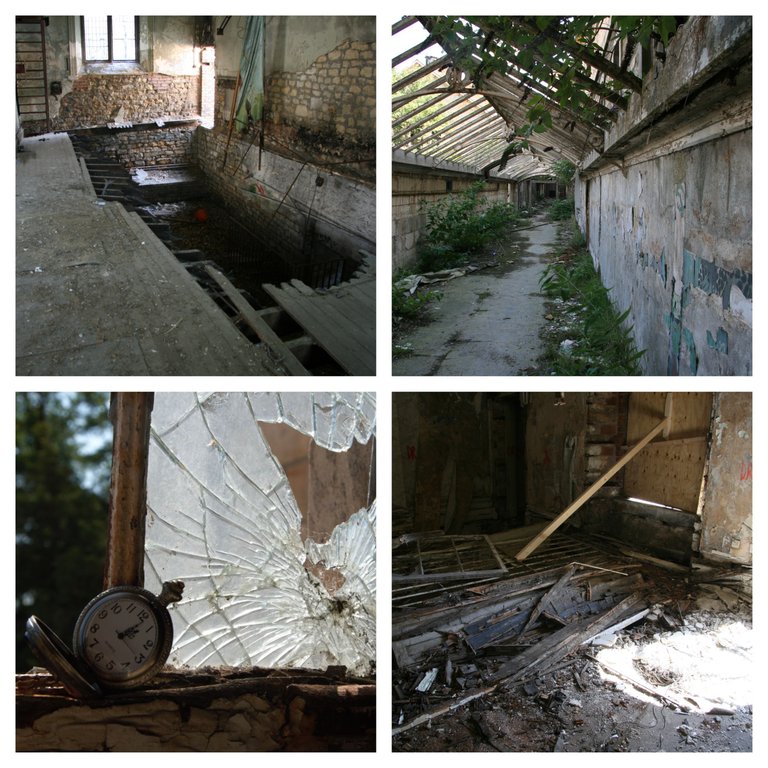 Was this really some vagrants bed at some time? Shit.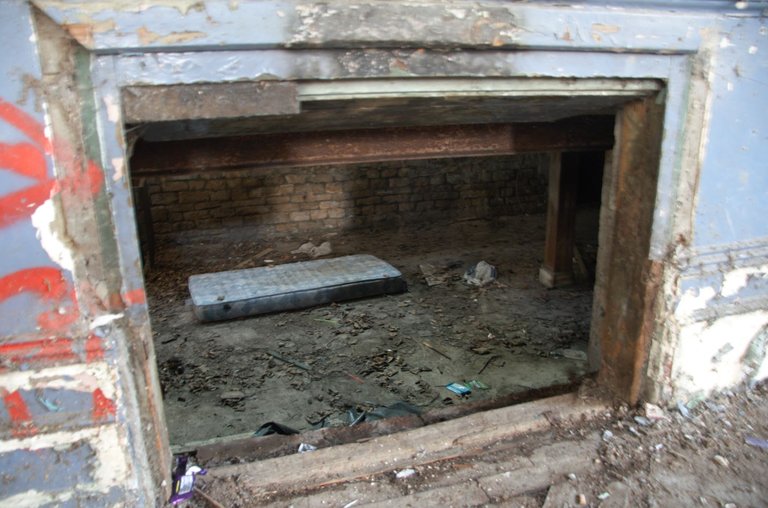 I member being here and thinking, that this would be a great set for some near apocalyptic movie. It was empty, crumbling and so calm. Not even a security guard in site! However I did read reports that they were around. I also heard that you can climb the water tower, but didn't find my way to it at the time. Also, we encountered no other urbexers at the time.
The fourth and final rule of urbexing:
Don't spend too much time outside. If there are security guards just avoid them by getting in as quickly as possible. So know when the entrances are. Most guards just sit in their car or walk around the open areas. Know that if you are caught (in the UK) you can only be asked to leave which is a civil offence, not a criminal. So don't worry.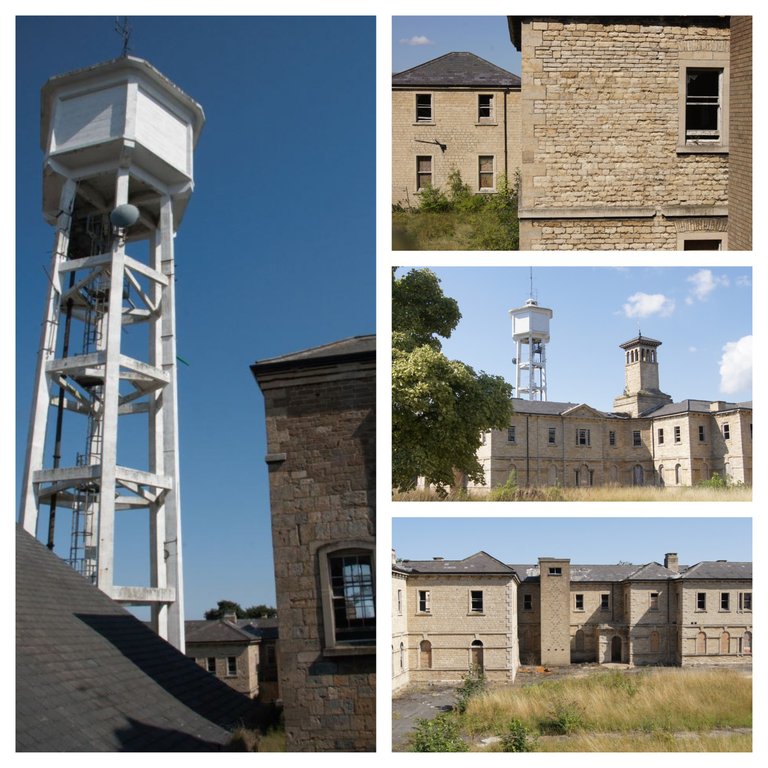 Then and Now
As you can see in the top image (2001) it was untouched, but the housing developments were encroaching on all sides. Now, as shown in the images below it is a great big building site. I hope that the houses/flats are are success due to the beauty of and solid construction of the original buildings, but god forbid i'd want to actually live in one, knowing about the history of the site... For me that would be a hard sell.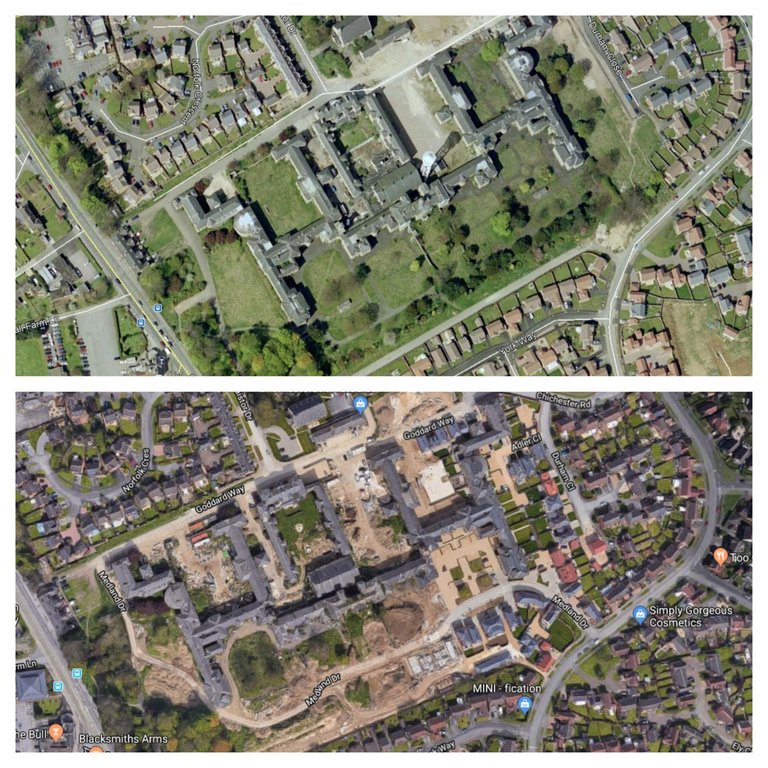 I hope you enjoyed looking at these images of dereliction. I will post more and can't wait to seek out opportunities in the East of England this summer!
---
💲💵Earn and Learn to receive ~$50 free crypto at Coinbase 💵💲
💲💵 MAKE MONEY with your photography and video 💵💲
🌎🏠 Live RENT FREE / FREE HOLIDAYS by house-sitting 🌎🏠
⛏ Mine JSE Coin in your web browser & website ⛏
⛏ Mine Pi Coin on your smart phone (invite only code - cryptojones88) ⛏
---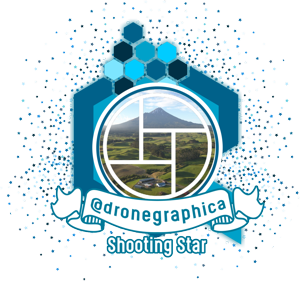 Dronegraphica Website
Facebook
Instagram
All images are my own and If you like them please upvote, follow, comment, ask questions or get some discussion going, It'd be great to hear from you!