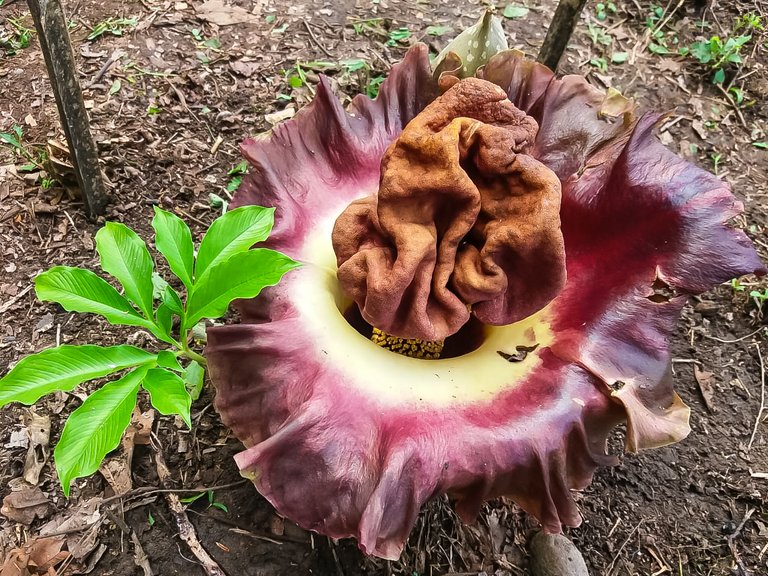 ---
I found some very mysterious and rare plants in an empty garden belonging to a neighbor in the village. Initially, I thought there was a carcass in the area when I was about to look for belly lime leaves for vegetables.
Saya menemukan beberapa tumbuhan langka yang sangat misterius di sebuah kebun kosong milik tetangga di desa. Awalnya saya mengira ada bangkai di kawasan tersebut ketika saya hendak mencari daun jeruk perut untuk sayuran.
---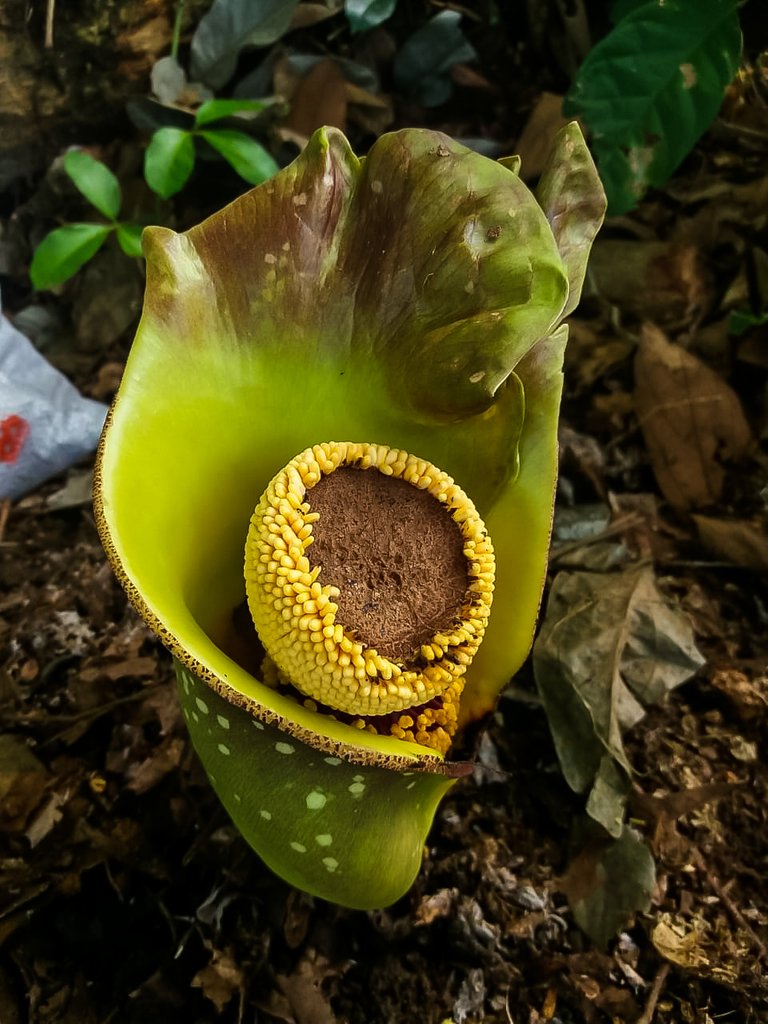 ---
When I approached the area, I was very surprised and frightened, from a distance I thought the plant was a wild animal. But when I tried to approach it, it turns out some wild plants that grow by themselves in the empty garden.
Ketika saya mendekati kawasan itu, saya sangat terkejut dan ketakutan, dari kejauhan saya mengira tumbuhan tersebut merupakan hewan liar. Namun ketika saya coba mendekatinya, ternyata beberapa tumbuhan liar yang tumbuh dengan sendirinya di kawasan tersebut.
---
---
I took as many pictures as possible, because this was the first time I had seen such a rare wild plant. I also tried searching on Google and it turns out it was a corpse flower that had been known as Raflesia.
Saya mengambil gambar sebanyak mungkin, karena memang ini pertama kalinya saya melihat tanaman liar yang langka seperti itu. Saya pun mencoba searching di google dan ternyata itu adalah bunga bangkai yang selama ini dikenal sebagai Raflesia.
---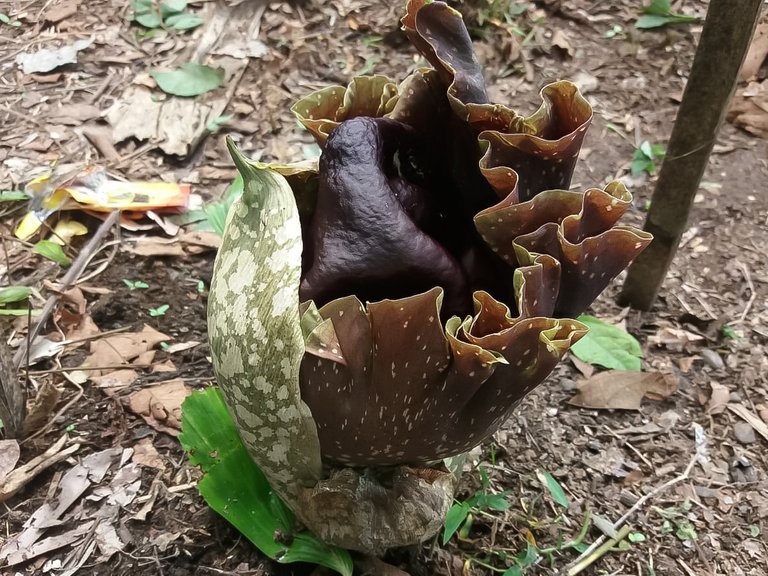 ---
The country of Indonesia is famous for its tropical country which has a rich diversity of flora and fauna that are unique and abundant that come from all corners of Indonesia. There are no less than 47 unique types of natural ecosystems, up to about 30 thousand total species of flowering plants from around the world. One of them is the Bunga Bangkai flower or with its Latin name Amorphophalus Titanium. Why is it called the Bunga Bangkai flower? Of course, this is because it has such a pungent scent as the corpse of an animal that has died rot. This flower has a large size and small leaves. Interestingly again, this flower is often considered the same as Rafflesia Arnoldi when both are clearly different.
Negara Indonesia terkenal dengan negara tropis yang memiliki kekayaan keanekaragaman flora dan fauna yang unik-unik serta melimpah yang berasal dari seluruh penjuru Indonesia. Terdapat tidak kurang dari 47 jenis ekosistem alam yang khas, hingga sekitar 30 ribu jumlah spesies tumbuhan berbunga dari seluruh dunia. Salah satu diantaranya ialah Bunga Bangkai atau dengan nama latinnya Amorphophalus Titanium. Mengapa dinamakan bunga bangkai? Tentu ini dikarenakan ia memiliki aroma yang begitu menyengat bagaikan bangkai binatang yang telah mati membusuk. Bunga ini memiliki ukuran yang besar dan daun yang kecil. Menariknya lagi, bunga ini sering dianggap sama dengan Rafflesia Arnoldi padahal keduanya jelas berbeda.
---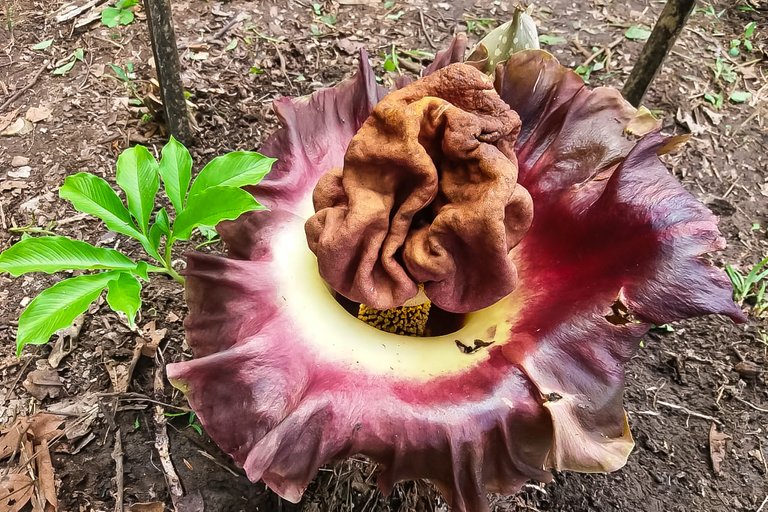 ---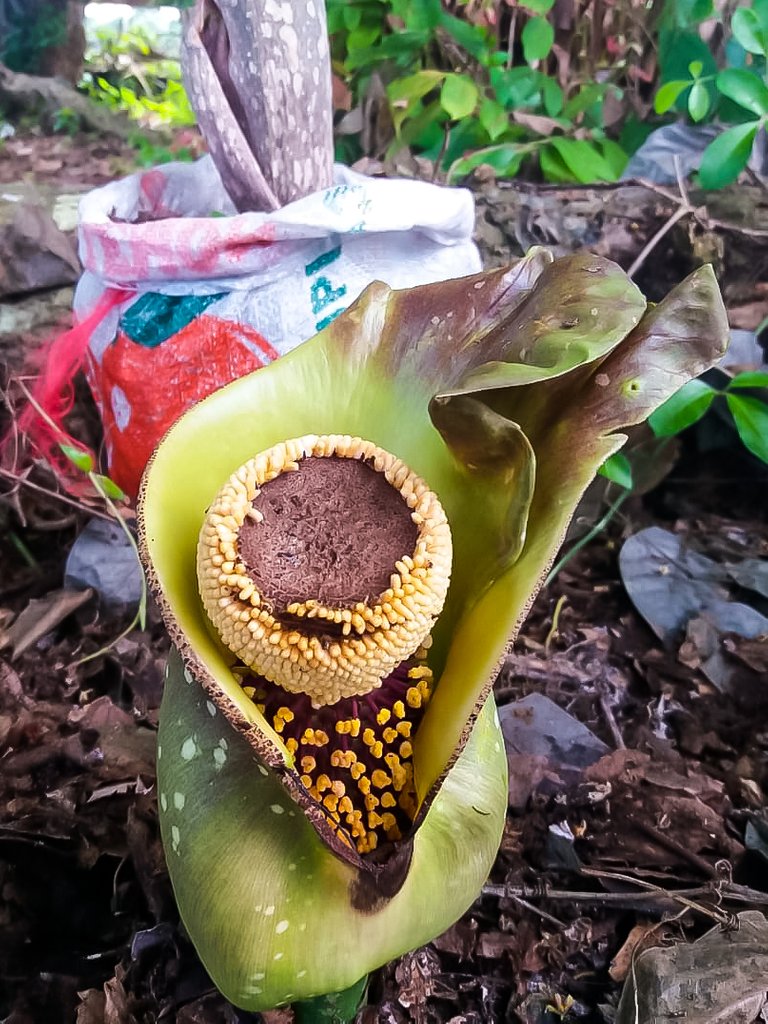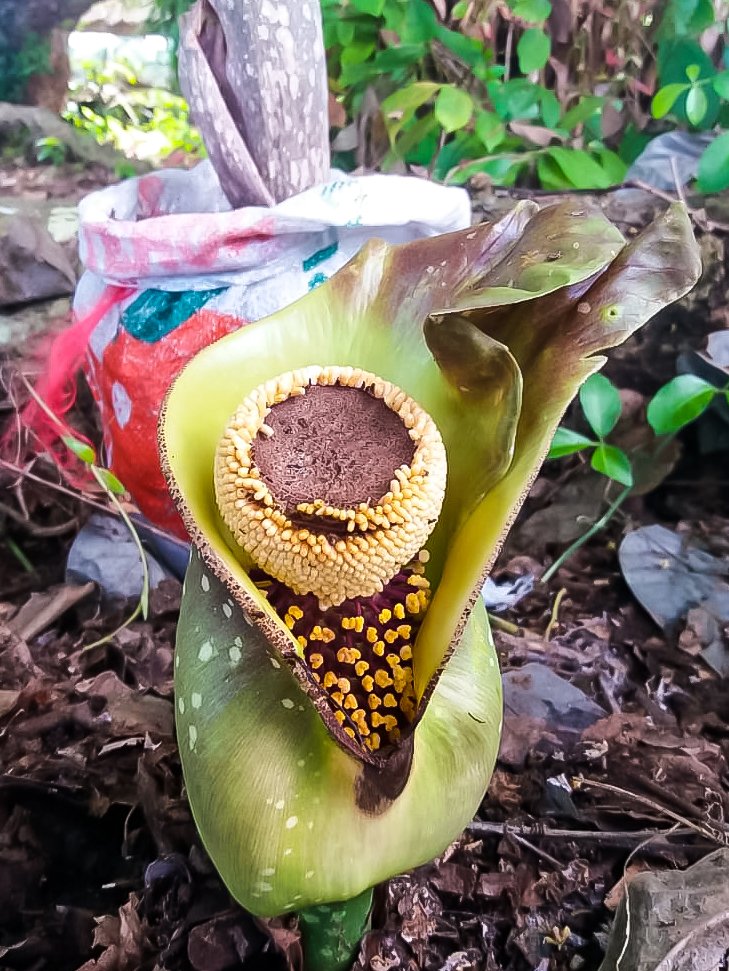 ---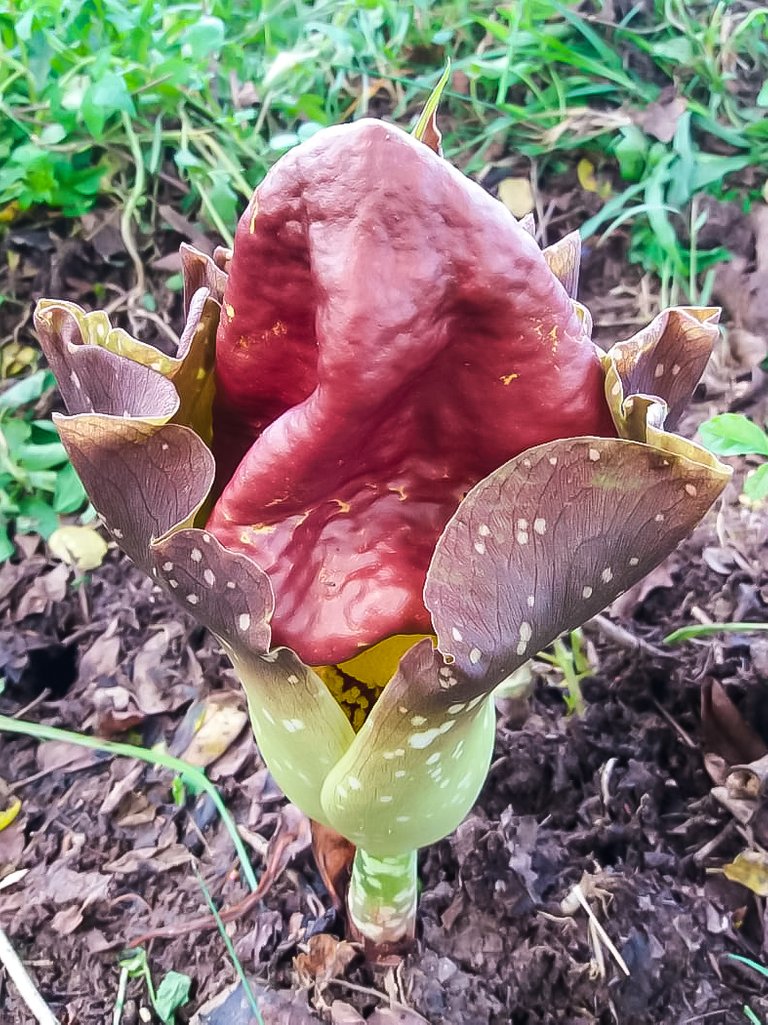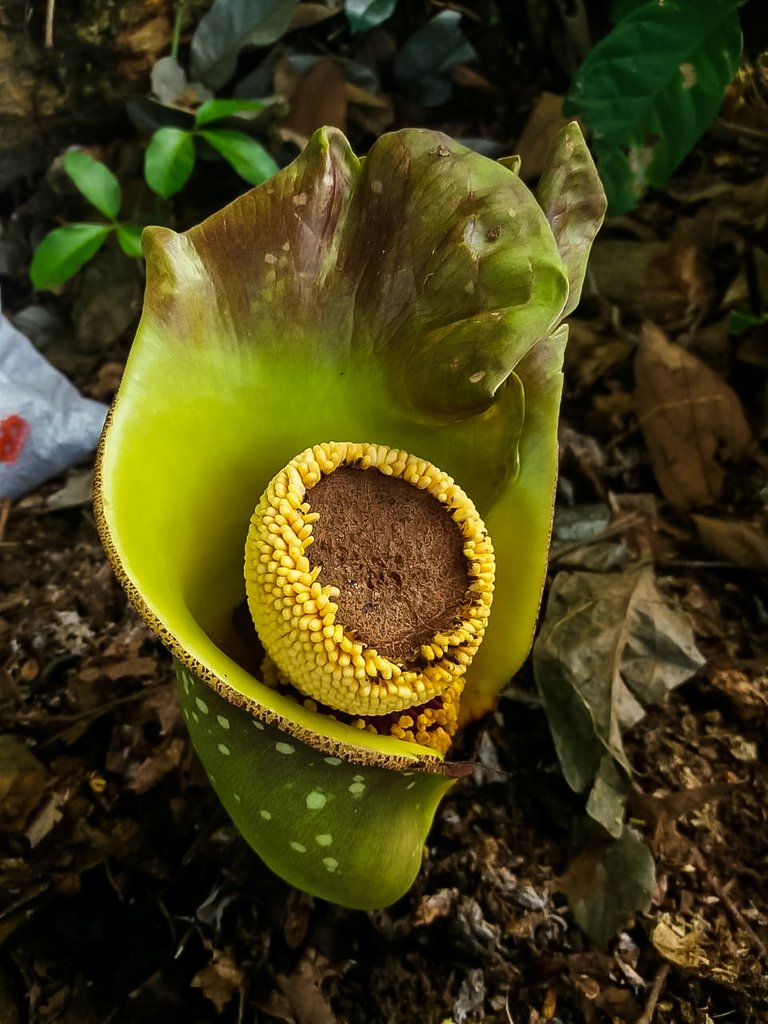 ---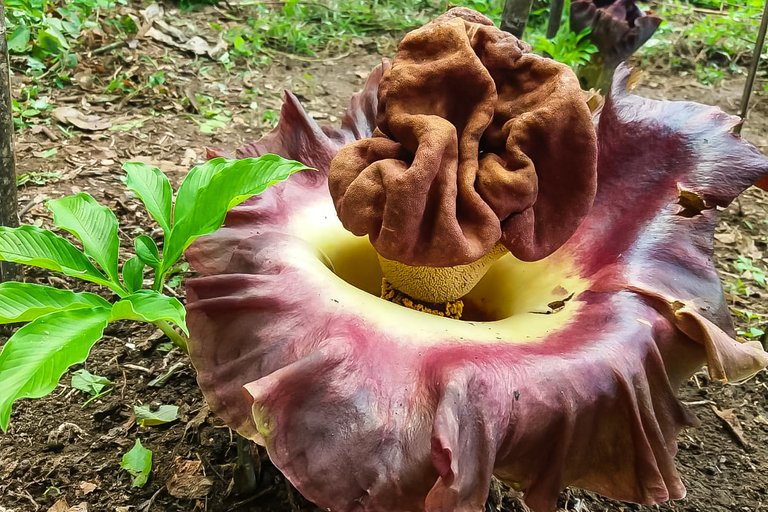 ---
A single Bunga Bangkai flower seed takes 20 to 40 years for the it's to flower optimally for the first time. But behind the length of time to bloom, when the corpse flower blooms only briefly, namely for 1 to 2 days. No wonder this flower is so protected when blooming.
Satu butir biji bunga bangkai membutuhkan waktu 20 hingga 40 tahun lamanya agar bunga bangkai dapat berbunga secara maksimal untuk pertama kalinya. Namun dibalik lamanya waktu mekar tersebut, ketika bunga bangkai mekar waktunya hanya sebentar yakni selama 1 hingga 2 hari saja. Tak heran bunga bangkai ini begitu dilindungi pada saat mekar.
---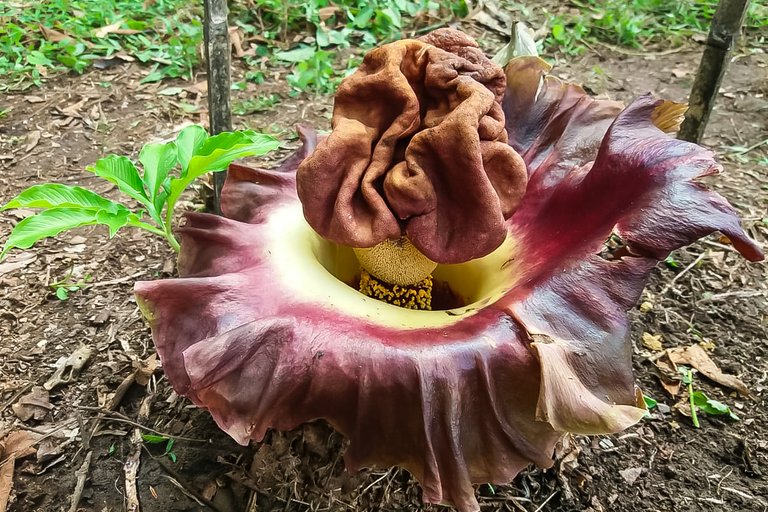 ---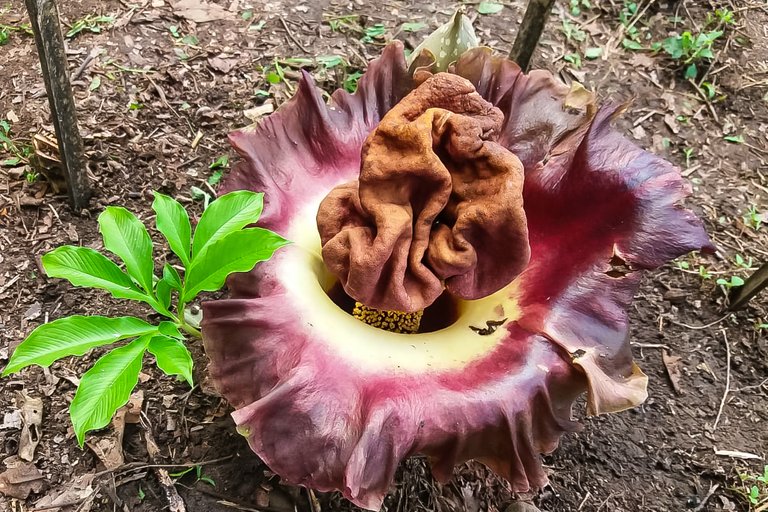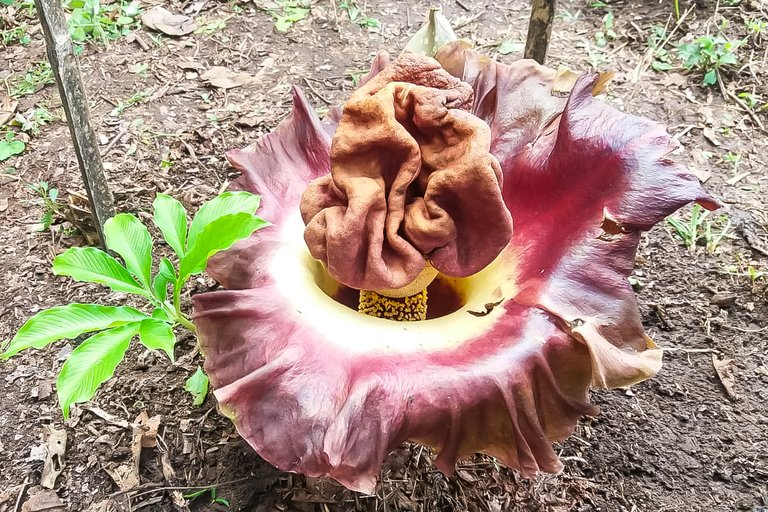 ---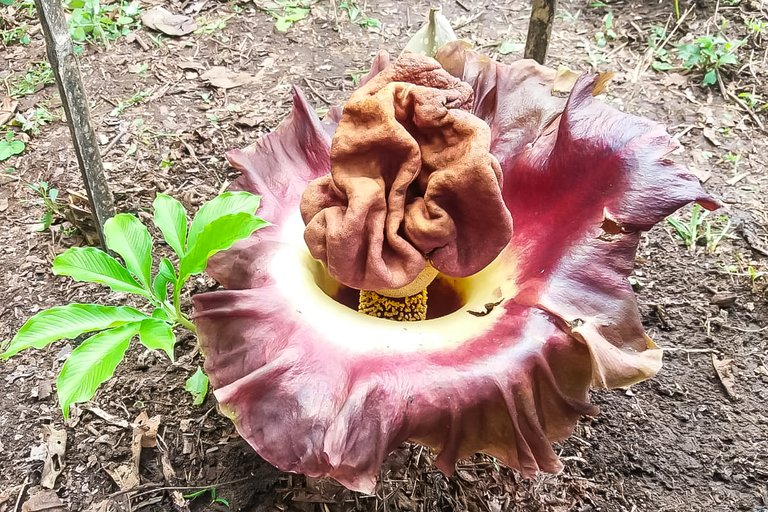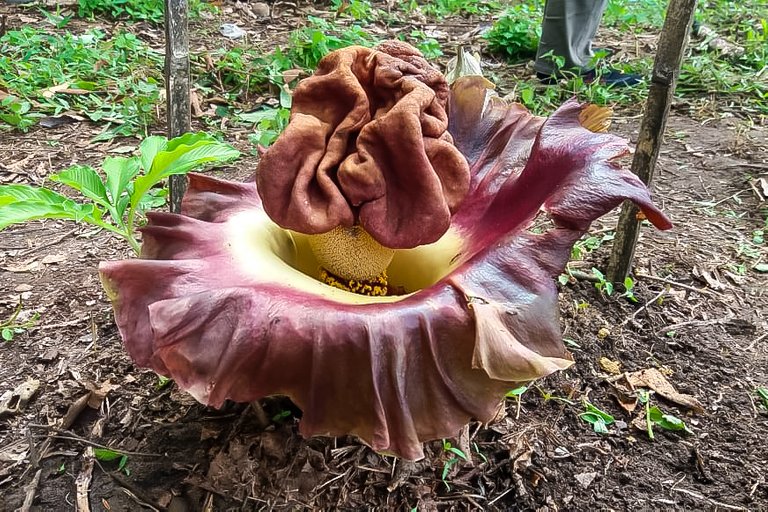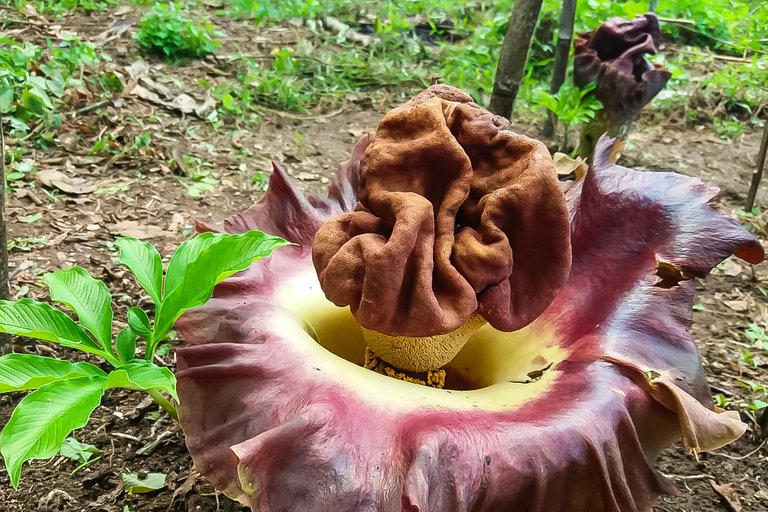 ---
At the time of corpse flower before blooming, the temperature inside the flower is very hot, reaching 50 to 60 degrees Celsius. No wonder if at the time of bloom, this flower will emit unusual smoke even though the environmental conditions around this plant are very cold.
Pada saat bunga bangkai menjelang mekar, suhu didalam bunga tersebut sangat panas, mencapai 50 hingga 60 derajat celcius. Tak heran apabila pada saat mekar, bunga ini akan mengeluarkan asap yang tidak lazim meskipun kondisi lingkungan di sekitar tanaman ini sangat dingin. Bunga Bangkai
---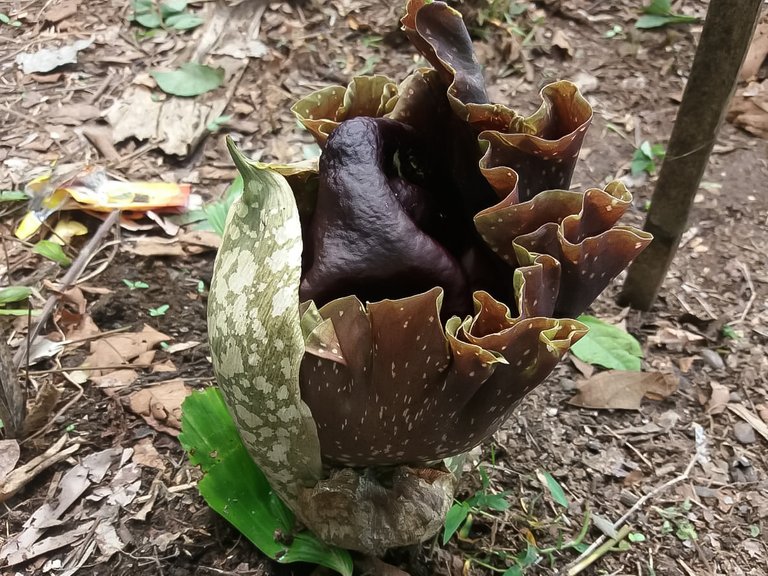 ---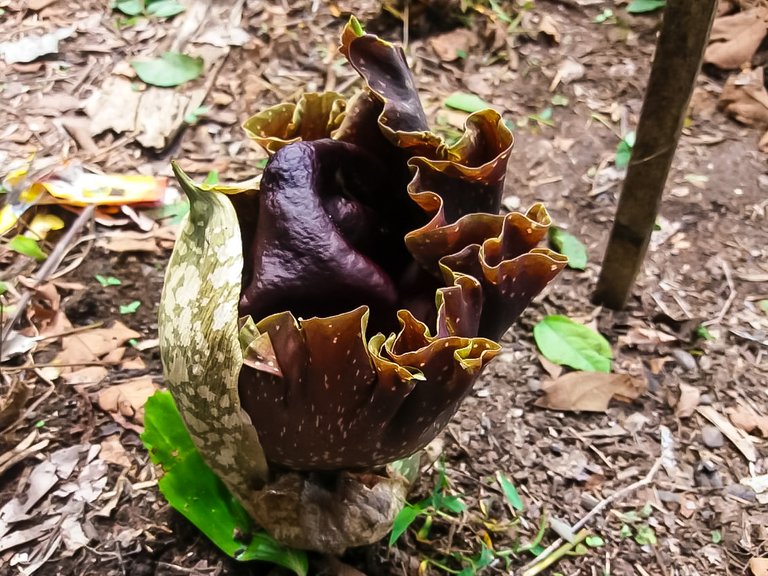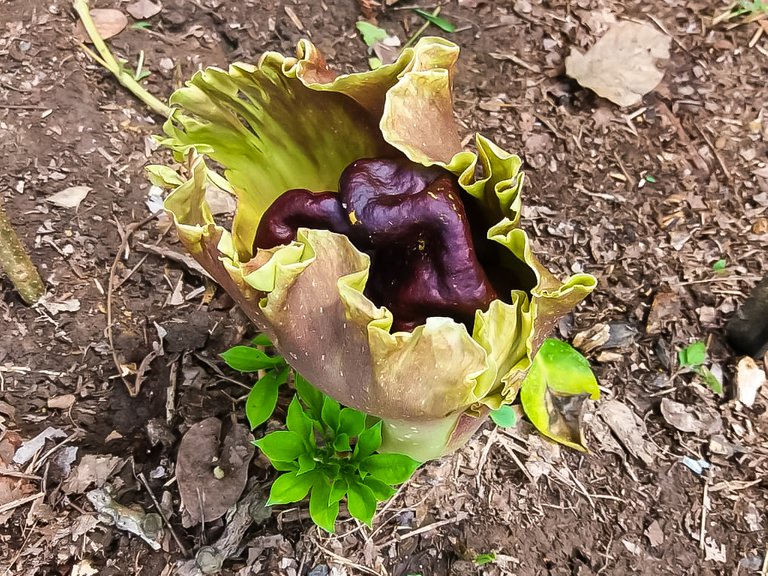 ---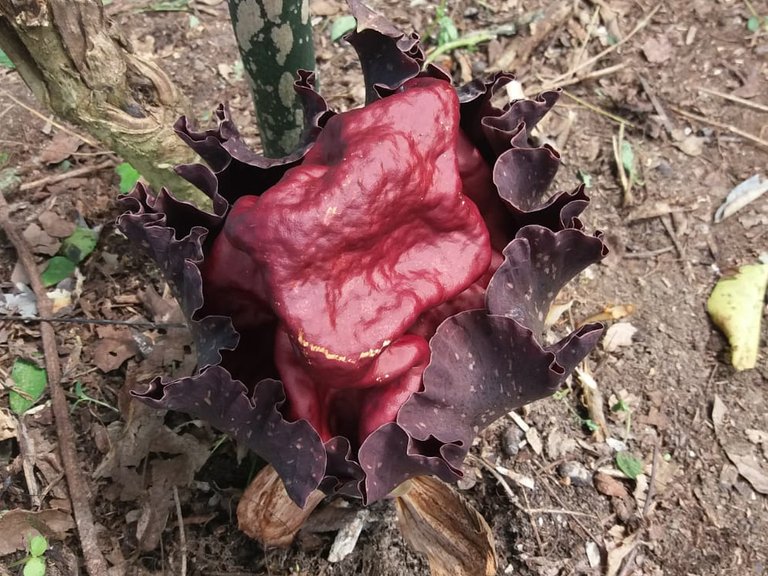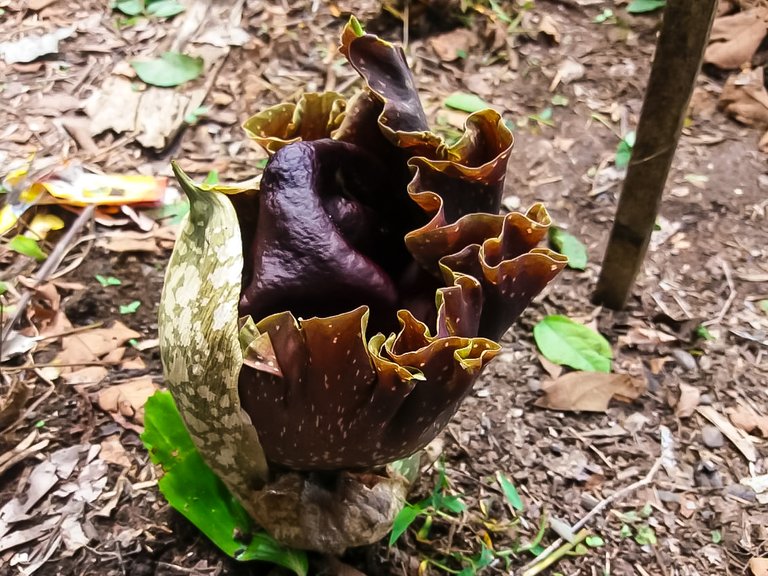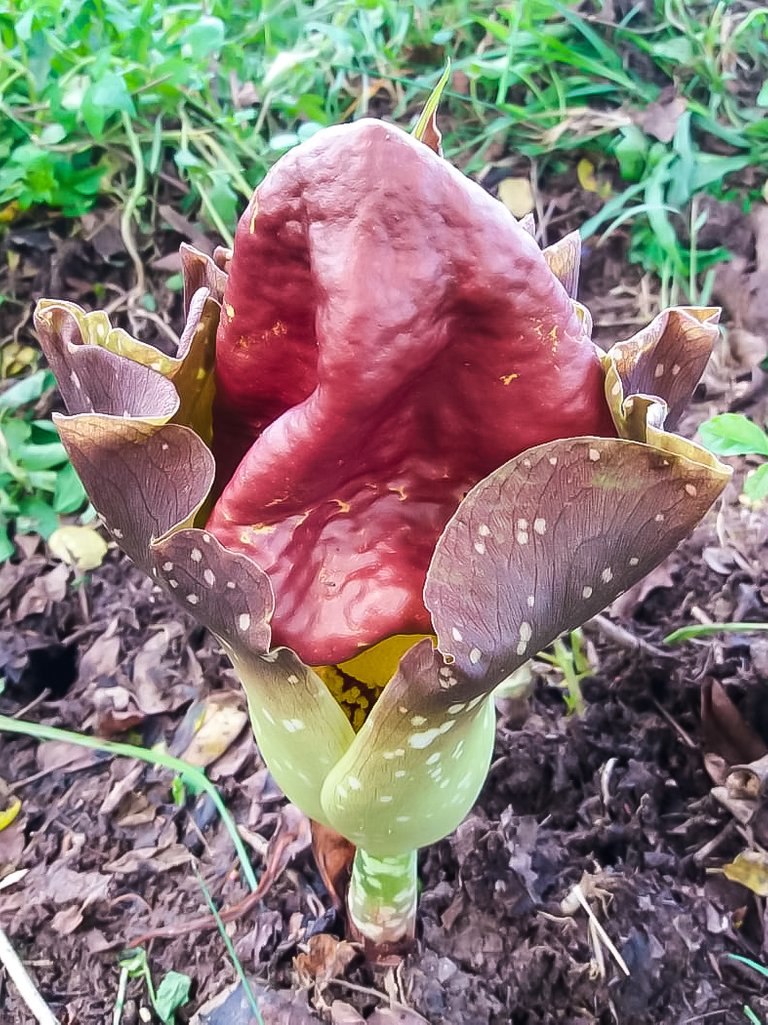 ---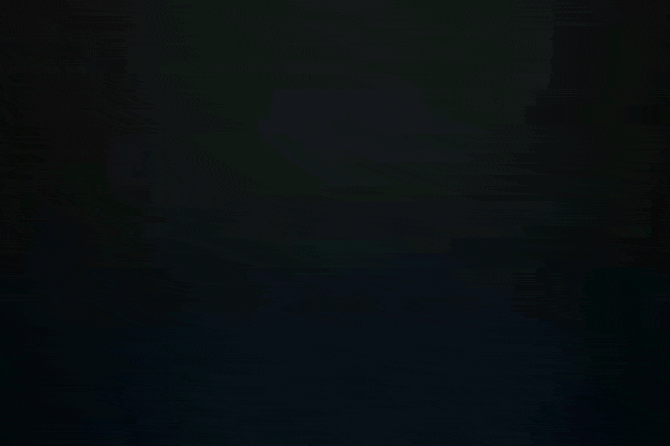 Hive Gift by @doze