Your proportions and understanding of human musculature here are very good. Better than where most people start. I notice this in your photography as well, as you've got a good way of doing your composition.
What can be improved in this image is the composition and flow to add more drama to the image. The winged figure on the top should be higher.
I've done a quick massacre of this in Photoshop to explain what I mean.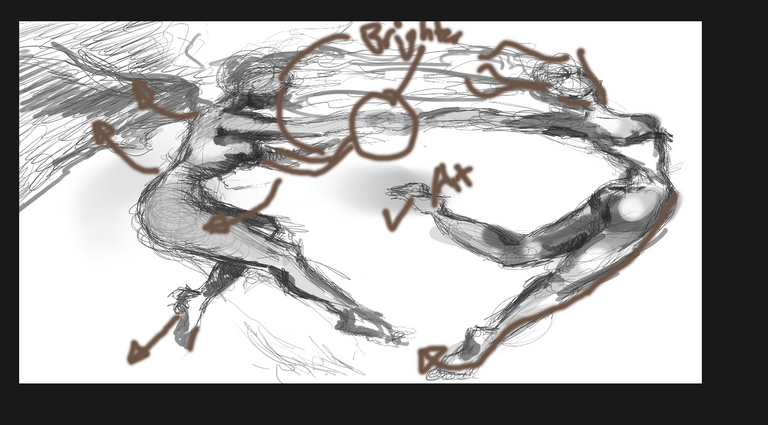 You've got a good understanding of the way the leading lines work in the image, but the next step (if you build more detail) is to also use light and colour to guide the eye through the composition.
Some basic facts that you can then apply:
The human eye tends to the brightest spot first.
Make that bright spot an arrow.
WHen you get to the conclusion of that natural arrow, have a slightly darker spot, with another arrow
Repeat, and you'll tell your narrative, and instruct the human eye to look at the image in a sequence, which will enable you to ensure a clean reading of the image, and your intent with each person who looks at it.
Please let me know if you want further critiques of this stuff. Don't ever be nervous about sharing art. Art is always a deeply personal thing. I'm not here to judge, I'm here to share my knowledge and expertise with you and anyone else that wants it.
If not, tell me to go away - or, you will know how to track me down on discord. :)