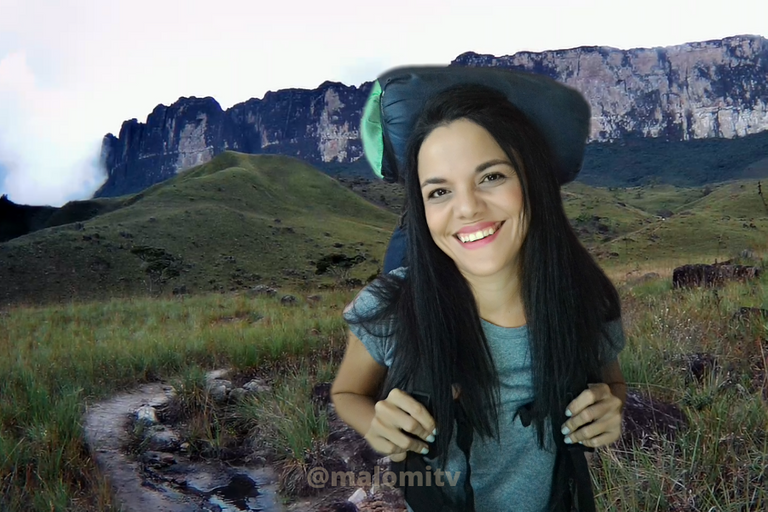 Own photography, edited with Canva program


Hello Peladiente ❤️😎
Ok ¿Are you ready?... Today we are going on a trip, to have a great time... ✈️💓 by the way, you know...
¿Why do you want to travel to Roraima?
This is, the first question you must ask yourself to go to this magical place, since for many comforts and money you bring, this trip is not common, it is an extreme adventure trip, which will prove:
All the skills or abilities that you have and those that you lack too .. 😂

You will face yourself, wondering what is right and what is wrong.

You will measure your survival capacity (It does not matter if you are James Bond or Agent 007 😅).

Your senses will open, you may visualize or feel things, that you have not lived and that you perceive strange or very special.

You will prove how strong the connection is with the person or people you go on the trip.

It will change the way you think and feel, both emotionally, spiritually, and physically.
I am not exaggerating, when I tell you this, because according to your needs and expectations, this will be the trip, if you are thinking about comforts and luxuries, this place is not for you, instead if you go with the idea of ​​disconnecting from technology and connect with nature, enter and explore (along with the guides) a magical world, to take care of every space you meet, challenge yourself to conquer the top, among other positive things, this place is for you and will be the best trip of your life🌟
But, it is not necessary that you believe me at once, because I will be telling you by parts, carefully, so that you see absolutely everything and... ¿You know what? you travel with me again 😍
Well, while I collect my things, I will explain geographically where we are going
The Roraima, also called Tepuy Roraima or Monte Roraima, is located between the Canaima National Park, Edo. Bolivar, from our beautiful country Venezuela and the Monte Roraima National Park, from the brother country Brazil.
This plateau, comes from the Pre-Cambrian era, with an age of approximately two thousand years, being one of the oldest formations on earth and therefore the highest in the mountain range, where its highest point is "El Maverick" with 2810 masl approximately in height.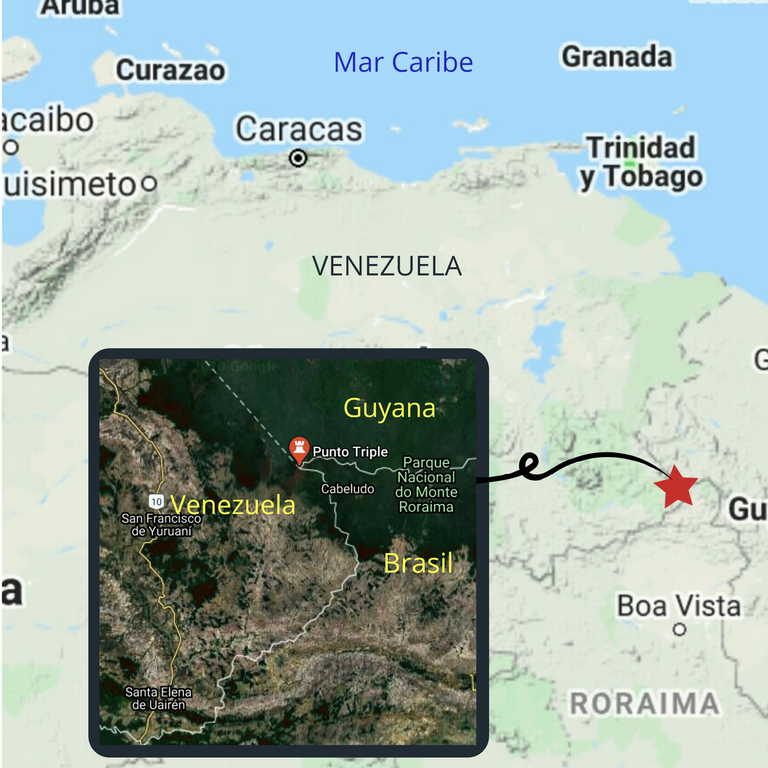 Photography from Google Maps, edited with Canva program
I imagine you are wondering why Brazil is included? 🤔
The surface of Roraima involves three important countries, each country represents a percentage: Brazil with 5%, Guyana with 15% and our beloved Venezuela with 80%, all these countries make a union through the "Triple Point"
!Yes! We will also visit it and you will be able to observe the route and everything interesting there... Ah! you are already excited they stung 😂
Let me speak, because we are going to be late and leave late, do not be impatient, because now we have moments together... I keep telling you...
The entrance to the tepuy, is made on the Venezuela side, first we must get to the beautiful Indigenous Community of Paratepuy and then to the Inparques post, but I am not going to overtake you anymore! because now I want you to know 5 things, so that you finish convincing yourself, because you must go:
From what you will see all the way, the landscapes are unique, either because there is a lot of sun and a lot of rain (the changes are abrupt 😱), they will always be beautiful, also because of the type of flowers, plants or insects, by the rivers , the waterfalls, for the quartz that will recharge you (which you must take care of and DO NOT take with you), for the sky at night, for the perpetual silence, in short, for absolutely everything.

Due to its antiquity, you can imagine walking through a rock formation that comes from the Pre-Cambrian age, no more and no less than 2000 years below your feet, you cannot die without first going, you will miss many sensations and history.

You will share with Pemones, of the Taurepan ethnic group, that in addition to being a mystery, if you know how to earn their trust and respect, you will delight with their ancestors and their stories, despite being silent they are very curious and will share with you in a friendly way everything that you carry .

It will be a challenge for you, no matter how tired you are, being able to reach the goal in each route per day, it is extremely rewarding, although I also leave you a fact, it is ideal to prove a relationship of friendship or dating, because it comes out best and perhaps even the worst of each person, so if you plan to get married, take your partner there, because if they manage to understand each other during the tour, that will be your ideal partner. "Malomero Council" 😎

You will disconnect from everything and you will be awakened, a strong attraction or curiosity, about the mystical part of Roraima, perhaps you will be surprised at what they tell you or feel.
¡Ready! !Ready! I already have everything collected! And now... ¿Shall we put your suitcase together? 😍
To be continued ... 😀🏕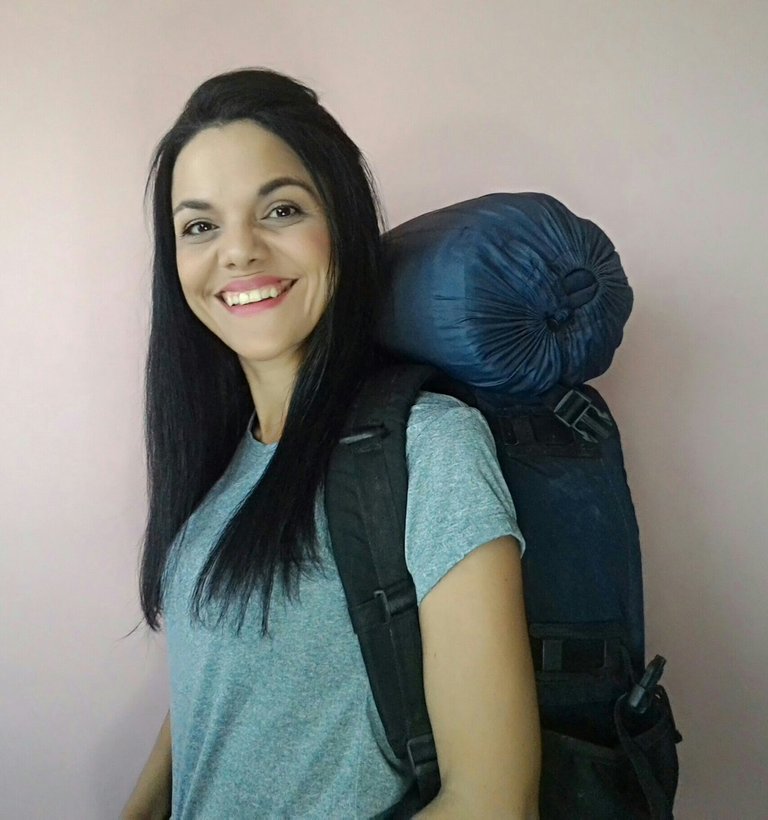 Own photo, original without editing
If you want to see more about the Roraima, photos and videos, wait for the next chapter 😀
---
Thanks Roraima 💚, Community of San Francisco de Yuruani and Paratepuy, M.C and my Pemon and excursion guide.
---
✈️ Here is the Spanish version of this article ¡Vamos! ¿Quieres viajar al RORAIMA conmigo?😍
📃 If you would like to know more about me😍, visit me "MI HIVE INTRO. Me dicen MALOMI ¿Te gustaría saber por qué? and my last post Mi adoptante es una "Super Heroína"
📷 And come to greet me on my instagram as Malomi TV 💜


---
Thanks for being here😘🍒