When I first saw the trailer for this film, I thought, just what we need another inspirational true story about how teachers or coaches changed children's lives. But for just another one of those stories it is amazingly well done. It has a solid and interesting plot and the acting is good. I rather enjoyed this film.
This story is about a man, Sean Porter (The Rock), who works at a juvenile detention center in California. He believes the success rate of rehabilitating the juveniles is too low. They are all involved in gangs and most of them end up dead or back in jail after they leave the detention center. Sean wants to find a way to "save" more of these kids. He knows that gang membership is the problem, but if he is going to ask the kids to give up their gangs, he must give them something else to belong to. He, having played football in school, believes football is the answer. He thinks the discipline of football will help the kids plus it will give them a team or a family so to speak to belong to instead of a gang. He initial team is composed of kids he thinks can be saved or kids that have some football experience.
They include such characters as Junior who is a disciplinary problem who promises to behave if he can play—he wants to make his son proud. Willie Weathers whose cousin just got out of the detention center and was killed by a rival gang, Willie lands in jail by killing his stepfather who is abusing his mother, Kelvin Owens who is from the rival gang that killed Willie's cousin, and Kenny Bates who stole a car. Sean convinces a Christian school league to let them in the league so that the kids will have someone to play against. They only have 3 weeks to prepare for the first game and it is a disaster for the Mustangs (name of the prison team), but we watch as the team gets better and the boys continue to grow and mature. Will they make it to the playoffs and will Sean's program make a difference in these boys' lives? One cool thing about this movie is that it is based on a true story and at the end of the film it tells what happened to each of the boys.
As far as cinematography and plot both were solidly done but nothing special. There are no flashy special effects just a good solid film full of heart.
The acting was well done. I thought The Rock was perfect for the role of Sean Porter. He is the right mixture of caring and toughness to be able to handle these boys. He also shows amazing grit during the times of adversity, as when the team looses badly in that first game, and also his mother is dying of cancer while this is going on. His was a wonderful character that seemed real and full of depth. All the boys did a good job as well.
Setu Taase plays Junior, the problem child who wants to change and be better. Jade Yorker plays Willie Weathers, the boy would doesn't want to change, but finds himself becoming more mature in spite of himself. David Thomas plays Kelvin Owens who is Willie's nemesis from a rival gang.
And my favorite, Trever O'Brien plays Kenny Bates, the poor boy stole a car and not a good one at that. He has problems with his mother as a result and all he really wants is his mother to love him and be proud of him perhaps this football team can help him with that. All in all I thought the acting well done.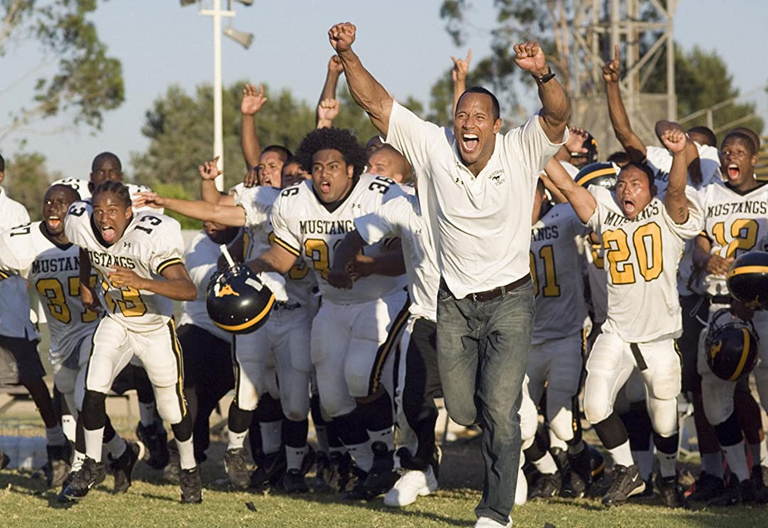 These types of stories always amaze me, as an educator I can't imagine overcoming some of the adversity that is presented in stories such as these. This one is based on a true event; is well done; and is quite an enjoyable movie. If you like hopeful stories, football movies, or just a good film for a Sunday afternoon then you should give this film a try.