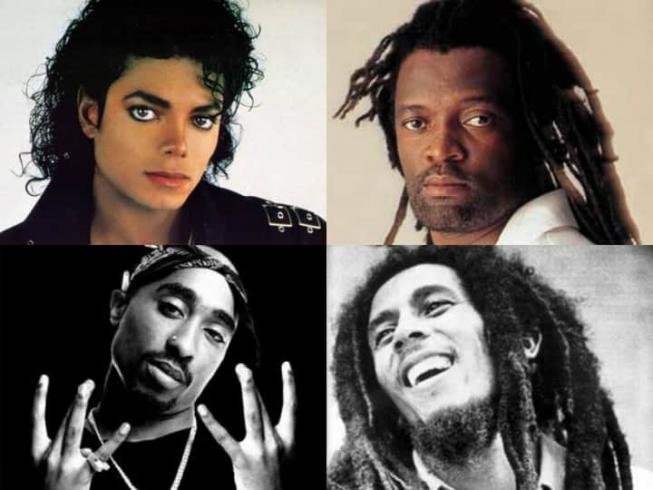 ---
All sentiments aside, do you think this is a fair comparison? One or two people do not belong in this collage and I'm going to state some few facts in this publication with respect to their achievements while alive, God rest their souls!
It is so Unfortunate that all these musical legends are gone,they are all legends in their own ways and they sure left a huge impact on our lives in one way or another as music fans worldwide. The only people who might not know them, is someone that was born recently, they wouldn't know any of these four guys above.
That being said, do you agree it is fare to compare them together regardless of their genre? Aside from type of music, do you think they all have same achievement and global outreach with their style and kind of music?
With the statements/questions above in mind, let me do some historical detour to see how they all fair on a global scale.
Michael Jackson, Bob Marley, Tupac and Lucky Dube are their names in case you are wondering. Arguably everyone knows two or maybe three of these icons more, Bob Marley and MJ seems like a worthy and fare match/comparison in terms of world fame and music outreach and shouldn't be grouped together with Dube and Shakur.
From Hip Pop perspective, Tupac was more popular, youth dominance in the Hip Hop world might be the sole reason for this and its a fact that most millennial only knew Tupac well after his death. Another fact is that, the percentage of adults doing hip hop is low compared to adults fan base of Raggae and RnB/Pop. So the sentiments is bound to occur due to the youthful population of Rap musical fans, that still pays heavy royalties to Tupac's family and Record label anyways.
On the other hands, irrespective of how Lucky Dube stole our hearts from South Africa as a Reggae Legend, he still trails after Bob Marley the only Raggae god which so happens to be in that comparison. Not sure how popular he was in Europe and the the rest of the world while alove, but MJ and Bob Marley were popular in all continents even in the Northpole and maybe in the space while alive and after death!