As a blogger, if you don't know what is keyword research and how to do keyword research, you may have a lot of problems with your blogging career.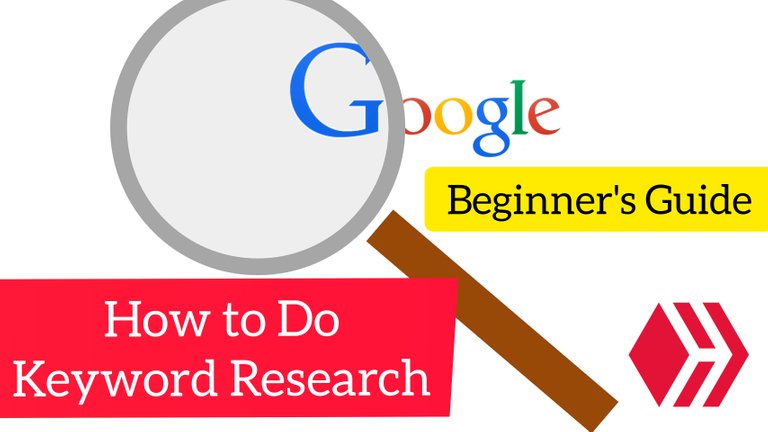 However, many friends have asked me, "How do you do keyword research for your article?" Alos the post ''Help Hive - Sprinkle A Little SEO On Your Posts'' by @abh12345 inspired me to write this article.
In today's article, I will explain the rules and process of doing my keyword research. I have a Bangla news portal named Air Info Bd, and I will share with you how I do keyword research for my website.
What is Keyword Research? How to do keyword research?
Look, friends, today's online blogging platform is like a kind of business. And, thousands of people are starting blogging on the same topic or niche. This is creating a lot of competition among every blogger.
Also Read - Earn Cryptocurrency by Writing and Consuming for free
Because, nowadays, when you search on Google with any keyword, question, issue, or problem, Google gives you a much better solution on its front page. However, as many people publish answers or solutions to the same question on their blogs, Google or other search engines have a lot of choice of information.
So, Google and other search engines only show the best, SEO friendly, user-friendly, high-quality content blogs or websites on their top 10 results (Top 10 Results).
And, which contents or blogs have low quality, poor SEO optimization, search engines show them in their second or third pages.
As a result, only the blogs or websites on the front page get lots of traffic or visitors from Google and other search engines.
So, if your blog is not getting traffic and visitors from Google or other search engines, you may not be writing useful quality articles.
Moreover, even if you don't use proper SEO optimization techniques in your articles, it becomes difficult to get traffic from search engines.
If you are writing the best quality articles and at the same time with good SEO optimizations, and even after you are not getting traffic from search engines, then the reason may be "not doing keyword research."
If you are writing an article without any knowledge about "what is keyword research" and ''how to do keyword research,'' then in terms of SEO, this is your biggest mistake.
What is keyword research? To answer this question, you first need to know what "keywords mean. "
What does the keyword mean? ( What Is Keyword)
In the case of blogging, keywords are a term by which Google and other search engines can understand and know about your blog and the articles written on the blog.
Depending on the targeted keyword of your article, search engines send the right traffic or visitors to your blog.
What do we write when we search for a problem or topic in Google search?
"How do I make money online,"
"What does keyword research mean,"
"Which mobile to buy,"
"The best Android mobile,"
and a few words or phrases on Google search.
And you know, these kinds of "words" or "sentences" written in Google search are called keywords. Any keyword can be a word or a sentence of more than one word.
For example, "online income" and "online income tricks in English" are both keywords. However, keywords with more than two words can be called "key phrases."
Sounds fun! Right?
These can be short words or big sentences. Most "keywords" are nothing but a sentence of 3 to 4 words. Simply, a keyword is a complete word or phrase that means "what you are searching for by typing in Google search, bing search or yahoo search engine."
If you are talking about this article, then I am writing an essay targeting the keywords "Keyword Research Key," "What is Keyword Research," "How to Do Keyword Research," "Keyword Research Rules. "
So, if someone searches Google with my targeted keywords, then Google will show my blog or article in its search results. Well, if Google thinks that my article is extraordinary.
Remember,
Visitors are searching more on Google (search engine) by typing which keywords, and which keywords are targeted in your article, these two things should match if you want to get a lot of traffic or visitors from the search engine.
Now, the question is, "How do you know which keywords people are searching more on Google?".
The answer is through "keyword research. "
What does keyword research mean? (What Is Keyword Research)
Keyword research is an essential and vital part of SEO (search engine optimization), where you'll find the most searched keywords and key phrases in popular and search engines.
Moreover, through this process, we can find new topics and key phrases for blog articles that are profitable and interested in people.
The first step to optimize an article for "search engine" is keyword research.
In this way, you will be able to find better and more searched keywords on Google. Targeting profitable keywords by researching and writing articles, you can get more visitors from Google and other search engines.
Why is it important to do keyword research?
First of all, it is essential to do this process to find the most profitable and most searched keywords in Google search.
Second, you can find out how much Google search is being done on the topic you are writing. Whether people are searching on Google about the article you are writing about, and how much, if they are searching.
Remember, if you are writing an article targeting the keyword, if it is less than 100 searches per month, then there will be no benefit in writing that article. You will find much less traffic or visitors in the article written with that keyword.
So, it is often the case that bloggers write a lot of good quality content, and even then, their blogs are not getting traffic from search engines at all.
The only reason for this, however, is "writing articles without keyword research. "
Although you are writing an excellent article and the article has done a lot of good SEO optimization, but maybe your targeted keywords are not searched at all in Google search.
You may be wondering why the blog is not getting traffic and visitors even after doing everything right.
So, before writing a blog article, the purpose of keyword research is to target the keyword that you write the article, which has a good number of searches per month in Google search.
The more your targeted keyword will be searched in Google search, the more traffic or visitors will come to your article.
Lastly, keep in mind that the key to success in your blogging career is to write articles targeting keywords that are more popular and more searched, which I am doing for my website as well.
And, such profitable keywords can only be extracted using the process of "keyword research. "
What are the rules and procedures for keyword research?
We need to use some "keyword research tools" to find profitable, popular, and highly searched queries, topics, or keywords in Google search. There are so many right tools like this.
But, most of the paid tools and you have to pay a lot more to use them.
E.g.,
ahrefs.com
Keyword Tool
Kwfinder
These three are the best keyword research tools that many bloggers or website owners use to find profitable keywords.
However, do not be upset.
I have used each of the three tools mentioned above; however, currently using only a few free tools and techniques, I am looking for profitable keywords for my website articles. This means that there are many free keyword research techniques and tools that you can use without paying any money.
Do keyword research for free.
I use the following four methods to find profitable keyword ideas for my blog article.
With these 4, I do keyword research for free, find profitable keywords, topics, or article topics for each article in my blog and also understand how popular a keyword/topic is in Google search.
1. Google keyword planner tool
Using this free tool from Google, I find keywords that are good for each of my articles and which more searched in Google search.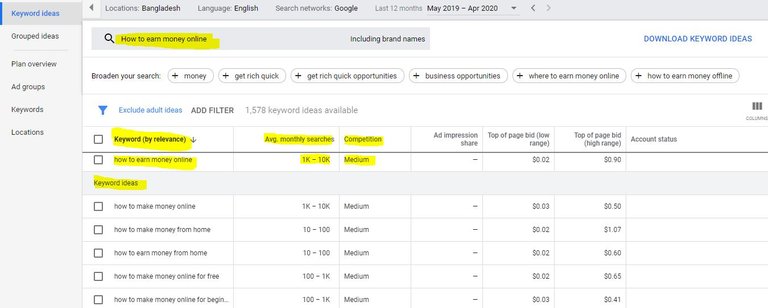 Google keyword planner tool
As you can see in the picture above, in the search box of Google keyword planner tool, I typed a keyword or key phrase to search, and the tool showed me how many times a month the word or sentence is searched in Google.
In addition to showing you the number of searches per month for the keyword you are searching for, it also shows you how much or how little competition is there.
You can research English as well as Bengali keywords, Hindi keywords, and other language keywords. Also, location, along with language, and the demand for the keyword in a month or time, it is possible to know everything using this tool.
Moreover, this tool has one more benefit.
It shows all the other keywords related to the word or sentence you searched for and the amount of their search on Google. This will allow you to add more profitable keywords to your content along with the targeted keywords. Moreover, you will continue to get profitable keyword ideas for writing new articles in the future.
Google keyword planner tool is a free service from Google.
So, you need a Google account to use this tool. Go to the "Discover new keyword ideas" option after login. Then, type the keyword you want to research, click on the "Get results"option below.
Remember, if you want to do Bangla keyword research, you must change the language from "English" to "Bangla."
2. Ubersuggest tool
After Google's Keyword Planner tool, I would suggest using the "Ubersuggest tool."
Because, like keyword planner, this tool is entirely free and gives us accurate information about how many times a month, any keyword is being searched on Google.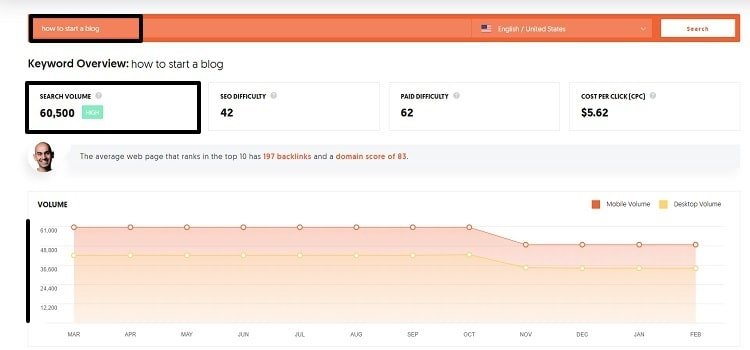 Ubersuggest keyword research tool
As you can see above, after I typed "how to start a blog," the tool showed me that this keyword is searched 60,500 times a month on Google.
Moreover, with SEO Difficulty Score, you can know how easy it is to get traffic using the keyword.
Remember, the lower the SEO difficulty score (better lower than 20), the easier it will be to rank Google articles with that keyword.
Below the Volume, you can see that the ''search volume'' is given as the monthly keyword.
I mean, you can also know how many times the sentence was searched on Google in a month. This way, using this free tool, you will get information about how often any keyword, word, or sentence is being searched in Google search.
At the same time, you can know how easily any keyword can be ranked in Google through SEO difficulty score.
3. Keyword tool
Finally, another useful tool for researching English keywords is the "Keyword tool."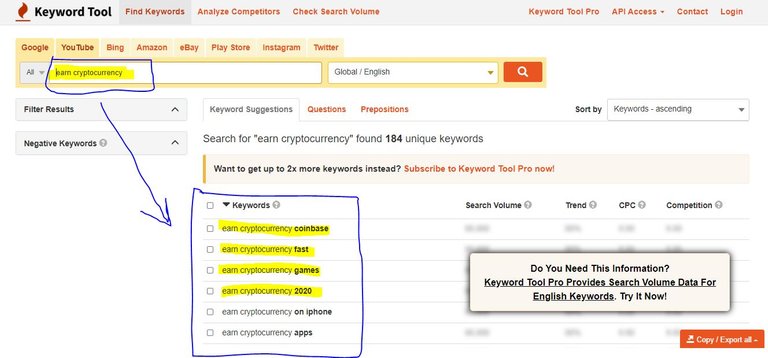 Keyword tool keyword research
Go to the website, and in the first box, you have to type the keyword with which you want to know the information. However, in the second box, you can save the language of the keyword.
If you are writing English keywords, then English, and if you are researching Bengali keywords, then Bangla language has to select.
Remember, you have to pay to know the search volume, CPC, and competition of your searched keyword.
However, this tool is best for finding related keywords related to your original keywords. You will find many other words or phrases related to your unique targeted keywords, which you can use in your content.
As a result, your article will rank in Google with many types of key phrases or sentences.
All kinds of keyword ideas found using the keyword tool; how many times a month are being searched in Google search, you can find out using google keyword planner or Ubersuggest tool. That means you don't need to pay.
4. Keyword research through other means
Using keyword research tools, you can find new and useful keywords or sentences for articles.
And, of course, every professional blogger uses this process.
However, there are other means by which we can learn about keywords or phrases that are more profitable and more searchable on Google.
a. Google auto-suggest
When we type a word or keyword into Google search, Google suggests many other sentences or key phrases associated with that keyword or word.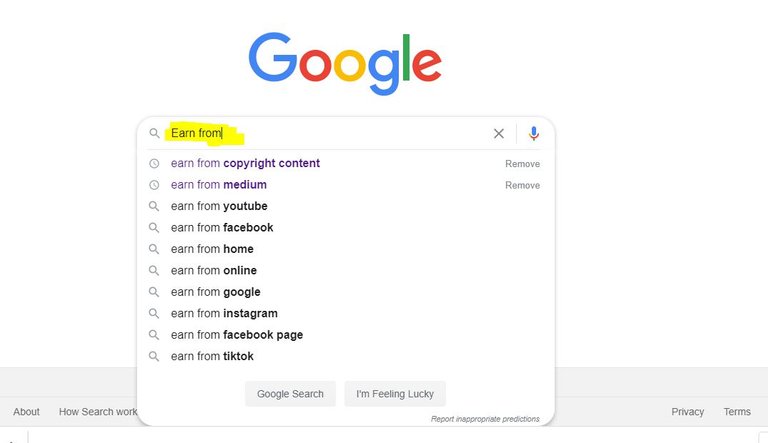 Google auto-suggest research
For example, after I typed the keyword "Earn From" above, Google automatically showed me many more sentences, suggestions, or key phrases related to that keyword.
And, of course, if I write an article targeting these kinds of auto-suggested key phrases shown by Google, then my blog will have a chance to get a lot of traffic and visitors from Google search.
Because Google shows these types of auto-suggest key phrases only when people type those sentences or keywords and do a lot of search on Google.
This means that if any sentence, word, question, or key phrase is searched extensively on Google, Google shows them in its auto-suggested keyword.
So, if you write an article with this kind of keyphrase, you will definitely get traffic from Google. Moreover, using the google keyword planner tool, you can know the exact search volume of key phrases.
What did we learn today?
Friends, today, in this article, we learned what keyword research is and how to do keyword research. I also learned about some free tools and processes while writing.
In the end, it is learned that keyword research should be done before writing an article on the blog. That way, you have accurate information about the content of your article, or the targeted keywords searched on Google.
If you already know how many searches are being done per month in Google search on the topic you are writing about, how easy will it be to rank in Google with the keyword? So, of course, you can get a lot of traffic from Google in a short time.
So, remember that the essential thing in terms of blogging and SEO is to do "keyword research."


I know the contest 51,000 Hive Power delegations for one month by @abh12345 is going on, so it will be a great opportunity to show what you just learned. And who doesn't want 25,000 Hive power! Right?
Also Read - Stephen King's Top 21 Rules For Writers

Genuinely speaking, I am not a writer. But I tried my best to express what I think. Never give up. And I'm not giving up! Hit the upvote button, and reblog if possible. It will inspire me to write more blogs.
Original content by @pitboy.


Who am I?
I am Marwan Aka @Pitboy from Bangladesh, the land of beauty. I am a Social media advertiser, a traveler, a Youtuber and, trying to be the right person.
My social links -
My news portal - Air Info BD