Dear Hivers,
Do you want to know some cool formatting hacks?
Then I think you will love this article. But before we get into the details, I would like to share what formatting is NOT about:
It is not just about bolds or italics. Those are basics. Most of us do it — and they work. But there are other "flavors" you can add to formatting. In fact, only a handful of people do it.
That is why I thought I will share them here. These are powerful formatting techniques anyone can use.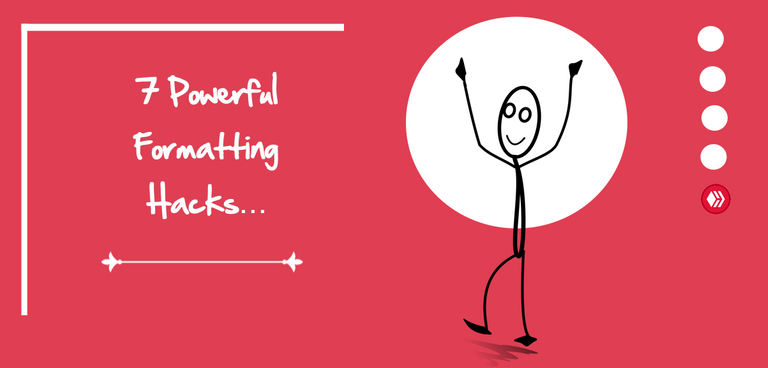 It took me years of learning to discover and implement them. As you start reading this article, you will see why these hacks are powerful. And how they can take any article to the next level.
Quick note: formatting is all about presenting!
As much as writing is important, presenting your writing is equally very important. These formatting hacks will help you present your content — in a better way. It will move your readers — to not only start but also finish reading your article.
And then, as you begin to use them regularly, it will also help you collect audience and gain some attention. And so with this promise, let us dive right into these hacks.
Here are the 7 most powerful formatting hacks:
---
---
Here is a hack you will love:
It is actually one of my favourite. And it pushes you to read one sentence after the another. Did you spot it already?
I am talking about the colon.
As you are reading this, you have already read 5 lines of text all because of a single colon used in the beginning of this section.

I urge everyone writing long articles to try it out.
Here's why colon works:
Our brain reads faster than our eyes, and so we tend to skip sentences. We glance through everything. This is where a colon is powerful. It signals the brain a simple fact:
That the sentence is not complete.
And so our brain slows down. To read the next sentence. To complete the incomplete. Pretty cool, right?
(I hope you are spotting the colons used in this article.)
---

---
Why?
Well, because it works. A question mark is another way to shake your brain. You see, moment I ask you a question?
I also bring you into the conversation.
You can feel it, right? As if I am talking to you right now even though I am not around you.
This article, in fact, started with a question mark:

A question (or question mark) takes away the rigid tone from our writing — and replaces it with something casual. It makes the tone conversational. Helps you connect with the reader.
Don't you think so?
---

---
You know I am a huge advocate of pictures.
They are fantastic for two reasons:
First, pictures create disturbance. As you think about it, every picture stops your reading flow. It tells you the article isn't just filled with text. This is very important to regain attention.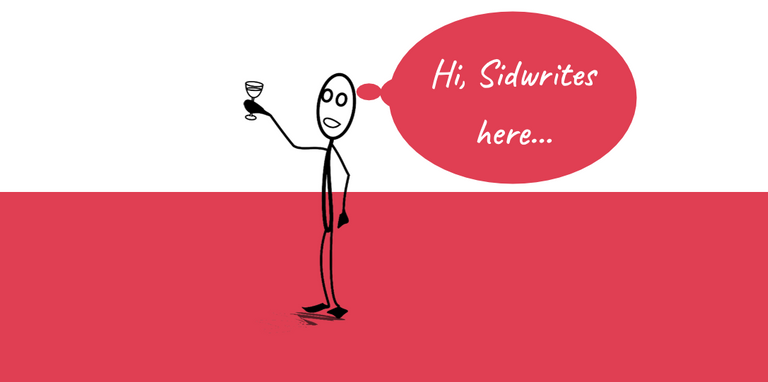 Second, your reader is also excited because of the unpredictability. He doesn't know what's next — and continues to read further.
Bonus tip: Where do you insert pictures? Start reading your article and if anywhere you feel it is boring? That's where you insert the picture.
Also read: How to make custom pictures
---

---
Use dividers to break sections. I use the normal divider in my articles. But you can pick any fancy ones: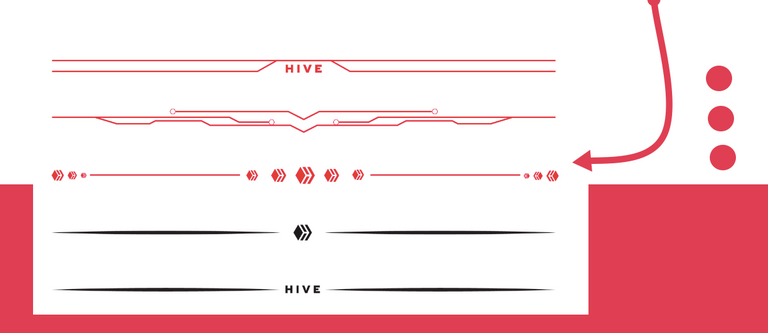 Check out these 3 articles with Hive dividers:
More non-Hive dividers:
How to use them: Find a decent divider — download and save it. Then upload it on Hive / Peakd. Add them when you are moving to a next section.
Note: You can see I use normal divider (line) before and after the subheader:
---

---
But use fancy fonts occasionally. You see, by default, we can't change the font on Hive. So you can start using text generators.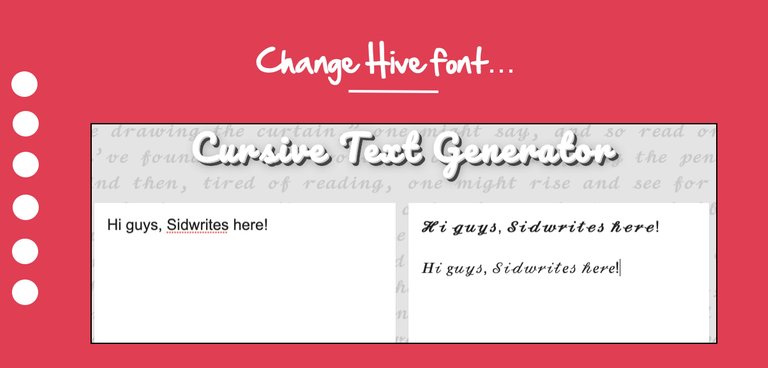 Just visit any of the tools mentioned below and add your text.
Tools:
Examples:
𝐻𝒾 𝑔𝓊𝓎𝓈, 𝒮𝒾𝒹𝓌𝓇𝒾𝓉𝑒𝓈 𝒽𝑒𝓇𝑒...
𝕊𝕚𝕕𝕨𝕣𝕚𝕥𝕖𝕤 𝕙𝕖𝕣𝕖
𝔖𝔦𝔡𝔴𝔯𝔦𝔱𝔢𝔰 𝔥𝔢𝔯𝔢
Important tip: Using such fonts for your entire post is a strict no-no. They are also perfect for introduction, subheaders, and as a signature (at the end of your post).
How it works: Go to the tools above. Type your text. Copy and paste the newly generated text in your Hive / Peakd editor.
---

---
I discussed this in my "writing mistakes" article. Basically, you throw your long sentences on the table — and cut them into short sentences.
You do the same with your long paragraphs. Break them into short pieces for readability. Maximum 5 lines per paragraph.
You can see how it impacts readability in this image. The left one without spaces is tough to read compared to the right one.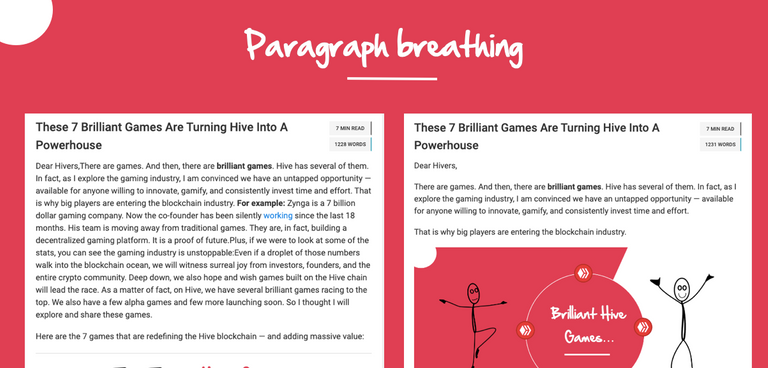 If you haven't read the article, check it out. I explain more about shortening your sentences and paragraphs.
Bottomline: Short works.
---

---
Short story: As I was managing a Twitter account for a crypto exchange, the Chinese founder told me: Let's use emojis!
My instant reaction? Umm. This is a professional business account. But he didn't care. And so, I started using emojis. The results were beyond fantastic.
Because, in many ways, emojis are emotional triggers. No wonder Google and Apple use them as well.
In your article, you can also use emojis in a different way. For example: You can replace normal bullets with emoticons.
The regular bullets look like this:
This one
This one
This one
But replace them with something else. Like a checkmark:
✅ This one
✅ This one
Or you can also use emojis:
😍 This one
😍 This one
Looks cool, isn't it? They are colorful and comes in variety. You can easily find hundreds of emojis on the Internet.

Check out these emoji websites:
How it works:
Go to any of the website above. Pick your emoji based on your interest. Copy and paste them in your editor.
Bonus tip: Don't like these emojis? Then you can also use special numbers. Like these:
➊ ➋ ➌ ➍ ➎ ➏ ➐ ➑ ➒
Get the entire number set here: Numerals
---

---
Whoa!
We are done with all seven! These were some of the BEST formatting hacks I have learned over the years.
To summarise:
Use colons
Use questions to create a conversational tone. Why? It works.
Use pictures to interrupt the reading
Use dividers to break sections
Use fancy fonts to regain attention
Use short paras + sentences for readability
Use emojis / emoticons
And with this, I hope and wish you found this article useful. If you knew all of them, treat this article as a refresher. If you found a couple of them useful — then apply them in your next article.
In fact, you may want to try them out soon. Perhaps pick one or two and start using it in your next blog post.
Also, do let me know your thoughts in the comment section. I would love to hear from you. As always, let us together continue writing — implementing — and learning. 🔥
Cheers,
𝕊𝕚𝕕𝕨𝕣𝕚𝕥𝕖𝕤
---
If you liked this article? Feel free to comment and upvote and reblog.