Min's doubts during the event
brewmaster has been launched for a while, this is a game built on HIVE, similar to farming, you can try it out.
There is an item in it: EVENTS
In EVENTS,
You can see the rewards of each ranking,
For example, 11~25 are the same ladder, and 4~10 are the same ladder.
The past few days,
I always think that the MIN on the left means to enter the ranking, at least these cards are required,
For example, 11-25 people must have at least 4 gray cards and 2 green cards.
I just found out,
My previous understanding may be wrong~
Because I just noticed that the rewards for the 11-25 ladder and the 4-10 ladder are the same.
So the meaning of the announcement,
maybe
MIN represents the number of cards you will get
such as
11-25, indicating that we will get at least 4 gray cards and 2 green cards.
And the percentage next to the item on the right is the probability of obtaining,
That is, the probability of obtaining the 5 types of cards is the same.
brewmaster There are many places in this game that are not explained.
It can be said that there is almost no explanation,
You can only to find it by yourself.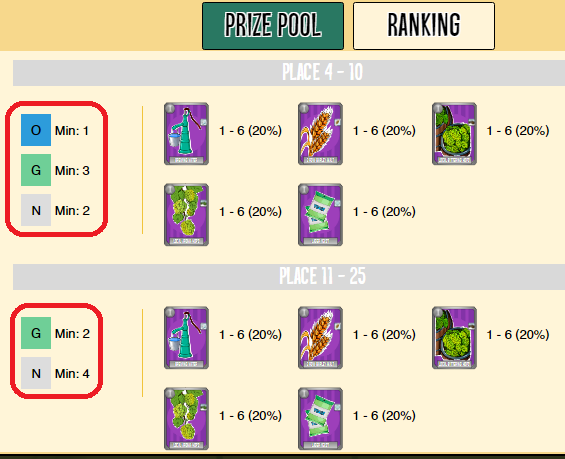 活动之中Min的疑惑
brewmaster出现了,这是一个在HIVE的游戏,类似种田,大家可以尝试看看。
里面有个项目:活动
在EVENTS之中,
可以看到每个排名的奖励,
例如11〜25称为同一梯,4〜10称为同一梯。
过去那几天,
我一直以为左边的MIN是指要进入排名,至少要有这些卡片,
例如11〜25名,至少要有4灰卡和2张绿卡。
刚刚我发现,
我之前的理解,可能是错的〜
因为刚刚注意到,11〜25名这一梯还有4〜10那一梯的奖励是一样的,
所以公告的意思,
可能是
MIN代表着会获得的卡片数
例如
11〜25名,表示至少会得到4张灰卡和2张绿卡。
而右边的那个道具旁边的百分比,就是获得的机率,
就是5种卡片的获得机率是相同的。
brewmaster这个游戏有很多地方的没有说明,
可以说是几乎无说明,
只能靠完家自己来来索索。
Posted via neoxian.city | The City of Neoxian