As a nice game that sometimes this so called #blockchain and AI likes to play with your mind ... Actually, this makes you ... stronger/wiser and maybe the entire movie will look totally different and from another angle ...
I think that soon this whole new story with #hive #blockchain will step forward to a new #hardfork ... This actual protocol, through which the "creator" cuts in a half his own work, AND in most of the cases, your work is not even recognized and upvoted ... this won't work ...
You should re-think and re-shape a new protocol under which ALL the active #bloggers ... who actually it happens to post unique creations, in matter of #art #music and also in my case the amazing lego stories ( which by the way ... they are created with the magical involvement of my children as well ... but who cares? right? ) to receive a remuneration right away after their blog goes inside the vast Matrix of this blockchain ... not only based on hive power, how much do you comment, just for the sake of being politically correct or just to fell under the fake "meritocratic" illusion ... just to comment something nice ... and i've told you , i've seen this already happening in some other platforms ( i won't name them) ...
Maybe, at som level of consciousness, this psicho-game of "politically correct", non-abusive language will develop a new mind, that will be careful what they will write on this piece of virtual paper ... but inevitably they will fall under the term of "meritocracy" ... People will lose their interest ... But who cares, right? Ignorance it's a bliss nowadays ... especially for culture, music, art ... and lego art as well ...
Now ...
Who would like to read such a long blog of mine ... ?
Hopefully #hive won't end in a phase like so many other #blogging platforms i've seen that were created in areas and lands that took the normal citizen, which was already poisoned with the old system of treating the blockchain or the internet, like some social media platforms where everything counted just for millions of likes ... and placed it inside this vast new beast, named blockchain and they are tired to "really" understad what means a #blog, they won't upvote because they are thinking you'll get a billionaire, they care about their "selfies" ... or this is something that has to do with the subliminal of "selfish" ... ooops ... what did i just said?
The true ... and the true it's not welcomed anymore ...
Anyhow ...
I wonder how many are really enjoying for instants our truly efforts of creating our unique lego episodes?
AND, understand that most of the photos are taken by my children ... sometimes, i'm just the Soul with the "Light" to create the decor ... :-)))
The other days, we've been working hard, especially'cause the weather was tipically moorish ( moroccan weather ... i mean) :-)
We were very happy for the results ... but what dissapointed ... my children was the remunerations ...
The "shekel" , "dirham" , "hive $" were not raining upon our magical desert :-)
Maybe an awesome episode like this one will make your day happier ...
Star Wars will remain an epic and neverlasting source of inspiration for lego world ...
Shall we start with "Once upon a Time ..." ?
I guess not ...
A new day with a usual weather of 45 degrees inside the Moorish desert, where Obi Wan Kenobi, Jedi Yoda and Tusken Raider were waiting for several days for Luke Skywalker ...
They were sitting at their hut ... looking at the horizon ...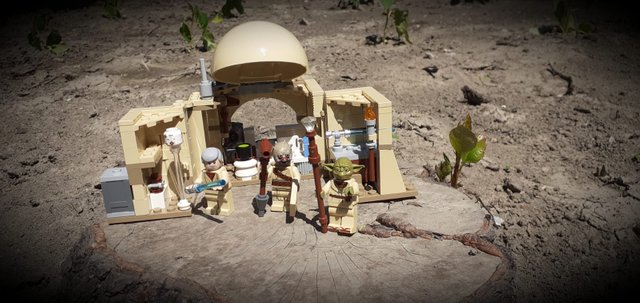 After days of waiting for Luke Skywlaker, suddenly, they've seen some lights, almost like a "fata morgana" effect somewhere in the not so far horizon ... they were surprised to see that Luke Skywalker was arriving at they hut ...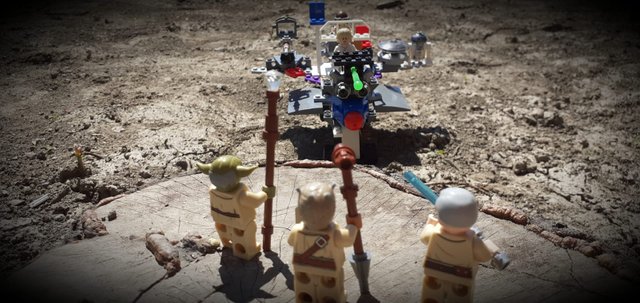 ... but the surprise was much bigger when they've realized that the new desert machine was driven by the young Jedi, Anakin Skywalker ...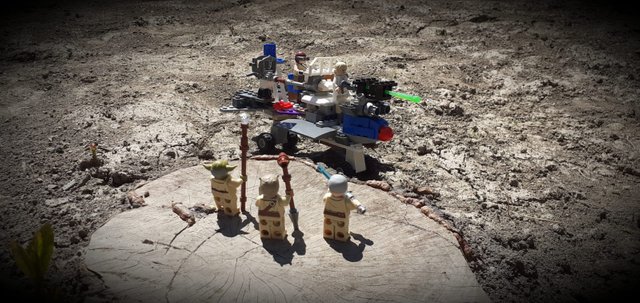 The surprise was much higher when they've heard that this machine, whcih was equiped with modern laser guns and all kind of fancy appliances, were created by Anakin and R2-D2 ...
That's why Luke was delayed a little bit, but the surprise was worth the wait.
While they were enjoying the new desert machine and the return of Luke Skywalker and R2-D2 which brought with them the young nakin, who would become an awesome Jedi soon ... somewhere on another place inside the Moorish desert, the Mandalorian Tribe was discovering something unseen on their planet until that moment.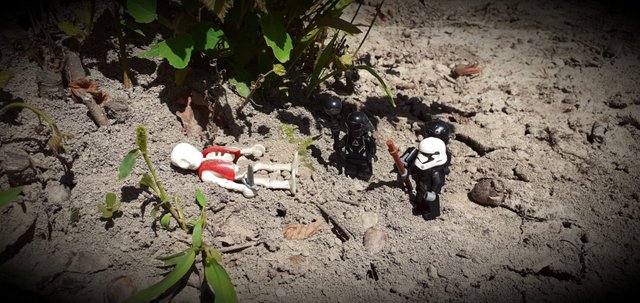 While they were patrolling their boarders, in the area of the sacred Hazelnut Tree, they've discovered under the sand a giant ... a Nephilim ... something that they've heard about ... like being an entity from the Earthanium from the angelic realm within that planet ...
They've announced right away Jedi Yoda and its team and planned a meeting at the sacred Thymenium Tree, which was located near to the desert oasis of Basylicum forest ...
Right away the team of Jedi Yoda started their journey, being as well very happy to test the new machine created by this genius, Anakin and R2-D2 ...
They've reached the Basylicum forest and crossed the oasis, heading to the Thymenium Tree ...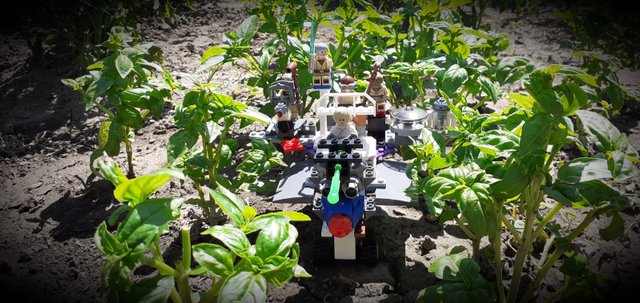 After 45 minutes of driving, they've arrived at the sacred Thymenium tree ...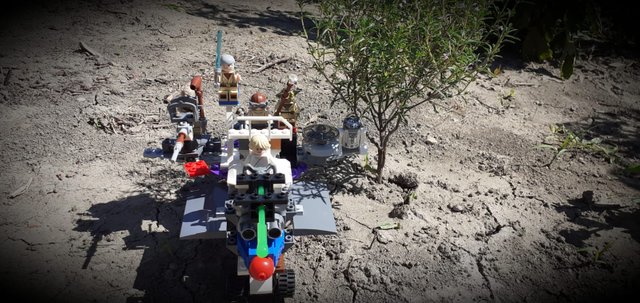 Soon, the Mandalorian tribe arrived as well and they've started the council, and they established the terms under which they would treat this discovery ... to keep it safe and secret ...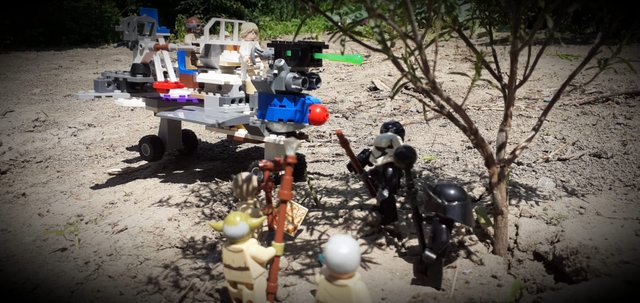 They've discussed for almost 33 minutes, and after Tusken Raider wrote the map, they began their journey to the place where the discovery was made ...
Everyone was surprised about the place from the Hazelnut Tree and they've approached the spot where the Nephilim was discovered.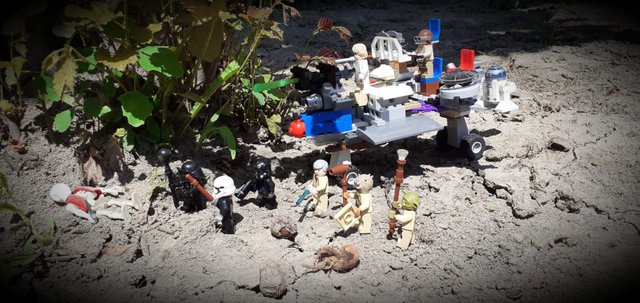 Despite the desert land, the gigantic hazelnuts were a good motif for Jedi Yoda to explore the area ...
This was quite an interesting adventure for both tribes ... The protocol was to maintain the area safe and to keep the secret until they will find out the exact source of the Nephilim and how was possible that such a race was able to survive on Marsoom planet ...
Interesting story ...
Hope you've enjoyed it ...
On their way back, Jedi Yoda, Tusken Raider, Obi Wan Kenobi, Luke Skywalker, R2-D2 were amazed about the desert machine built by the awesome young Anakin Skywalker ...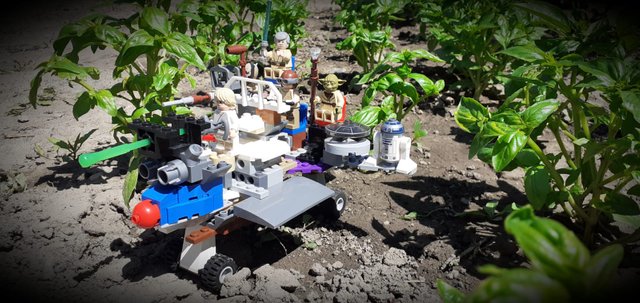 Another magical episode from our Star Wars series which somehow are connected ...
Hope you'll enjoy the #adventure and we'll promise that soon we'll create new and uniwue stories, based mainly upon our imagination ...
Eons after eons, between planet of Marsoom and Earthanium was a Portal which was guarded by the most powerful Nephilim Goddess ... Mother Afrikya ...
She knew that the Portal must be kept secret and only a true Jedi could know the exact place where you could pass.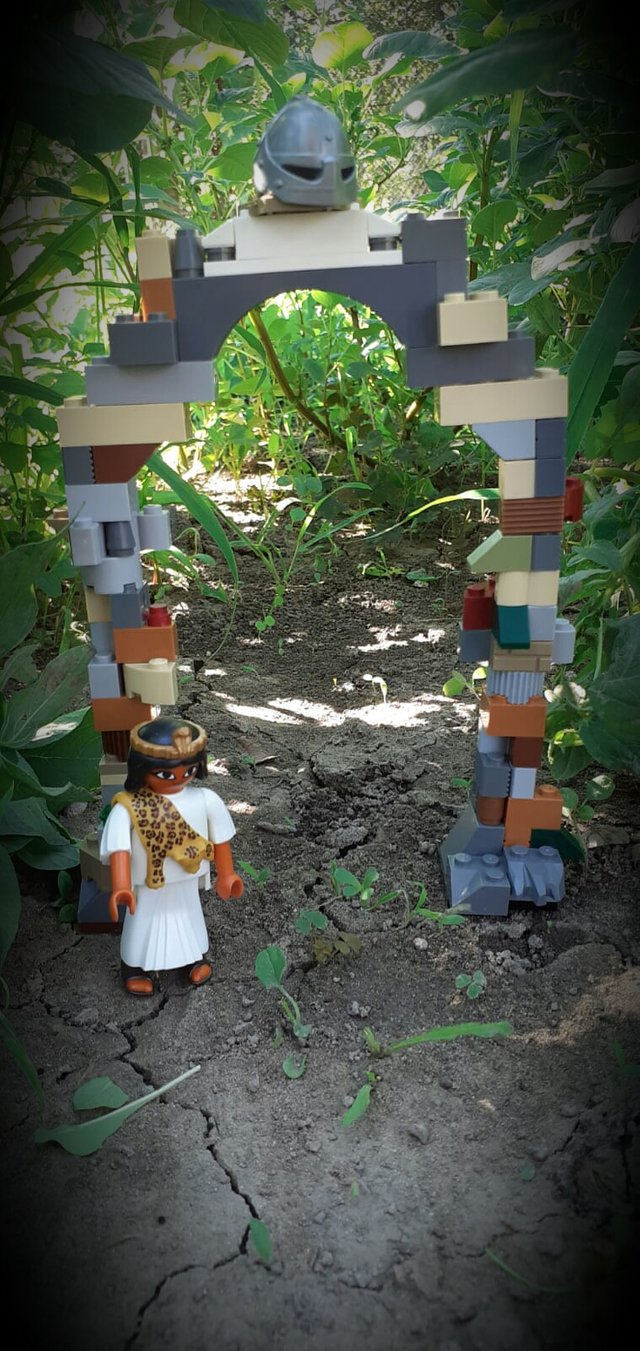 She heard that the Mandalorian Tribe have found that giant Nephilim inside their lands.
She received a message from Jedi Yoda that soon he and his team will appear soon at the Portal ...
And, after not even 3 days, they've arrived.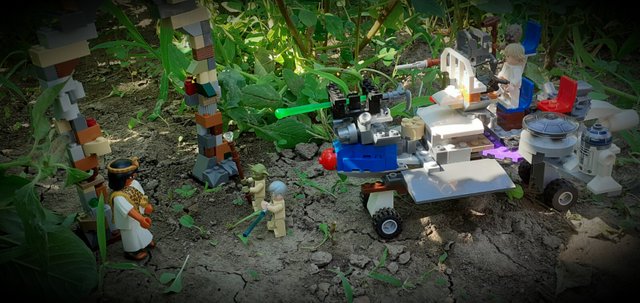 Jedi Yoda, along with Obi Wan Kenobi, Tusken Raider, R2-D2 and Luke Skywlaker appeared with their new desert machine, well equipped even with laser guns ...
Jedi Yoda and Obi Wan Kenobi came to the Goddess and in the same the guardian or better to say the Watcher of this secret Portal and told her that it might be possible that the next day, maybe the young Jedi Anakin will appear as well to pass and follow them inside the lands from planet Earthanium ...
They've discussed about the giant Nephilim that they've found inside the land of the mandalorian tribe and they've decided to find out the source from where they've appeared inside this planet ...
CryptonitMusa was waiting for them on the other of the Portal to show them also a magical crystal that will help them to create new healing energies for their tribes ...
She agreed with them under those terms as always and guided them, to follow the path of the wakandian tribes and they will find the precious thing they are searching ...
She told them that this Portal will always enter Earthanium, through the lands of wakandians, which is a tribe from Wakanda, and that she was named after that continent ... which was, is and it will be ... Afrikya ...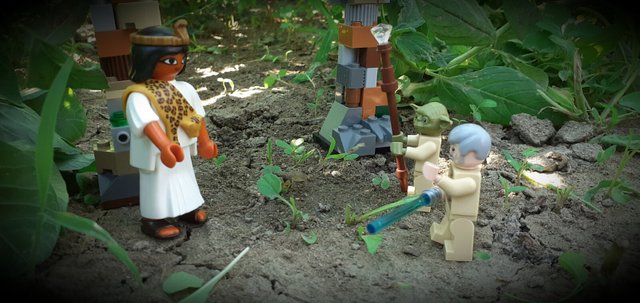 After they've crossed the portal, they've continued their way through the oasis of desert ...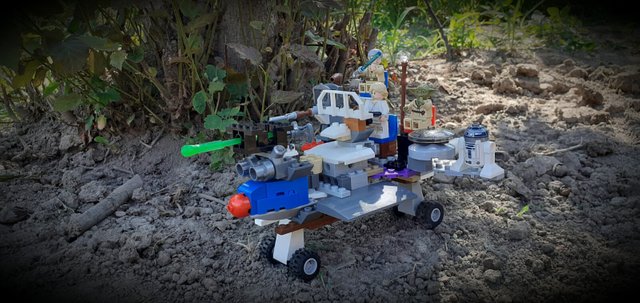 After no more than 45 minutes of driving they've arrived at the place that was mentioned by the sacred watcher, Goddess Afrikya ...
They were surprised by the magnificent view of that place ...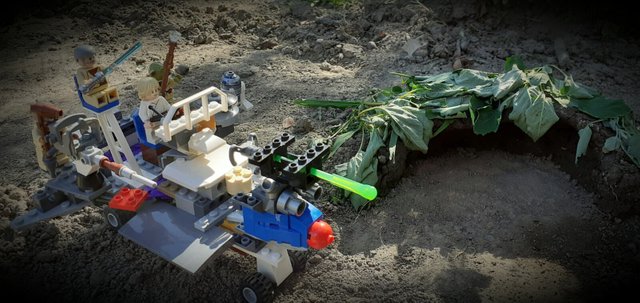 They've started right away to set up the camp, and to improve the conditions of that old african clay house ...
They've took out their coffer and all the things they need for one night to camp ...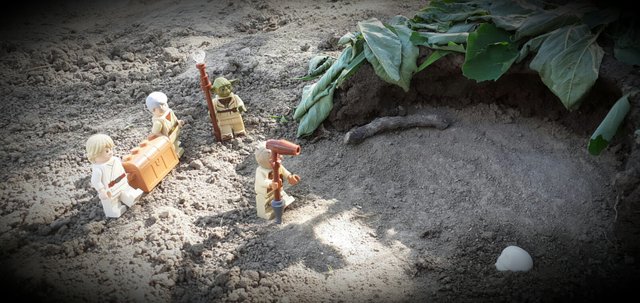 While they've approached the place, they've realized that the first clue of nephilim skulls, where there already, right in that old african cley house.
Everyone knew what has to do, right away ...
They start the fire right away, the first rule of a professional team in such an environment ...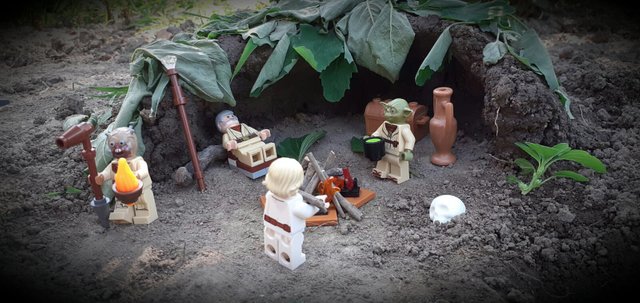 Luke Skywalker brought the wood for the fire, while Tusken Raider was guarding the entire camp. R2-D2 remained all this period to re-charge his battery inside the fancy desert machine.
The only one who felt like he is very tired, was Obi Wan Kenobi, was not even waiting for anyone, he just went to sleep ...
Of course, Jedi Yoda, where would see him first always? Food ... he was cooking a healthy soup :-)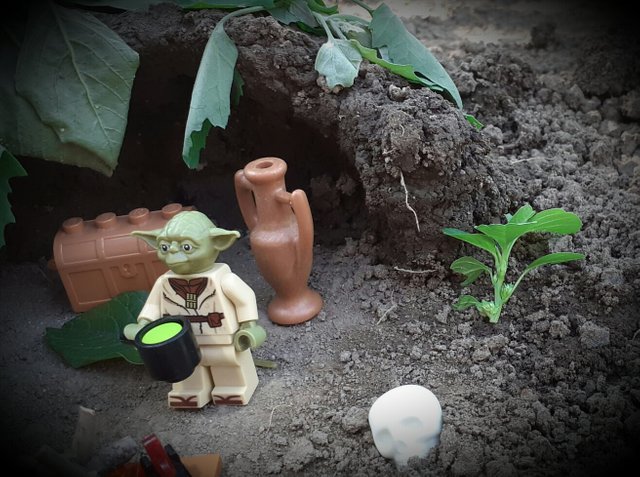 While they were already preparing for their dinner, Jedi Anakin was arriving and passing the secret Portal.
He didn't stopped, he just saluted the Goddess Watcher and just continued his journey ... actually with his new invention he had quite some speed ...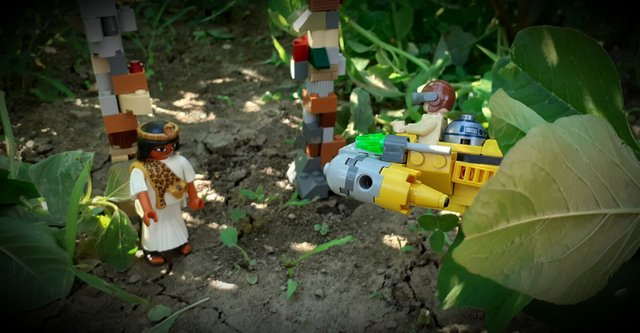 At some moment, Luke Skywalker saw Anakin right above them, passing with with speed ...
They wondered, why he didn't stopped at the camp ...
After about 30 minutes, right when the sunset was settling down, he appeard ...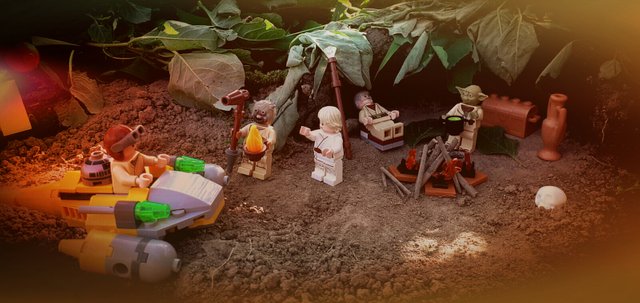 He explained them that he saw Lawn, the daughter of CryptonitMusa, while she was passing a dangerous bridge, and she was telling him to enter a mine ... that place where they will find those crystals ...
She was also telling Anakin that on that evening she and her father, CryptonitMusa will arrive at their camp ...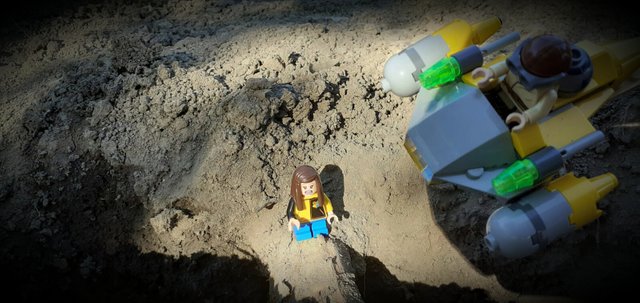 That's why he listened her and entered, so, he could confirm them that the story it true and they will find what they were looking.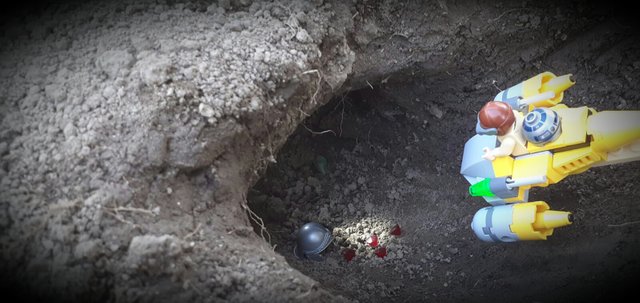 He said that he was impressed what he found, even if he was in a hurry ...
Later that evening, while they were sitting and enjoying their food and the awesome fire, Cryptonit Mua and his daughter Lawn arrived on their tiger and leopard ...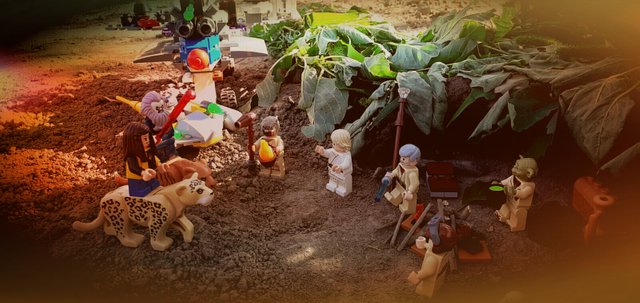 Soon as princess Lawn arrived, the young Jedi Anakin offered her some magical water purified with the aventurine crystal ...
He offered this magical water to her father as well, the Prophet CryptonitMusa as well.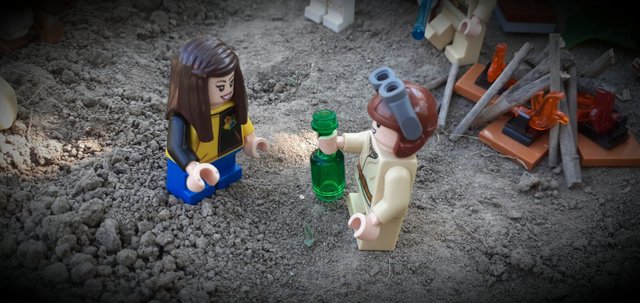 While the evening started to move towards, the Prophet CryptonitMusa told Jedi Yoda, that they should hurry to go to the mines where they can find that precious crystal.
They didn't wait and went right away.
Jedi Yoda, CryptonitMusa, Princess Lawn, Jedi Anakin and the majestic Tigrypton were the team who went to the mines.
When they've arrived, they were shocked about that imense mine and the most important thing, about the red crystals, which CryptonitMusa were describing them such as " the pure rubies with healing power"
He explained them that his scepter was totally made from those rubies ...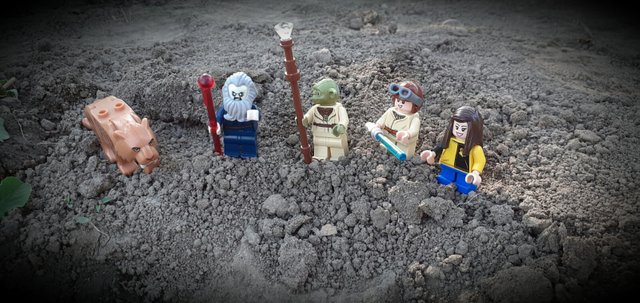 The mine was enormous, but they decided that the next day they would return and take the rubies they've found, so their mission would be completed.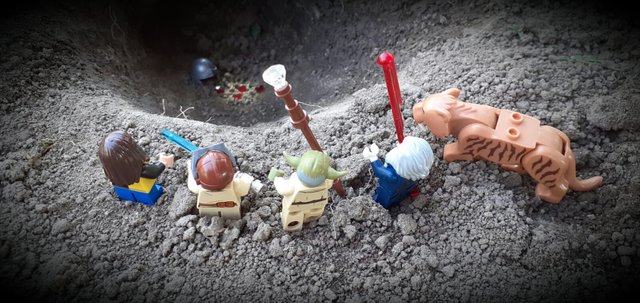 When they've returned to the wakandian camp ... everyone was sleeping, beside the amazing Tusken Raider, who was guarding the entire area along with his new friend ... the Leopardalien ...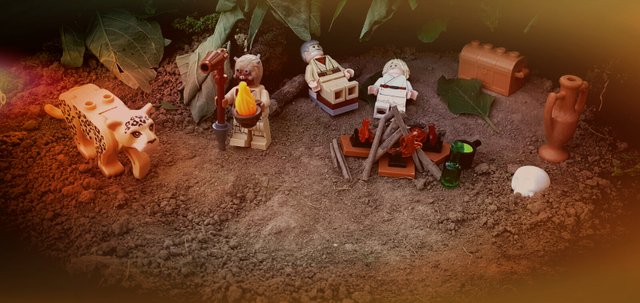 So, our story ends here ...
Of course the next day, they went to that awesome mine ... the World, or better to say the entire Galaxy from that moment was much more protected through those new scepters that were to be made ...
Regards people ...
Posted via neoxian.city | The City of Neoxian