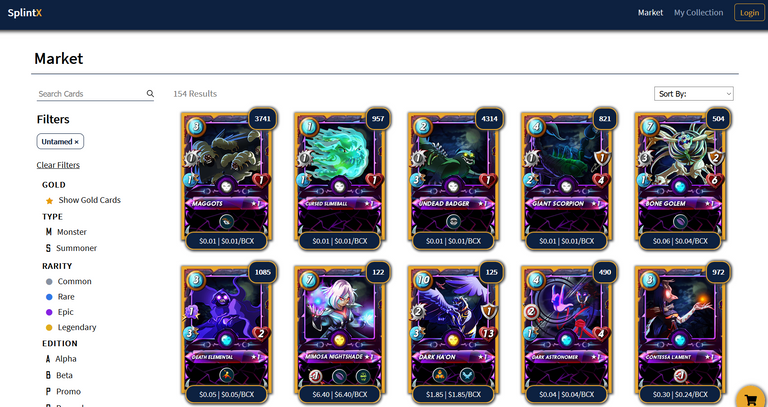 There are multiple ways to spend time in the splinterland's ecosystem. Whether is chatting in a medium such as discord or telegram, playing the game, or buying and selling cards all of them have their own uniqueness to them. I for one love to be buying and selling as it is a fun way to see how much I progress in the game as I accumulate more cards and at higher levels. One new market place I have started to look at was open just recently.
Developers at Splinterlands recently introduced a new market place SplintX. Here is a brief review I have of using the new market place.
https://peakd.com/splinterlands/@splintx/splintx-progress-report-0-2-0-or-splinterlands-market-built-by-the-splinterns-summer-internship
The website loads fast and graphics is really nice. The stats for cards are also easy to read. While the filter appearance looks appealing it does not have a search filter beyond name of the card just yet. The sort by is identical to that within splinterlands game. Yet there lead a few things to desire.

Selecting the cards to purchase is very similar to the in game so except for if buyer wants to buy multiple cards they have to manually select each card rather than have one single click for multiple cards. On the flip side with a login the website will directly list all the cards the player owns and can be searched through filters.
All in all a nice new market to use and believe future improvements will make the site even more popular. On the side bar I still have a favorite market site to go when buying cards.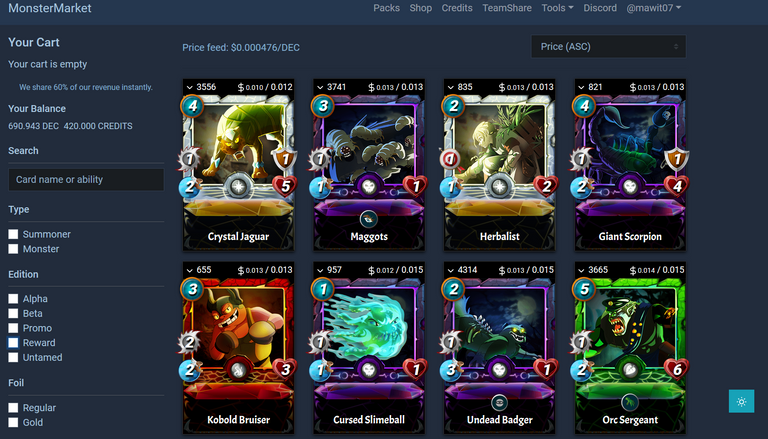 Monster Market is my favorite mainly because it gives 3% back the cost of purchasing the card. Furthermore the site has more features than the market internally in splinterlands. On top of all that recently Monster Market has added a stats link where players can see latest transactions and stats on prices of cards bought and sold in the past 30 days.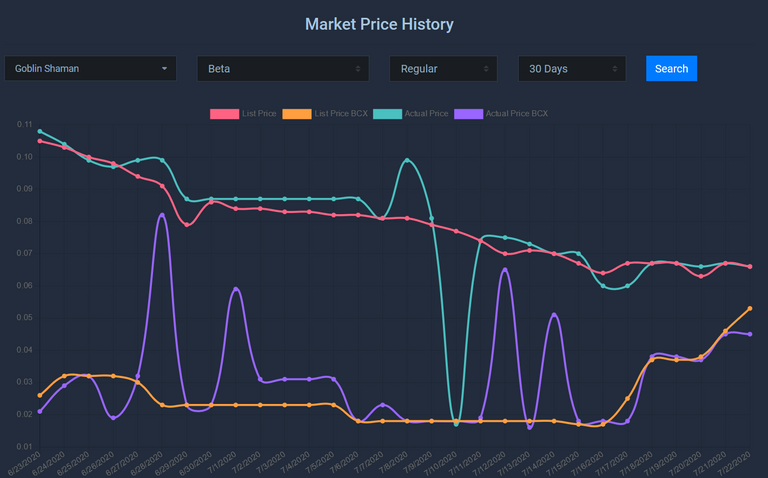 There are also other outstanding features the site has such as estimating how much sets of cards cost, the cost per pack of cards versus the value of the cards that have been opened. Then there is also the nice features it has in searching/filtering cards. Within its search filter it can search base on card's name or ability.

All in all I recommend players to look into both sites and compare for themselves. Thanks for reading!
If You have yet to take part in playing this great game called Splinterlands please click on my referral link. It is free but in order to earn real assets such as cards and token you would have to invest in a starter deck or purchase game cards. Join the discord to learn more. Good luck!

THANKS FOR READING! CONTINUE TO PLAY SPLINTERLANDS!

Posted via neoxian.city | The City of Neoxian