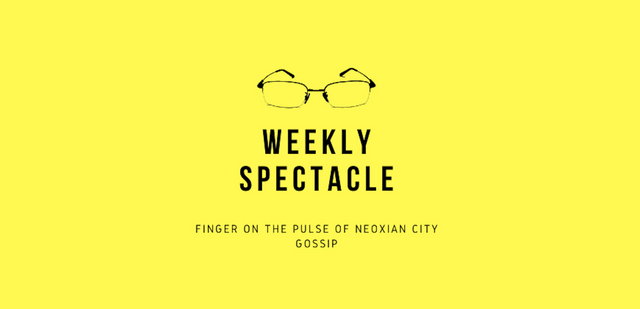 Welcome to The Weekly Spectacle where we go deep down into the belly of Neoxian City's populace and examine the day to day life of their ever diverse server life.
Brought to you by Neoxian City's very own eternal promiser but never deliverer, @raymondspeaks who's name will go down in history as the man with the war cry "I promise I'll do that" but ends up never finishing it. The man with more promises to his name than a love note from @xawi and a finish list the length of his manhood -- which as you've guessed it, is, erm, huge.. apparently :)
We begin this show on a somber note. We say goodbye to @anouk.nox, and @bearbear613
Understanding that the City was too good and respectable for nox and bear, @anouk.nox packed her bags and left us for a more seemingly shady underground where she could tout her naughtiness elsewhere. City dwellers were sad to see her go, and are reminded of the, "good old days" when she'd come in drunk, and chat all the guys up. @bearbear613 is still here, but remains a distant memory of his once lively self. He calls himself Norman now, and we've found out that he's actually just a really really regular (and boring) bloke. Not the Casanova playboy architect that we once thought we knew. You can find him on our discord having completely regular and normal chats.
On the upside we say welcome to, @jonsnow1983, @xabi and @simplifylife who have joined our merry crew of unfavourables.
@xabi, tipped to take bears throne as the city naughty-boy has worked up the rank to bear-ness already. He already has a wife and several kids, now all he needs to turn the entire discord into a hot mess of naughtiness to finally take his place as ruler of the shade.
Pledging his undying love to @xawi, and @thereikiforest, and @afrinsultana, and, and, and, resident @jonsnow1983 becomes a league of his own in the thirsty boy championships. He will win the hand of marriage with someone one day. I hear @burlarj is looking for a wife, no? :)
And last but not least our very own city doctor @simplifylife that plays games to 5am in the morning and then goes in to work and tells people that late nights aren't healthy and that they should get some sleep. Our very own Dr and king of eastern Mental Health, simplifylife.
@xawi smashes the reject button once again
@xawi, princess of innocence and everything that's good about neoxian city is STILL furiously hitting that reject button as young men literally throw themselves at her over discord. Xawi was available to speak to us:
Look, I'm not dumb, okay? It's just you know, I have my "everything," and he's well, special, in his own way. I know no-one knows who he is, or even if he exists, but you know, Bollywood movies n shit!
Mr Dragon was accidentally nice today, so he burned some children to compensate.
Our lord @neoxian accidentally caught himself in an unforgivable act of niceness today. Today he gave out 200 steem to people that had done something good in his city. Lord Neoxian was unavailable for comment but he assures us his deed was nasty and he bathed in their screams whilst he did it.
And last but not least, @zaku -bro and @reazuliqbal to marry
In a move that surprised us all (but not some, hehe) zaku and reazuliqbal finally admitted their bro-love was something more than just on the surface, and it stems way deeper than that. Their love was not only shared together through steem, splinterlands, and later hive, but through a deep connection that only two soulmates could master.
Well man and linco well man are said to attend the wedding!
Posted via neoxian.city | The City of Neoxian