Here we go with my second travel post, One we will do again and I for sure will get better photo's, also will get in a hike out there. I got to get on a trail to get these mountains, the red mountains look so amazing. You can see my map here https://www.pinmapple.com/@shoemanchu where you can see my posts, travels and hikes. Hope you all enjoy my first to many more to come.
Welcome to Lake Havasu Arizona and we went out with some family, rented a house but on this trip didn't really go to the lake. We enjoyed the house, seeing that it costs a pretty penny to stay in. The pool was a hit and we did do some drinking. Also we did go check out their version of the London Bridge. This was a fun trip but we did go out there for a wake, so it was more focused on family and celebrating grandma's life. So we really wanted to enjoy the house and pool after that. I'd like to add the people of the community were awesome here, its as if we are all free out here, you wanted to wear a mask in stores or not, nobody enforced your or bothered you. That is what freedom is, so to the locals thank you for an amazing trip. You can definitely see another one of these in the future for an even better post. I'm really liking the pins on my map and how you can see all the posts, click on them and it goes to my personal blog. This is what I like and I wont stop posting these travel and hike posts now. Will also do some throwback Thursday ones. Enough blabbing about it lets show some photo's of this trip but trust me my next post on this spot I will make it ten times better, this I promise. Anyways check out some photo's, enjoy.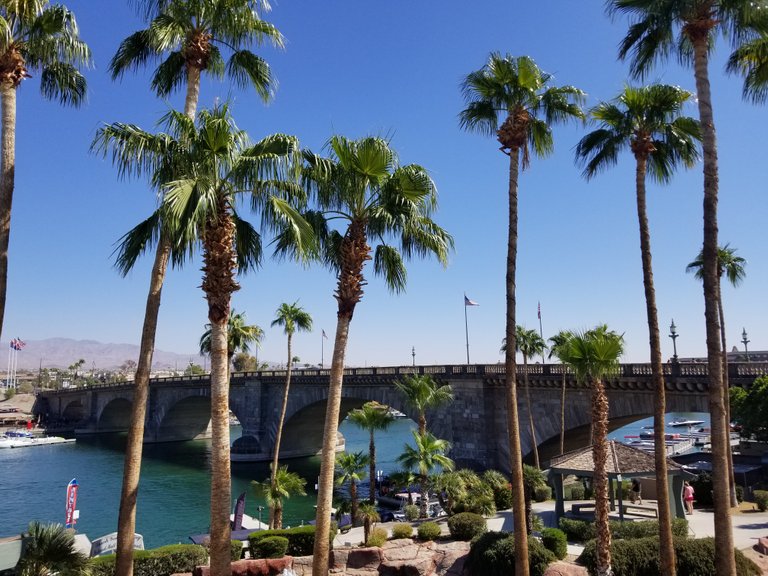 This is when we had gotten thru the mountains of California and now in Arizona. We went the longer way on purpose but accident.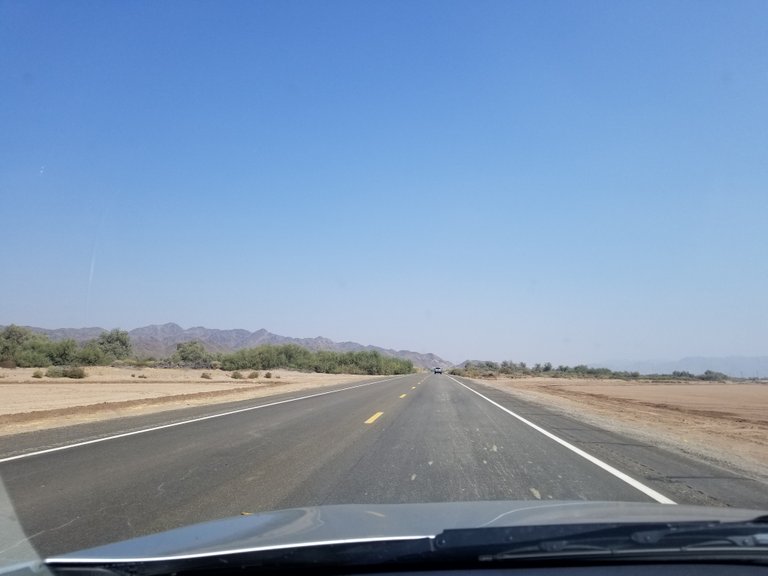 Stopped in Yuma to grab a bite to eat, saw this Freddy's SteakBurger spot and was it worth it. Yes, I was actually surprised how good this place was and I will for sure stop here in the future.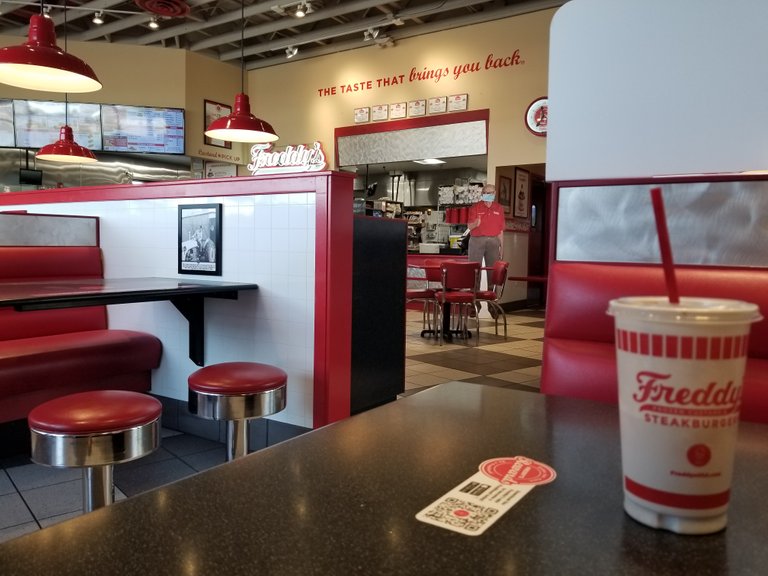 At this point with the way the mountains are looking you know your in Arizona and you are getting closer to your destination.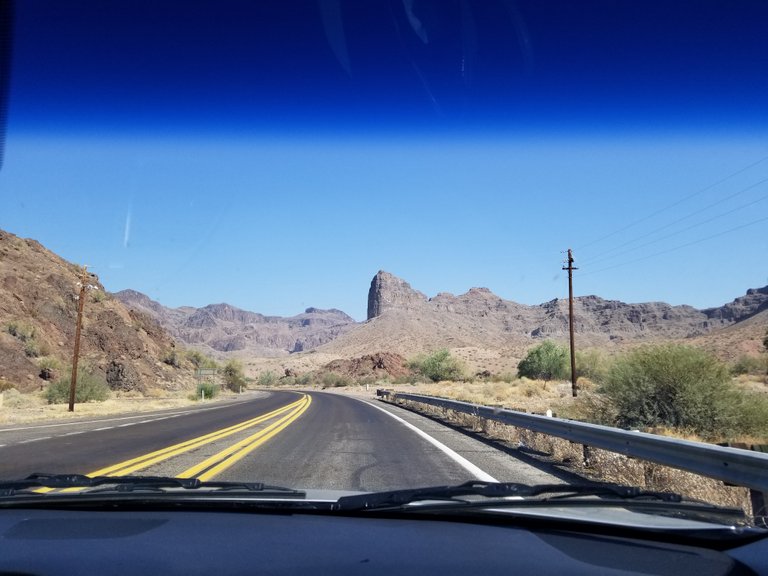 These mountain peaks out here look so fun, to bad this was before my hiking journey's cause I would love to get in some hikes out here. One day I'm going to make that happen because we are for sure coming back out here again.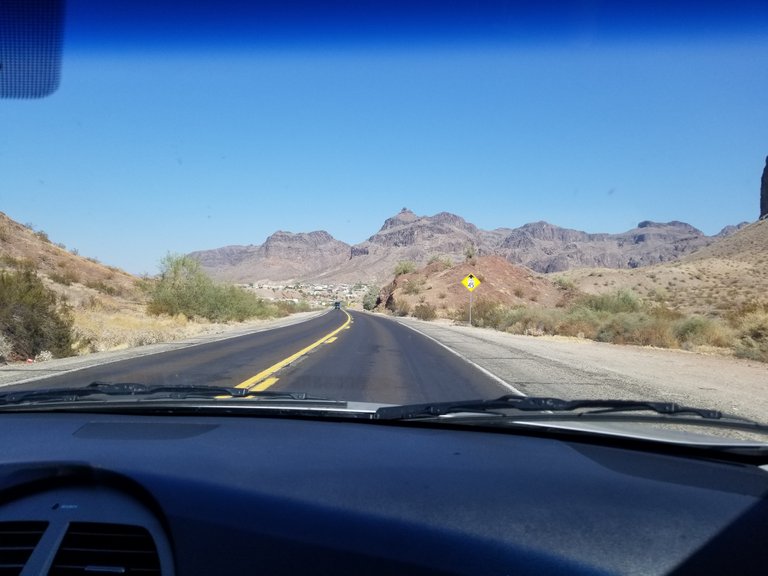 Just getting into town here, with some of these car window photo's, not a big fan of them but thought I'd share some. I guess we can assume that house on the mountain isn't our rental but I am sure that's the rich family in town. Would it be so boss to live up there, yes it would.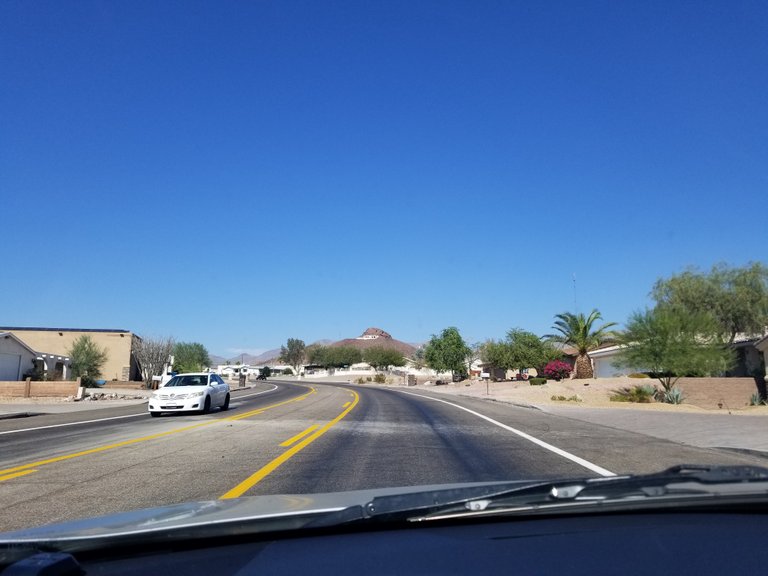 We got in early so we couldn't check in and waiting on the family because they were still driving, so we sopped off at Lake Havasu's version of the London Bridge. Looks like an accident has happened on the bridge.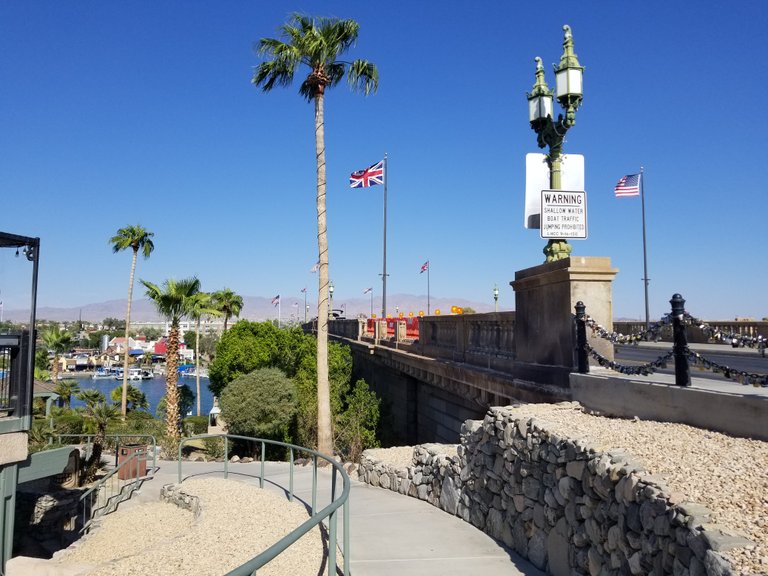 Plenty of things to do here, you can rent boats, Jet ski's, take tours etc. Restaurants right here, hotels and Bars.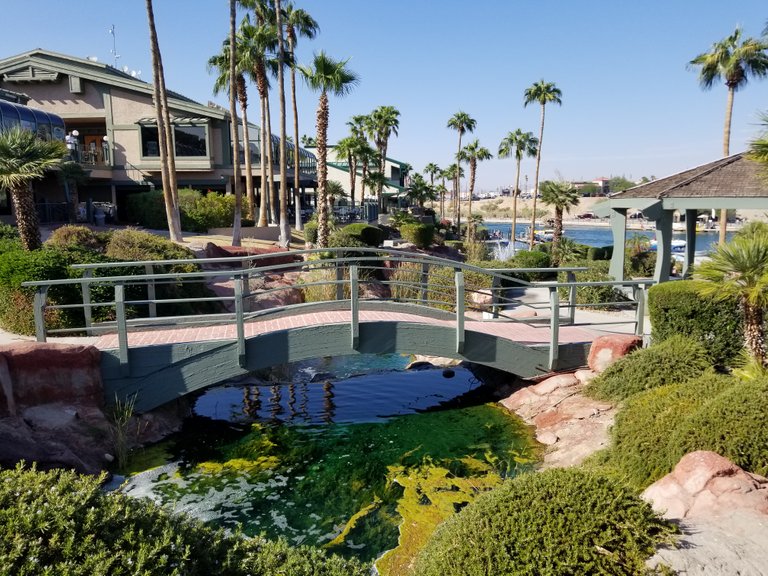 Here is the opposite angle shot of the above shot, nice little water feature they got right here.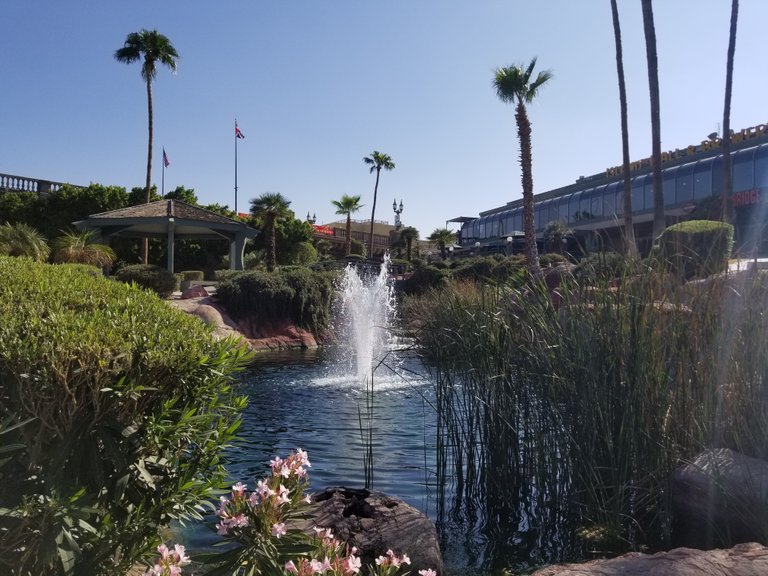 The London Bridge here is pretty big crossing the river out here and makes for some cool shots.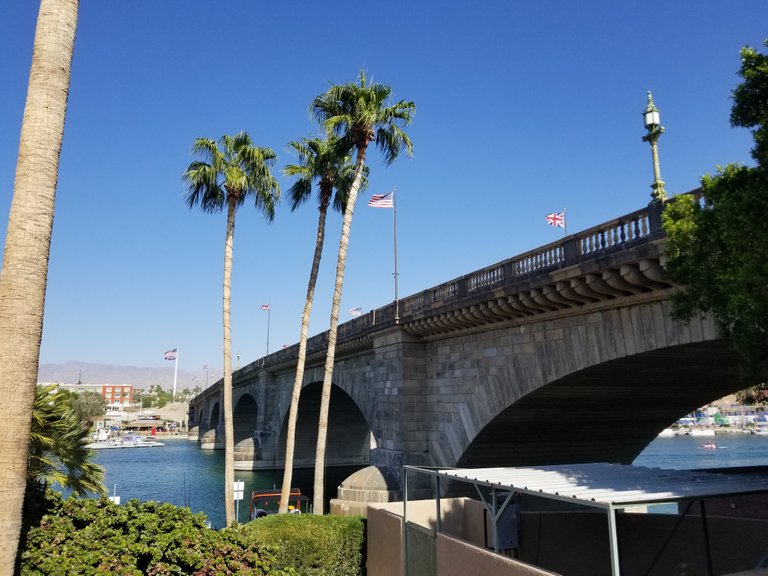 I took a few shots of the Bridge from different spots, to bad we didn't even get in the water on this trip but we shall save it for a future event because we will be back for sure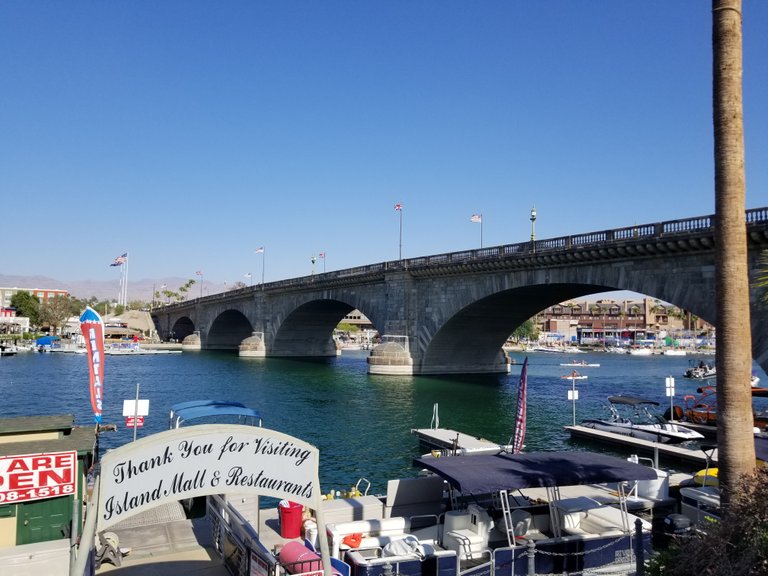 One of my better shots of the bridge, with the Arizona dessert mountains in the back.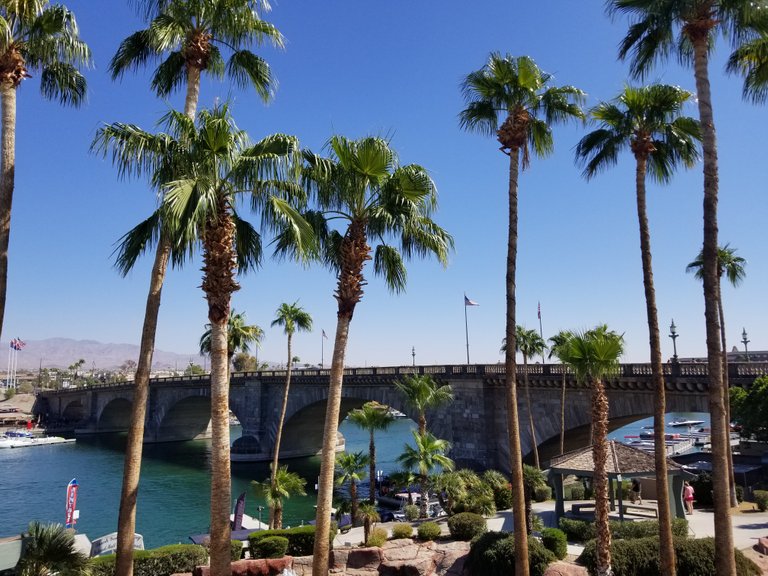 The other side of the Bridge, just trying to catch the bridge workmanship.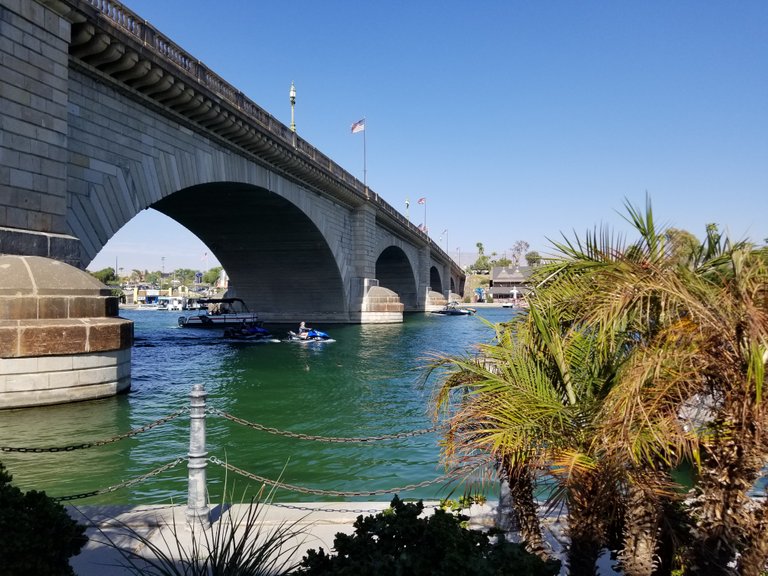 Another angle from some hotels and a pretty fun boat shot.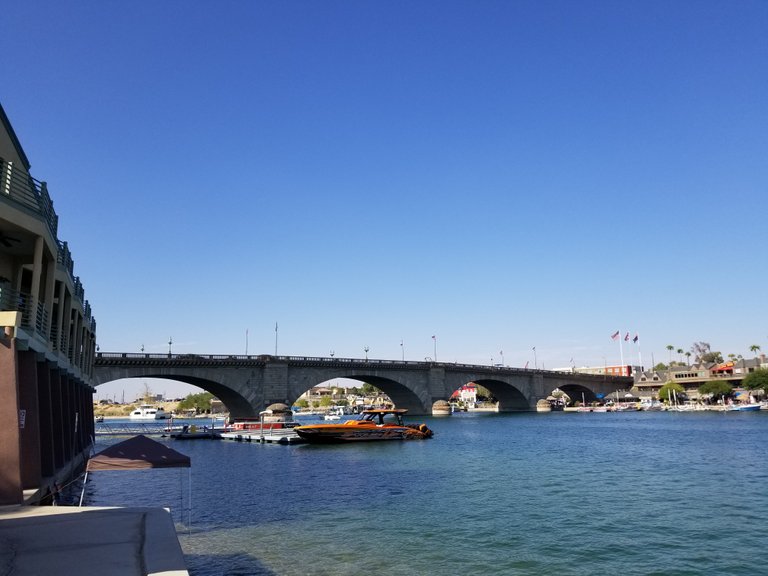 Pretty massive hotel but what I found intriguing was this trees branch, I guess when growing it decided it wanted to got the other direction, lol. Don't think I've seen this before.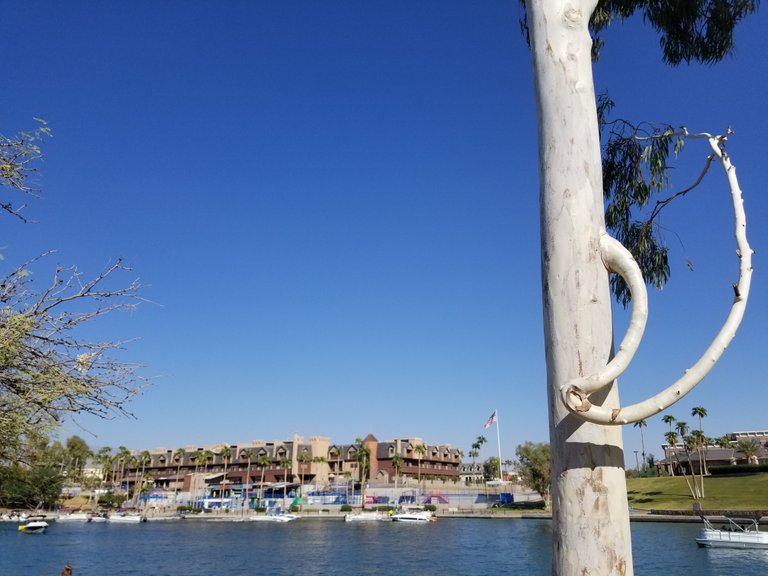 So is this guy an Alien or abductee? Thought this was pretty funny to have in your front yard.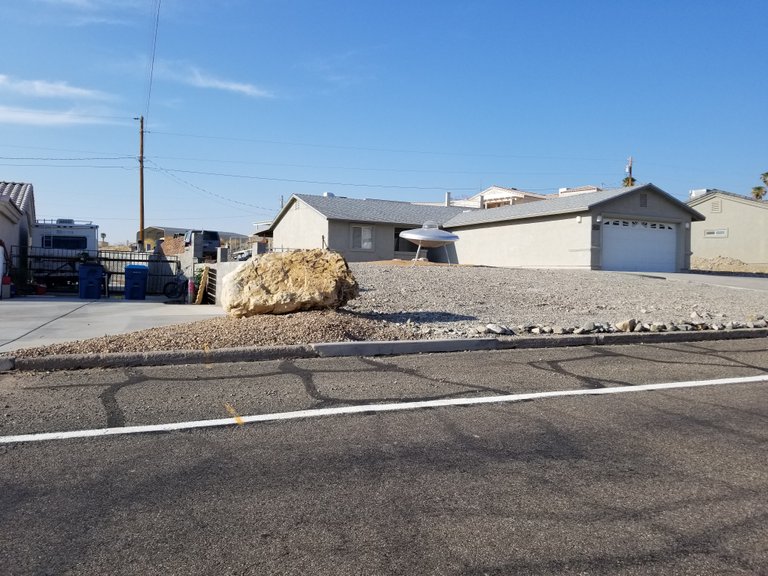 Here is a close up of the Alien spaceship, well I can say I have seen a UFO now. haha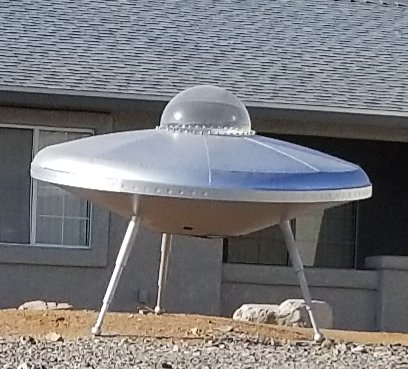 Didn't get much shots of the house rental bu here is where the magic happens.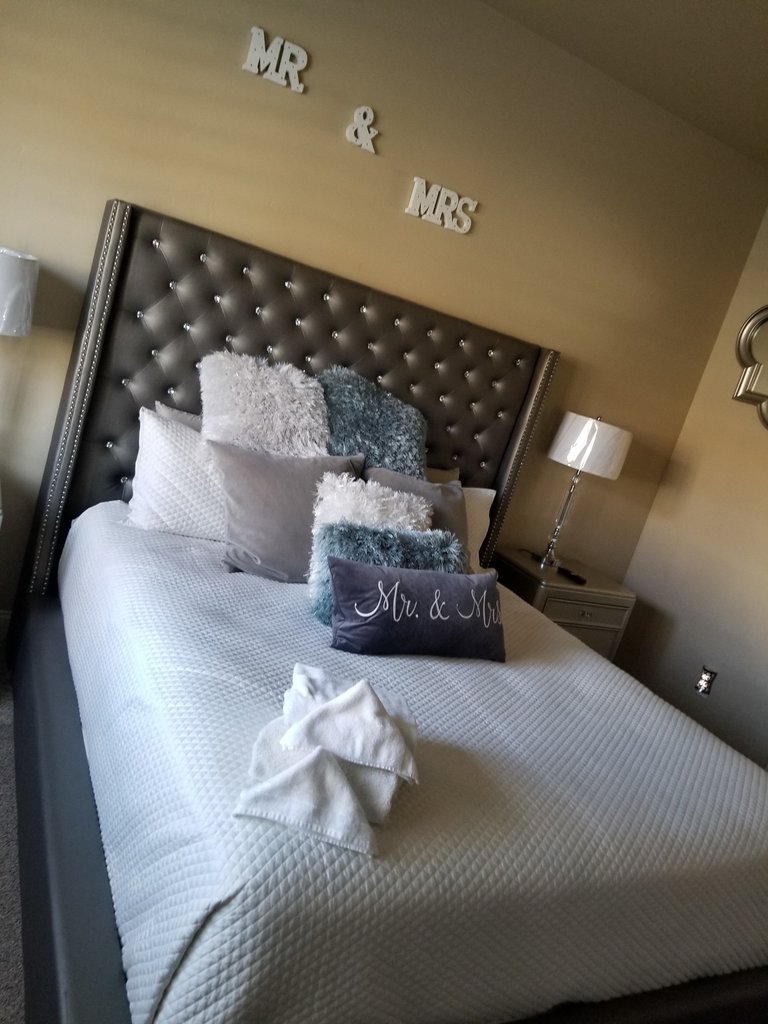 Here is the pool and where we spent most of are time, we actually stayed another day too and paid a little cheaper because it wasn't the weekend rates. It was so worth it, sat out at night and just looked at the starts til real late, saw so many falling stars.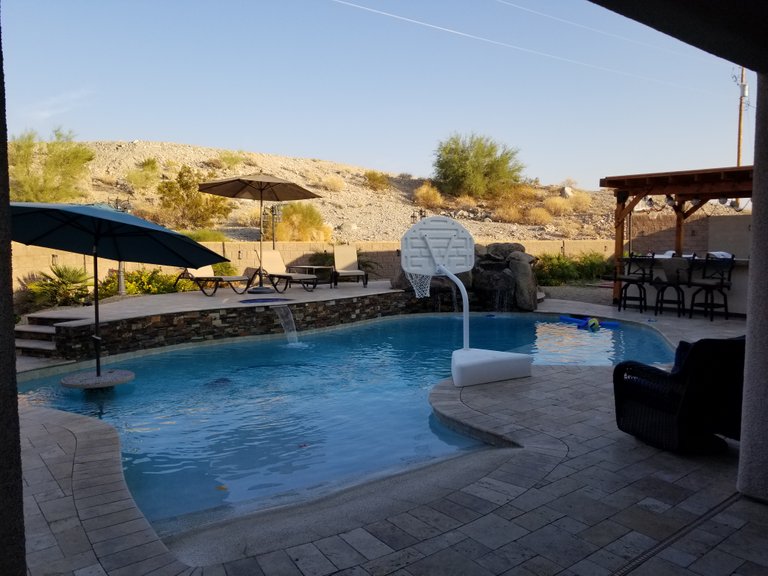 Some really beautiful sunsets and sunrises out here, I managed to not catch any good shots but I do like this ones color. I actually didn't even take that many photos out here, kinda mad I didn't.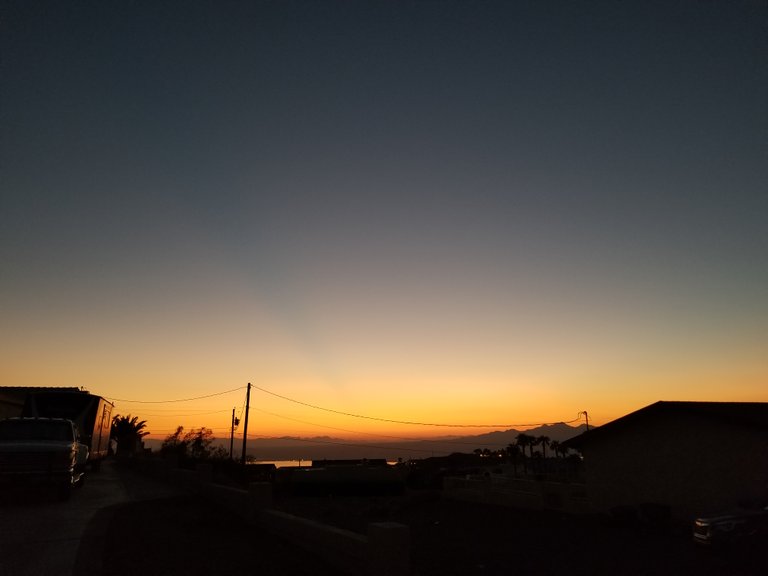 Probably my favorite one here and moment were I sun gazed for a few seconds and this was outside of our house rental.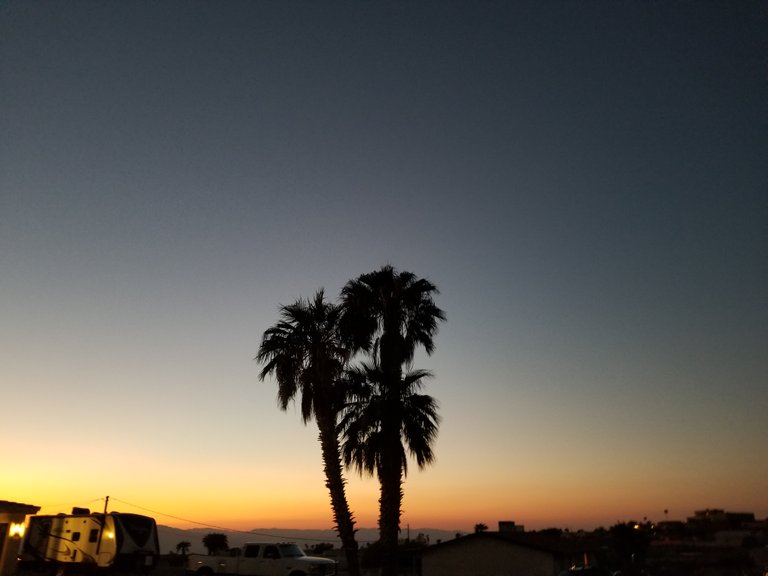 Leaving the house in the morning to go get breakfast and you can see the Lake in the distance.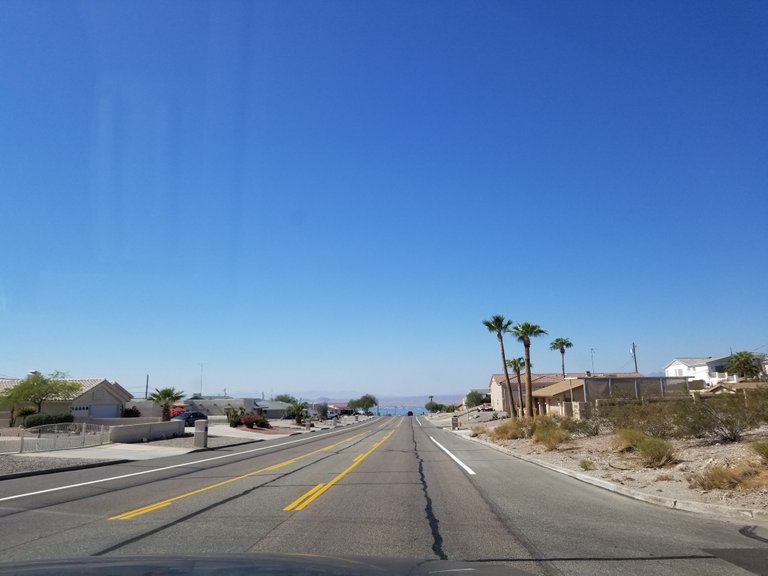 Here is another car photo and you can see how massive this lake is and the rivers that feed it are pretty amazing.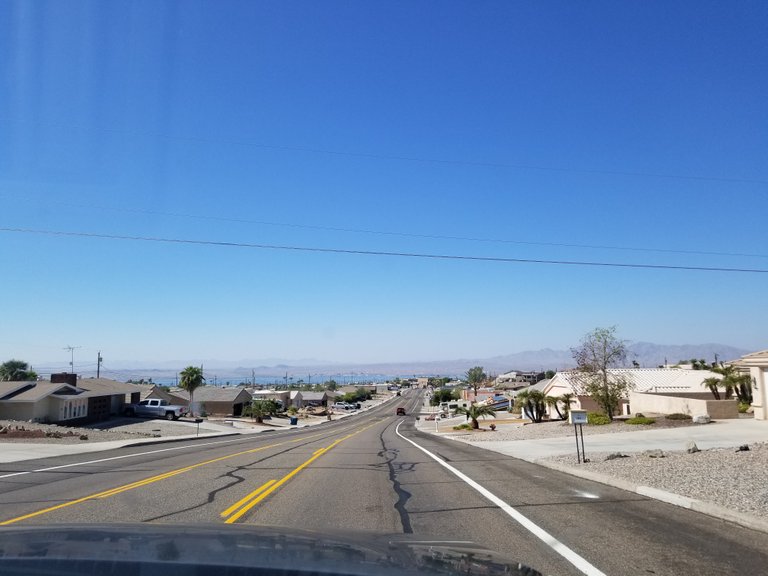 Now leaving and I'll leave you with some car shots of mountains.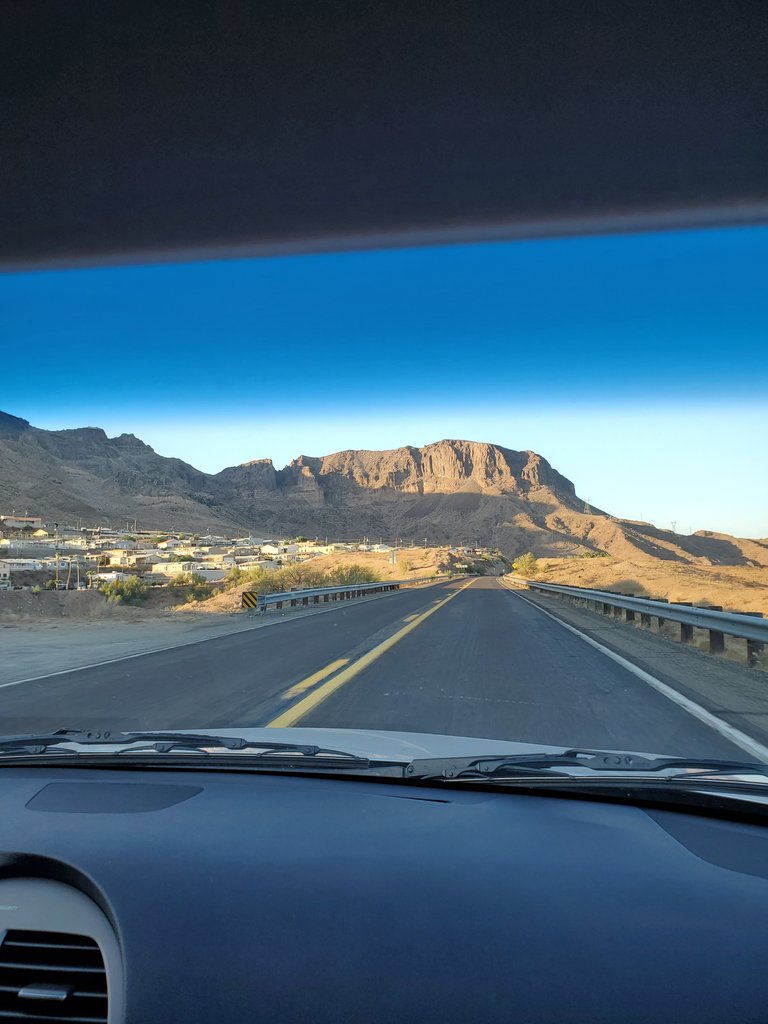 I got to get out here and explore, the funny thing is these mountains are actually more red than what the photo is capturing.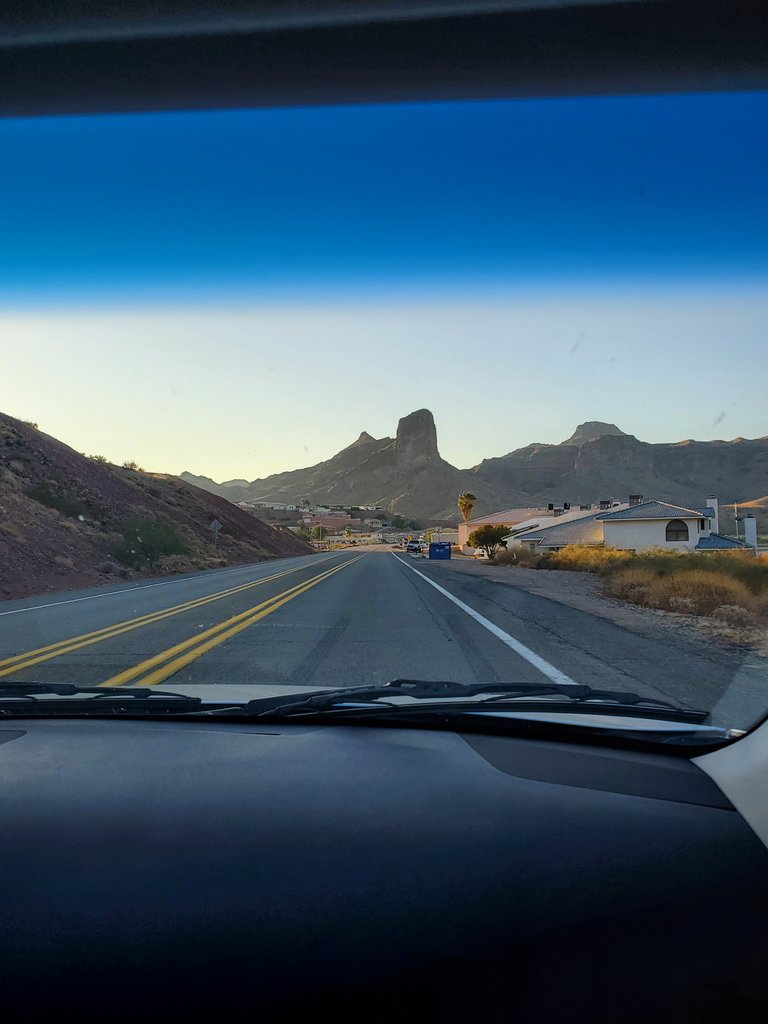 This is part of the river that feeds the lake and in the summer it is boat galore out here.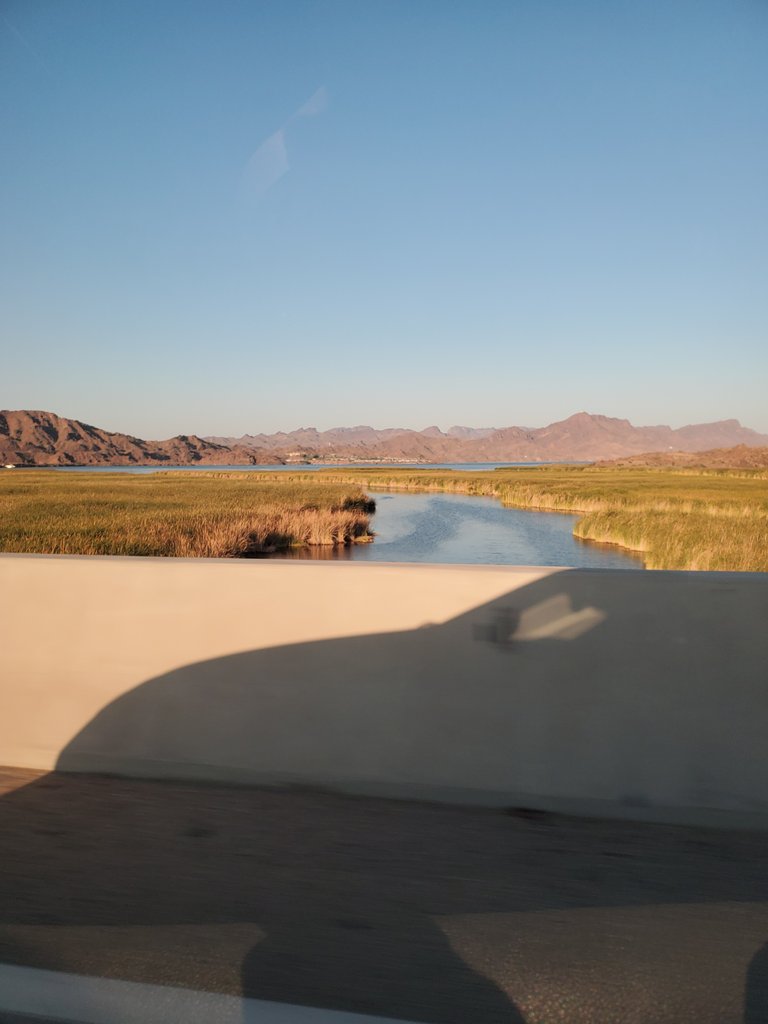 And finally, we went a different direction back home and went thru the sand dunes. More on that in a future post because the brother in law has all the toys out here, one day we shall make a post about a dessert trip.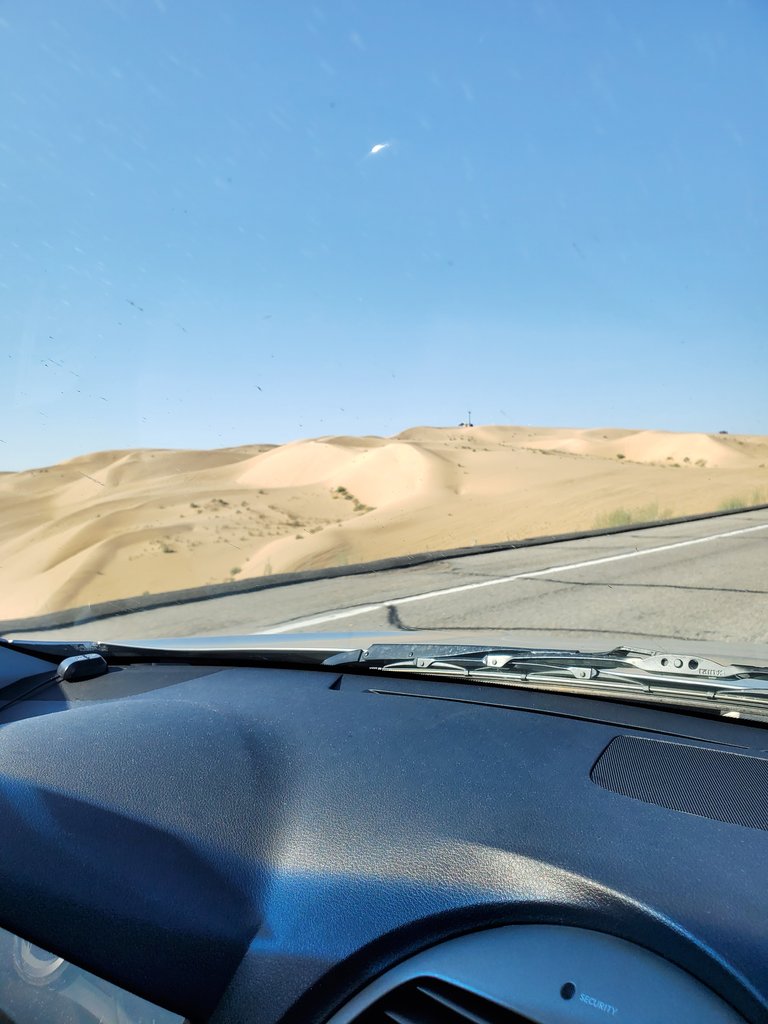 Thank you for checking out my post of my second travel digest. I don't think that these are amazing shots nor one of my favorite posts but I am excited to get these pins on my pinmapple map pinned. I know we will be back to this lake in the future and I promise to make the second way better. I appreciate all of you and I look forward to showing you all more hikes and travels in the future. Have a blessed one and travel on.
If you would like to learn more about @pinmapple and @haveyoubeenhere go and check out their blogs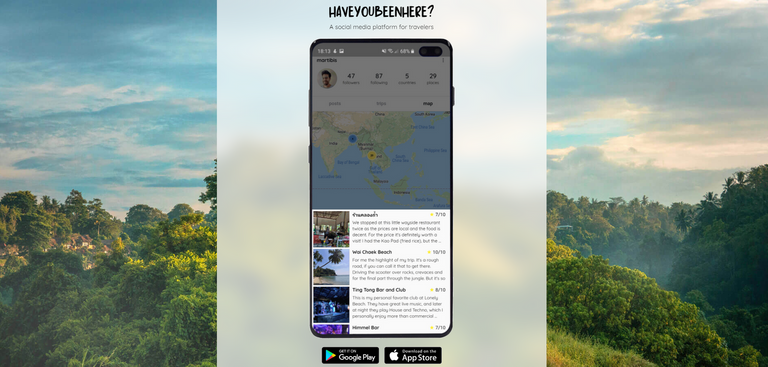 If you would like to check out my pinmapple and all my locations, click the link and it will show my posts and locations of my travels and Hikes.
https://www.pinmapple.com/@shoemanchu

If you would like to help me out with my journey's, you can donate to these addresses....
---
Bitcoin : 13z8G6thHHVsiCj95AkSAMJLivEyb9YHdK

Ethereum : 0x29062f4585DB37b2AC1DDAb8f6B33EB0d76a202b

Litecoin: LdQHXahvpF1UcstTboEHQbHGfzjj9cpM4N
---
---
Ionomy exchange
---
My Referral link to buy Hive Tokens:
---
---
Coinbase
---
Also I've been using Coinbase which makes it really easy and safe to buy, sell, and store digital currency (like Bitcoin).Sign up now and get $10 of free Bitcoin when you buy or sell at least $100 of digital currency.
https://www.coinbase.com/join/5a1e4d14dfb316011f890a07?src=android-email-invite
---
Robinhood App
---
Your free stock is waiting for you! Join Robinhood and we'll both get a stock like Apple, Ford, or Facebook for free. Sign up with my link.
---
Kucoin Exchange
---
---
---
Splinterlands
---

Posted via neoxian.city | The City of Neoxian