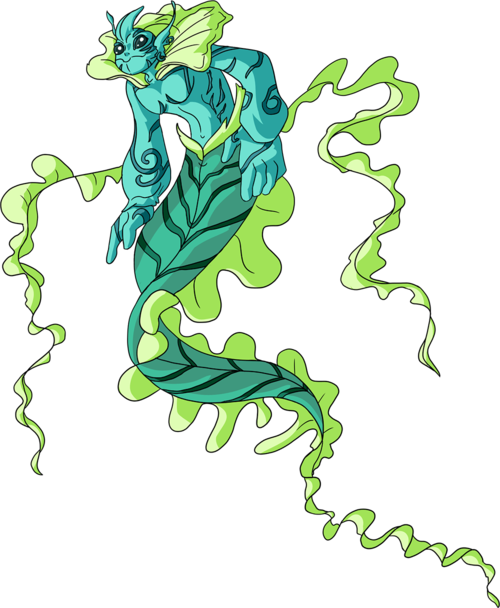 Evening Splinterlands Addicts
Today, I am gonna talk about a no attack monster, who has been an integral part of my Water Splinter team ever since it got introduced, KELP INITIATE. Costing just two mana, KELP INITIATE offers two amazing abilities, Cleanse and Triage. And apart from being extremely fast, it also have large health.
I own a level-3 KELP INITIATE and planning to upgrade it further to have the amazing Triage ability.
Currently there are 14,390 normal foil KELP INITIATE in circulation, with lowest selling price of 0.082$/BCX. There are also 451 Gold Foils in circulation, trading at 1.89$/BCX.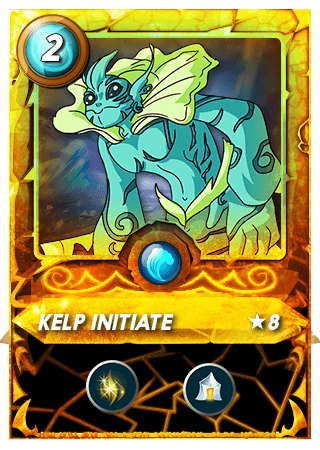 Here is the all time price trends of Normal and Gold Foil

KELP INITIATE

, courtesy

SPLINTX

. Notice price fluctuation over the period, but it will eventually rise once it gets out of print.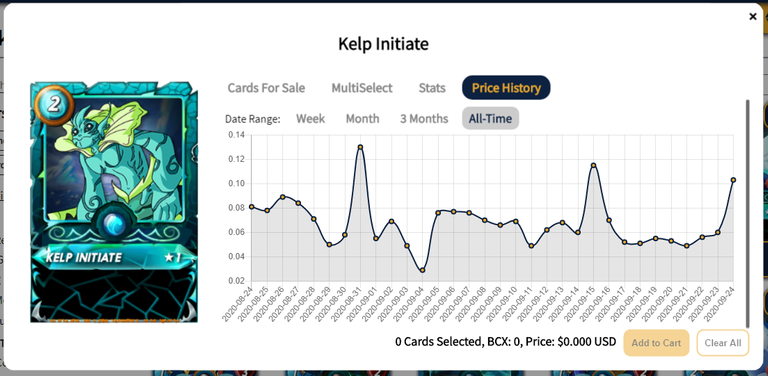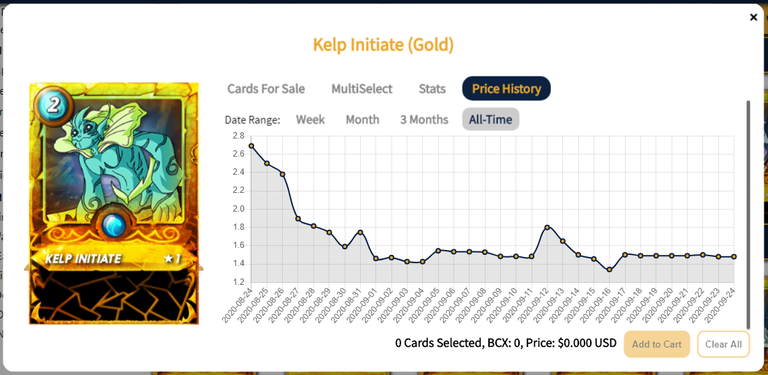 Placement
KELP INITIATE is best suited in the back ranks from where it can apply Cleanse and Triage abilities. It can also be placed on one down position or in the very last where it can survive attacks and damage due to high speed and health.

Favored Battle Rules and Mana Cap

KELP INITIATE is a nice all round monster, can be adjusted in all kind of rule sets. Low mana cost of just 2 with heavy heath, also makes it perfect for low mana battles.

KELP INITIATE efficacy reduces in Healed out rule set as Triage ability can no longer be applied.

Complementing KELP INITIATE

KELP INITIATE can be decently complemented in variety of ways using various summoners and monsters with abilities.

Abilities From Summoners

LIR DEEPSWIMMER can nicely complement KELP INITIATE. +2 shield with Return Fire makes it even stronger. Also the Blind ability makes KELP INITIATE even more difficult to target.

Abilities From Monsters

Giving KELP INITIATE extra shield from Protect ability monsters like CRUSTACEAN KING or TOWER GRIFFIN etc. can add an extra layer of defense.

Triage ability can keep KELP INITIATE easily alive.

Speed related abilities like Slow, Swiftness and Blind make KELP INITIATE even more harder to hit.

Defense

Killing KELP INITIATE can be a real problem, especially if it is maxed. Since hitting it with Melee and Ranged attacks is difficult due to its high speed. So best way to target KELP INITIATE is by using Magic attacks.

Demonstration

In the two demonstrated below battles, I effectively used KELP INITIATE to keep my tank clean from negative buffs like Poison and Rust. Notice how triage ability helped keep KELP INITIATE alive.

---

Do you like using KELP INITIATE???
Feel free to tell me in comments below!!!
👋Adios👋




Don't know about Splinterlands

Wake Up 😊😊😊

Support @bdcommunity by voting them for witness following this instructions: