Back to back SPS Jackpots
---
Heya Splinterfams,
Wassup everyone? It's been a while. I am not very active on my hive blog because i didn't win any giveaways for the past couple of weeks phewww yeah I haven't been so lucky with giveaways, but today Neo sir rewarded me his 100% vote because of my splinterlands achievement.
I am so thankful to Neo sir, because of him I am posting something on my blog after a month. Yea Neo sir vote motivates me to post otherwise I don't feel like bothering myself. Also, I have been pretty busy lately because of two formats of splinterlands. so this is another reason to be not so active here. Well, who cares? I don't know why I feel like explaining myself hehe it's not that people care lolz :P XD.
Anyways I am here for something else. Since Neo sir rewarded me with his 100% vote so i decided to share something awesome. Lately, I have been super lucky with my focus chests. Not my own account but delegated accounts I play. A few days ago when I claimed my focus chests on ts-warrior owned by Azircon. I pulled 44k SPS woo. I was over the moon and extremely happy. Ts-warrior is the first account who have managed to pull such a big chest so far.
---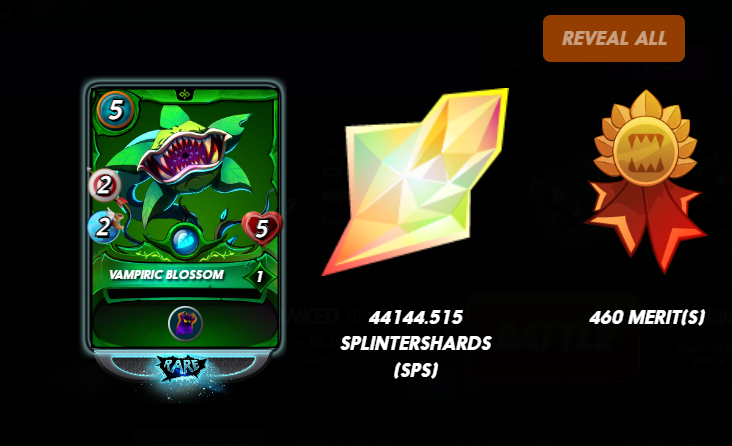 Since ts-warrior is a delegated account so I will be getting 50% of the sps. Almost 22k SPS and if I look at the current price of 22k SPS then it is around about 1500$. That is some crazy thing right there. Can you imagine earning dollars by playing a game? People think earning money by having fun so I would like to tell that no doubt Splinterlands is a fun game but it is stressful as well. As for now, the season is ending in one day and I have yet to accomplish my leaderboard targets.
Today again I have been lucky with my daily focus rewards and I pulled 21.1k SPS on xadragon. Xadragon is again a delegated account owned by #neoxian sir. I shared a reward screenshot in the city and Neo sir really appreciated giving me a 100% Vote.
---


When your work gets acknowledged then it feels good to be honest heh. Once again Thank you so much Neo sir. You are the reason I am writing this post :P
Let Me share SPS Leaderboard.
Leaderboard SPS - 2022.
---

Ts-warrior is at 1st position and xadragon is holding 3rd place. Well after seeing 2nd position I can safely say I am not the only one lucky here. I hope luck will continue to surprise me and I will continue to share my happiness with all of you. See you all around happy splinterlanding.

If you want to play splinterlands then SignUp Here
Posted using Neoxian City
---
---