A park from another era // Un parque de otra época
El Calvario Park, a little piece of heaven in the center of Caracas, Venezuela.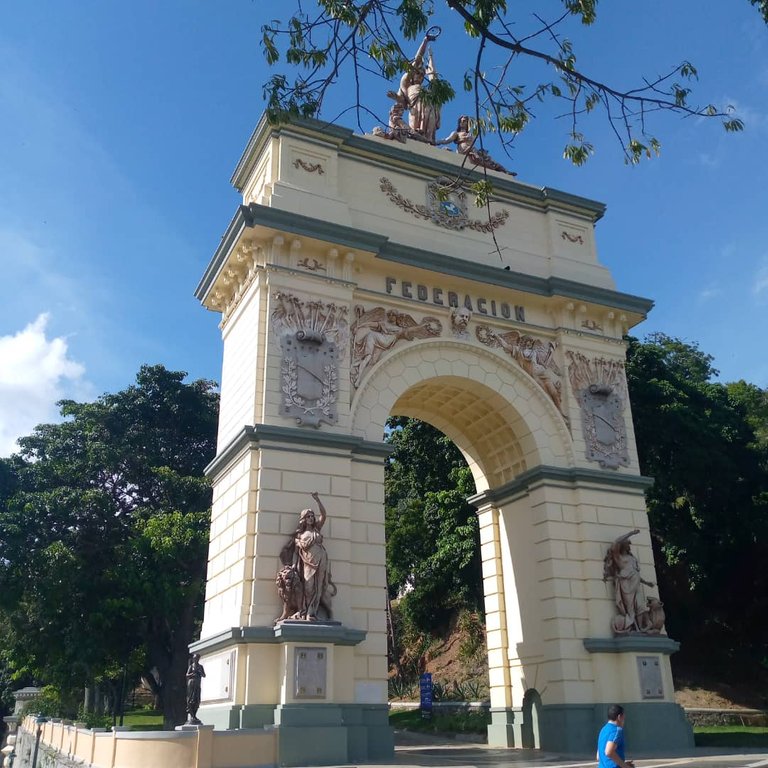 I love my city, it is chaotically beautiful; the hustle and bustle, the noise of the cars, the pedestrians, the people buying and selling, even the nights are noisy and not as peaceful as I would like, but it is the city where I chose to live and I love it. In spite of that love sometimes the thickness of this concrete jungle overwhelms me and from time to time I dream of being a hermit, living in a place in total contact with nature and away from the city.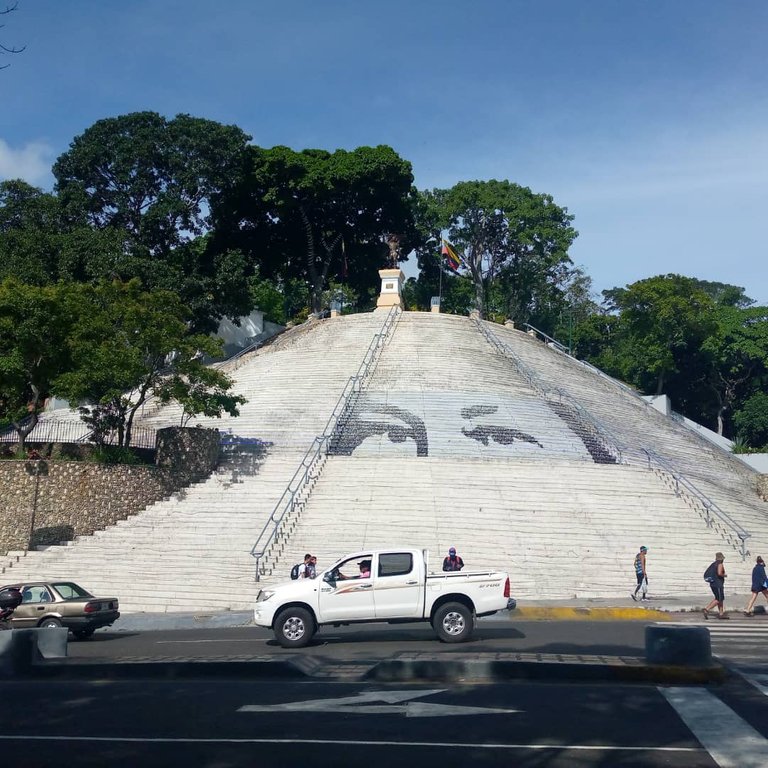 When those desires to escape come to me, I have the ideal place to escape, not only from the city, but the privilege of being able to transport myself to another time, with the advantage that I don't need hours in a public transportation to do it, it's just a matter of walking about 10 blocks.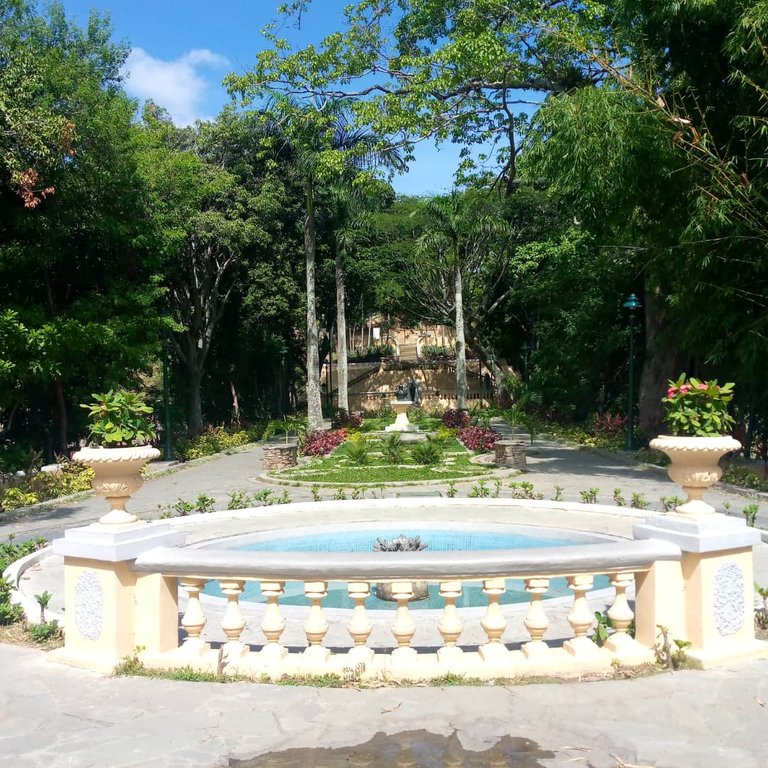 It is called Ezequiel Zamora Park, or as we all know it: El Calvario Park. Its construction was ordered by President Antonio Guzmán Blanco back in 1883, according to the source Wikipedia, and thanks to the good action of the government, it has been recovered and those of us who are fortunate enough to visit it, discover with pleasure that in its reconstruction they have tried to maintain its elements and details, that is to say, they have respected the original construction of 1883.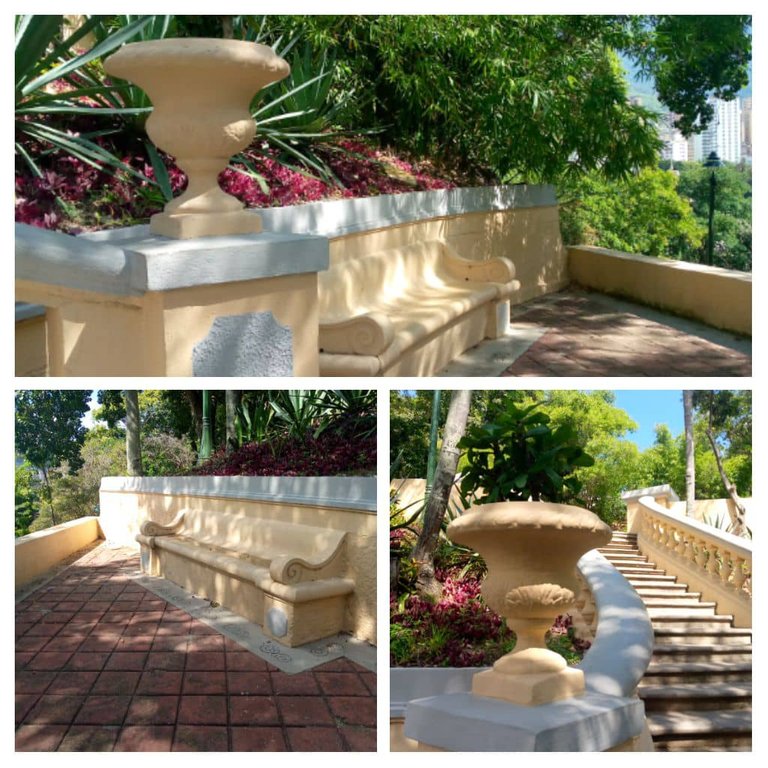 The entrance to the park is on Sucre Avenue, to the west of El Silencio. You know you are in front of the entrance because the first thing you see is a large staircase and big eyes drawn on its steps. The threatening look invites you to turn back, but as I am stubborn, that is to say, obstinate, I fix my eyes on that look and I say "I'm going forward". By the way, those eyes are those of the president Hugo Chavez.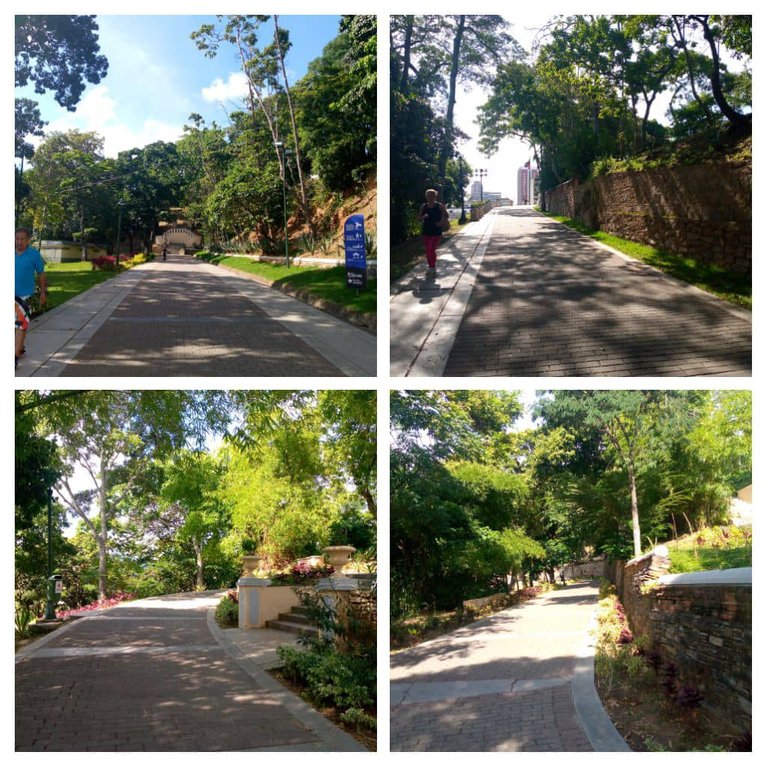 For those who do not want to climb those eternal steps that lead you to paradise, you can walk peacefully and enter through the "Arco de la Federación". That was the route I took on this walk. Once you cross the arch you will suddenly find yourself in colonial times. Its walkways are clean, pleasant and surrounded by vegetation. The incessant noise ceases to exist and there is only you, nature and the few visitors who dare to go, because the park has a reputation for being dangerous, because of the neighborhoods that surround it. To calm doubts, I tell you that at the top of the stairs there is a military post and at the top of the park there is a police checkpoint, so it is relatively safe to be in this park.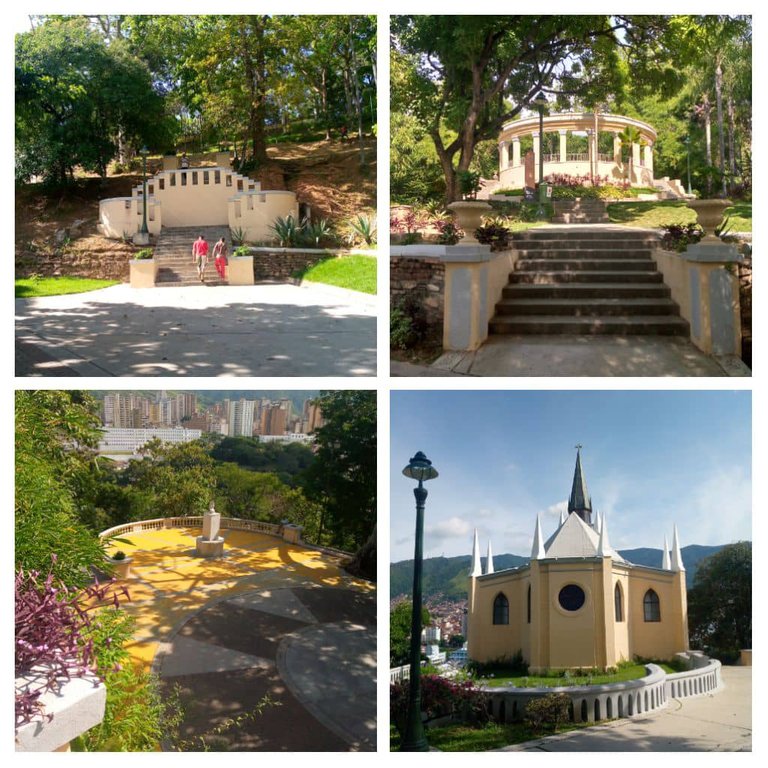 Where we were going, I remembered, along the paths! In the park there are many statues in honor of heroes and intellectuals, I think I took very few pictures, especially me posing with them, it is a weakness. I'm going to leave you one of my witticisms: here talking to a statue, I hope it doesn't answer me.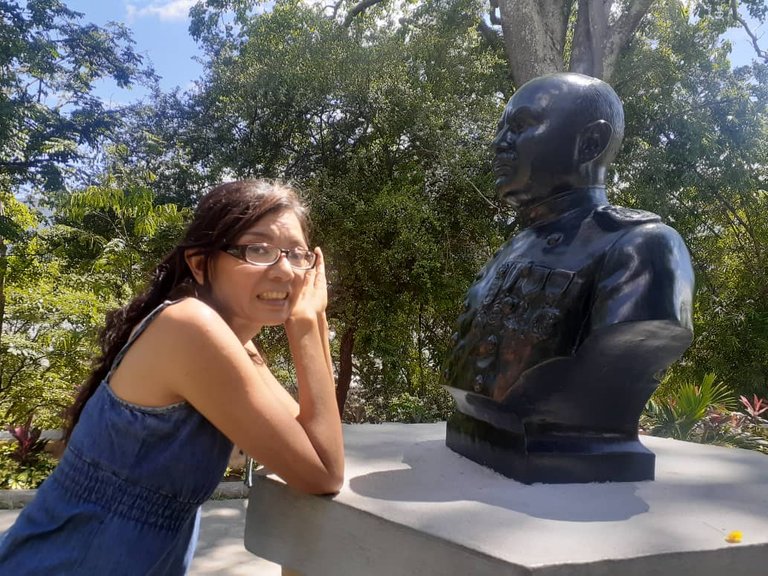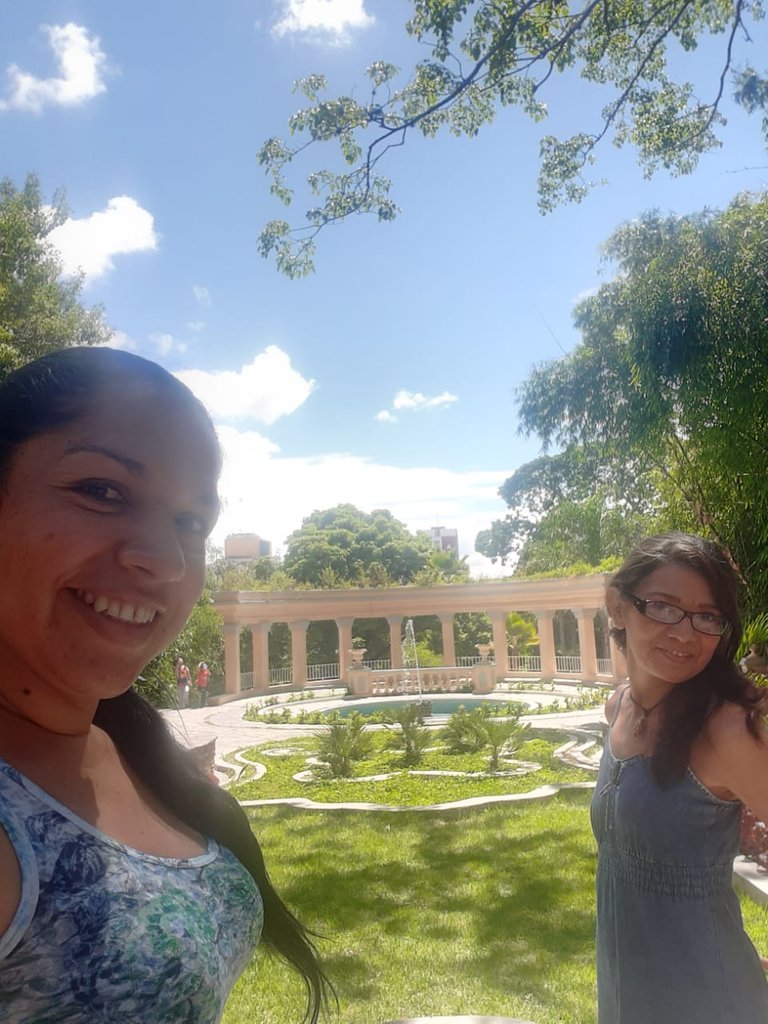 There is a square that I personally find adorable, it is called "El Parnaso" and I can't resist imagining the ladies of yesteryear holding the arm of a gentleman walking around and listening to the music of the rondalla located in the arch of this place. Am I romantic: Yes, to the bone hahaha.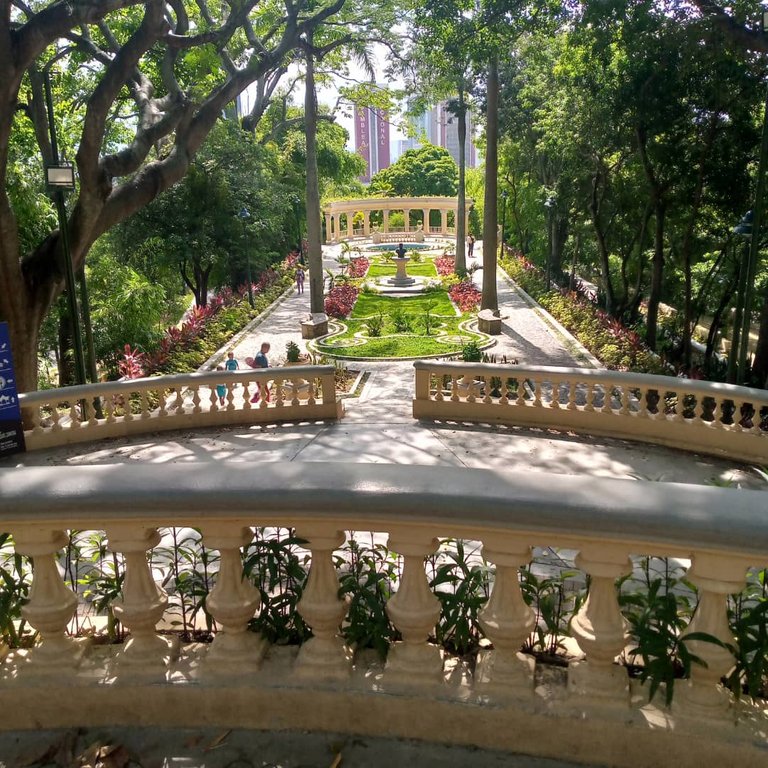 This park is so complete that it even has a chapel where religious services were officiated, nowadays, the chapel has been recovered, but masses are not officiated in this place. I think that the day they do I will attend out of curiosity. Once I went inside and the truth was pitiful, the place was used by homeless people to sleep.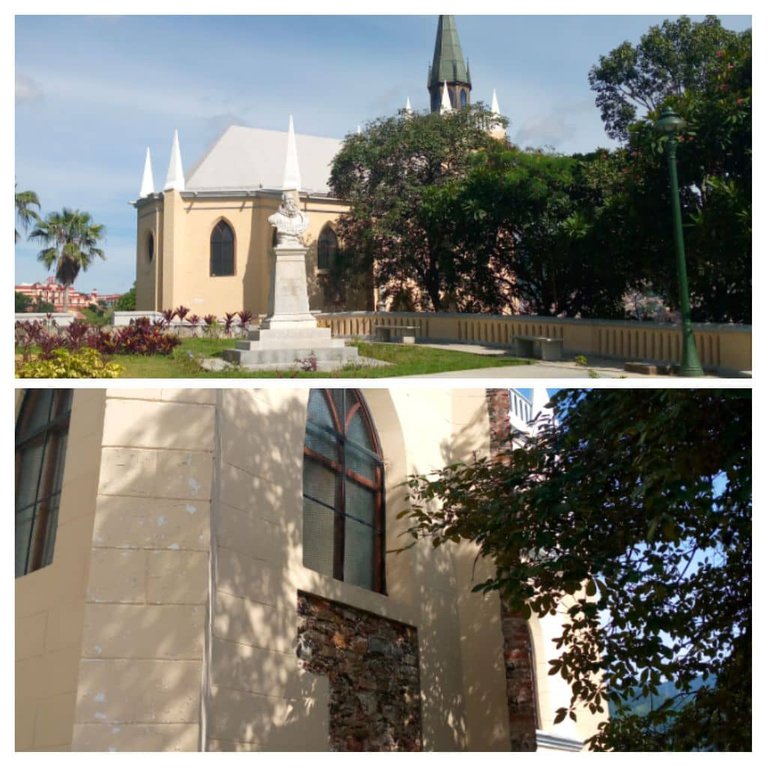 This clock is original from the time of 1883 and they have recovered it. It is working! That shocked me. In the vicinity where this clock is located there is a chapel, a restaurant, a library, bathrooms, a playground and a space that is used for yoga. Everything is wrapped in the mystery of the past.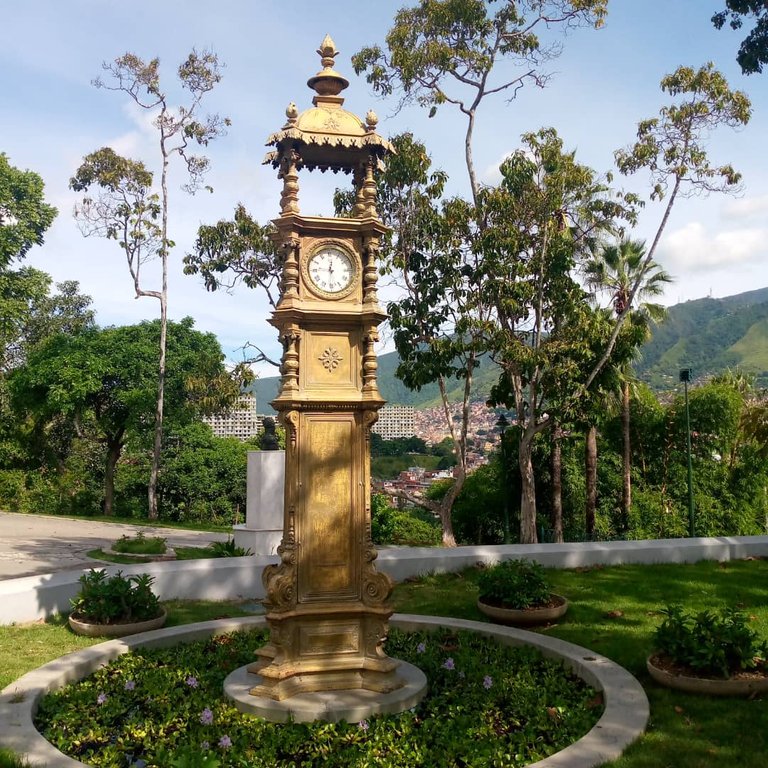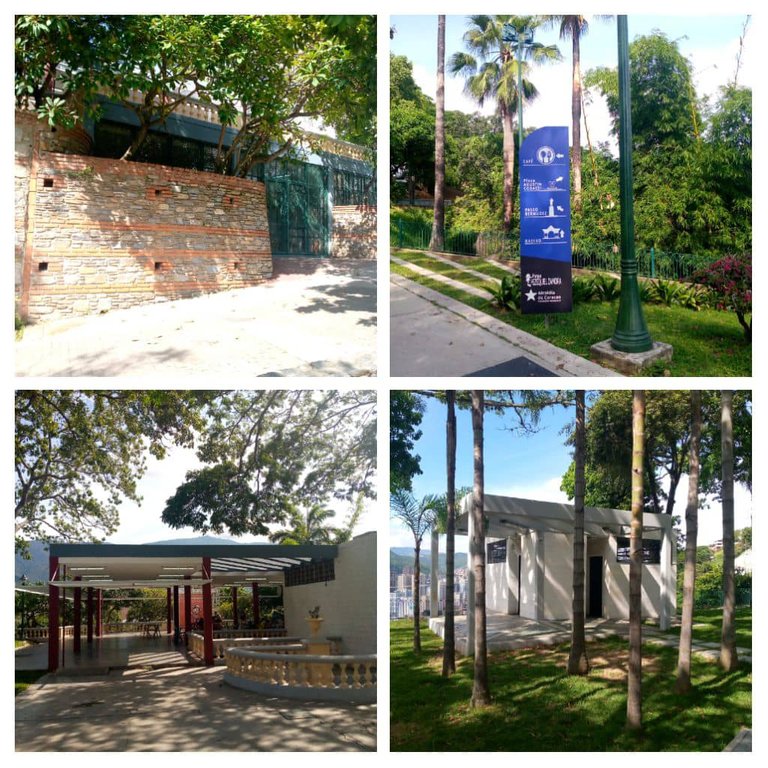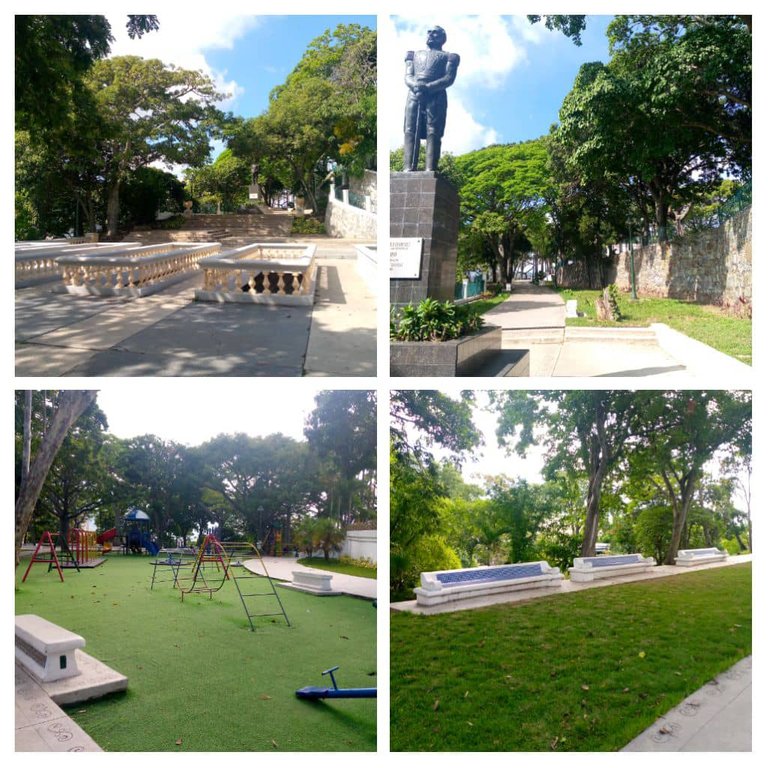 The park is terraced, that is, it was built on terraces. Being built on a hill, the paths are winding and the engineers to prevent landslides built walls that are original of the time, you can see that they are made of solid brick or like baked brick. These walls have drains through which the rainwater drains without affecting the ground, thus avoiding landslides or mudslides. I hope I have explained this correctly.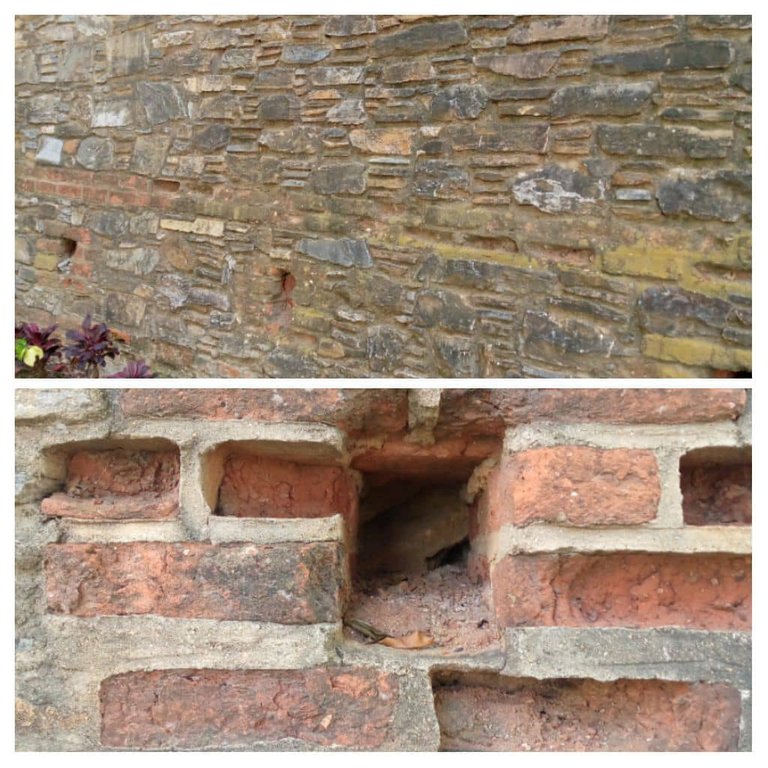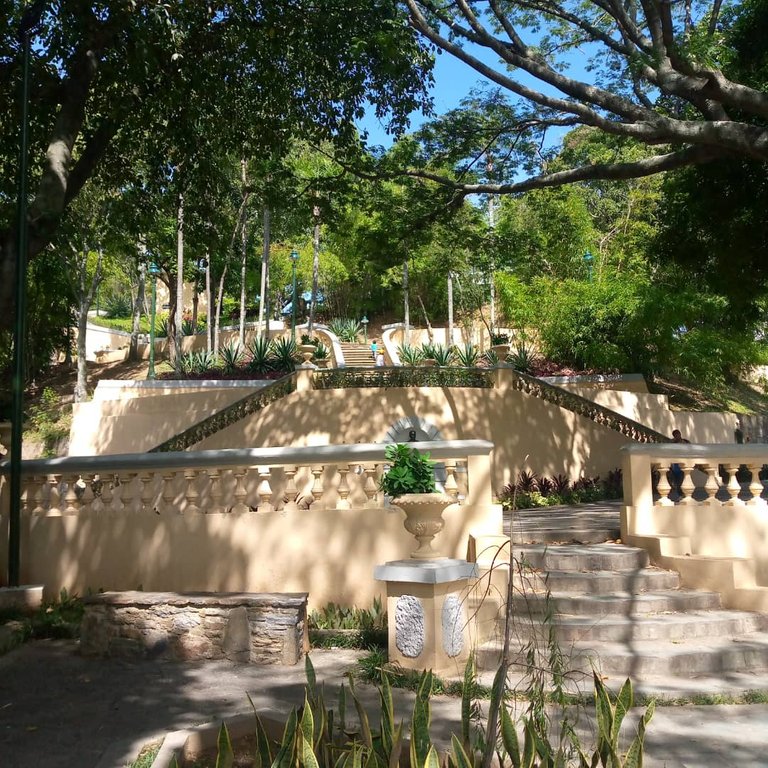 Something that left me pleasantly surprised is that the benches to sit on are the original ones and their ceramics were recovered. You can see that some of them have lost their body due to use, weathering, and climatic actions, but even so they were left as an indelible record of their past. Sometimes I sit on these benches and appreciate these beautiful ceramics.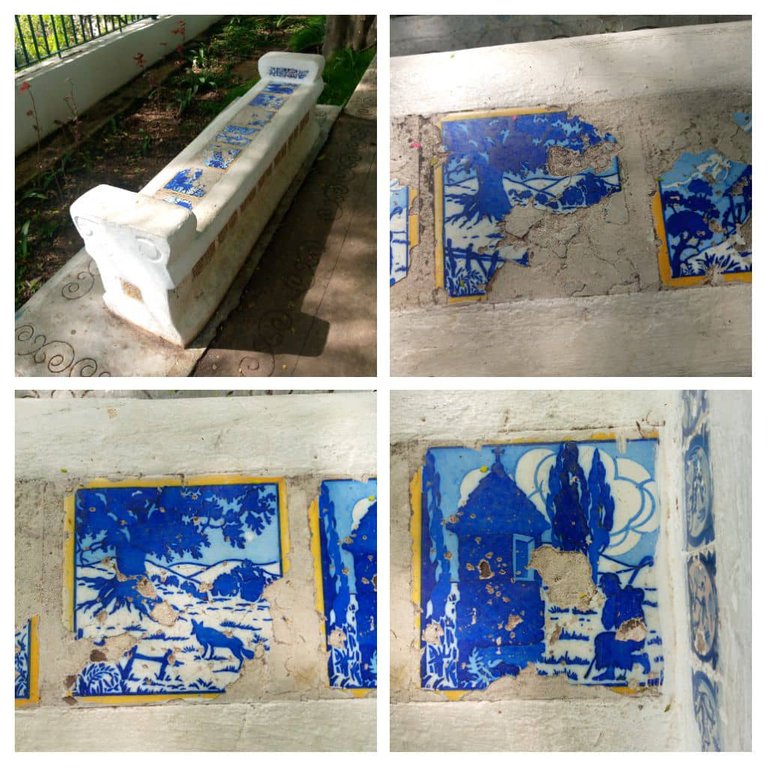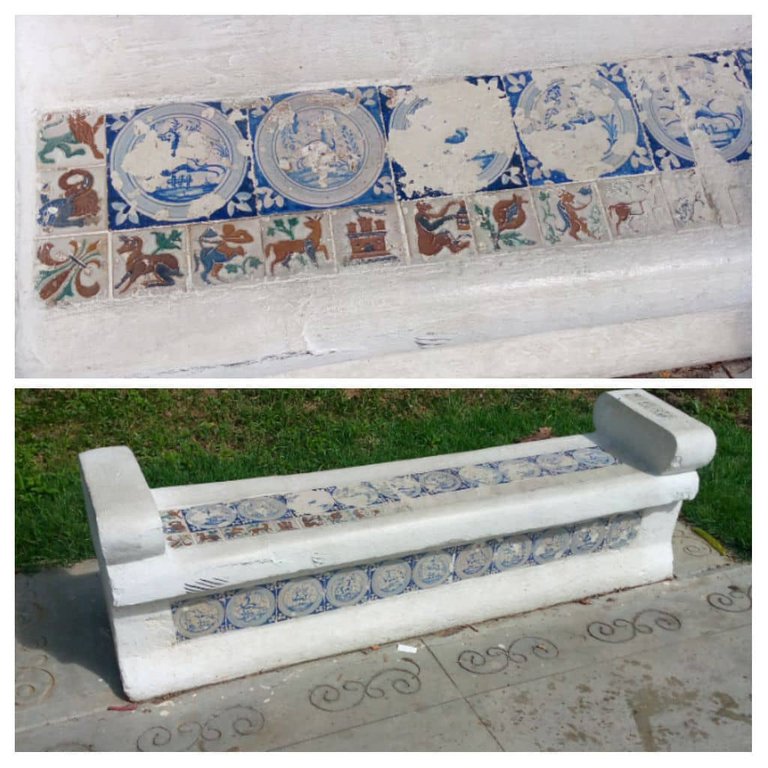 At the top of the hill is "El Gazebo", I understand it was in a colonial market, was recovered and assembled on the hill of the park very close to the first aqueduct that was in Caracas and fortunately has also been recovered.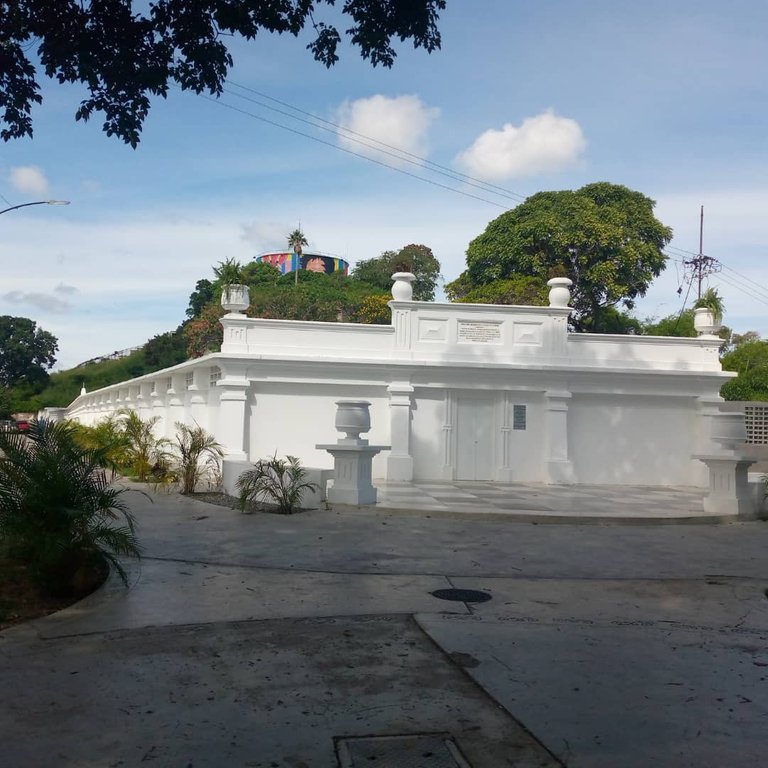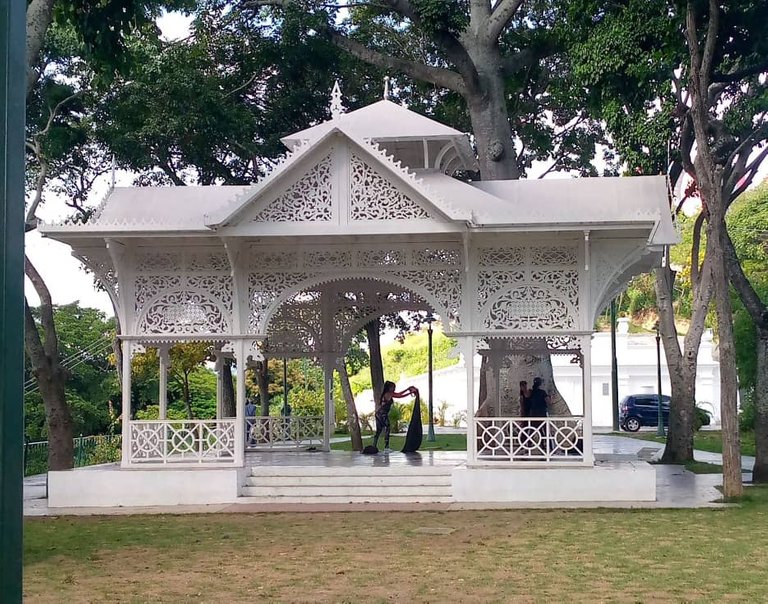 In conclusion, this park combines the past, nature, rest, shelter, harmony, history, fun and peace. It is the ideal place to escape from the noise of the city, without leaving the city.
If you made it this far, thank you very much for reading this article.
My own photos taken with my Tecno Spark cell phone //
I used the free version of Deepl.com as a translator.

---
---
AHORA EN ESPAÑOL
Parque El Calvario, un pedacito de cielo en el centro de Caracas, Venezuela.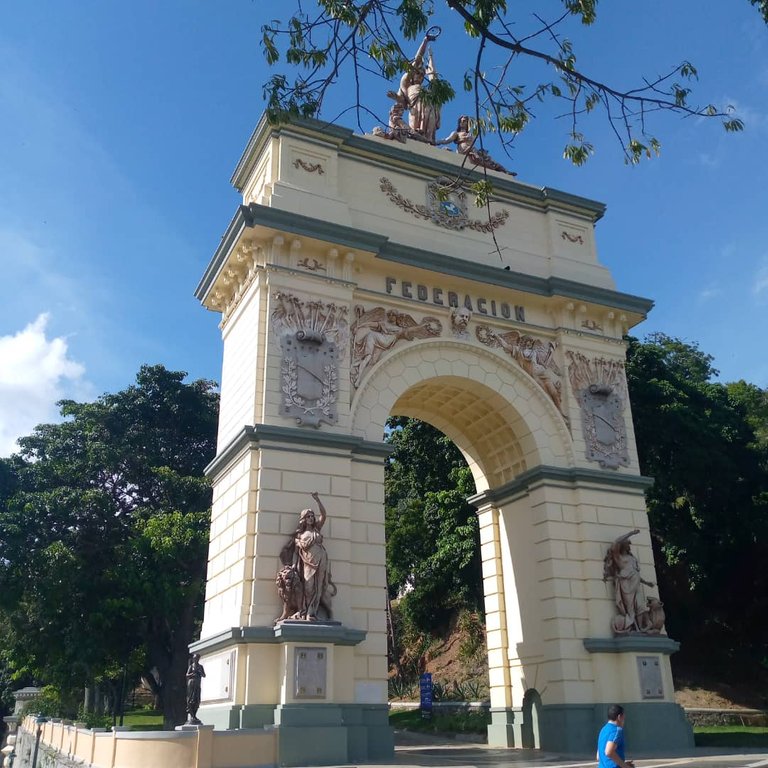 Amo mi ciudad, es caóticamente hermosa; el bullicio, el ruido de los carros, los peatones, las personas comprando y vendiendo, inclusive las noches son bulliciosas y no tan apacibles como desearía, pero es la ciudad donde elegí vivir y la amo. A pesar de ese amor a veces la espesura de esta selva de concreto me agobia y de vez en cuando sueño con ser una ermitaña, haciendo vida en un lugar en total contacto con la naturaleza y alejada de la ciudad.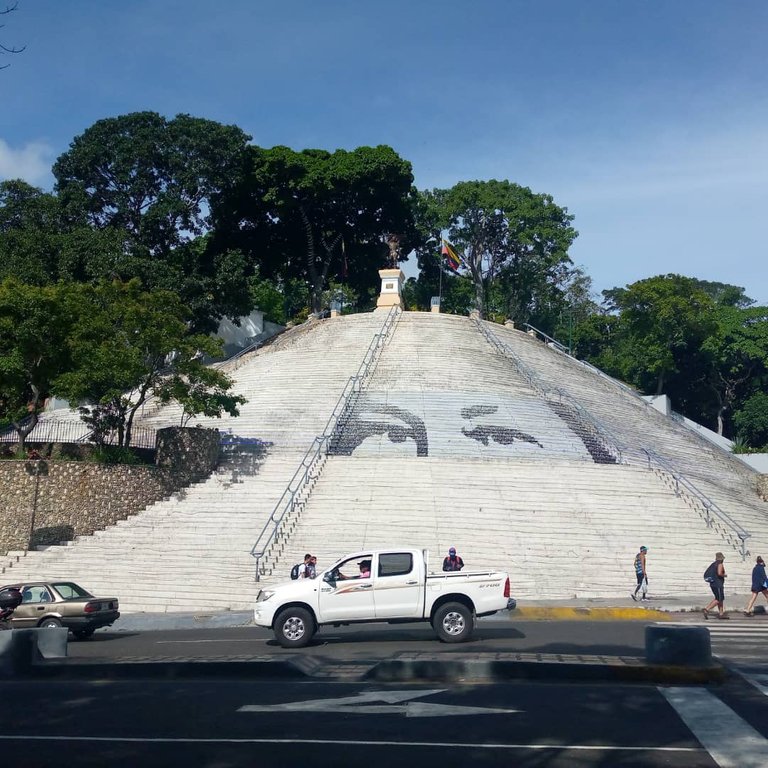 Cuando esos deseos de escapar vienen a mí, tengo el sitio ideal para huir, no solo de la ciudad, sino el privilegio de poder transportarme a otra época, con la ventaja que no requiero horas en un transporte público para hacerlo, solo es cuestión de caminar unas 10 cuadras.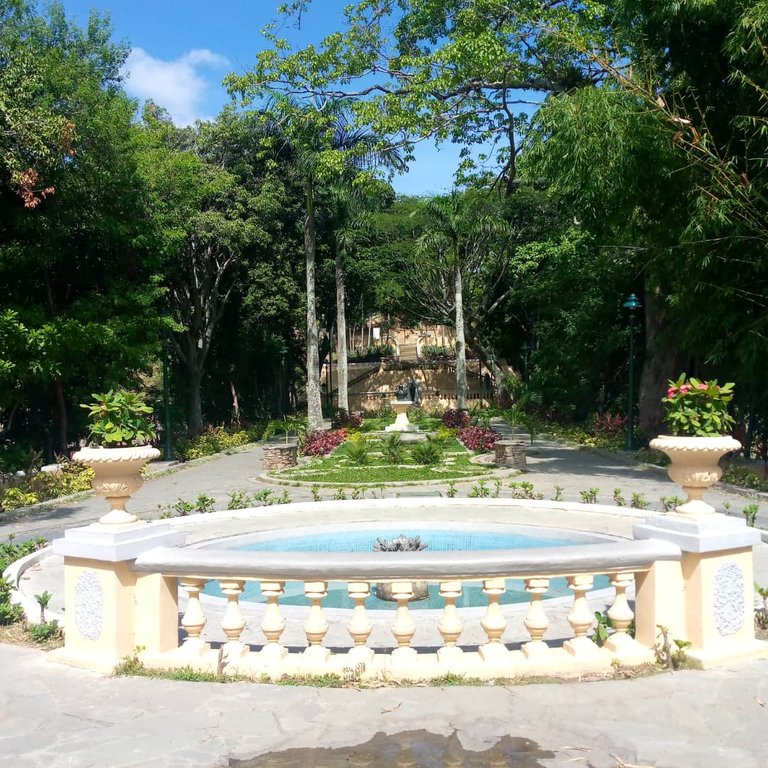 Se llama parque Ezequiel Zamora, o como todos lo conocemos: Parque El Calvario. Su construcción fue ordenada por el Presidente Antonio Guzmán Blanco por allá en 1883, según la fuente Wikipedia, y gracias a la buena acción por parte del gobierno, ha sido recuperado y los que tenemos la fortuna de poder visitarlo, descubrimos con agrado que en su reconstrucción se ha tratado de mantener sus elementos y detalles, es decir han respetado la construcción original de 1883.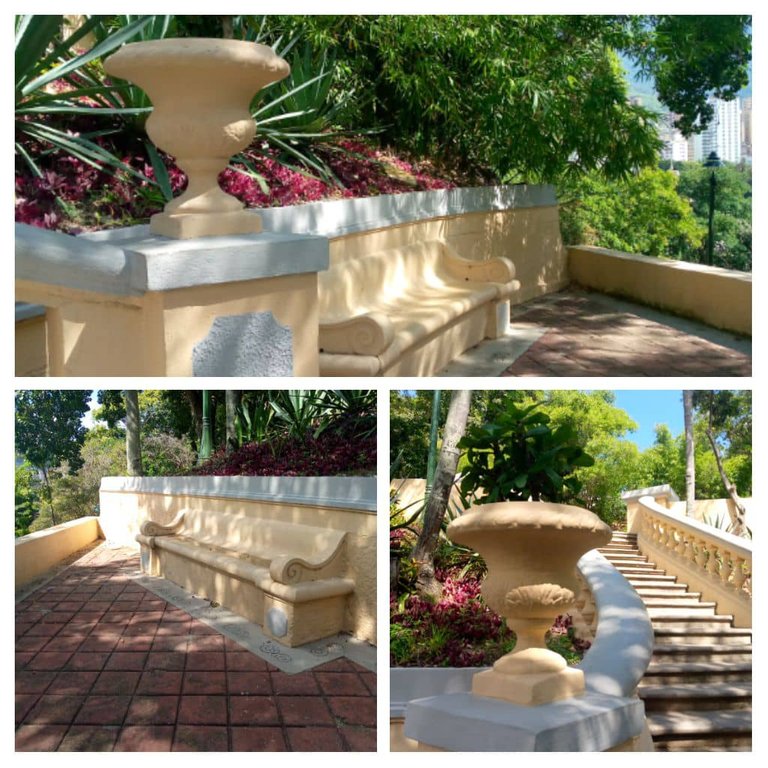 La entrada del parque está sobre la Av. Sucre, al Oeste de la Urbanización El Silencio. Sabes que estás frente a la entrada pues lo primero que te encuentras es con una gran escalinata y unos grandes ojos dibujados sobre sus gradas. La mirada amenazante te invita a devolverte, pero como yo soy porfiada, es decir, obstinada, fijo mis ojos en esa mirada y le digo "para adelante es que voy". Por cierto esos ojos son los del presidente Hugo Chavez.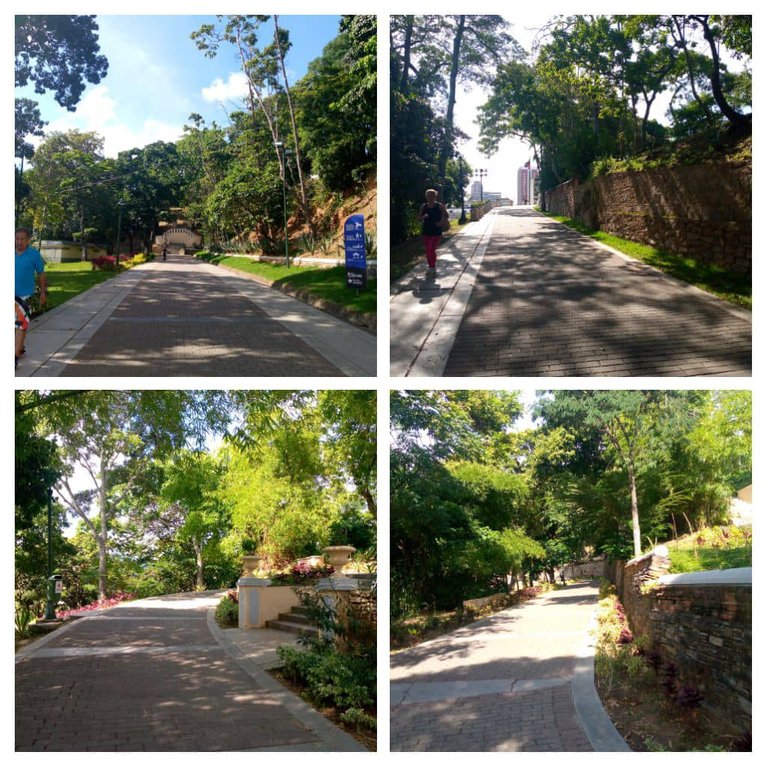 Para los que no quieren subir esas eternas gradas que te llevan al paraíso, puedes caminar apaciblemente e ingresar por el "Arco de la Federación". Esa fue la ruta que tomé en este paseo. Una vez cruzas el arco te vas a encontrar de pronto en la época colonial. Sus caminerías limpias, agradables y rodeadas de vegetación. El ruido incesante deja de existir y solo estas tú, la naturaleza y los pocos visitantes que se atreven a ir, pues el parque tiene fama de ser peligroso, por los barrios que la rodean. Para calmar las dudas, les cuento que en lo alto de las escalinatas hay un puesto militar y en la parte alta del parque hay un control policial, así que es relativamente seguro estar en este parque.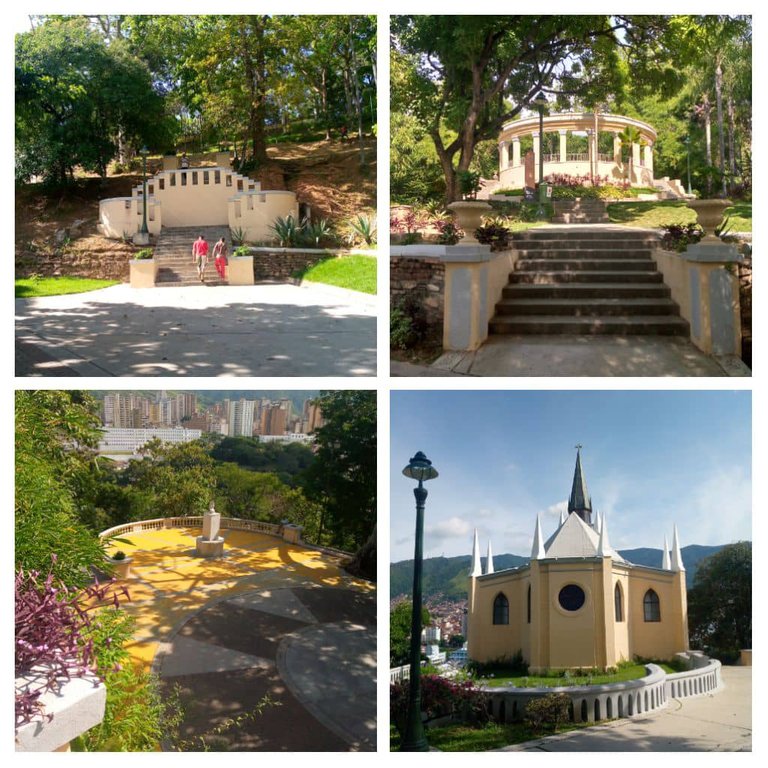 Por dónde íbamos, ya lo recordé, por las caminerias! En el parque abundan las estatuas en honor a próceres e intelectuales, creo que tomé muy pocas fotos, sobre todo yo posando con ellas, es una debilidad. Voy a dejarles una de mis ocurrencias: aquí hablando con una estatua, espero que no me conteste.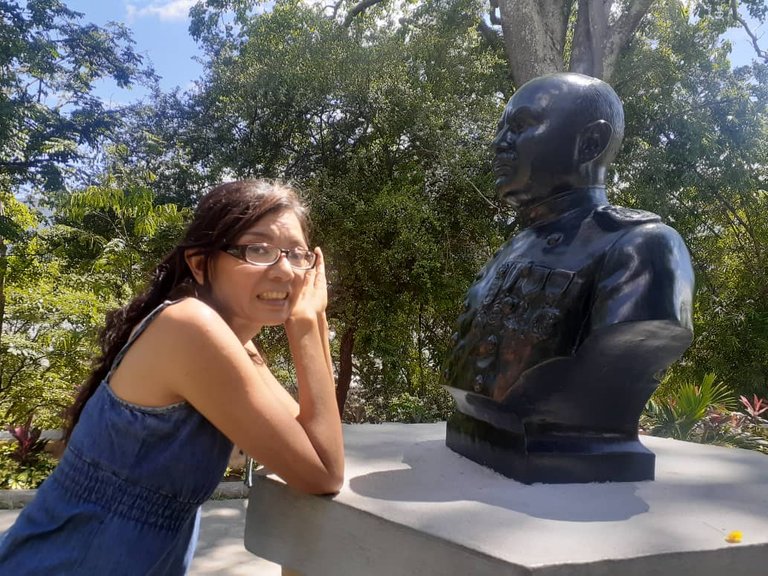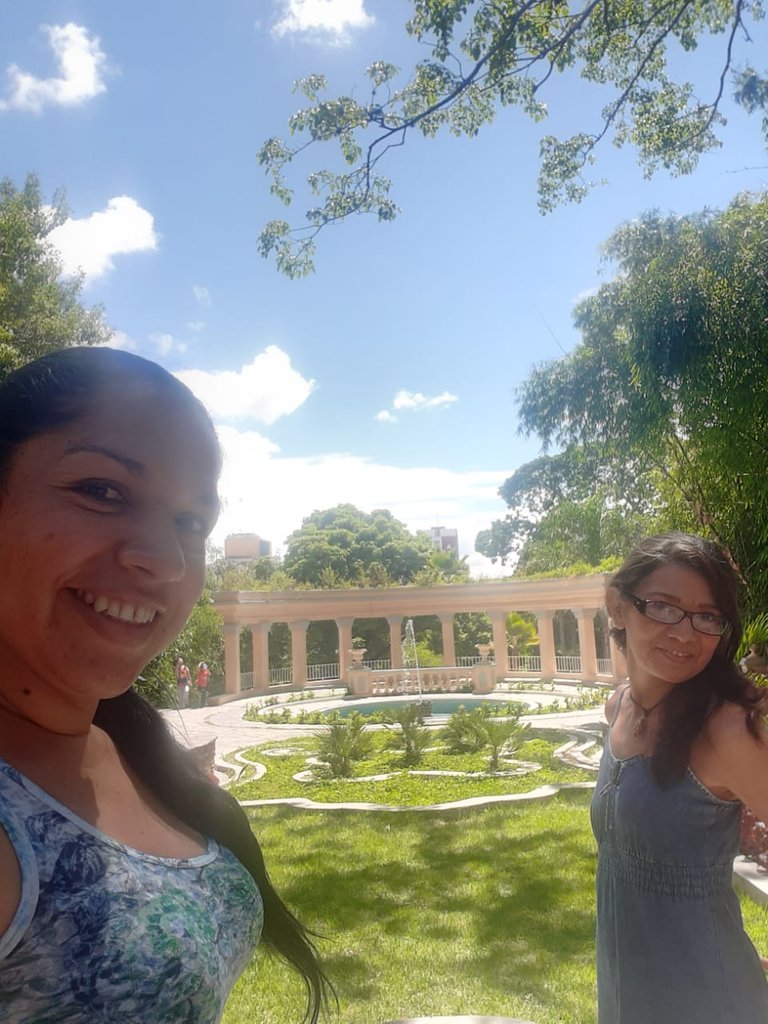 Hay una plaza que personalmente me parece adorable se llama "El Parnaso" y no puedo resistir imaginar a las damas antañonas tomadas del brazo de un caballero caminando por allí y escuchando la música de la rondalla ubicada en el arco de este lugar. Que si soy romántica: Si!, hasta los huesos jajaja.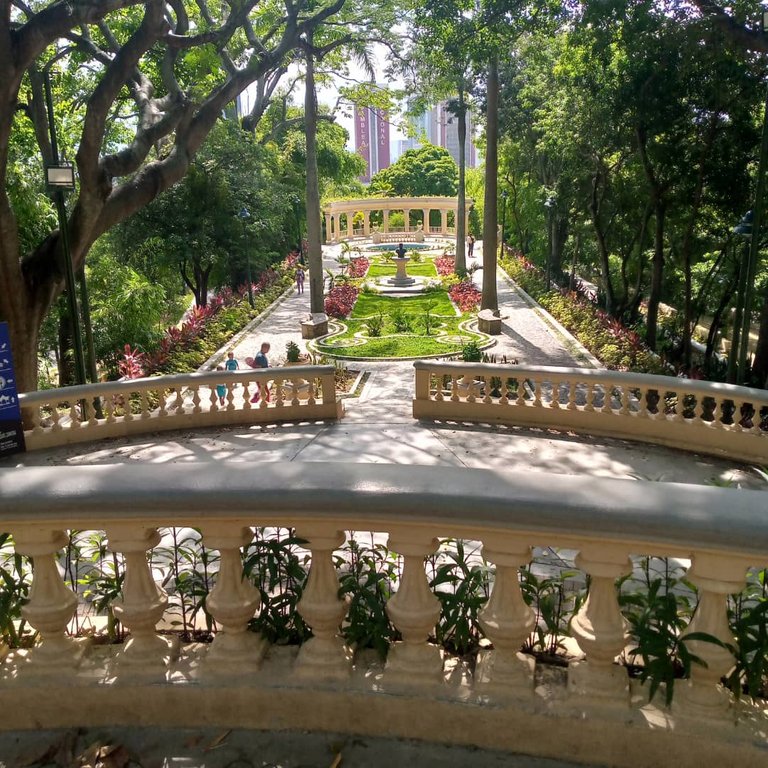 Este parque es tan completo que hasta tiene una capilla donde se oficiaban servicios religiosos, hoy en día, la capilla ha sido recuperada, pero no se ofician misas en este lugar. Creo que el día que lo hagan voy a asistir por curiosidad. Una vez me metí dentro y la verdad dio lastima, el lugar era usado por indigentes para dormir.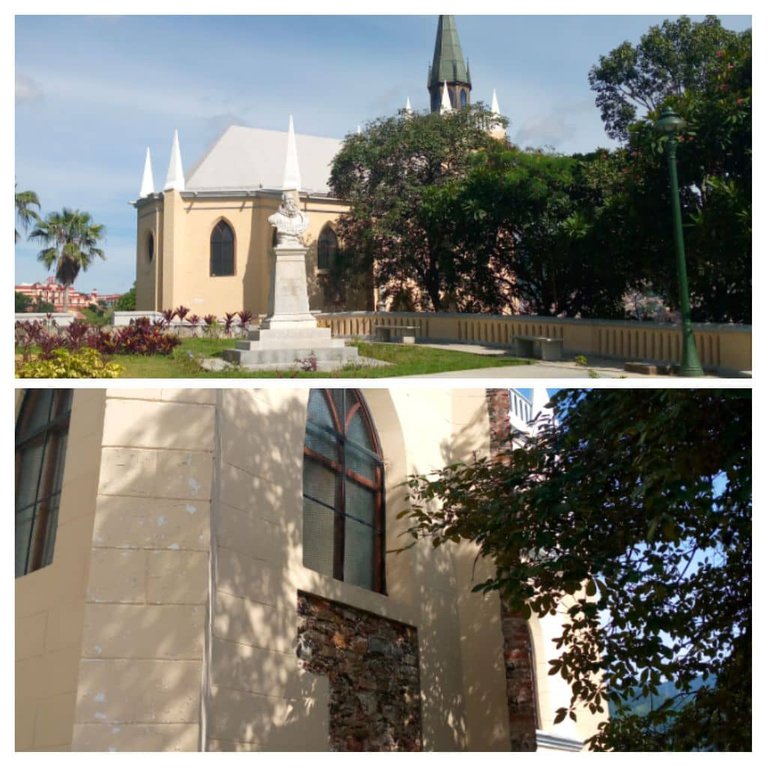 Este reloj es original de la época de 1883 y lo han recuperado. Está funcionando! Eso me impactó. En las adyacencias donde está ubicado este reloj se encuentra la capilla, un restaurant, la biblioteca, unos baños, un parque infantil y un espacio que es utilizado para hacer yoga. Todo envuelto en el misterio del pasado.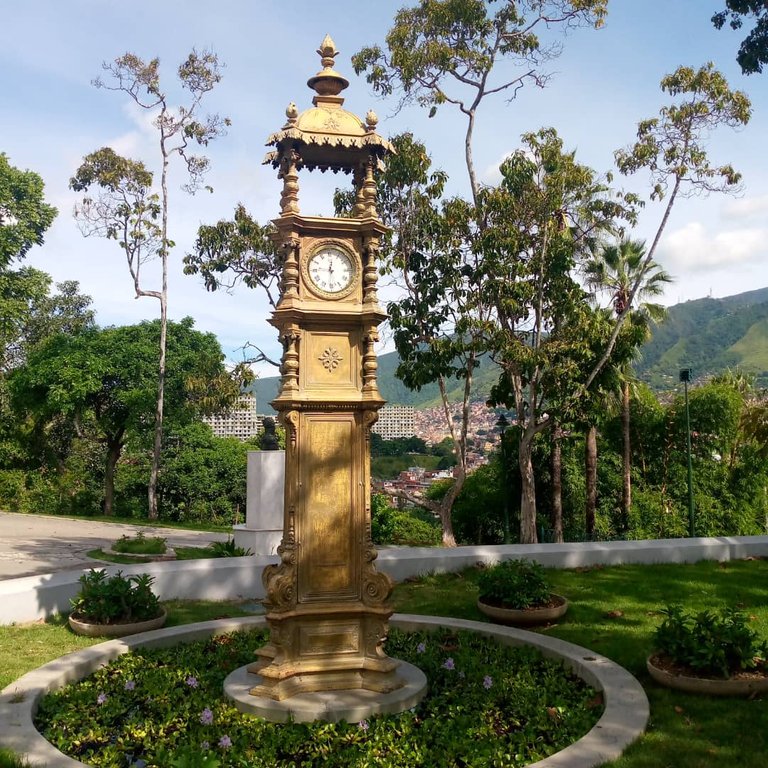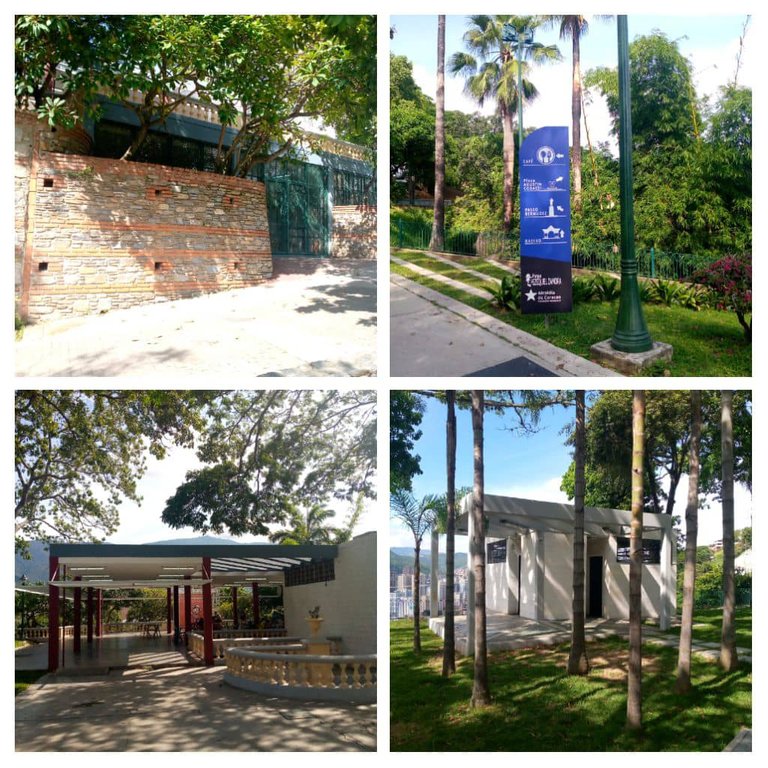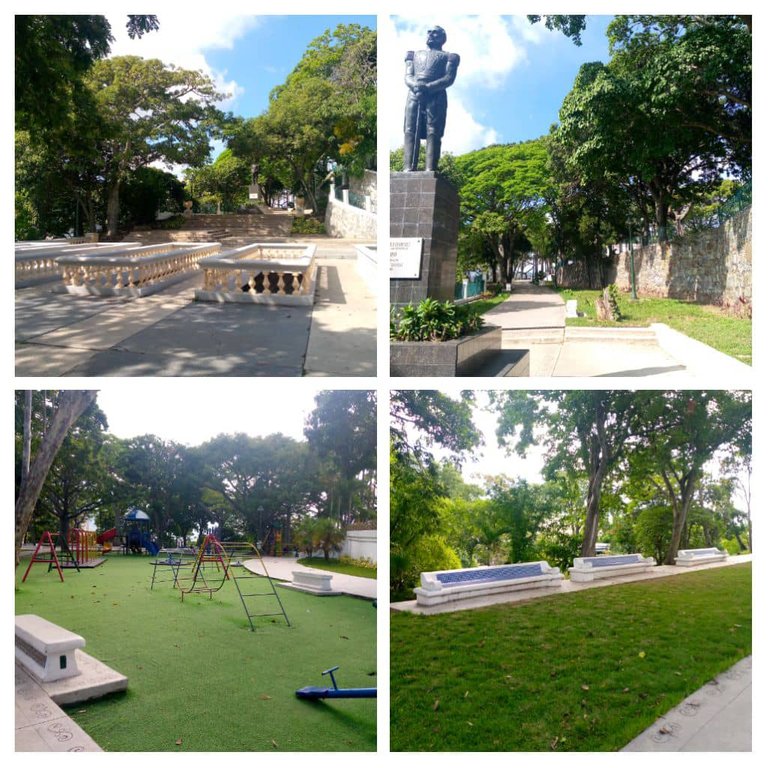 El parque está terraceado, es decir, fue construido en terrazas. Al ser construido en una colina, las caminerias son sinuosas y los ingenieros para evitar que hayan deslaves construyeron paredes que son originales de la época, se puede observar que son de ladrillo macizo o como ladrillo cocido. Estas paredes tienen drenajes por donde el agua de lluvia drena sin afectar el terreno, evitando así el corrimiento del terreno o deslaves. Espero haberlo podido explicar correctamente.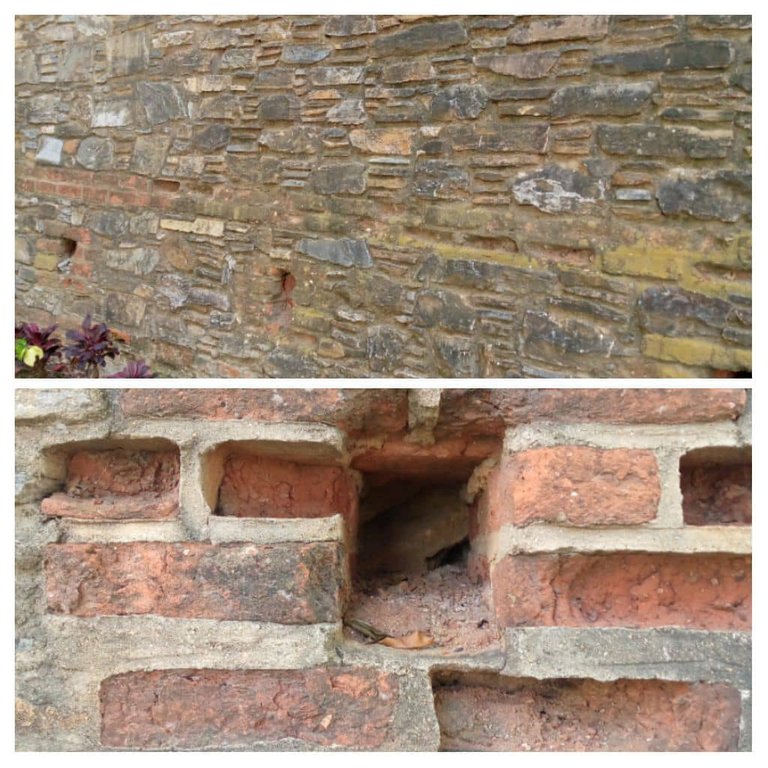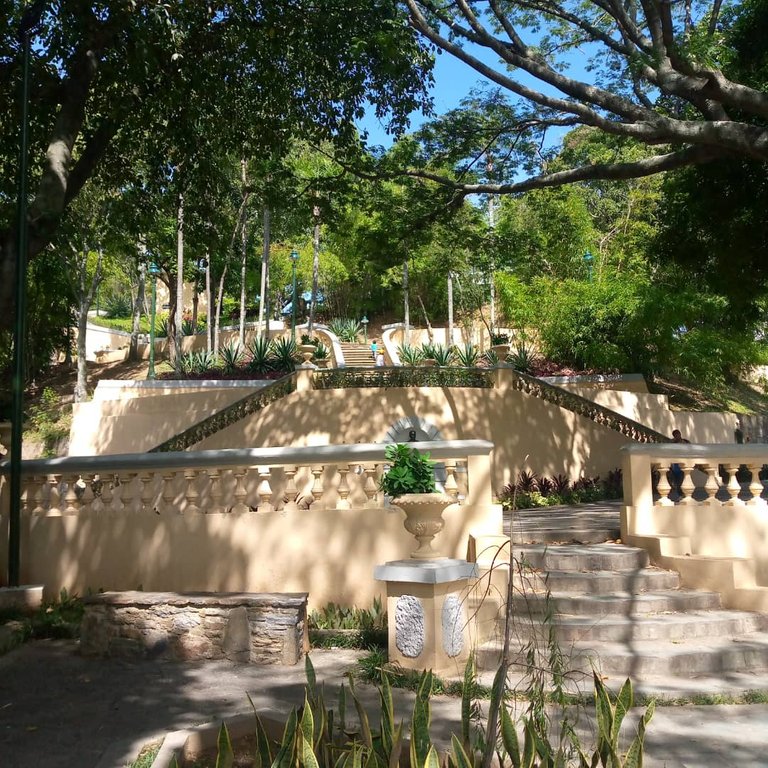 Algo que me dejó gratamente sorprendida es que los bancos para sentarse son los originales y sus cerámicas fueron recuperadas. Se puede apreciar que algunas por el uso, la intemperie, las acciones climáticas han perdido su cuerpo, pero aun así las dejaron como constancia indeleble de su pasado. A veces me siento en estas bancas y aprecio estas hermosas cerámicas.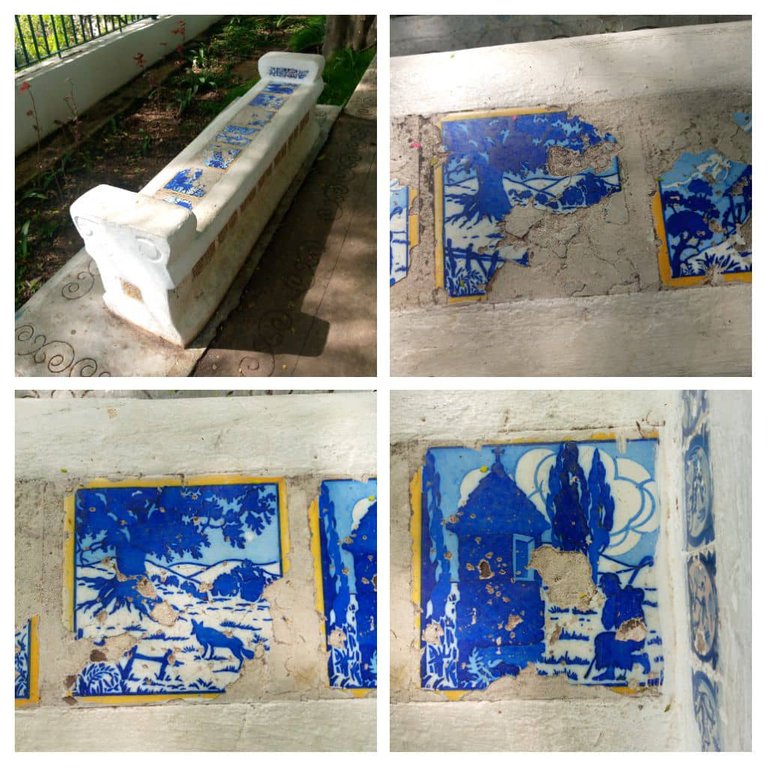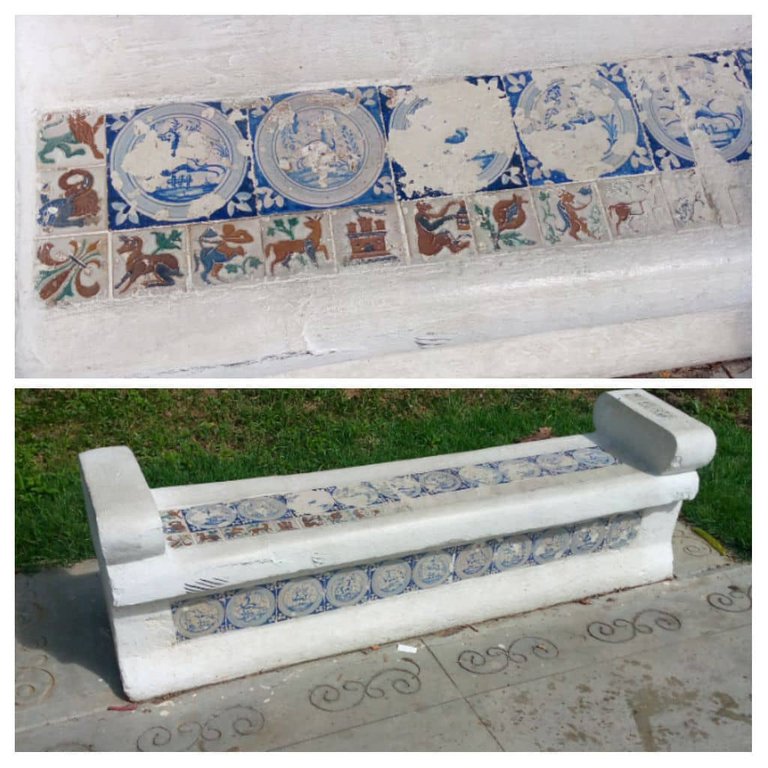 En la cima de la colina se encuentra "El Gazebo", tengo entendido se encontraba en un mercado colonial, fue recuperado y armado en la colina del parque muy cerca del primer acueducto que hubo en Caracas y que afortunadamente también ha sido recuperado.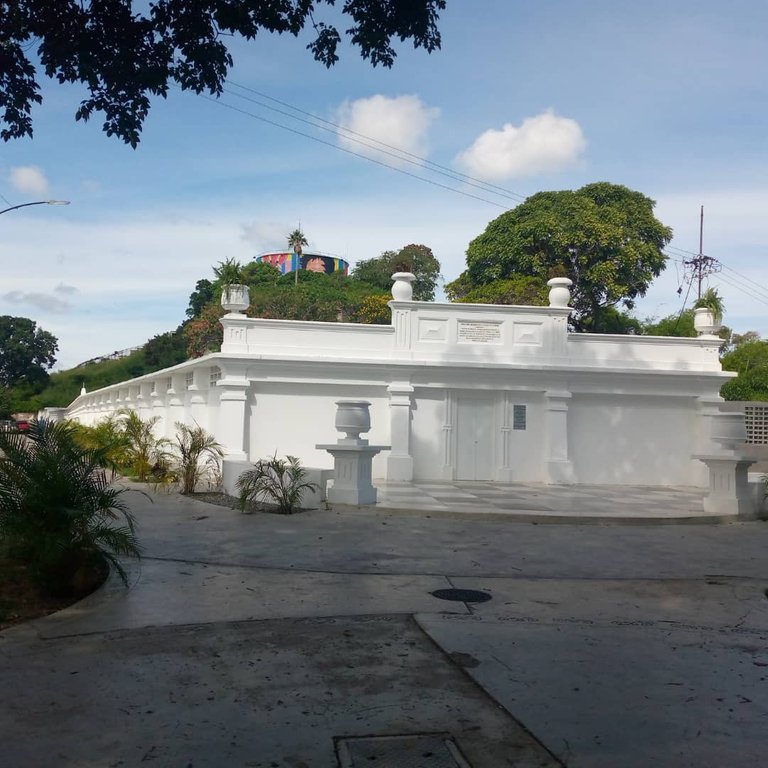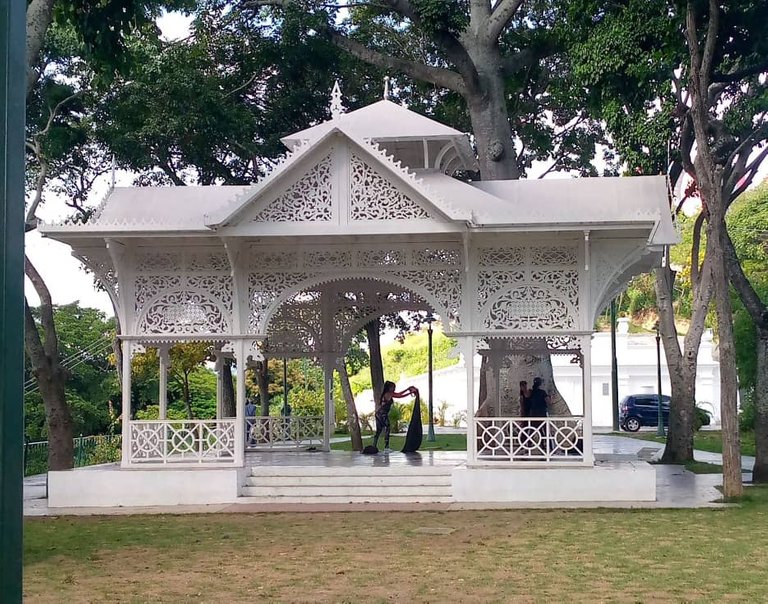 En conclusión este parque conjuga pasado, naturaleza, descanso, cobijo, armonía, historia, diversión y paz. Es el lugar ideal para huir del ruido de la ciudad, sin salir de la ciudad.
Si llegaste hasta aquí muchas gracias por leerme.
Fotos propias tomadas con mi celular Tecno Spark //
Utilicé la versión gratuita de Deepl.com como traductor.

---
---