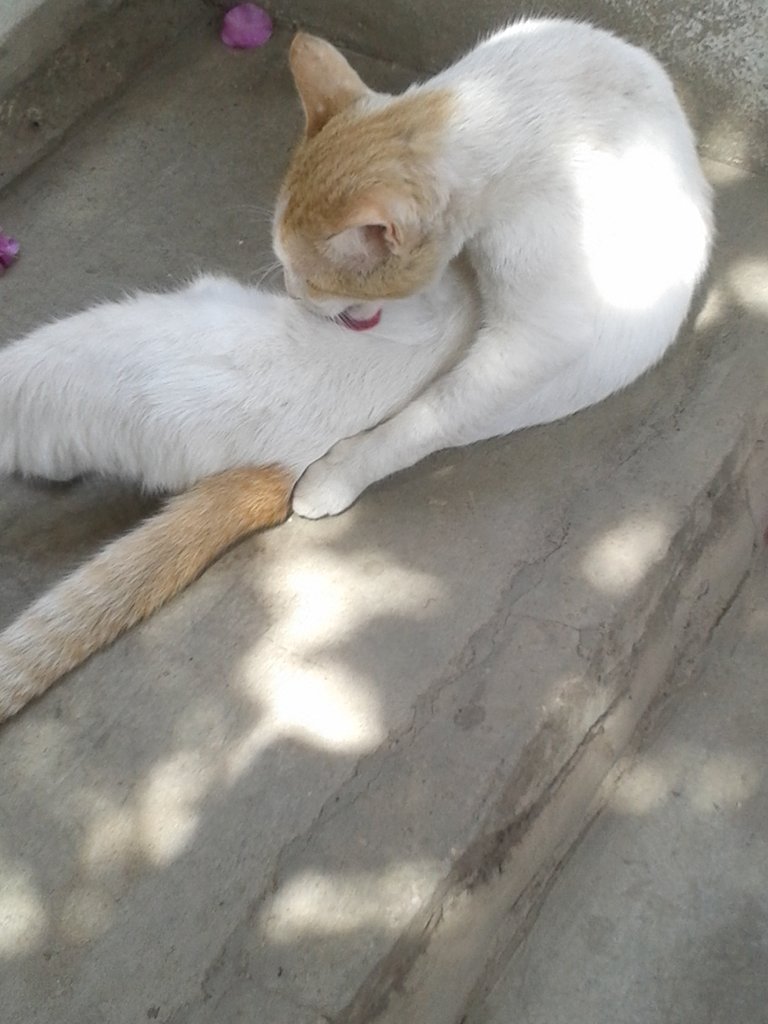 I go out for a walk in the morning and my Copito Cat accompanies me. He takes the opportunity to lie in the sun and groom himself.
He feels a kind of attraction to me. It is my son's pet. My son looks for him, places it on his chest, gives him a lot of love ... but "copito" whenever he sees me, he chases me. I usually pat him on the body, and tickle him below his neck. He likes that.
---
Salgo a caminar en la mañana y mi Gato Copito, me acompaña. El aprovecha para tumbarse al sol y acicalarse.
El siente una especie de atracción hacia mi. Es la mascota de mi hijo. Mi hijo lo busca, lo coloca en su pecho, le da mucho amor... pero "copito" siempre que me ve, me persigue. Yo generalmente le doy palmaditas en el cuerpo, y le doy cosquillas por debajo de su cuello. Eso le gusta.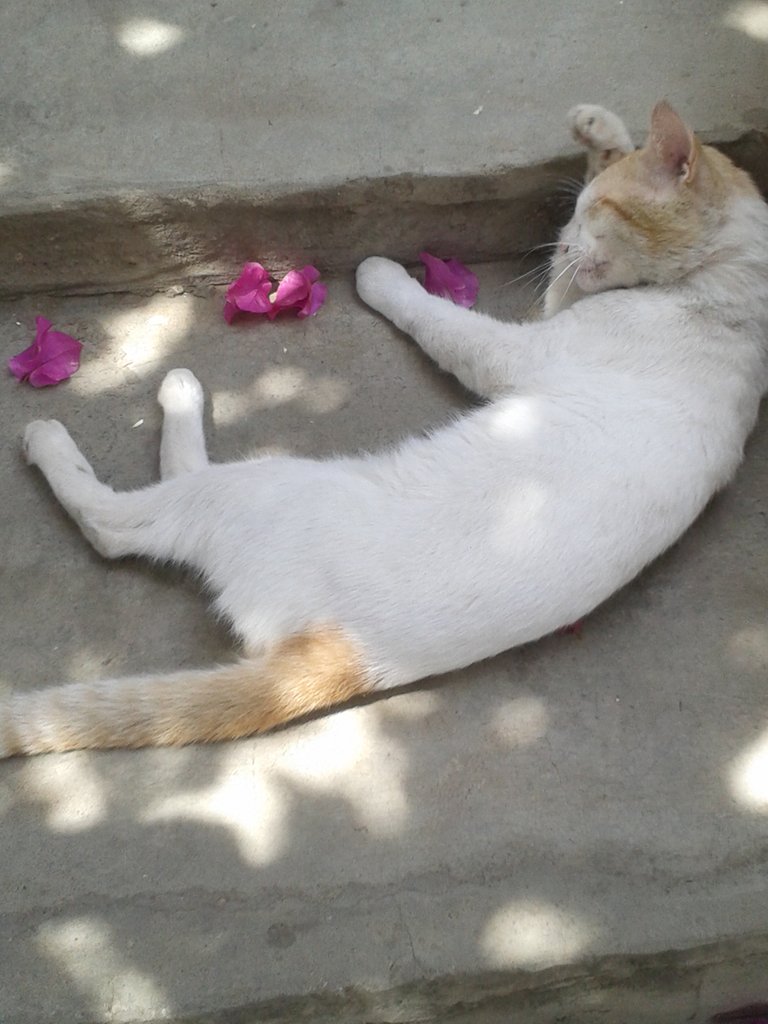 The cat, who was the mother of copito, followed me in the garden. While I watered my plants, she sat on her hind legs and watched the water fall, over and over.
Copito no. This cat is very afraid of water. The times he needed a bath, there was a big fight between the two of them. He ended up winning, I never take a bath again.
---
La gata, que era la madre de copito, me seguía en el jardín. Mientras yo regué mis plantas, ella se sentó en sus patas traseras y vio caer el agua, una y otra vez.
Copito no!. Este gato le tiene mucho miedo al agua... Las veces que necesitó un baño, hubo una gran pelea entre los dos. El terminó ganando, ya nunca más le hago un baño.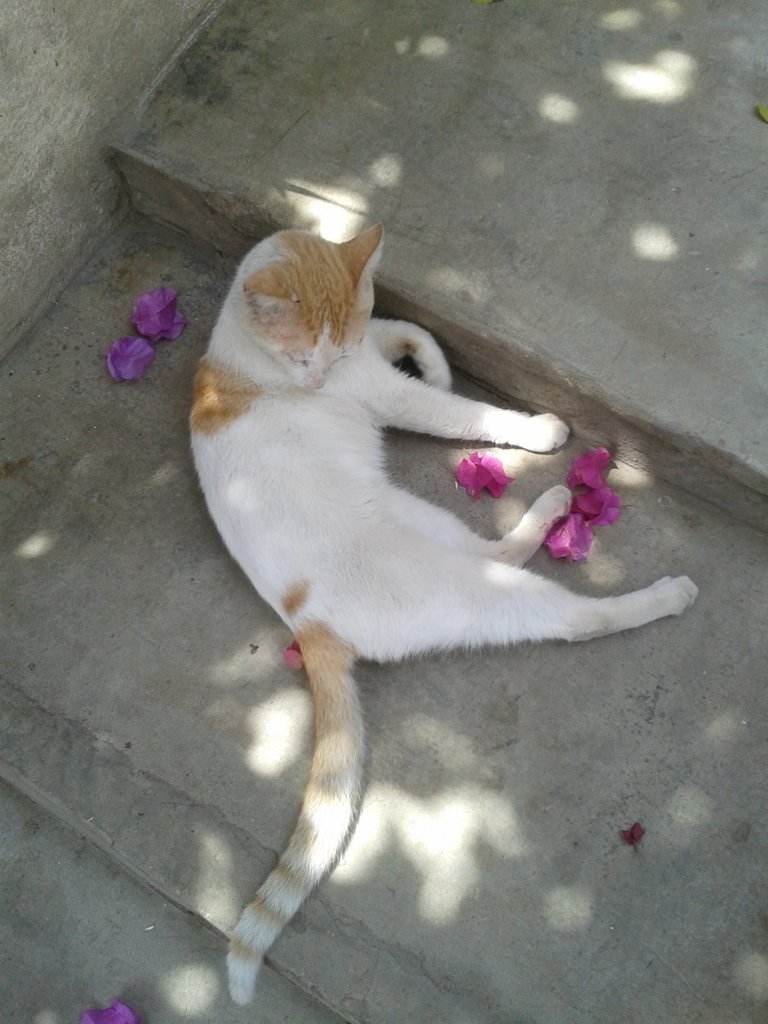 When he sees me with the hose in hand, he runs away and looks at me from afar. We are now sitting just under the Bugambillia tree. It has a good shade. My little cop lay down and groomed itself, while the rays of the sun, which manage to penetrate the tree, are reflected in its fur.
Cuando me ve con la manguera en mano, huye y me mira desde lejos. Ahora estamos sentados justo debajo del árbol de Bugambillia. Tiene una buena sombra. Mi copito se acostó y se acicala, mientras los rayos del sol, que logran atravesar el árbol, se reflejan en su pelaje.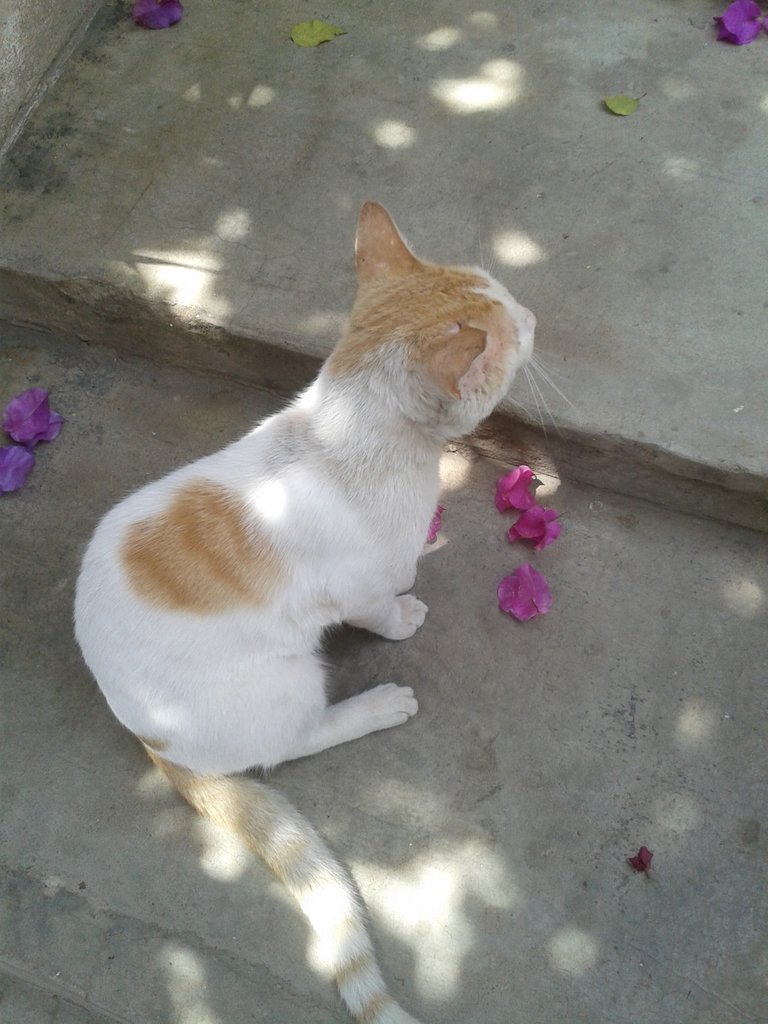 This is a post for the Shadow Hunter Photography Contest, hosted by my dear @melinda010100 and her always prominent judge @annephilbrick. It is round # 128.
The photographs are all of my property. With samsung mini s3 phone.
---
Esta es una publicación para el concurso de fotografía de caza de sombras, alojado por la querida @melinda010100 y su siempre destacada juez @annephilbrick. Es la ronda #128.
Las fotografías son todas de mi propiedad. Con el teléfono samsung mini s3.