Hola Splinterland Players!
I hope you all enjoying Splinterlands!
This is your splinter fellow warrior mango-juice with another Splinterlands share your social challenge post!!
---
So last week, I posted a detailed post about Serpent of the Flame and days pass but I could not come up with a new theme for social challenge post. So I started roaming around my alt account and suddenly the Dragon Jumper caught my attention.
Why? Let us look into this furious card from the dragon sector! The DJ is a new untamed edition melee card that belongs to the Dragon splinter and it comes with gold edition as well. This human-looking monster is one of the most popular opportunity cards in Splinterlands because of his high melee attack, Opportunity, Flying Stun and Snare ability! A monster packed with 4 abilities is what we can depend upon in this cautious situations!
Dragon Jumper is super usable in high mana matches. If you have a Daria Dragonscae, great for you. Or you can use other summoners too..
The speciality of dragon monsters is that it cames through choosing dragon summoners. Hence, you can choose any of the remaining 5 splinter monsters and make a wide variety of strategies with it, from the flame archer hordes to magic mayhems!
I always love playing matches with melee monsters with a good number of sneak/ opportunity monsters because of their odd attack style which is unpredictable as well. Costing 7 mana, this monster still has great potential on the battlefield, especially the melee friendly matches, what do you think?
Ok so, before moving on, lt use see what s being written in the book of Splinterlore for him.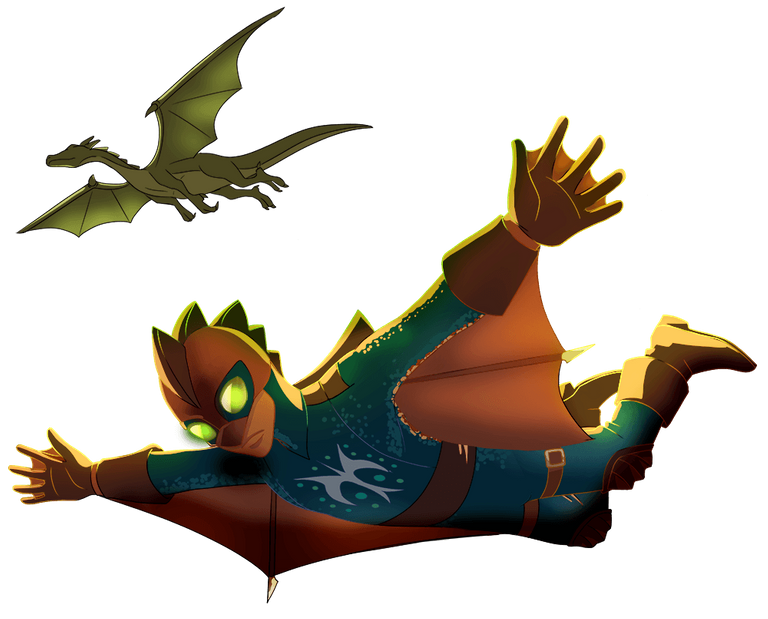 Dragon jumpers are not Dragons themselves. That would be foolish for the Gloridax, with a high rate of failure and death in this particular profession. These soldiers are trained to literally jump off of Dragons' backs and into battle zones. Thin, leather webbing worn between their limbs slows the fall of the Dragonjumper just enough for them to survive the landing (usually).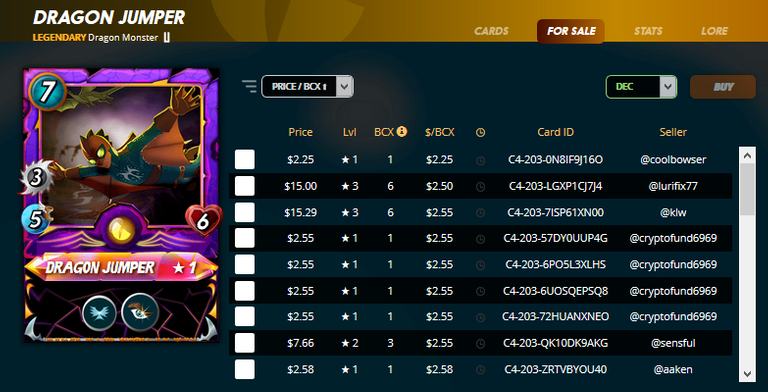 For this untamed edition card, Right now there is currently not a single max Dragon Jumper available at the market, well at the first page at least, but 2 levels 3 (6 bcx each) are there and the price for the lowest one is exactly 15$ (2.50$ per bcx, 16,478.084 DEC). There are also some high-level monsters available at slightly higher prices and The single one is available at 2.25$ and will cost you 2,471.713 DEC as per the current rate.
Clearly, you can see the difference between alpha and beta prices. I bought my beta level 5 Serpent long ago and I think I have paid better than the current price. Anyways, It's still a great card to hold definitely, why? jump down!
---
What this Dragon Jumper is capable of?
Let's have a look into his stats and find out!
Level 1 - In its initial level, it carries 3 melee attack with 6 health and 5 speed. It brings flying and opportunity ability at the initial level with it.
Level 3 - At level 3, it carries 4 melee attack at 5 speed and 6 health. It also gets the Snare and Stun ability from level 3.
Level 10 - At max level, It possesses 5 melee attack with 7 health at 5 speed. It is a fantastic choice to kill the low health enemies.

Flying
Will take fewer attacks from non-flying enemy monsters.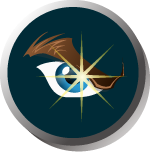 Opportunity
Will attack the enemy monster that is having the lowest health.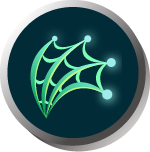 Snare
When attacking enemy monsters with flying, blocks the flying ability and cannot miss.

Stun
When attacking enemy monsters, it has a chance to apply stun on an opponent, causing him unable to attack for one round.
Match line up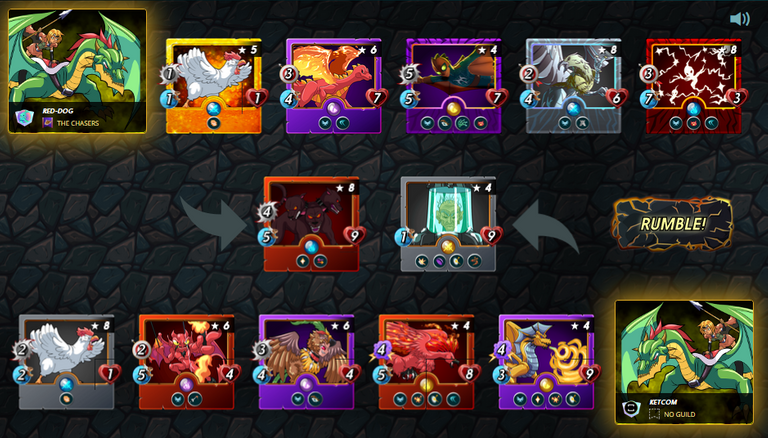 Ruleset Of Battle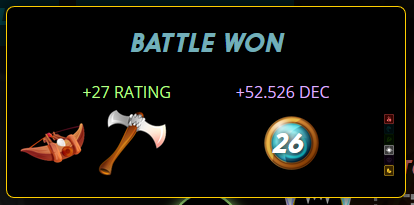 Mana count This match holds a medium 26 mana cap!

Summoners This battle supports Fire, Life and Dragonsummoners.
Ruleset So, It was a double ruleset as below...
Close Range (range monsters can attack from the first position).

Melee Mayhem (Melee monsters can attack from any position).
It's a medium mana match this time and I am thinking to go for the Dragon summoner Selenia deck since the ruleset is Close range, So I can use my precious archers anywhere!

Line-Up
---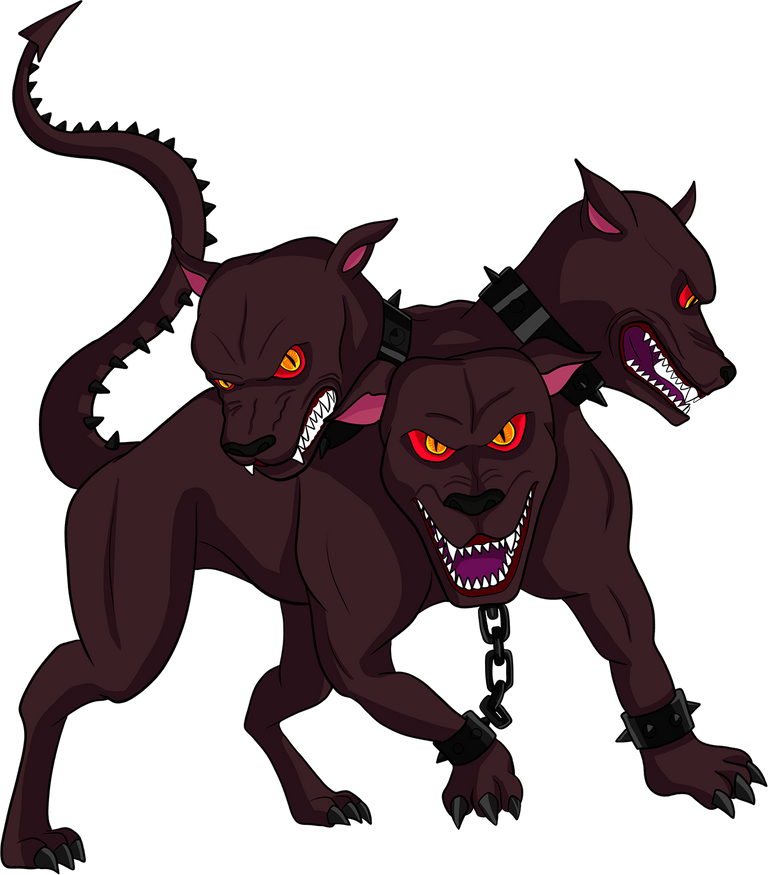 CERBERUS
I chose CERBERUS in the first place because of its high health with healing ability. I have a level 8 and it has 4 melee attack at 5 speed and 9 health. It also has the Heal ability from level 1 and Retaliate ability from level 5.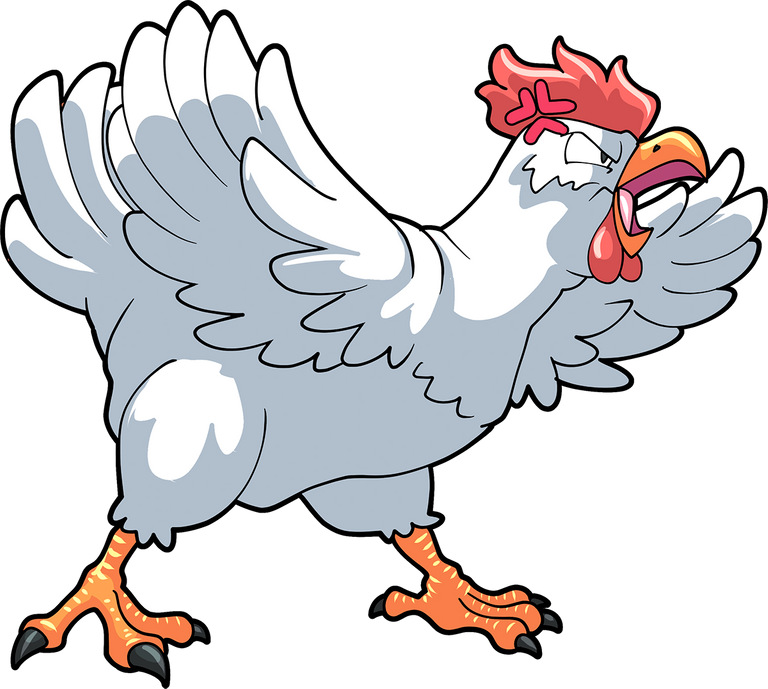 FURIOUS CHICKEN
I chose FURIOUS CHICKEN in the second place because of its 0 mana cost. I have a level 5 and it has 1 melee attack at 1 speed and 1 health. It also has the Enrage ability from level 5.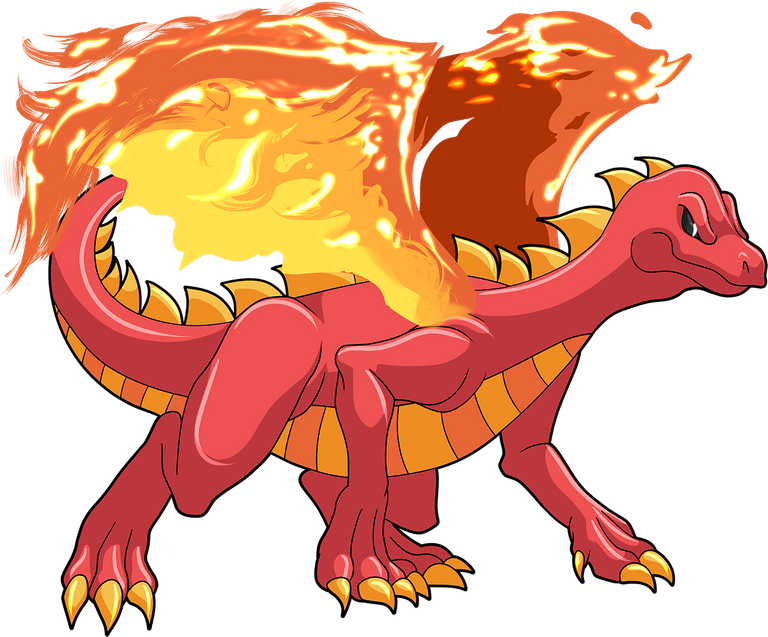 FIRE SPITTER
I chose FIRE SPITTER in the third place because of its high speed with evading and flying ability. I have a level 6 and it has 3 range attack at 4 speed and 7 health. It has the Flying ability from level 1 and Evade ability from level 6.
DRAGON JUMPER
I chose DRAGON JUMPER in the fourth place because of its high attack power with opportunity n snare ability. I have a level 4 and it has 5 melee attack at 5 speed and 7 health. It has the flying and opportunity ability from level 1 and snare ability from level 2, stun from level 3.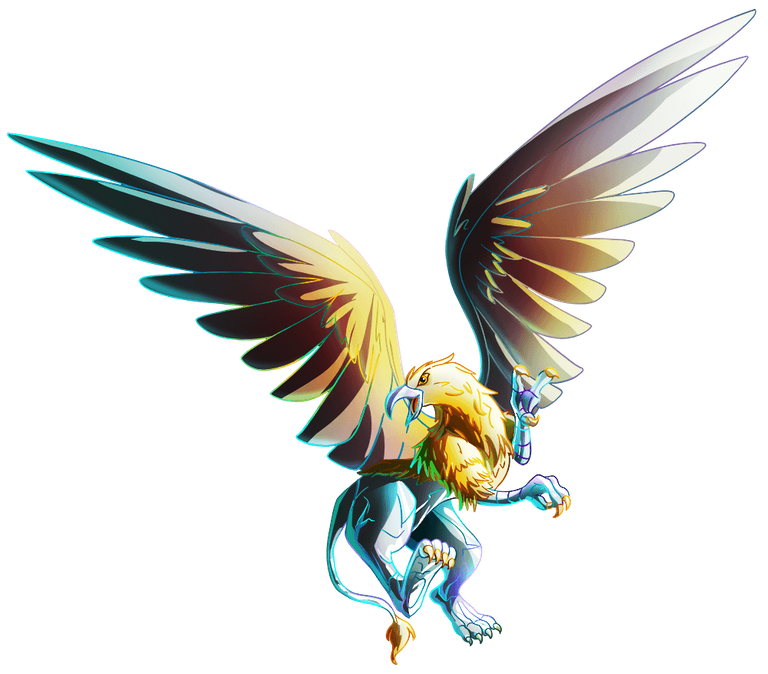 TOWER GRIFFIN
I chose TOWER GRIFFIN in the fifth place because of its high speed with Protect ability. I have a level 8 and it has 2 range attack at 4 speed and 6 health. It also has the Flying ability from level 1 and the Protect ability from level 5.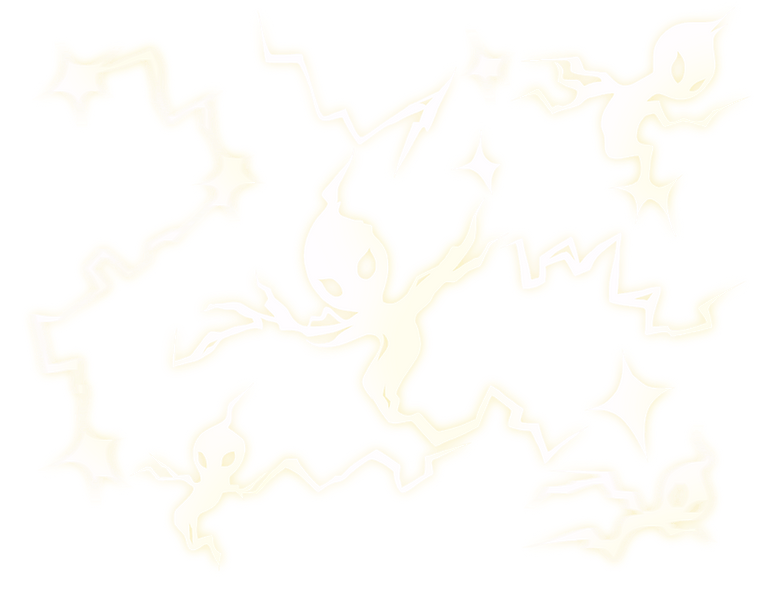 SPARK PIXIES
I chose SPARK PIXIES in the last place because of its high speed with Evade and Stun ability. I have a level 8 and it has 3 range attack at 7 speed and 3 health. It also has the Flying ability from level 1, the Stun ability from level 5.
Battle Result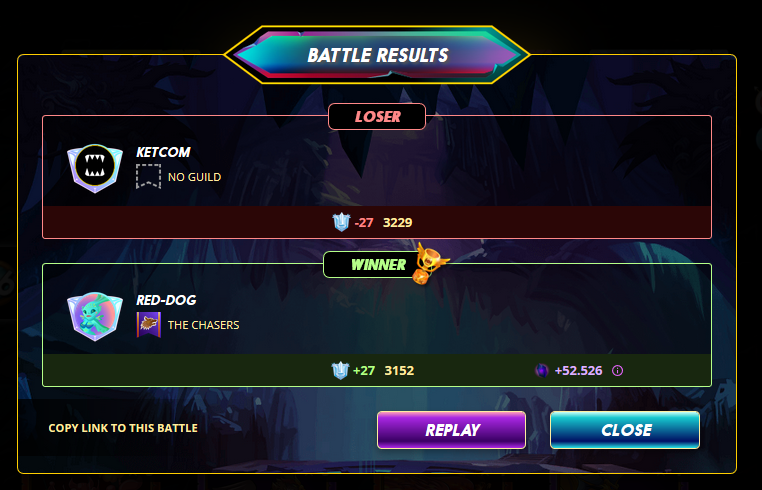 Let us now take a dive in the gameplay.
Well, it was an awesome medium mana match, my friends! My opponent was having high-level legendary cards and his line up was great too! Let's look down to the match!
Gameplay

You can directly view the battle. Just click the hyperlink below.
---
First, let us follow the opponent's line-up...
My opponent @Katcom also used Dragon legendary summoner Selenia against me.
At the front position, he used Lord Arihanthus Level 4. He chose a deadly tank to his front and I just hope I get able to kill this max level Lord with my warriors.
At the second position, he used Gold Dragon level 4.
At the third position, he puts Fire Elemental lev 4.
At the fourth position, he puts Fienfish Harpey lev 6.
At the fifth position, he puts Imp Bowman lev 6.
At the third position, he puts the Chicken lev 4.
AS you can see from the battle, the opponent's line up was very aggressive, especially with that max Lord at the front following by 2 max level blast magic monsters. He went full-on attack stance upon me and also used the chicken at last position. He would think that I will be using magic monsters but this time I believed in the rangers.
In this match, the Dragon Jumper really did a great job on the battlefield. With his opportunity and stun ability, he helped me a lot killing those strong opponents. I would also like to point out another great monster, Spark Pixies. This card is really started to amaze me in different ways.
My opponent @ketcom really played great! I face him often on the battlefield and his line ups are good as always! If you are reading this, please give him a shout out ;)
I hope you have enjoyed reading my post. Please let me know your feelings by leaving a comment below.
---
Last but not least, I really wanna say thanks to @aggroed @yabapmatt and the entire @splinterlands team for their continuous and tireless effort on this game. You guys really rock!!
---
Haven't joined this awesome game yet?? now is the time dude! Follow the link below and get yourself in the amazing world of Splinterlands. Click here to join!
---
All the images in this post are screenshots taken from the site below:
Cover picture is made with - http://canva.com
#POSH - You can check my twitter handle at the comment section of this post.

Monster Market
Do you want some sweet cashback while buying Splinterlands packs and cards? Visit Monster market now! Being Run by @zaku and @reazuliqbal, It is an awesome alternative site for the Splinterlands market which gives instant cashback on the card and packs purchases. Feel free to contact in their Discord for any query.