[PT-BR] Promoção de Final de Ano - Splinterlands 2022
---

[ENG] Splinterlands 2022 Holiday Deals!
Hello everyone!
This is a video in Portuguese in which I talk about the Splinterlands 2022 Holiday Deals that were recently announced on this post and will last until December 21!
I do really like the idea of those seasonal deals, as they create a time-constrained better-than-average offer that encourage players and investors to bring money to the game. Not only that, but the possibility of pooling with other players ends up strengthening the communities and guilds.
I find that this is way, WAY better alternative than the recently-approved solution of burning CHAOS Packs. If those aren't selling as well as expected, just make them more attractive with special deals.
Thanks for watching and reading, and until the next video!

[PT-BR] Promoção de Final de Ano - Splinterlands 2022!
Fala galera, beleza?
Nesse vídeo, eu vou falar sobre as Promoções de Final de Ano 2022 aqui no Splinterlands, que foram anunciadas há poucos dias nesse post e durarão até o dia 21 de Dezembro!
Eu adoro essa ideia de promoções sazonais que criam incentivos para que os jogadores e investidores tragam mais dinheiro para o jogo e comprem cartas, valorizando os ativos do game. Além disso, a possibilidade de fazer 'pools' e juntar recursos com outros jogadores para pegar promoções melhores é uma ótima forma de fortalecer as guildas e as comunidades dentro do jogo!
Eu entendo que fazer essas promoções é uma solução muito melhor do que a que foi adotada recentemente, de queimar packs de CHAOS. Se os pacotes de cartas não estão vendendo tão bem como o esperado, que o jogo faça eles mais atrativos com promoções especiais!
Valeu galera, e até o proximo vídeo!

If you enjoyed the post, feel free to follow me as I'm routinely writing about Gaming, Investment, Fitness and Writing, and posting about other random fun subjects like Travel, Photography and Metal Detecting!
If you want to play fun NFT Games, I do strongly recommend Splinterlands, RisingStar, Rabona and dCrops. Send me a message if you need help starting out!
And, if you're feeling lucky, go to HiveSlotGames and win money by playing on the 🍀Roulette🍀, 🃏BlackJack🃏, 🎲Dices🎲 and 🎰Slots🎰!

Unless stated otherwise, all images are created and owned by me, or from the game depicted on this post.
This is definitely NOT financial, legal or investment advice. You wouldn't get your financial advice from a squirrel, would you? Cryptocurrencies are very volatile, so don't invest what you can't afford to lose.
Also, believe it or not, I'm not actually a squirrel! This handsome rodent in my profile picture is a character from 'Conker: Live & Reloaded'. Here's Real Life me!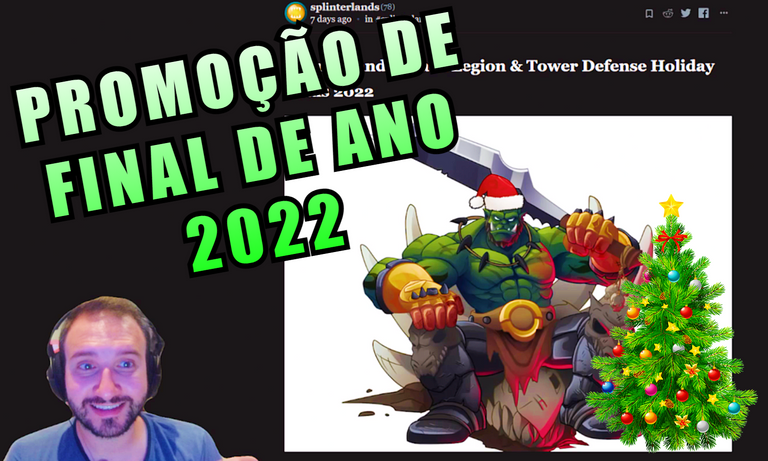 ---
▶️ 3Speak
---
---