SHARE YOUR BATTLE Weekly Challenge! SOUL STRANGLER
SHARE YOUR BATTLE Weekly Challenge! SOUL STRANGLER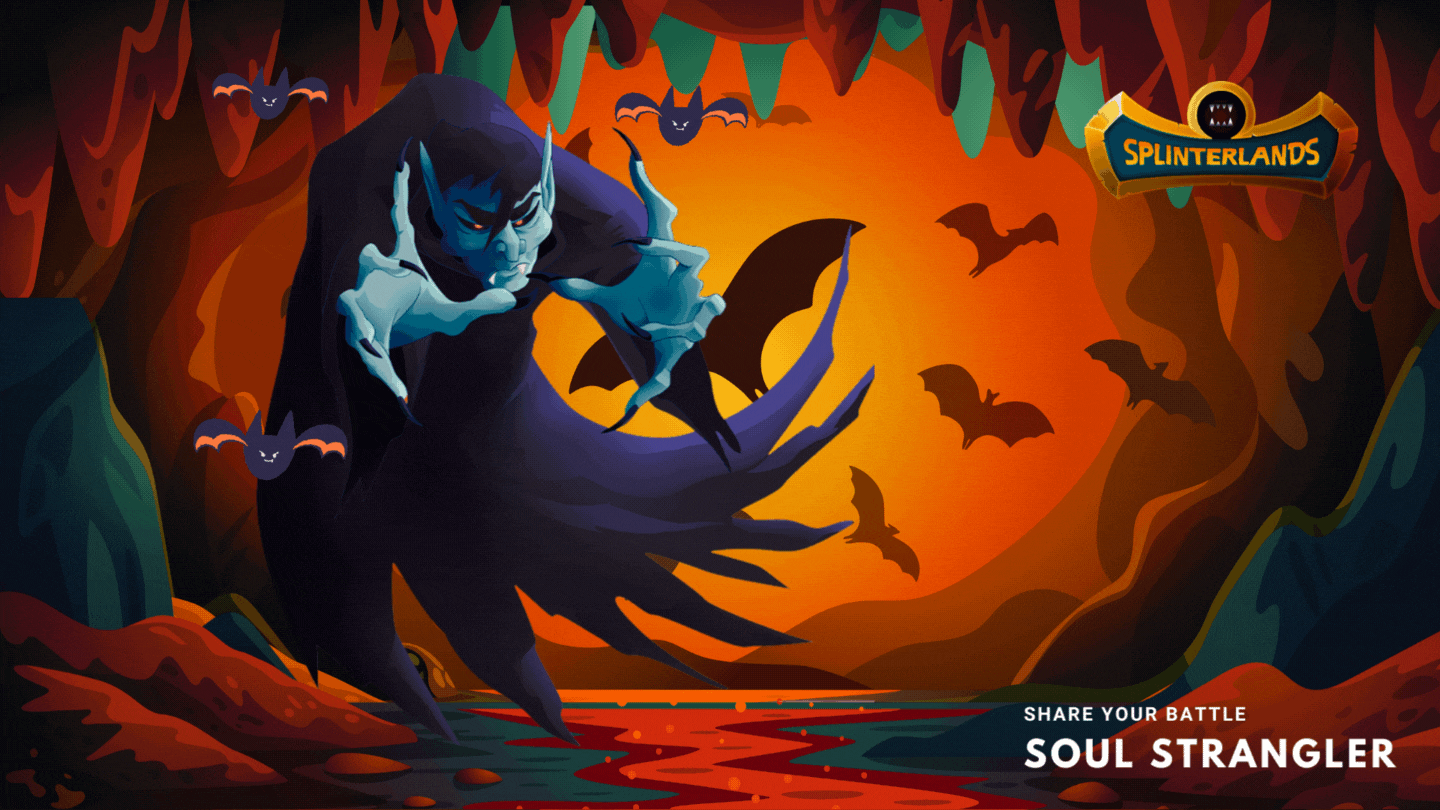 Hello everyone,
Lester
here! It's time again for Splinterlands
Share Your Battle Weekly Challenge!
How's your recent battles with new sets of Daily Focus? While you're not sure yet on what is your next strategy, check out my entry to
SHARE YOUR BATTLE Weekly Challenge! SOUL STRANGLER
.
For this post, let's review one of the Death Cards from Chaos Legion -
SOUL STRANGLER
. I will be also sharing one of my battles using this card. Before going through the details, let check first this card's stat and lore.
---
Soul Strangler
---

Edition: CHAOS LEGION
Rarity: RARE
Element: DEATH
Attack: RANGED
Abilities: POISON AT LEVEL 8

---
Before the chaos gate opened, the towered city of Darkholde was peaceful and quiet. Situated in the cold, Blackworth mountain range, it was presided over by a long-standing noble family and governed by Baron Kutziq Neculai. If the citizens knew the truth about their governor, then maybe they wouldn't have been so loyal, but the Baron's tastes were sated with great restraint and he truly did care for them, taking only what he must and never more than he had to. For Kutziq was a vampire, a race as ancient as the stones they'd used to build the city. A man who loved his people in many ways, including their unique flavour.
The soul strangler is a creature of nobility, of good stock and incredible wealth. They live in lavish opulence, wearing the finest attire and moving in the most sophisticated of circles, often engaging with the high born from other cities and enjoying intimate gatherings that last for days.
However, when this vampire chooses to hunt, they take on whole new guise, almost shifting their form to become more accomplished for the chase. Pointed ears extend refining their hearing and their eyes change colour affording the ability to see in the dark – their preferred time to hunt. Long fangs grow from their mouth and vicious talons sprout from their fingers. But what you can't see in either form is the power they hold within their mind, an ability to attack at a spiritual level when they eventually find their adversary, squeezing the very life from them; a ranged attack that if not avoided, will have devastating consequences... (Soul Strangler Lore)
---

Soul Strangler Card Review
---
Soul Strangler is one of those cards that has HP but Good Attack power at low level. It has a sweet 2 Ranged Attack, 2 Speed, 2 HP at Level 1 and it costs 3 mana to summon. The attack power is good but I think it is not advisable to use this card when the opponent has back line attackers like Sneak, Snipe and Opportunity. Given these stats, how and when should we use Soul Strangler?
To maximize the use of this card, you need to know the right configuration. Let's start with the Summoners. Since Soul Strangler is a Ranged Attack card, I would say that Selenia Sky in Wild Format is the perfect summoner for this card. But in Modern League it's okay to use high mana summoners because Soul Strangler only cost 3 mana to use.
How about the Rulesets?
For me these are the Rulesets that are most compatible with Soul Strangler.
---
Equalizer: The initial Health of all Monsters is equal to that of the Monster on either team with the highest base Health.
Soul Strangler only has 2 HP at Level 1 and only 4 HP at max level. However, it has high damage and yeah the only lacking is its HP. So if there's a chance that you encounter this ruleset, it will be beneficial to Soul Strangler.
Close Range: Ranged attacks may be used in the first position in battles.
Combined with Equalizer, it will be beneficial with Soul Strangler, too because it can attack even at position 1.
Explosive Weaponry: All Monsters have the Blast ability.
Since Soul Strangler has high damage, and if combined with Target Practice, it will surely do much damage to the opponents.
Little League: Only Monsters & Summoners that cost 4 Mana or less may be used in battles.
One of my favorite Rule because you cannot use bullies in this rule. Hehe. But Soul Strangler only costs 3 mana and with its high damage, its perfect for Little League Ruleset.
---
If there are Rulesets that are beneficial to Soul Strangler, I think the following will be a Disadvantage.
---
Equal Opportunity: All Monsters have the Opportunity ability.
Since Soul Strangler has 2 HP only at Level 1, there is a high chance that the enemy monsters will attack Soul Strangler first and the first one to die.
Super Sneak: All Melee attack Monsters have the Sneak ability.
In this ruleset, unless you have a monster with Taunt, monsters will attack starting from the back. And Soul Strangler is a Ranged Attack monster and will probably be at 3rd or 4h position. Give that it has 2 HP only, it will take 1 Round just to kill it.
Target Practice: All Ranged and Magic attack Monsters have the Snipe ability.
Same with Oppotunity, there is a high chance that the enemy monsters will attack Soul Strangler first and the first one to die unless you add a no-attack card in 2nd position.
Noxious Fumes: All Monsters start the battle Poisoned.
And since Soul Strangler has low HP, it will surely die after Round 1, even if there is no damage taken from the enemy.

Battle Challenge Line Up
---
Here is the line-up I used in this battle challenge. In this battle, the ruleset is Little League. The mana cap is 14 only and Earth, Water and Death elements can be used. Because of the ruleset, I used Death element summoner Thaddius Brood to de-buff the Magic Attack and HP of my opponent's monsters. And since only level 4 or lower monsters can be used, I think using this configuration is a good idea.
---
Since the mana cap is only 14, I preferred monsters with less than 4 mana to be used to maximize the slots of my line up.
---


One could say that Corpse Fiend is my sacrifice in this line-up. I actually expect Corpse Fiend to die first but for a greater good. It will allow my other monsters to reach round 2 and to do more damage.


My so called tank in this line up is Crypt Beetle because of its Shield ability. And I hoped that the enemy will not use Magic Attack line up.

Since Thaddius Brood will debuff the enemy's HP, Death Elemental with its Snipe ability has a high chance to one shot kill a monster. This will also try to eliminate monsters with Snipe Ability that may target my Soul Strangler.


I put Soul Strangler in 4th position hoping that Chaos Agent's Dodge ability will make the back line attackers miss. Its 2 Range Attack will do great in this line up considering that only level 4 and below cards can be used. And it is quite rare to have high damage from 4 and below mana cost monsters.


I put Chaos Agent in the last position to act as a shield or should I say to prevent back line attackers to directly attack Soul Strangler with its Dodge ability.
---
The opponent also used Thaddius Brood and that makes my monsters a 1-HP monsters. LOL. But my Thaddius Brood makes the opponent monsters a 1-HP monsters, too. Fair enough, huh!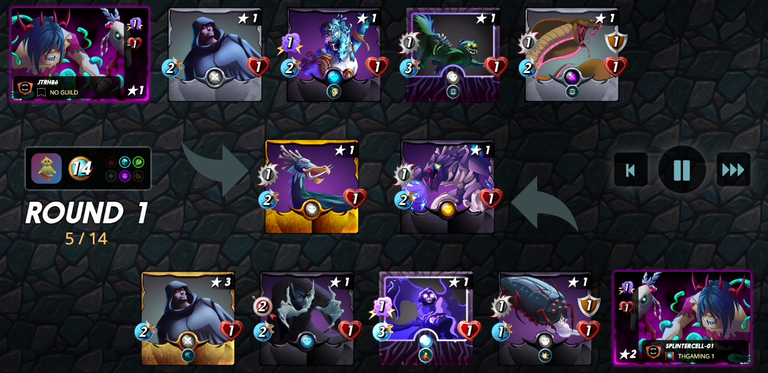 ---
My Death Elemental attacked first and was able to eliminate Chaos Agent. And the opponent Life Sapper killed my Corpse Fiend.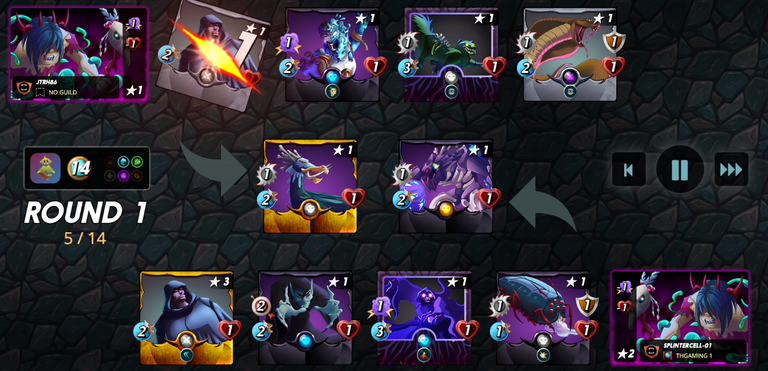 ---
Opponent's Undead Badger and Uraeus attacked my Chaos Agent and luckily, it missed. Hehe.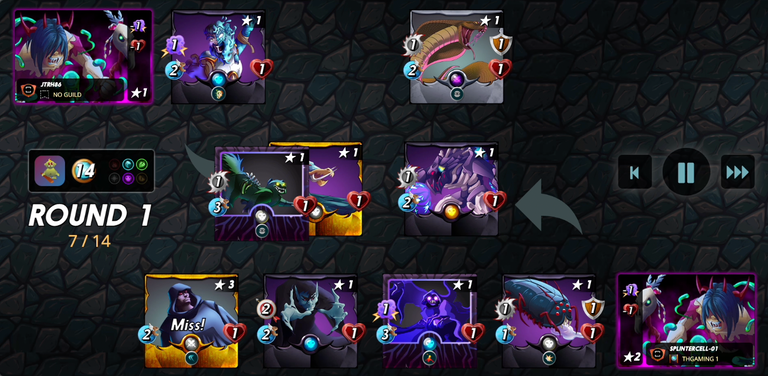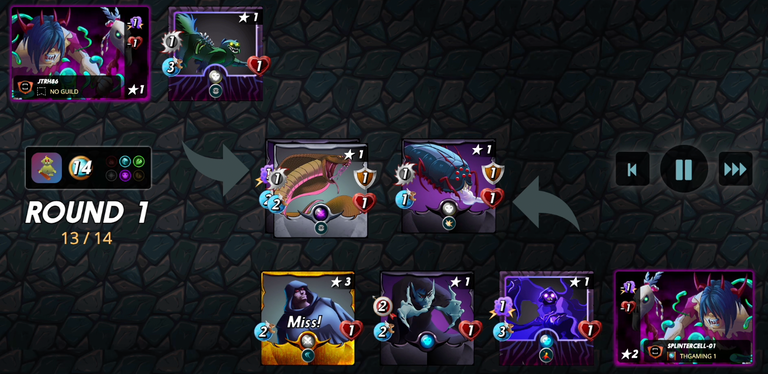 ---
My Soul Strangler was able to kill Carrion Shade at Round 1 Turn 11. And even though the opponent used a monster with Shield ability, Soul Strangler will still be able to do some damage.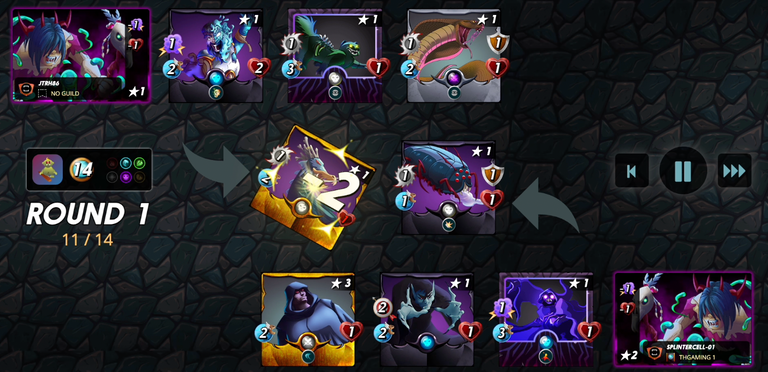 ---
In Round 2, Life Sapper was killed by Death Elemental and Undead Badger was killed by Soul Strangler.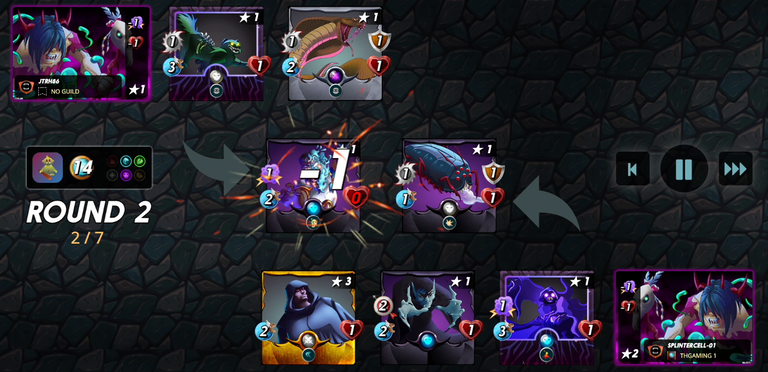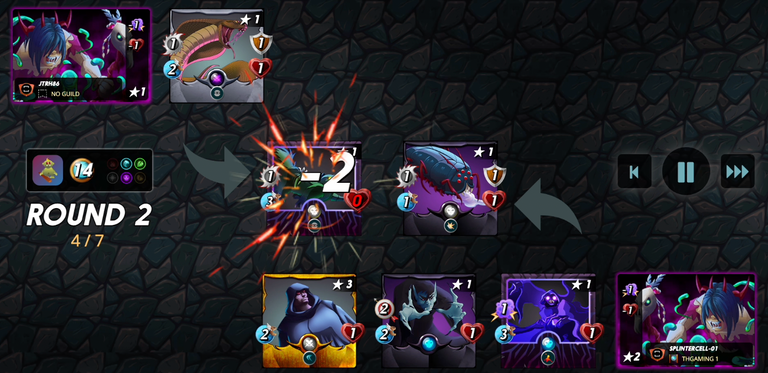 ---
And in Round 3, Uraeus was killed by Death Elemental, making me the winner in this Round.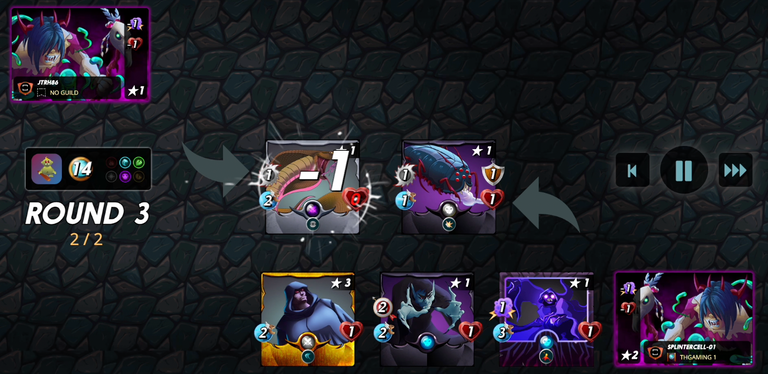 Here is the full replay in Splinterlands and Youtube.
(Unsupported https://youtu.be/BcjRsPee_UQ)

Did your strategy work?
---
Yes, my strategy worked. Chaos Agent was able to protect Soul Strangler thanks to its Dodge ability. Soul Strangler together with Death Elemental were able to annihilate the enemy, one by one.

What will you try differently next time?
---
Given the same ruleset and mana cap, I would like to try Selenia Sky as my Summoner, but that would be in Wild Format. For Modern, I would like to try Soul Strangler when the ruleset has Explosive Weaponry and Equalizer. I would love to see Soul Strangler do massive damage to the opponent.
---

That's all and Thank You for reading my post. If you got interested in playing Splinterlands, here is my Game link - splintercell-01.
Visit @Splinterlands to view more amazing posts! And always keep on battling!!!
*Images used are from Splinterlands and Peakmonsters and edited in Canva.
---
---