There I was twiddling my thumbs contemplating what I should do with my day, in our small village here in Cebu I was starting to feel I had exhausted all avenues as we still have a lot of restrictions in place. Maybe I was sending out some signals into the atmosphere because a message arrived on my phone, it was my friend @iamyohann, "fancy going for a spin in the motor"? For some this may seem not too exciting but I was straight back to him "Oh yeah can't wait" why so keen you ask? Well Yohann has no ordinary motor, he has a super sleek white flying machine and I don't mean a flashy sports car i'm talking about this.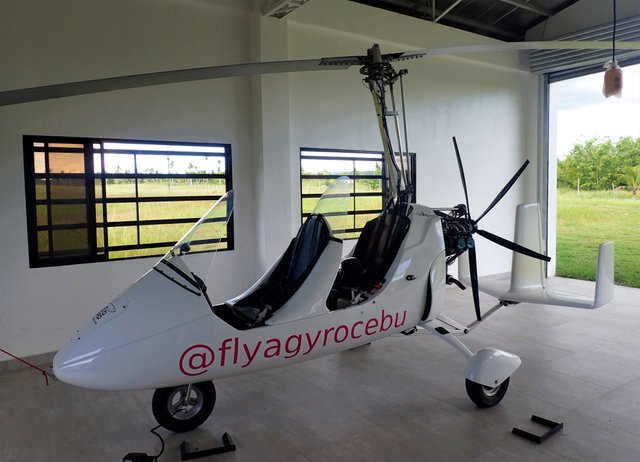 What you are looking at is a Gyrocopter, a open cockpit cross between a plane and a helicopter, the in's and out's of how it works I shall spare you from. I have flown with him a few times in the past but despite this I always get a feeling of building excitement when I walk int he hangar.
Before we take to the air a few safety checks and the obvious do we have enough fuel, oil and air in the tyres.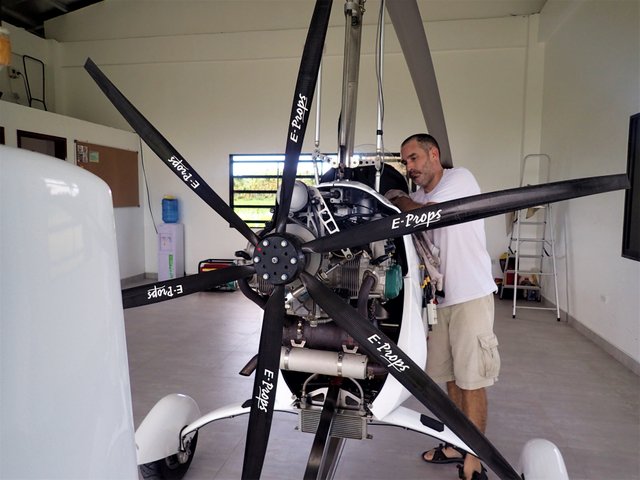 With that done it's time to pull the bird out of it's cage and get ready to take to the skies, when you see Yohann handling the gyro so easily you realize how light and minimal the construction is, you can see the front wheel off the ground as he pivots it round.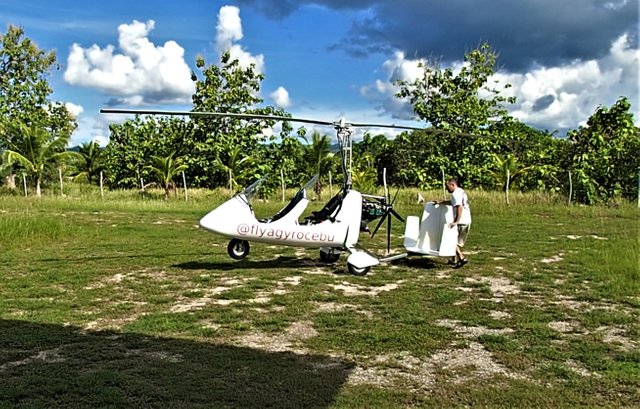 Right were all good to go, I sit in the back with headset on and Cheshire cat grin on my face and Yohan up front, it would be cool to one day swap seats with him and learn to fly, for now I get to take the basic controls in the rear once we are airborne.
We taxi to the end of the runway then the power is turned up to achieve high revs, the excitement bubbles inside me, engines up to speed and were off charging down the strip accelerating at a speed you get pushed back in your seat, with a pull back of the joystick we leave the ground.
It's difficult to explain how this feels in something so small and light but if you can imagine being a kid again, you're on a go-cart with a friend speeding down a hill and suddenly you find yourself in the sky.
In a matter of seconds we are high above the jungle heading towards the ocean with Negros island 20km away peering out of the sun haze in the background, the water is as still as a lake and the few clouds that were in the sky have started to clear.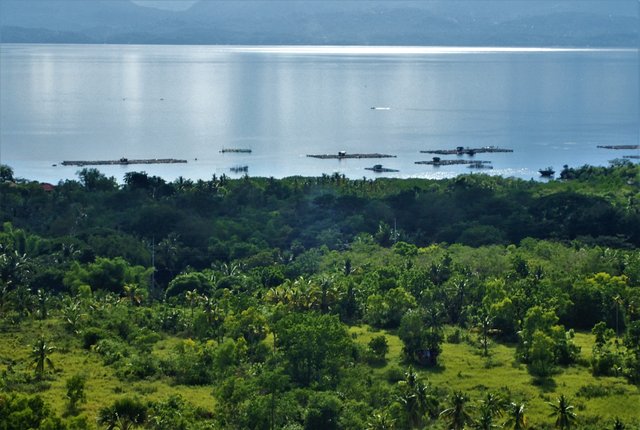 Heading south we passed over the towns of Ronda and Alcantara on route to Moalboal our home town, as we approached Moalboal I asked the guy up front if we could fly over my house (red roof) which is part of a complex next to the sea, it looked stunning from this vantage point with the clear blue waters and reef beyond, we really do live in a beautiful part of the world.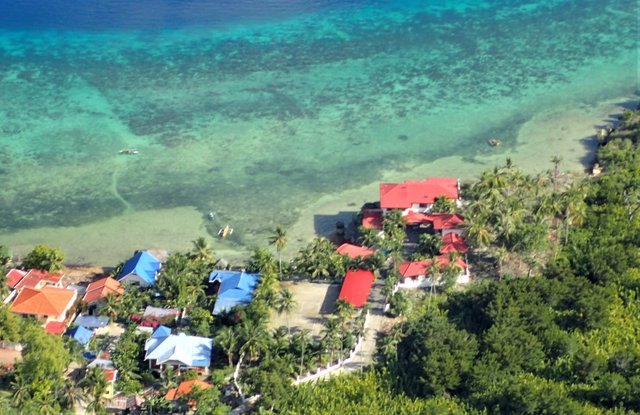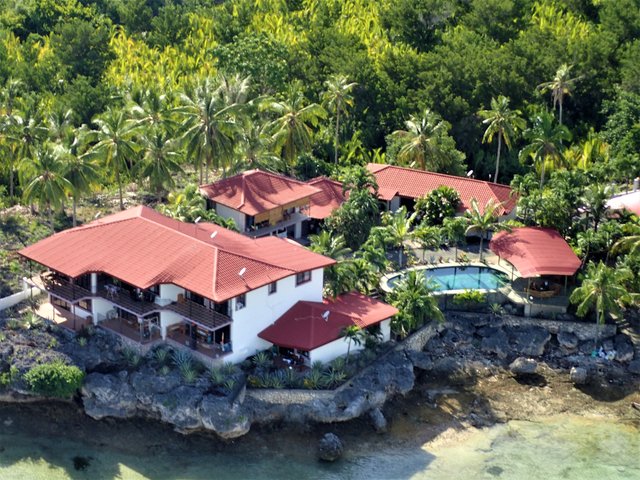 It's not often you get to see your home from that viewpoint. From here we headed out to sea for a few laps around the famous dive site of Pescador Island which is a couple of kilometres from the mainland. What a view the water was so calm that we could see the reef clearly skirting the island truly breathtaking.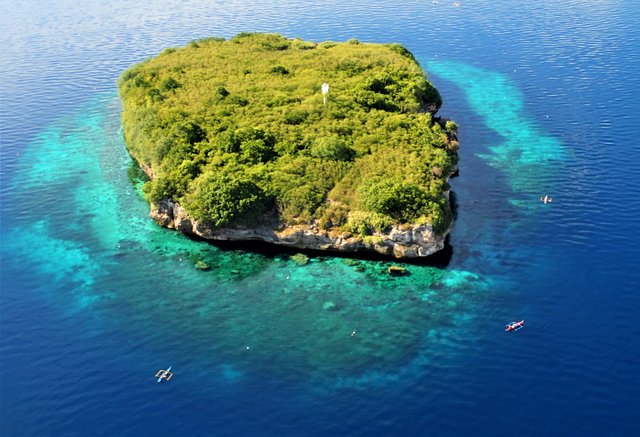 As we headed back to the mainland my trusty pilot decided to scare the hell out of me, Gyrocopters are extremely agile as Yohann demonstrated taking me on a roller coaster ride in the sky, one second pointing skyward then in a swift manoeuvre dropping like a bomb towards the sea, pulling up at the last moment, not something for the faint hearted but great fun. Back on a steady level we returned to the coastline.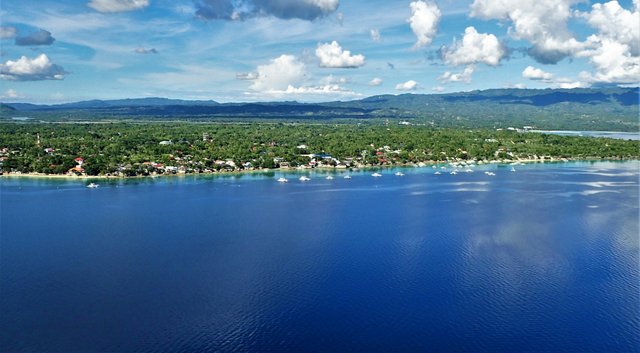 Now heading back north we hugged the coast attracting a few waves from the small amount of people that were out and about, including @scubahead who was at the dive centre you can see him bottom left taking a photo on his ipad.
I took endless photos as we flew along this stretch of coast, usually I am under water diving moving a more sedate pace, seeing it from up here really shows how close the reef is to the shoreline. One final shot of the Moalboal coast before we head in land, this is "white beach" the only proper sandy beach in town.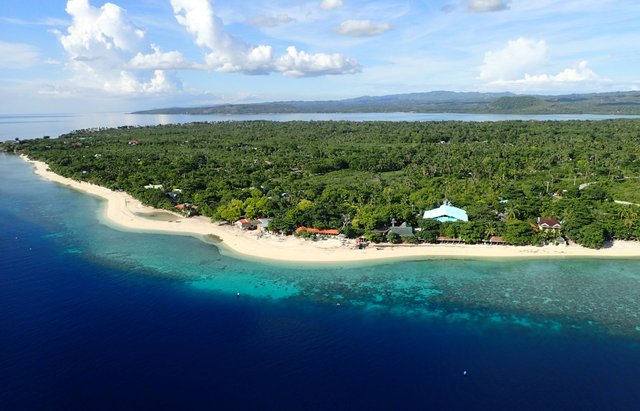 A quick thumbs up from pilot extraordinaire Yohann and it's time to make our approach to the runway.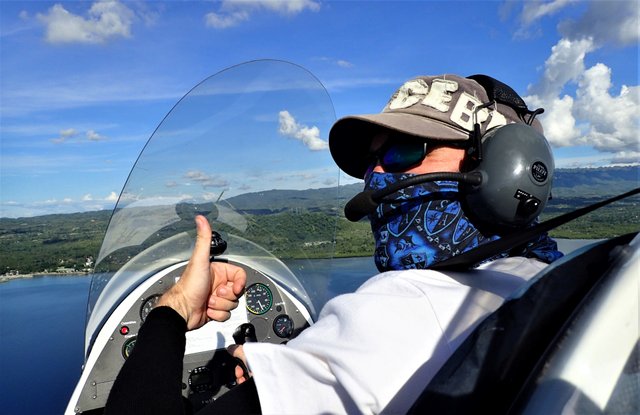 One final adjustment to line up on the runway and were down on terra firma, what a buzz we had.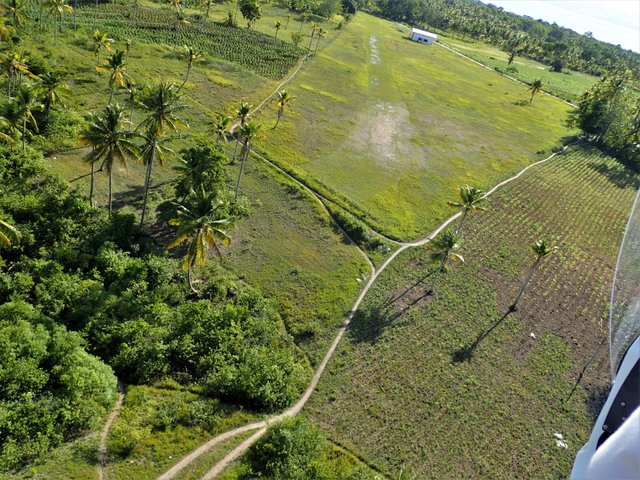 To think at the start of the day I was lost for what to do with myself and all it took was a quick message to turn what would have been a ordinary day into a extraordinary event. I can't thank @iamyohann enough for the amazing time I had, this is never going to wear thin and I can't wait for the next time, cheers mate you're a star.
This is by far the best way to see the beauty of the area it's something you have to do if you find yourself in the area, what could be better than jumping in a tandem go-cart and going flying.
[//]:# (!pinmapple 9.982009 lat 123.445884 long Tree thirty air strip Ronda d3scr)