Last time I posted we were on our last leg of a tour of Negros island and I had made a three part post of our stay at Kookoo's nest and the surrounding area. Now it was time to head back to Cebu but we are in no rush so at the last minute we decide to break up the return trip and take in a little more of Negros. So there's a unexpected part 4, as always I will leave links at the bottom if you missed the previous posts.
Traveling north in the direction of Dumaguete we stop off at the small village of Dauin, we had been told the diving was great there and that a trip to Apo island could be arranged by the dive centre we has chosen to stay with. With the promise of all this it seemed to make sense to extend our time on this lovely island, this is why we never set ourselves a strict schedule, after all we are on holiday and going with the flow is what we are all about.
Arriving at "Bongo Bongo" dive centre we met up with the manager Magnus, he is a nice guy with a good sense of humor, and made us feel welcome from the start, best of all they had rooms at the dive centre which meant we could be in the heart of the action, basic and clearly aimed at the backpacker market but it was all that we needed for our short stay, clean comfortable and fairly priced what more could you ask for. We get our dive gear unpacked ready for the following day and my brother in law Simon shows us how his six pack has come along.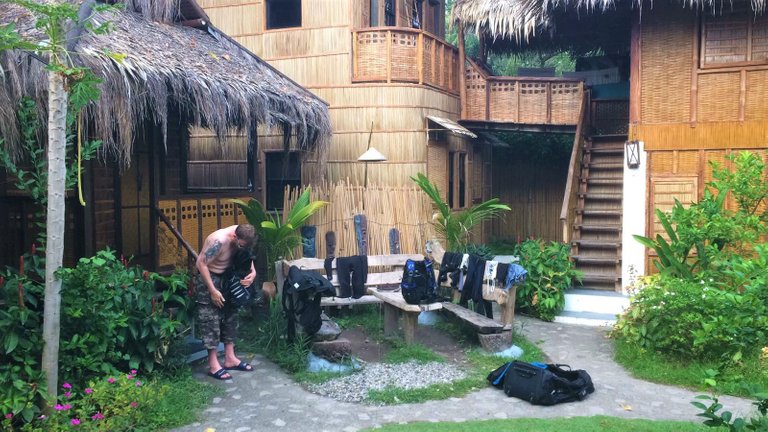 After getting our dive gear sorted and clothes stowed away in the room we went and chatted with Magnus to make a plan for the upcoming days, over a cold beer or two of course. The itinerary was to dive the house reef the following day then visit Apo island the day after, that sorted a few more beers disappeared from the fridge before we got our heads down for the night.
Rising early the next morning we fueled up on coffee and a simple breakfast and were introduced to our dive guide Mika. I was really looking forward to the days diving as it was quite different to what I was used to, known as "muck diving" instead of spending time on coral reefs we will be diving the sandy bottom looking for critters that often don't inhabit coral. This mornings dives were to be from the shore, Dauin has dark coloured sand as it contains a lot of Lava particles from past volcanic activity it actually looks blacker than the photo below shows, many of it's underwater inhabitants have evolved to blend in with their surroundings.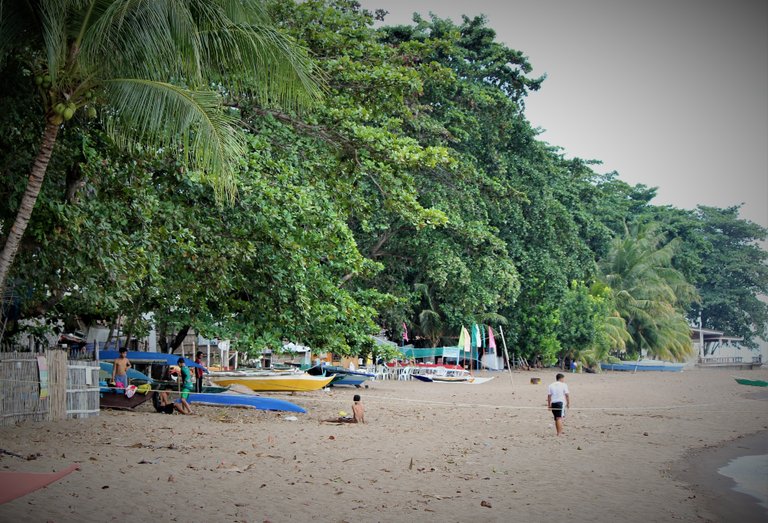 It was a interesting dive with some strange lifeforms I had not seen before, pipe fish that look like seaweed, tiny frogfish and many sorts of shrimp and weird fish.
Robust Ghost pipefish.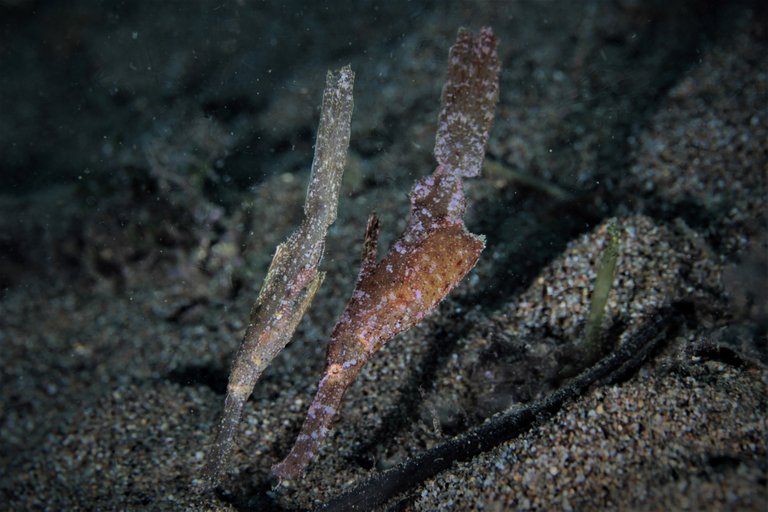 Sailfin gobbie's.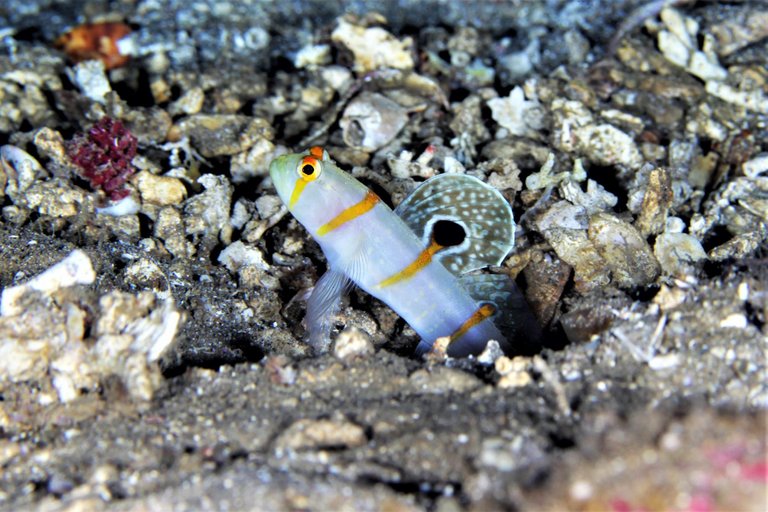 Warty frogfish.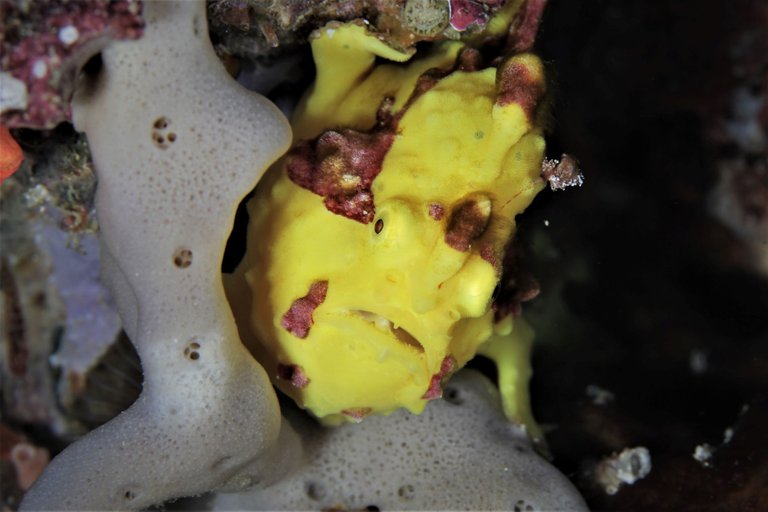 Tiny frogfish the size of a pea.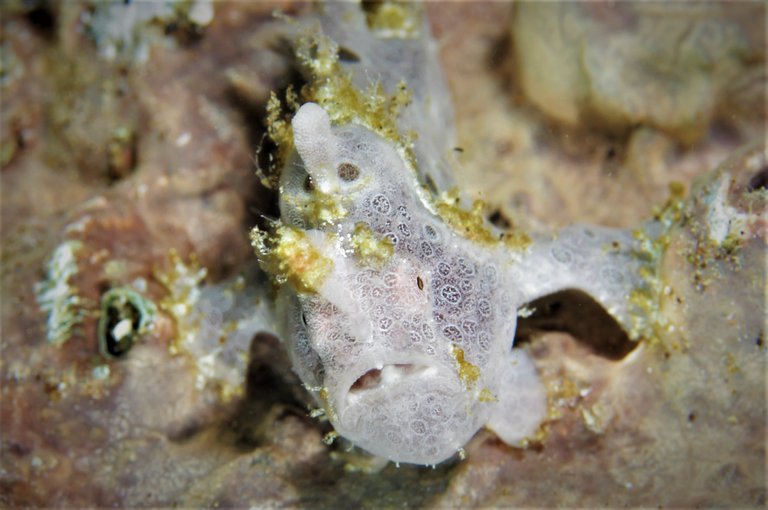 See through shrimp.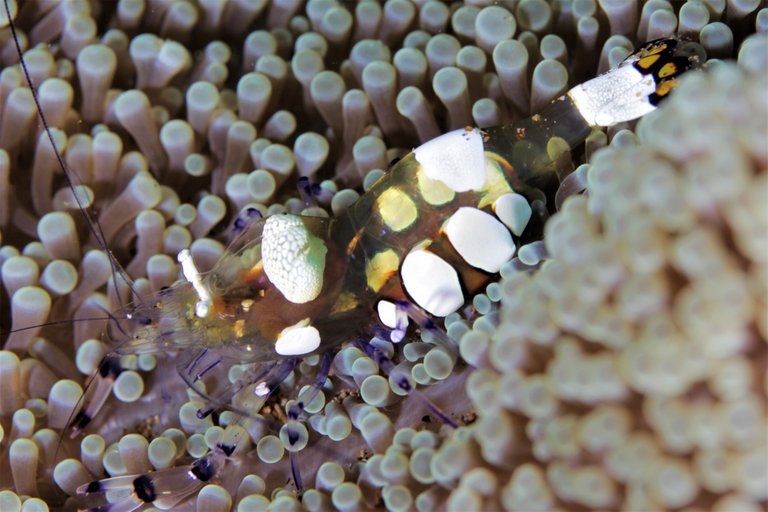 We dived twice that day and really enjoyed ourselves, wanting to leave a bit of juice in the batteries we decided to call it a day and walked in to the nearby village to top up with some food, a quality chicken curry later we were back at the dive centre and sinking a few cold ones with Magnus and a few of the guests, before returning to our room and falling into slumberland.
We awoke to a slightly overcast day the following morning but nothing was going to dampen our spirits and it was probably a god send as the boat ride to Apo island would have been a hot one. All our equipment on board along with food and refreshments and we were ready for the off.
A hazy morning on route to Apo island.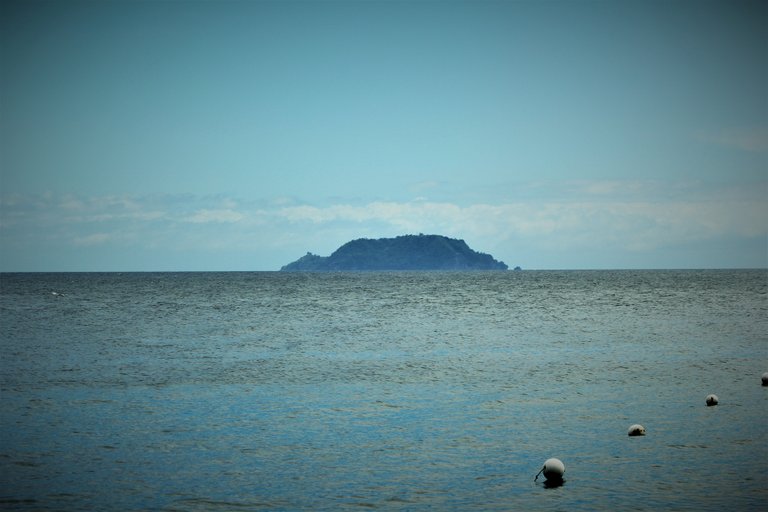 Apo island is a world famous dive site and on most peoples list of places they must visit when they come to this part of the Philippines. It has a turtle sanctuary on one section of the island and the rest has numerous dive sites with a huge variety of life, I took many underwater photos while there but I think this video from Bongo bongo's website shows a complete picture of what to expect if you visit.
We spent the best part of the day on Apo taking in three dives and as part of the package we were given a good lunch, snacks and drinks on tap, non alcoholic of course that can wait till later. There were a cool crowd of divers on the boat and the staff and guides were out of this world, it was the perfect way to spend our final full day on Negros.
On the crossing back the sun poked it's head out which was nice to warm the body after three dives and also helped dry out our dive gear as we needed to pack up and get on the road the early following morning. Back at shore all equipment unloaded and it was a short stroll up the beach back to the centre.
Our vessel for the day, safely back at the beach.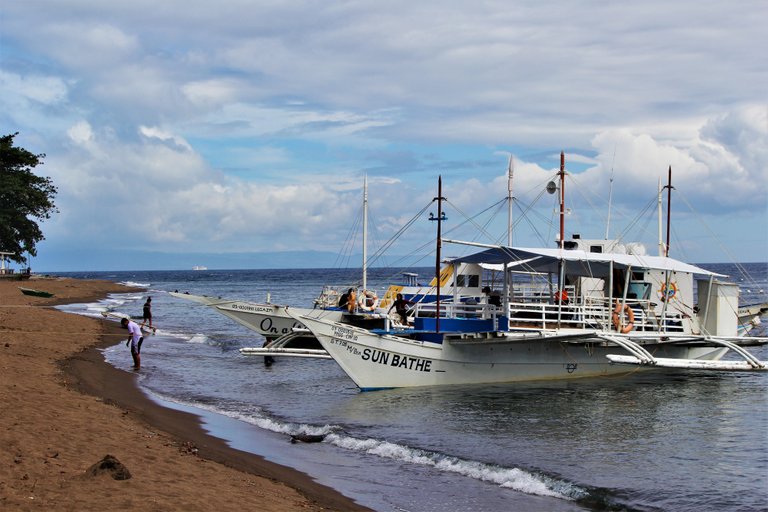 As evening set in we took advantage of the fact we wouldn't be diving the following day and sank a few bottles of the amber nectar while chatting with the group about the brilliant day. Joined by Magnus I thanked him for his hospitality and praised his staff for helping to make the place something special. Over a short couple of days we had made some new friends and vowed to come back.
Next morning with our thank you and goodbye's done we loaded up the bikes and this time it really was destination Cebu, but that's another story......
I can highly recommend Bongo Bongo divers, they are a professional dive centre that hasn't lost sight of personality, too many dive shops can be uptight and up themselves this place feels like home from the get go.
Well that's all folks until next time stay safe and enjoy life, we only get one shot at it.
[//]:# (!pinmapple 9.186939 lat 123.266314 long Bongo bongo divers d3scr)
(https://hive.blog/hive-184437/@biggypauls/traveling-in-the-philippines-kookoo-s-nest-on-negros-island-part-1)

(https://hive.blog/hive-184437/@biggypauls/traveling-in-the-philippines-kookoo-s-nest-on-negros-island-part-2-diving)

(https://hive.blog/hive-184437/@biggypauls/traveling-in-the-philippines-negros-island-part3-day-trip-to-lake-balanan)