The gaps are at 9125, and 9600. The CME charts filled the gaps at 9240 and 9290. We are a few hours into the close of the market for the week. We will definitely create another gap, by the market opening on Sunday evening.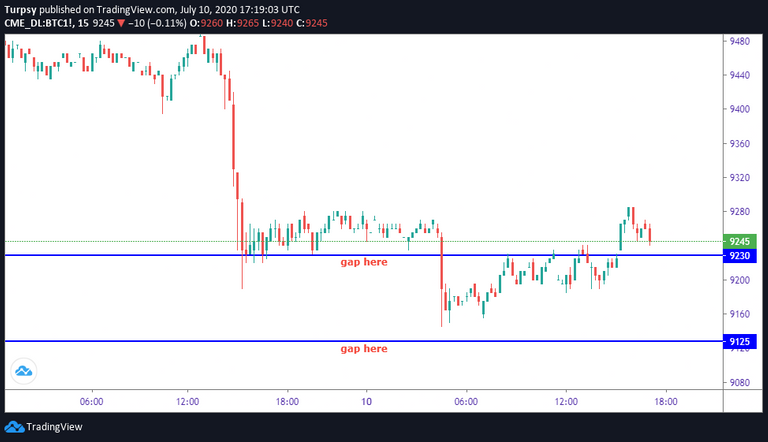 https://www.tradingview.com/x/9eMeRnIt/
And BTC dumped on Thursday.
I have a friend that has made this theory that Thursdays are for dumping. We will see if we dump today.
This is my entry for the 100DAYSOFTA challenge, Friday 10th July 2020.
__
I am joining a challenge by a group of traders. The challenge is #100DAYSOFTA. Some of the people in this group have posted on $Youtube, $Twitter but I will be posting mine on Hive.
The convener of this challenge is https://twitter.com/CryptoluXP
However, the frequency might not be daily but it will be sequential.
Having said that, here is what I have:
__
4 hr
This is the chart of BTC now. As I have explained before, we are in along on St indicator, and we should see any dump as an opportunity to buy since we already have a stop-loss at 8960 USD. A 4hr close below that will turn us to short and will be a way to ride the new trend. Willy is at oversold but it can also be at this oversold region as long as price action isn't saying otherwise.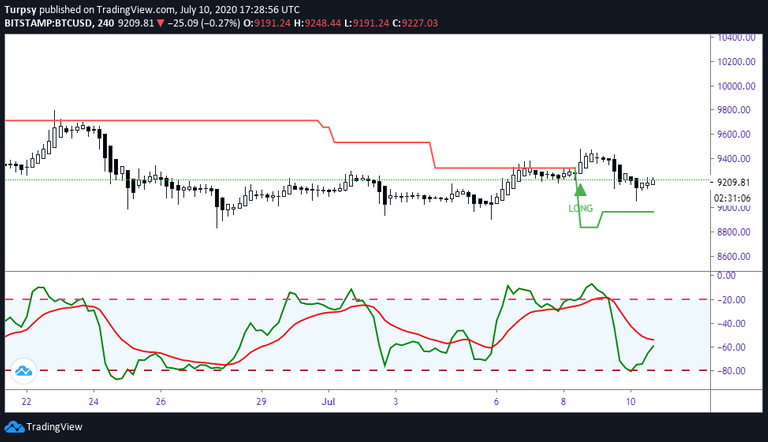 https://www.tradingview.com/x/FBEb8Uv8/
1h
The ST is now short on this TF and we might see prices going below. Or the price might pump to dump. Willy is at overbought region and it is wise to be cautious now, since it might start dumping anytime soon. This price action is not yet with enough momentum, probably we will have more momentum in the weekend.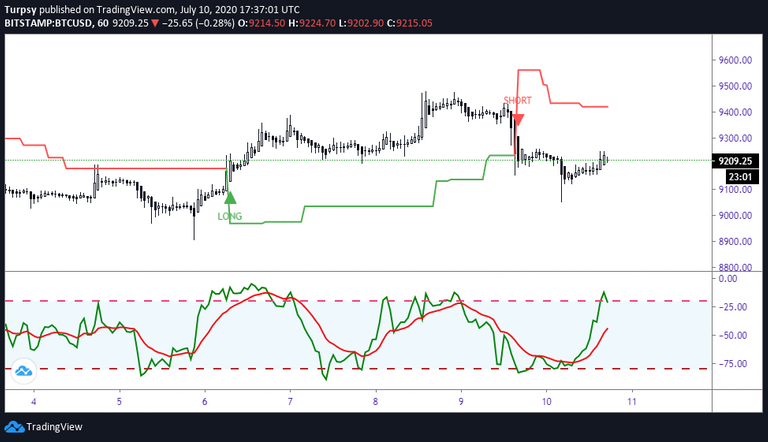 https://www.tradingview.com/x/H8ZDzWZ7/
30 mins
ST is short and we also have Willy at the overbought, now trying to reset. This is very helpful as we also know that lower prices will be needed for bulls to buy. Also, we can have Willy stretching over a long time in this overbought conditions.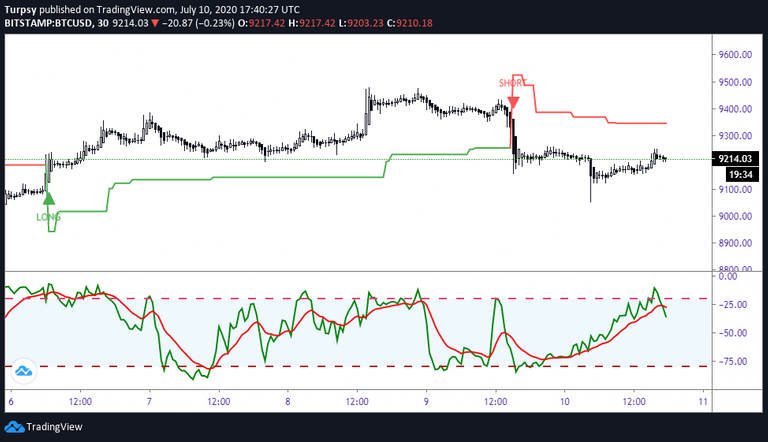 https://www.tradingview.com/x/BrHPtUoy/
Extras
15mins and 5 mins charts respectively.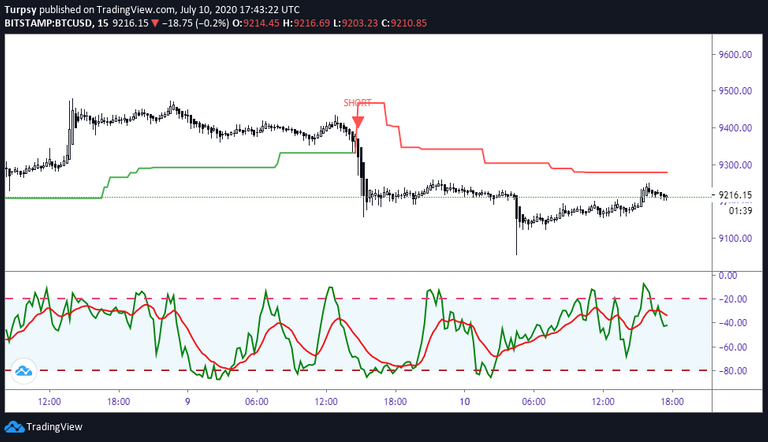 https://www.tradingview.com/x/utrfv6GM/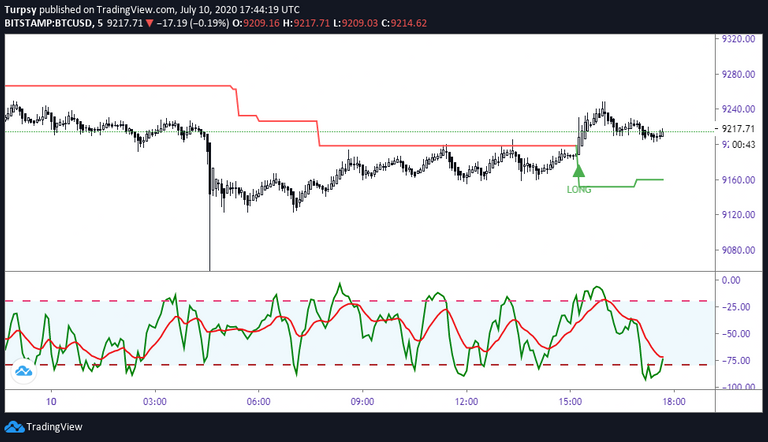 https://www.tradingview.com/x/o0qMm3Sd/
Summary:
4hrs ST is long
1hr ST is short
30 mins ST is short
This is what I wrote yesterday, Now I am in a position.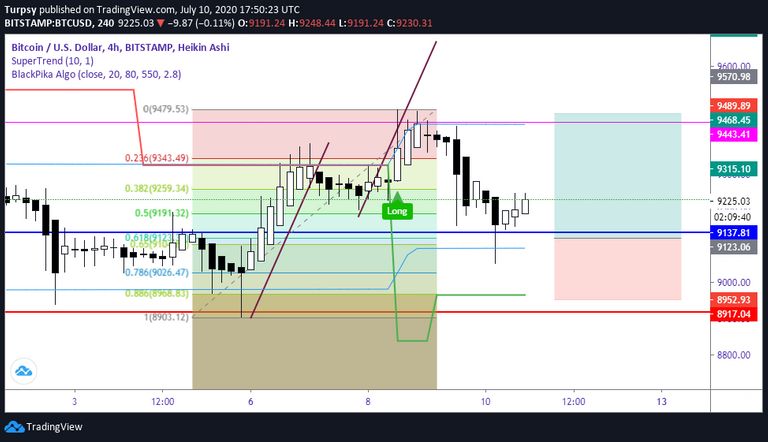 https://www.tradingview.com/x/tXnTXm4t/
Please see the text below for the entries.
Today, it has flipped long. That means I have to look for a long opportunity at any drop. I will be longing.
This long entry will be at 0.382, 0.5 and 0.618 Fibonnaci retracements numbers, stop loss at 0.886, Target at 9700+.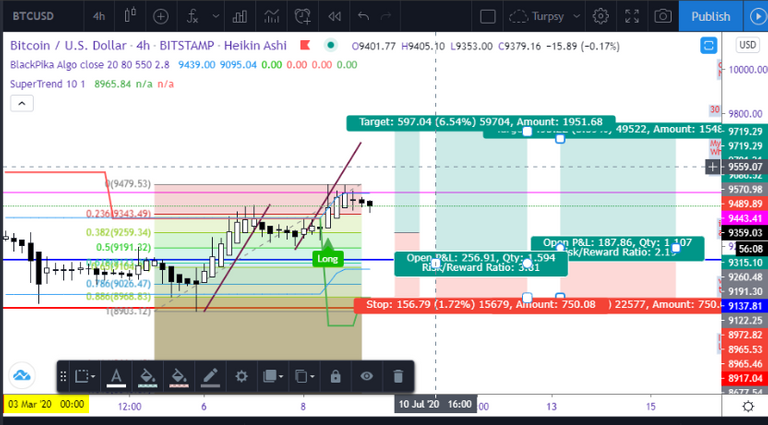 Please note: This is not financial advice. This is rather a way I am seeing the market.
Enjoy a profitable weekend.