Thank Goodness, the gap at 9125 has been filled on the CME chart. However, we created another one at 9120 USD. This still makes us to be back in the gap range we had earlier. We have gap at 8840 and 9600. We need to watch and see which one will be filled first.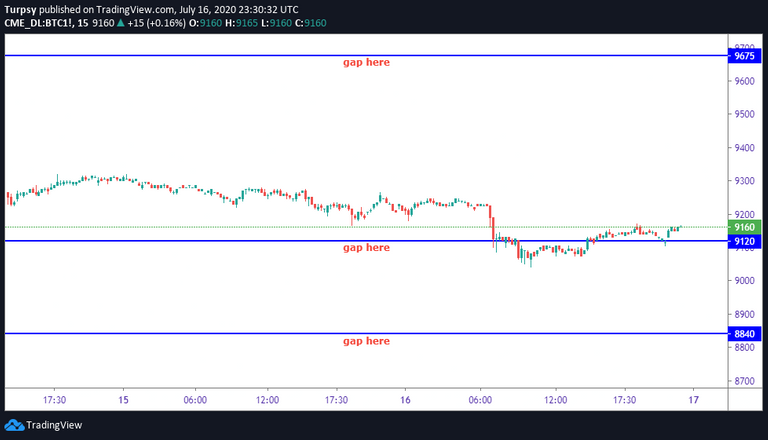 https://www.tradingview.com/x/rbYKhFIz/
This is my entry for the 100DAYSOFTA challenge, Thursday 16th July 2020.
__
I am joining a challenge by a group of traders. The challenge is #100DAYSOFTA. Some of the people in this group have posted on $Youtube, $Twitter but I will be posting mine on Hive.
The convener of this challenge is https://twitter.com/CryptoluXP
However, the frequency might not be daily but it will be sequential.
Having said that, here is what I have:
__
4 hr
We had a weakness in the strength of the price action on btc. It has been dripping low and Willy has been falling too. We are getting closer to the support of the ST long. This means we can either go up from here or just breakdown. However, using the ST helps to reduce headache that comes with indecision. Willy has been rolling at the oversold region and there is more space to go downwards. We can decide what we will do from this information.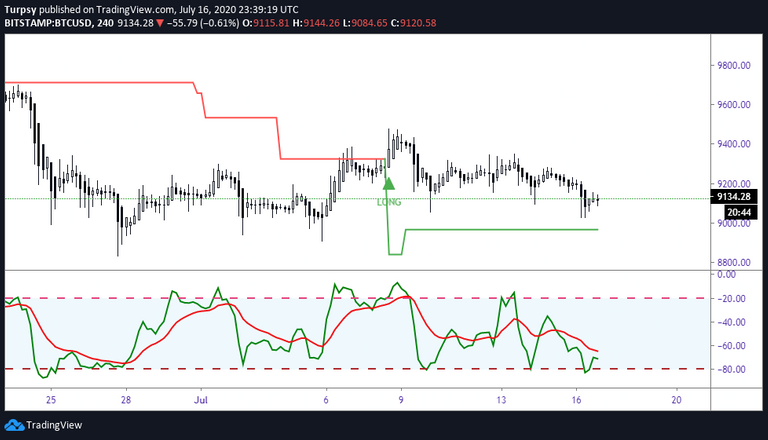 https://www.tradingview.com/x/jBFNTifn/
1h
The ST on the 1hr TF is the fact that we are still dragging under the ST short. We have been having wicks here and there on this price actions. Right now, it looks like we are having Willy turninig upward and we might experience some upward movement in the price and we can probably touch the resistance at around 9350 USD. Willy might give this clue at this time. We should also know we are going into the weekends and that means we can experience some unpredictable move.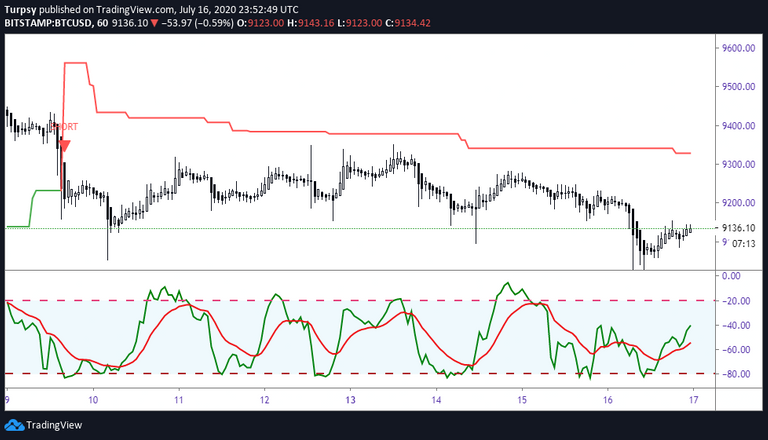 https://www.tradingview.com/x/Gg4DeA6v/
30 mins
The possibility to dump has been painted on the 30 mins ST trend. Therefore, we know that Willy gives the point or best time to short. When willy is overbought and ST is short, then that is the less risky time to short. As it is seen in this chart we might have some price action upward before a downward movement.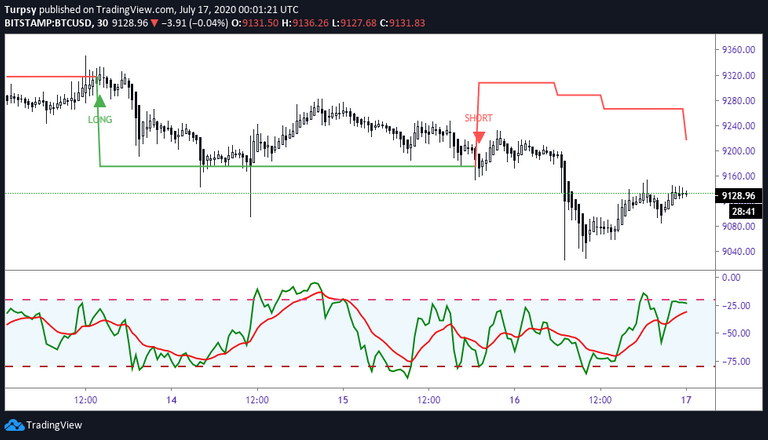 https://www.tradingview.com/x/ig96KJwC/
Extras
15mins and 5 mins charts respectively.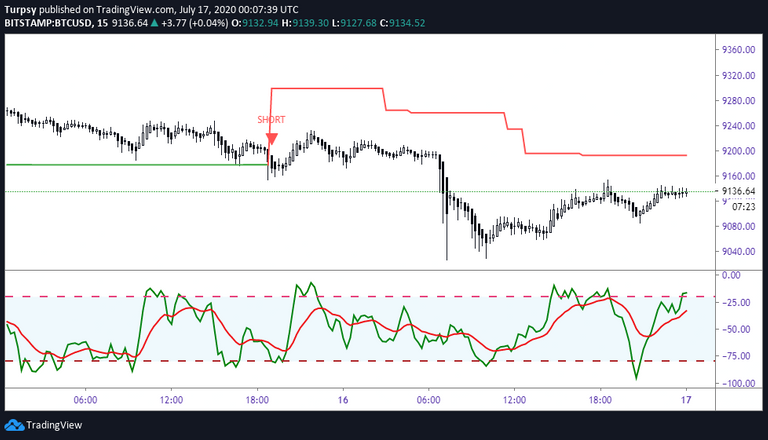 https://www.tradingview.com/x/V4MFoynu/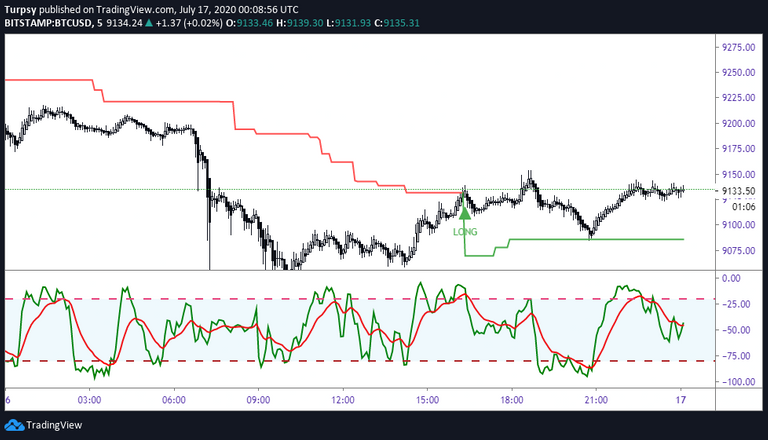 https://www.tradingview.com/x/HrdaXmR1/
Summary:
4hrs ST is long
1hr ST is short
30 mins ST is short
I exited my position yesterday since I am not too confident in Thursday price action. Now, I will re-assess the charts to choose another entry.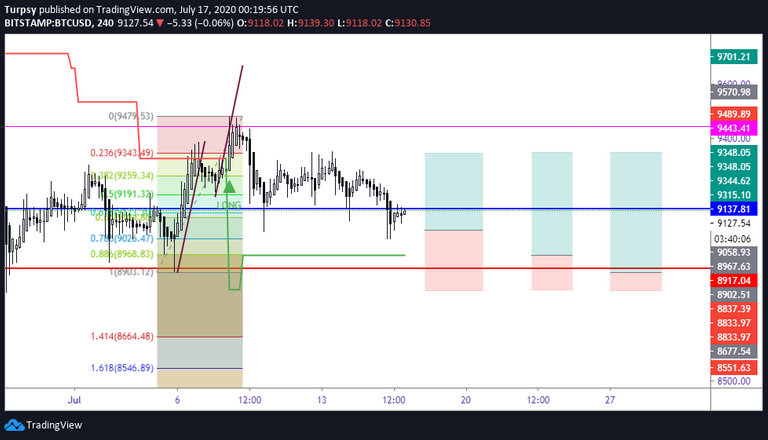 https://www.tradingview.com/x/RxflqFmg/
Those are my new entry and plan. I hope it works out well. It may not all fill, since I am more conservative in this trade.
Please note: This is not financial advice. This is rather a way I am seeing the market.
Have a great week and successful trade.