Market is not yet opened, so there is basically nothing new to check in the price action of the CME chart. The price is still stucked between 8840and 9600 USD.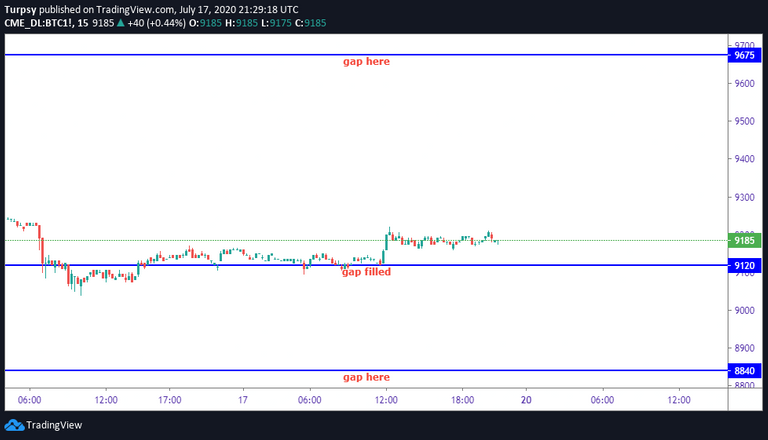 https://www.tradingview.com/x/Fd46J1Yn/
This is my entry for the 100DAYSOFTA challenge, Sunday 19th July 2020.
__
I am joining a challenge by a group of traders. The challenge is #100DAYSOFTA. Some of the people in this group have posted on $Youtube, $Twitter but I will be posting mine on Hive.
The convener of this challenge is https://twitter.com/CryptoluXP
However, the frequency might not be daily but it will be sequential.
Having said that, here is what I have:
__
4 hr
The trend is our friend and I can say with ST we have been in this for a long time. I will be flipping short if the trend changes. This will be confirmed by a break of 8960 USD and a close below it. However, as it is now, we have the chance and confidence to remain bullish. This is the ST long and Willy is climbing up, gradually on the 4 hrs timeframe, with no sign of weakness yet. Lots of people are projecting a dump to 6200 USD. This is possible if we close the ST at 8960 USD.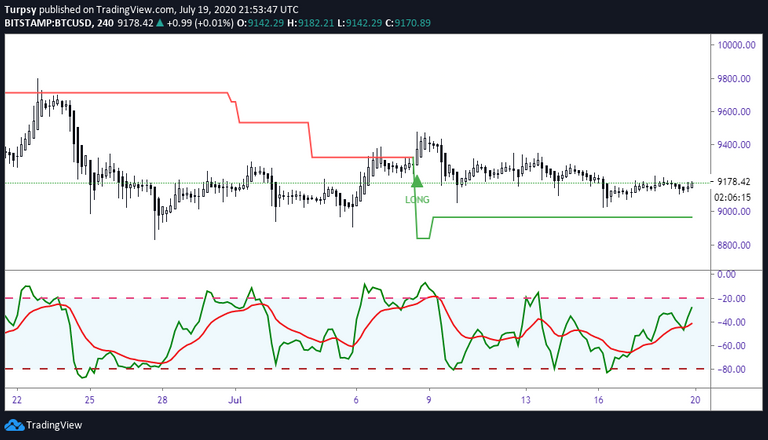 https://www.tradingview.com/x/uf4gjUtz/
1h
The trend has been short on this TF and I can say it has been profitable shorting on the 1hr. However, I prefer to stick to 4 hr TF, this reduces risk and if the trend changes we can easily adopt to the trend while we manage the our position. The closeness of the price action to the ST resistance at around 9230 USD is something to watch out for. Most times, it breaks it upside and continue a new trend. Willy has now been in the overbought region and we have to be guided with reasonable stoploss.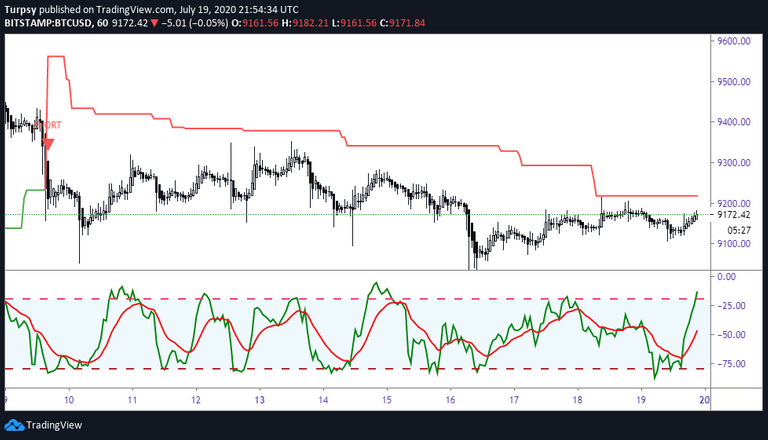 https://www.tradingview.com/x/Ub3wdq5g/
30 mins
Trend changes on this TF is also of immense importance. Sometimes when I decide a trend on the 4hrs, I go to the lower TF like 30 mins to ascertain the time to long/short. We are close to the resistance on this TF and we can say we should be watchful of how we play at resistance. At resistance, we are to short and at support, we are to long. But a price momentum can change everything, where resistance is broken upwards. Willy is at overbought in this TF and that means we might be ready to short with a tight stoploss. ST is short, Willy is overbought, short is viable and stoploss is good.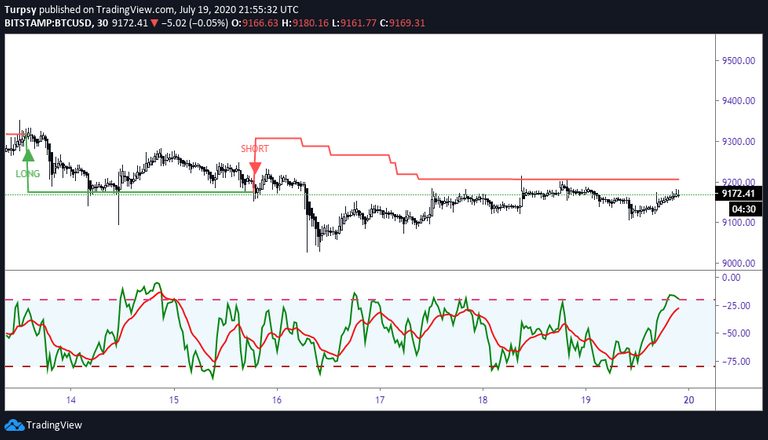 https://www.tradingview.com/x/7TcEj1Y9/
Extras
15mins and 5 mins charts respectively.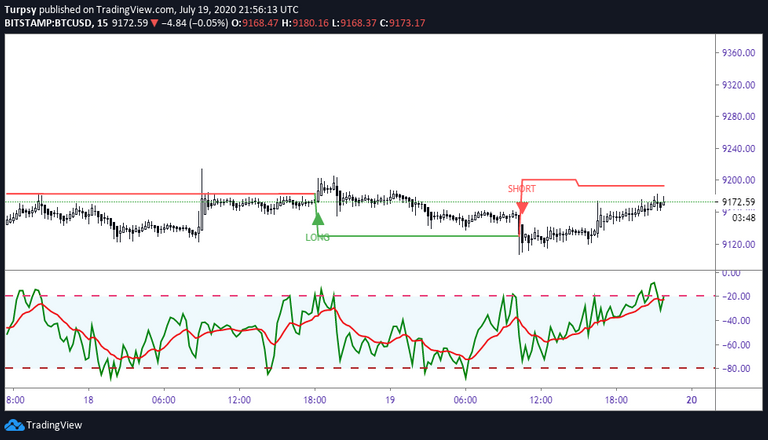 https://www.tradingview.com/x/4o7n4bsZ/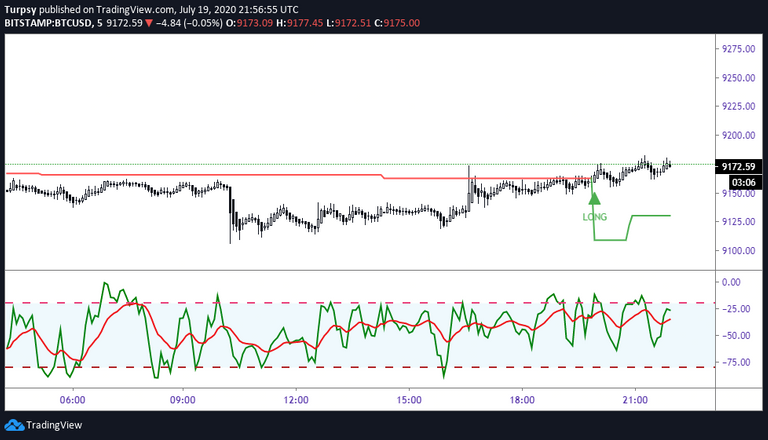 https://www.tradingview.com/x/WjvkThQg/
Summary:
4hrs ST is long
1hr ST is short
30 mins ST is short
I am in a position, and fingers crossed as we either break the support or pump.
I exited my position yesterday since I am not too confident in Thursday price action. Now, I will re-assess the charts to choose another entry.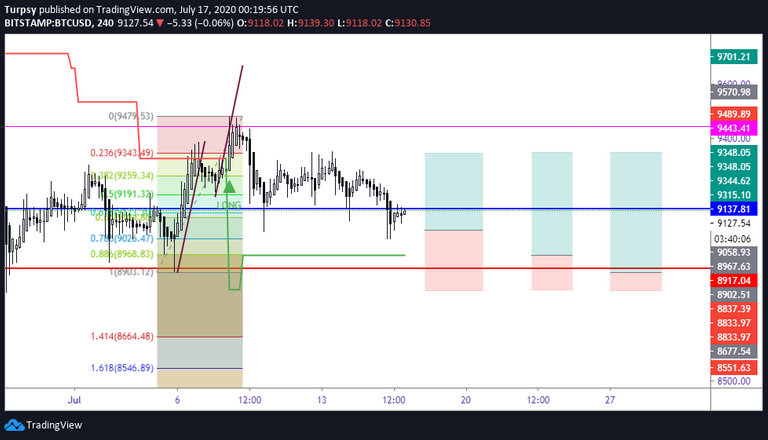 https://www.tradingview.com/x/RxflqFmg/
Those are my new entry and plan. I hope it works out well. It may not all fill, since I am more conservative in this trade.
Please note: This is not financial advice. This is rather a way I am seeing the market.
Have a good week ahead