Should we say, BINGOOOO, or just smile with the nod of "Good work". I am glad to see that the gap I have been recently talking about got filled. 9600 gap got filled and it is such a blessing. We now have gaps up which need to be filled. The gaps are at 9215 and 8840. Will they fill now?, fingers crossed.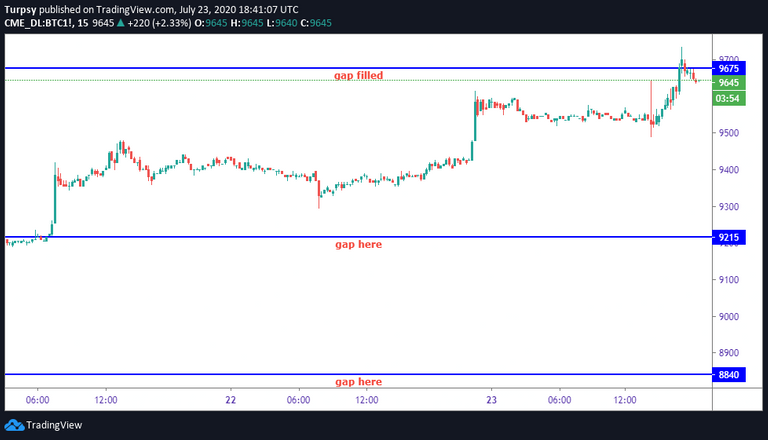 https://www.tradingview.com/x/qFPU14I6/
This is my entry for the 100DAYSOFTA challenge, Thursday 23rd July 2020.
__
I am joining a challenge by a group of traders. The challenge is #100DAYSOFTA. Some of the people in this group have posted on $Youtube, $Twitter but I will be posting mine on Hive.
The convener of this challenge is https://twitter.com/CryptoluXP
However, the frequency might not be daily but it will be sequential.
Having said that, here is what I have:
__
4 hr
Surprisingly, we have the stoploss or invalidation of the ST long at 8960 USD, this is kind of weird and it is suggesting something about the support not moving up. Probably we have no support that's strong enough on the longer timeframe. I am glad the ST predicts the right trend we are and the price we should look out for. Right now, we have Willy at the oversold region and we are retracing a bit now. This shows that we may have price retracing before a new upward wave. Fingers crossed on how the market will react. I have this temporary theory that Thursdays are for dump. I think it is different this time around. It dumped, but recovered faster. This is not what I want to see, I want to see a dump on the 4hr close and we can then pump from there.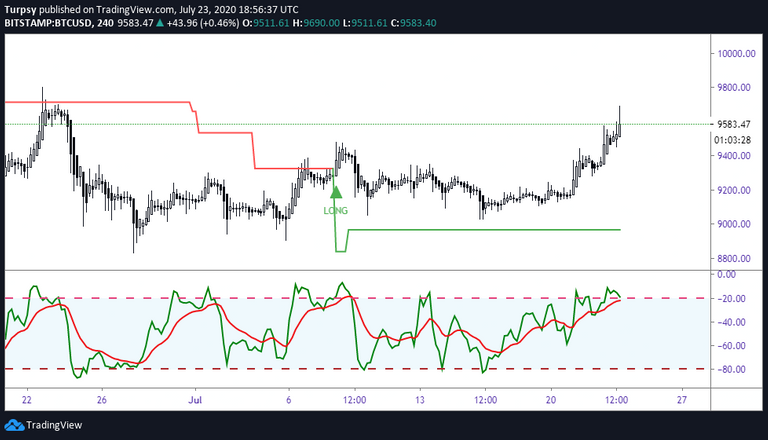 https://www.tradingview.com/x/C4LG9ARr/
1h
On this TF, we are having the ST moving support nicely and also the price reactions are great. We have had two higher highs with a little retracement and the price booming again. We also have Willy giving us a reset to oversold region now, since it had been in the overbought for a while. We also can see a bearish divergence on the Willy, this means we may retrace a bit and probably retrace to the 9300-9400 region. I hope it retraces, as I want to buy some more. I didn't have much in my bag.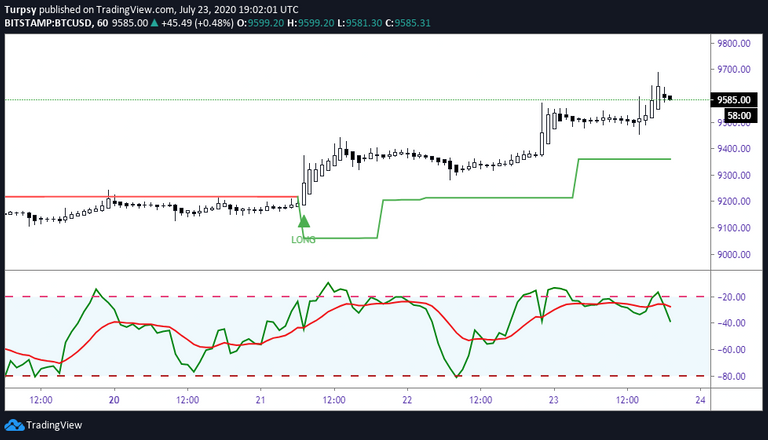 https://www.tradingview.com/x/c6tRRqTW/
30 mins
Also, on this TF we have a a good increase in price and an invalidation at around 9420. This shows that we can look to set a buy order at that level or just wait for Willy to reset to oversold and then buy. I am confident in the resetting of the Willy before another push. This is helpful to BTC price.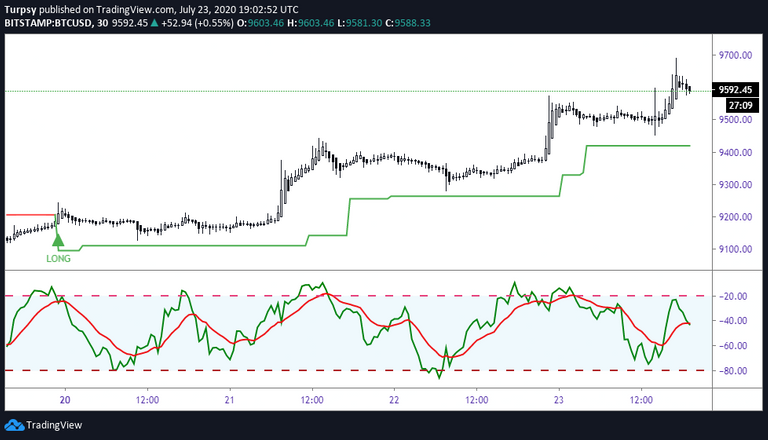 https://www.tradingview.com/x/JaajWUMk/
Extras
15mins and 5 mins charts respectively.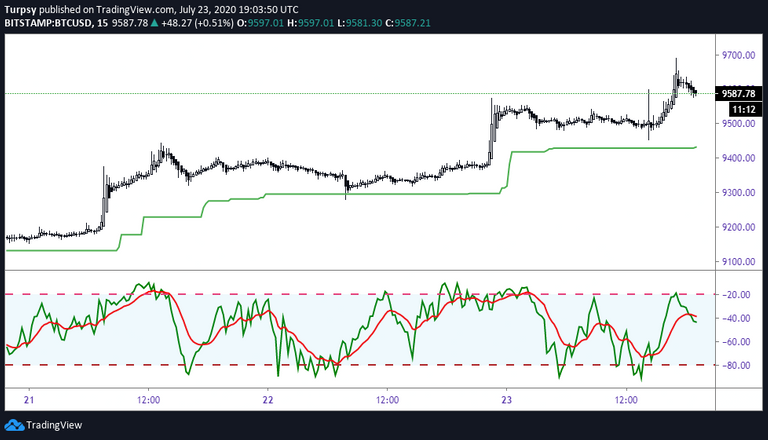 https://www.tradingview.com/x/aNgGvhG4/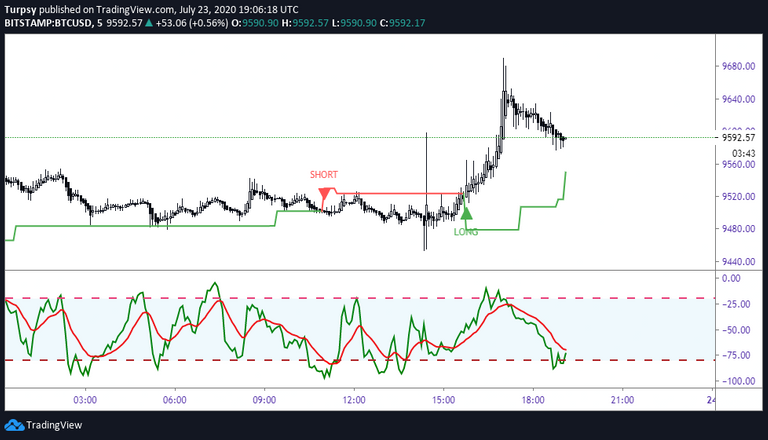 https://www.tradingview.com/x/XyJGlgaq/
Summary:
4hrs ST is long
1hr ST is long
30 mins ST is long
Nice break out

I exited my position yesterday since I am not too confident in Thursday price action. Now, I will re-assess the charts to choose another entry.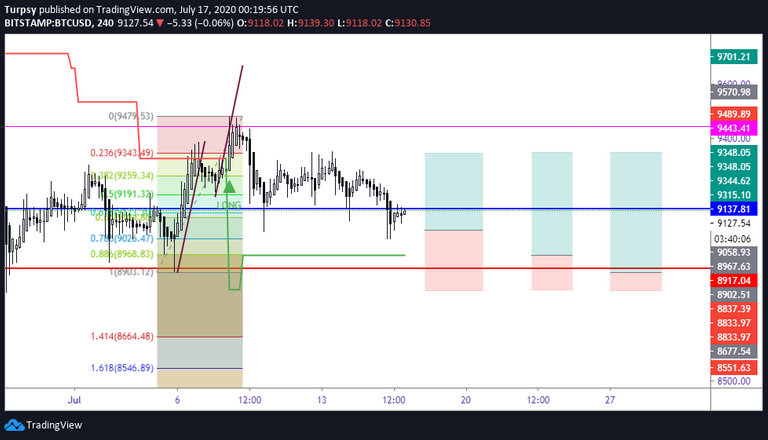 https://www.tradingview.com/x/RxflqFmg/
Those are my new entry and plan. I hope it works out well. It may not all fill, since I am more conservative in this trade.
Please note: This is not financial advice. This is rather a way I am seeing the market.
Enjoy your week