I found two gaps down on the CME chart that hasn't been filled. This is definitely something we should keep an eye on. They may be filled. The gaps are at 9745 and 9955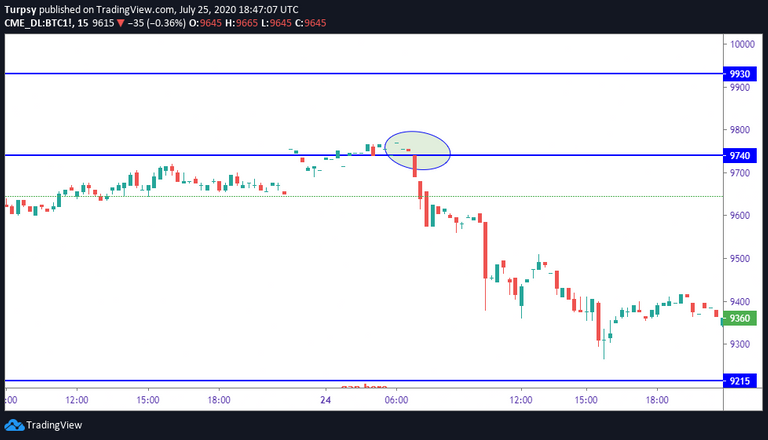 https://www.tradingview.com/x/avhRfe4t/
These gaps were created in June, and they have not been filled since then.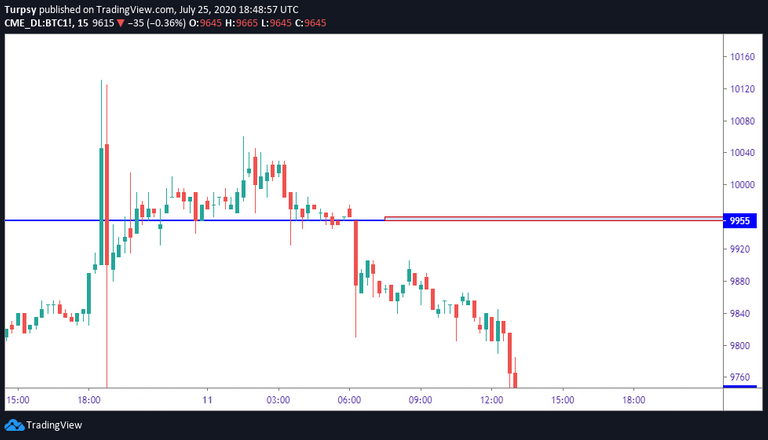 https://www.tradingview.com/x/NZWXXCiK/
This is my entry for the 100DAYSOFTA challenge, Saturday 25th July 2020.
__
I am joining a challenge by a group of traders. The challenge is #100DAYSOFTA. Some of the people in this group have posted on $Youtube, $Twitter but I will be posting mine on Hive.
The convener of this challenge is https://twitter.com/CryptoluXP
However, the frequency might not be daily but it will be sequential.
Having said that, here is what I have:
__
4 hr
We are having a fire weekend, with price going parabolic and breaking local highs. This looks like the long consolidation and the support at 8960 USD that we had for long, was filled with the right momentum for an upward move. The ST has been long and just now, the support has moved higher which is now at 9100 USD. Willy is now overbought, but as you know, Willy can stay at the oversold region for as long as possible while price keeps upward movement. It is clear now that we got the right position by longing when ST flipped long. This is one of the reasons I love SUpertrend, it definitely has a 70% chance of predicting upward movement.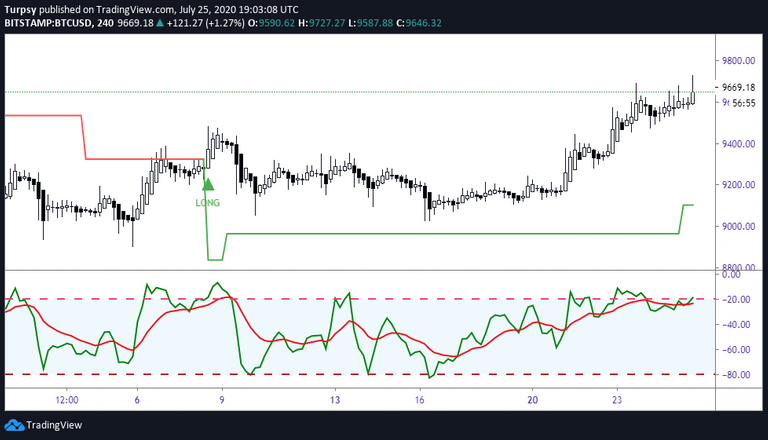 https://www.tradingview.com/x/IhGLiY3y/
1h
As is it, we have a great opportunity to look for another long, however, we need Willy to reset. Willy resetting to oversold, will help us in deciding which time we should long BTC. Also, the support of ST has shifted to the 9410 USD, which is a price that should not be broken, if we are to still be in this uptrend. Having a nice price movement is something getting excited about.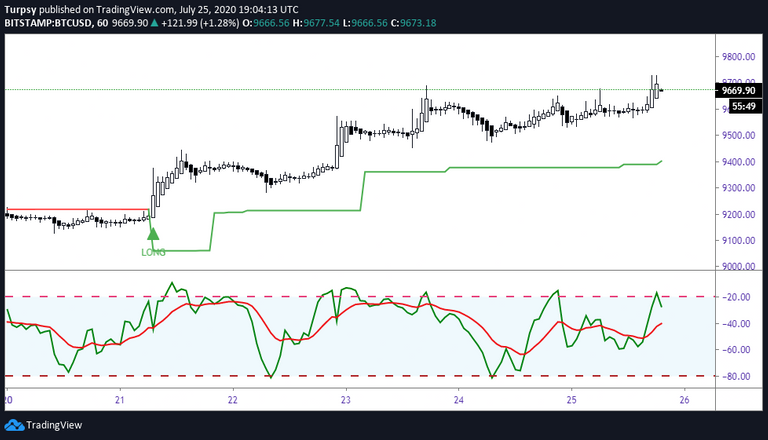 https://www.tradingview.com/x/wsmgqSIN/
30 mins
This trend has been a less erroneous pacesetter. I always feel more comfortable in this time frame aside 4 hr TF. The trend has been definitely on the upward price, with support in the ST being respected. Also, willy has been a good indication of when we should long in case one missed the last low. This is a TF to be watched. Also, right now, Willy is at overbought, and may likely return to oversold before new price pumps.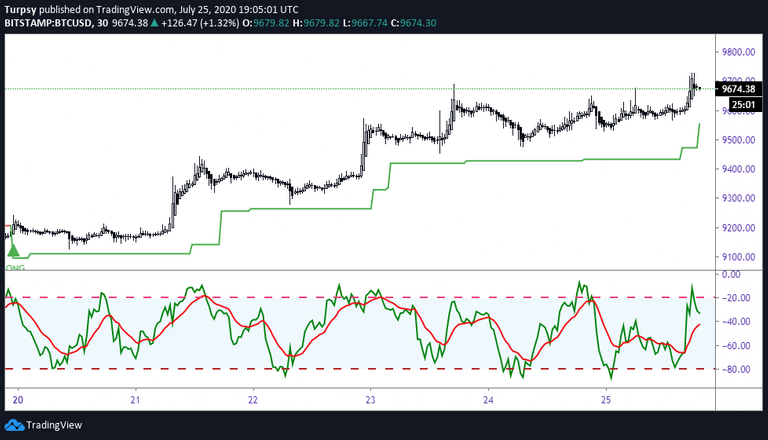 https://www.tradingview.com/x/YdBjVOhk/
Extras
15mins and 5 mins charts respectively.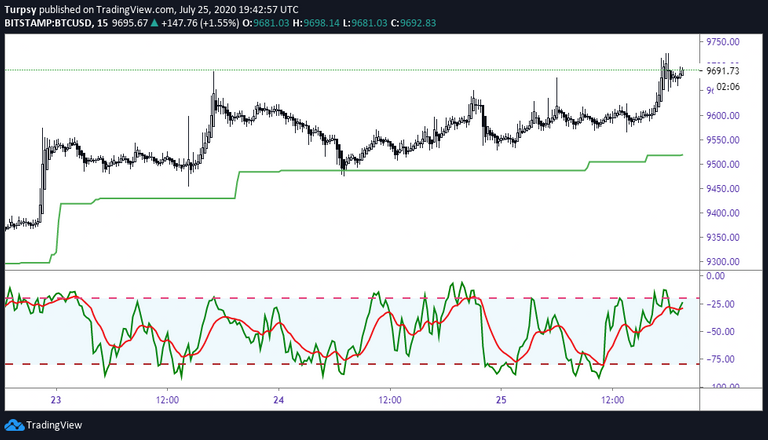 https://www.tradingview.com/x/TMCQmQUI/
https://www.tradingview.com/x/Hhx4togo/
Summary:
4hrs ST is long
1hr ST is long
30 mins ST is long
Pls kindly take profit and set stop-loss.

I exited my position yesterday since I am not too confident in Thursday price action. Now, I will re-assess the charts to choose another entry.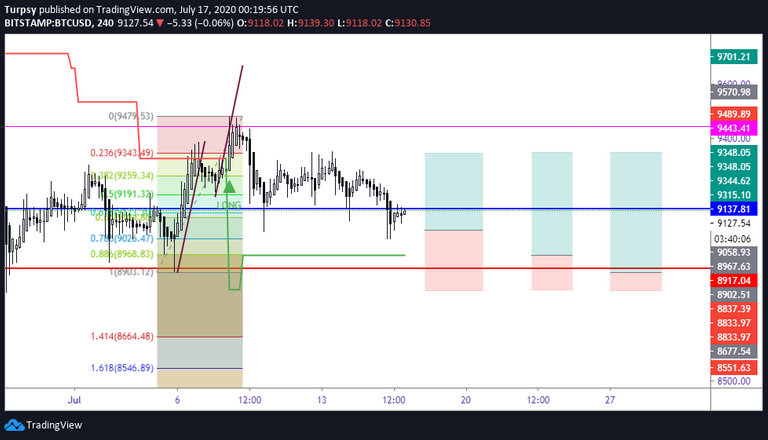 https://www.tradingview.com/x/RxflqFmg/
Those are my new entry and plan. I hope it works out well. It may not all fill, since I am more conservative in this trade.
Please note: This is not financial advice. This is rather a way I am seeing the market.
Enjoy your weekend