If we are going tp get the gaps filled, it is something time will reveal, however, we should note that we have some gaps below that were not filled till now and prices have moved up, therefore, it is possible that these gaps will remain unfill or filled.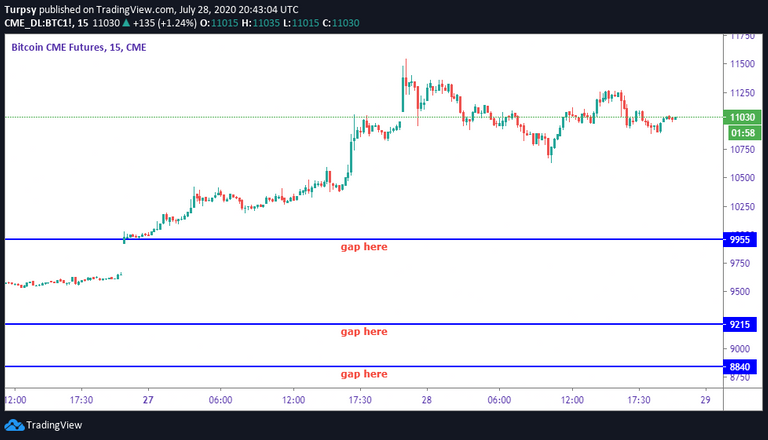 https://www.tradingview.com/x/7QLpaOHe/
This is my entry for the 100DAYSOFTA challenge, Tuesday 28th July 2020.
__
I am joining a challenge by a group of traders. The challenge is #100DAYSOFTA. Some of the people in this group have posted on $Youtube, $Twitter but I will be posting mine on Hive.
The convener of this challenge is https://twitter.com/CryptoluXP
However, the frequency might not be daily but it will be sequential.
Having said that, here is what I have:
__
4 hr
We now have a new support level for BTC. This is at 9865 USD. We will be having a good swell time with this prices. The Willy trend is now over extending and that is not bad, we however need to know that each trade should be accompanied by stoploss and this is helpful to protect our funds. The ST long is still in force and we should treat it as such.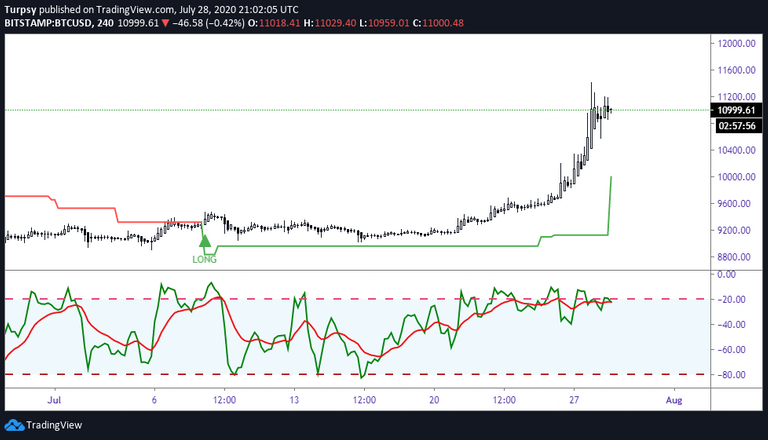 https://www.tradingview.com/x/F4L397IK/
1h
ST is long here with stoploss at 10281 USD/ The prices to achieve something a turn around in the ST is when we close below this price. Also, we have Willy forming lower low, but prices forming a higher high. This is a hidden bullish div. This is good and means the ST long is still in force. It will be great to hunt long at each drop. This will be a good one to behold.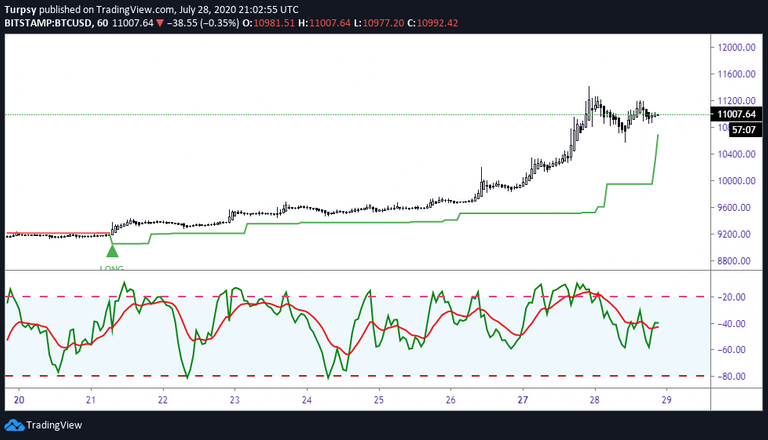 https://www.tradingview.com/x/LV6e6kli/
30 mins
On this TF we don't have a weakness in price yet, instead healthy corrections. These corrections have been limited to the 28.6% of Fibonnaci retracement. We are also correcting on the Willy. This is good if we don't break the ST support at 10572 USD. This is a good one, meaning we can long and set order at this levels to decide joining the next move.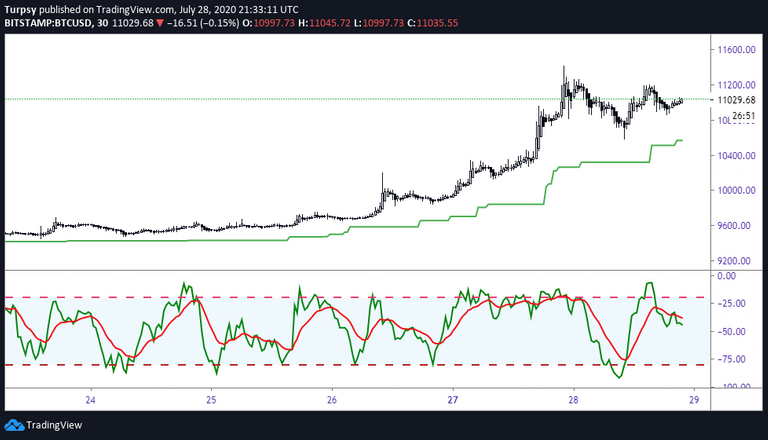 https://www.tradingview.com/x/80333JXv/
Extras
15mins and 5 mins charts respectively.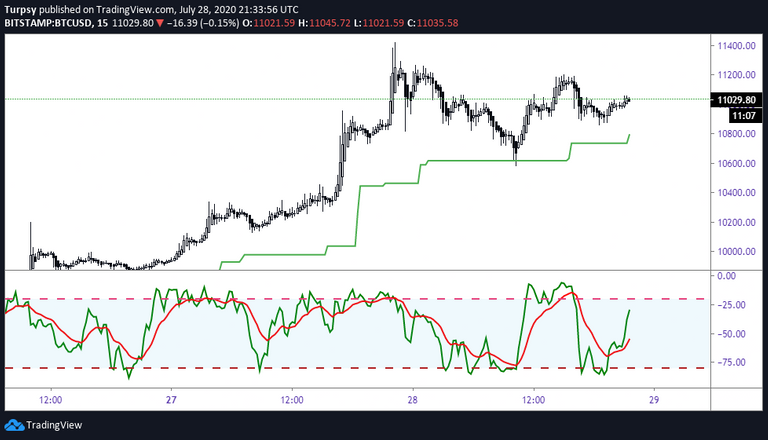 https://www.tradingview.com/x/6pAlzmjw/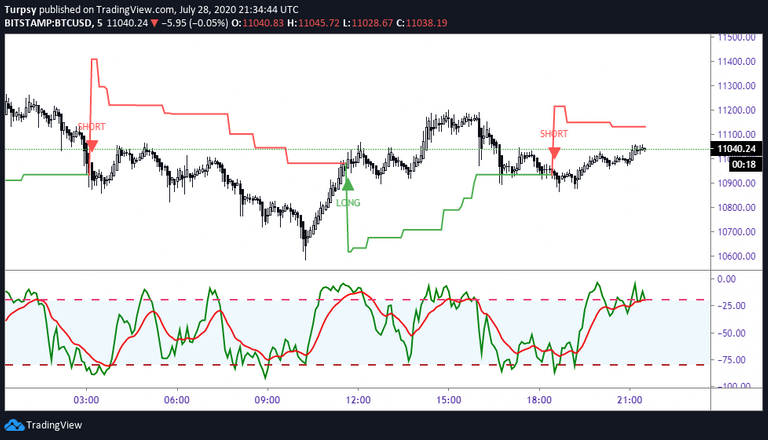 https://www.tradingview.com/x/ZLROshhE/
Summary:
4hrs ST is long
1hr ST is long
30 mins ST is long
No new trade suggested by Supertrend. However, one can long if the drop to 10500+ range comes.

I exited my position yesterday since I am not too confident in Thursday price action. Now, I will re-assess the charts to choose another entry.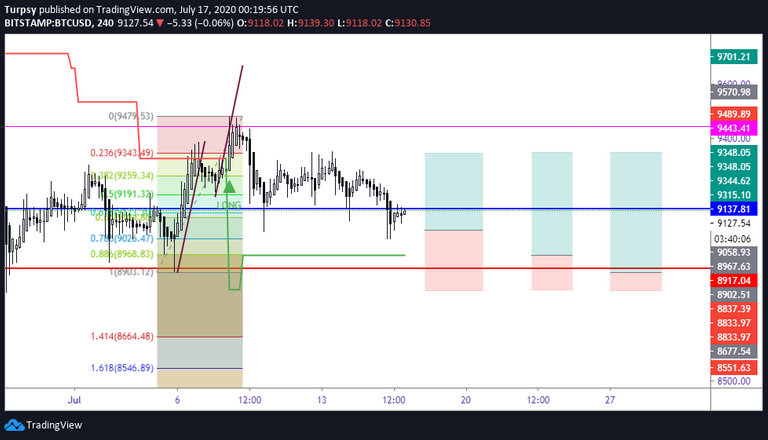 https://www.tradingview.com/x/RxflqFmg/
Those are my new entry and plan. I hope it works out well. It may not all fill, since I am more conservative in this trade.
Please note: This is not financial advice. This is rather a way I am seeing the market.
Did you enjoy the trading plan
Have a wonderful week ahead.