Here are some of the gaps on the CME chart to watch out for.
11940 USD
12090 USD.
11450,
10255,
9955,
9215
8840 USD.
The CME market is closed now and this means we can't have any current price chart until Sunday.
This is my entry for the 100DAYSOFTA challenge, Saturday 8th August 2020.
__
I am joining a challenge by a group of traders. The challenge is #100DAYSOFTA. Some of the people in this group have posted on $Youtube, $Twitter but I will be posting mine on Hive.
The convener of this challenge is https://twitter.com/CryptoluXP
However, the frequency might not be daily but it will be sequential.
Having said that, here is what I have:
__
4 hr
We are having the supertrend giving a higher support price. This is so good as we are reducing the risk of falling too low before a change in trend is indicated by the indicator. The ST is at 11,000USD right now. This means a close below this price will give us a new trend and will change the course of the prices. In short, ST is still long so we should look for a price to long from. Willy is also extending at the overbought region. However, some patterns are forming on the Willy which is supposed to be confirmed.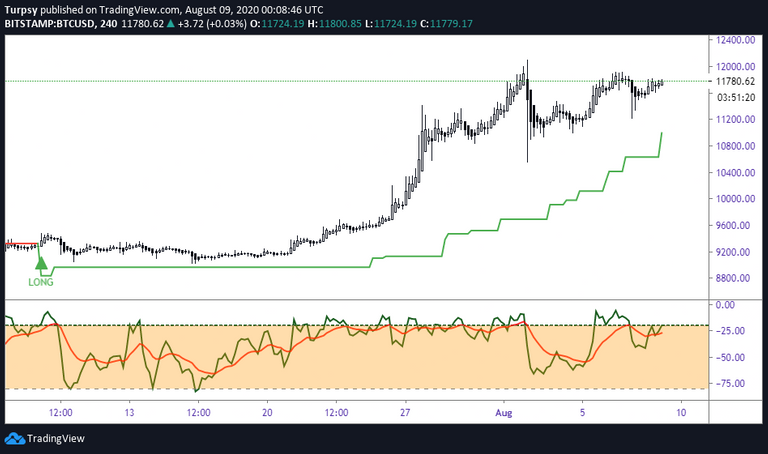 https://www.tradingview.com/x/JZeaSSGJ/
1h
This TF has been a good support and we can see the prices have been worthwhile with this indicator and the timeframe. ST is long on this TF and the best way around it is to look for pattern and prices to long any fall. We can see that there is a resistance on this TF at around 11900USD. If prices should break here, it will be massive one and we will be looking at new highs. Also, WIlly is overbought and now having pattern which may be tradeable. This TF has been great in this past days.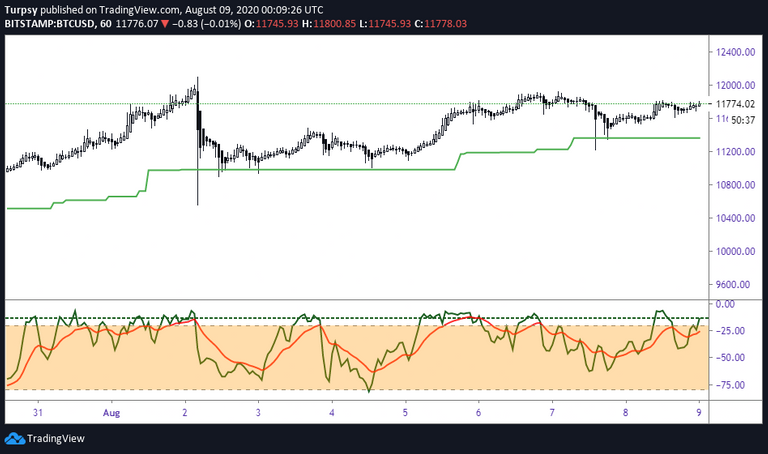 https://www.tradingview.com/x/OmRqMTP2/
30 mins
This TF is practically short and we can see that it has resisted the upward movement of prices. The trend here is short, and that means we have to look for an opportunity to short and not long. The best way to do that will be when the price is close to the resistance and also when Willy is overbought. The overbought of Willy means that we can have a better chance of price reversal. This is how we should play this TF. If price goes and close above then the trend will practically change and give us a new long trend.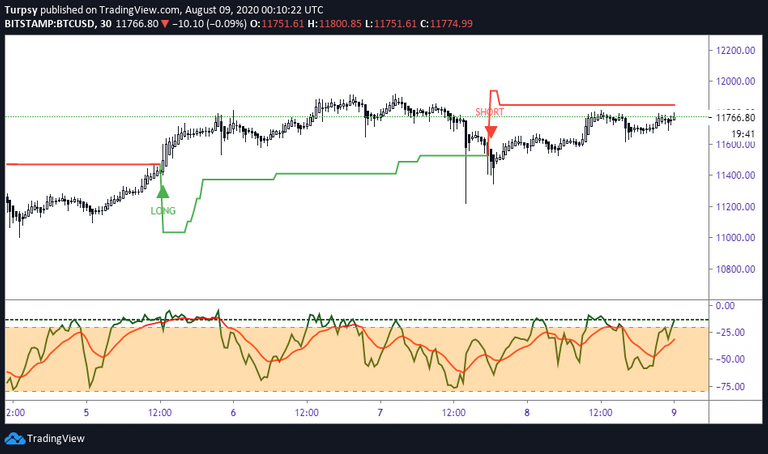 https://www.tradingview.com/x/E2IXnjJC/
Extras
15mins and 5 mins charts respectively.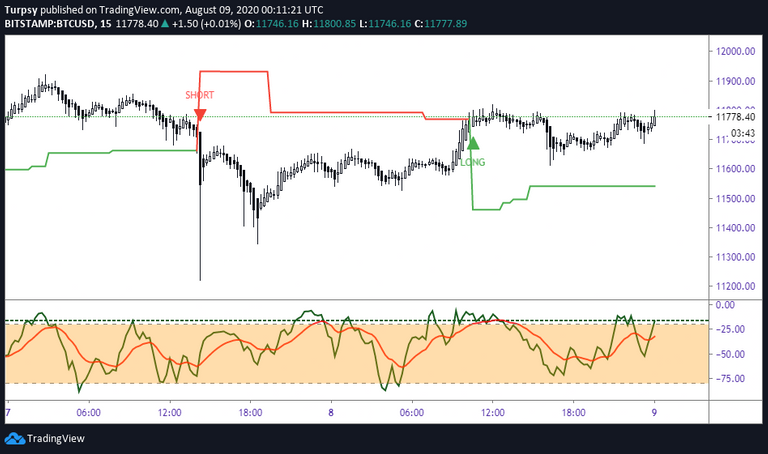 https://www.tradingview.com/x/wHxEUbNr/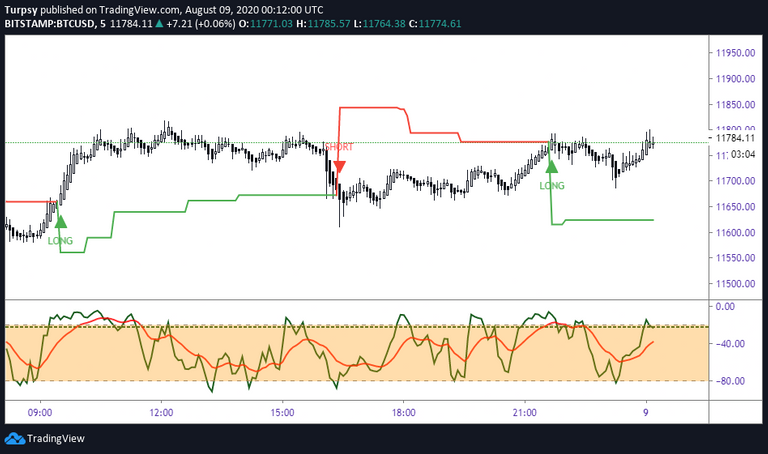 https://www.tradingview.com/x/M2KrdVCH/
Summary:
4hrs ST is long
1hr ST is long
30 mins ST is short
This still stands.
The best position is now to dollar cost average. One thing is that we should now be targeting buying at the support of the TF, especially 1 hr and 4 hr, probably 30 mins TF too. This will improve our portfolio management.
Please note: This is not financial advice. This is rather a way I am seeing the market.
Have a good weekend ahead.