Nothing much has changed from yesterday price action. We have only had ups and down within a range. I am waiting to see which gap will get filled first 9125 or 9600. We might see some fireworks tonight or tomorrow, Thursday.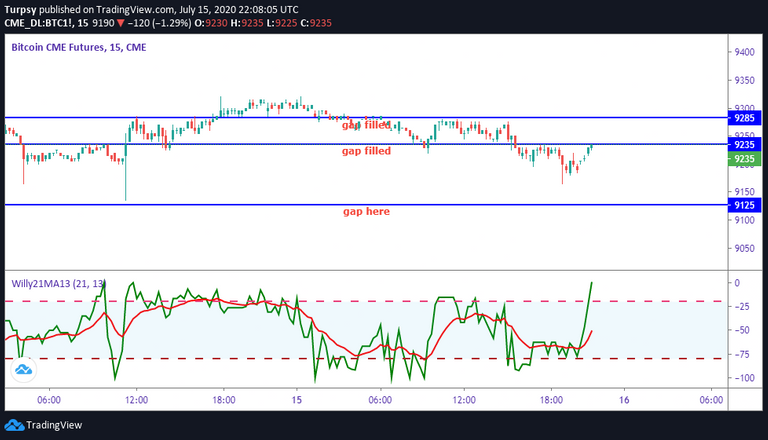 https://www.tradingview.com/x/SznTdRAe/
This is my entry for the 100DAYSOFTA challenge, Wednesday 15th July 2020.
__
I am joining a challenge by a group of traders. The challenge is #100DAYSOFTA. Some of the people in this group have posted on $Youtube, $Twitter but I will be posting mine on Hive.
The convener of this challenge is https://twitter.com/CryptoluXP
However, the frequency might not be daily but it will be sequential.
Having said that, here is what I have:
__
4 hr
BTC is sideways and the ST is still long. This means we might either pump or dump to pump. However, I am sticking to my ST Indicator, which says this TF should be long. It might not work this time, but I will be rest assured that the trend has changed. Instead of gambling.
Willy has been uninteresting too.
To remind you, Thursdays are for dummmp. Please put stoploss. If price action do not close below 8960 USD, then our long is still valid.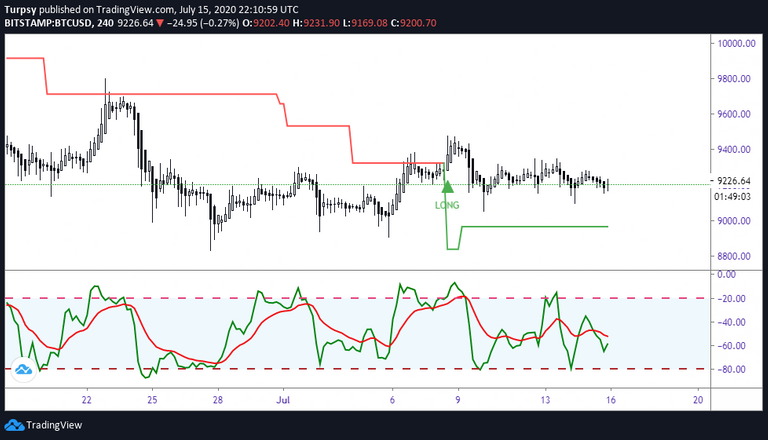 https://www.tradingview.com/x/8d2DBMSZ/
1h
The ST on the 1hr is short. Although the Willy is at oversold, we may rally, probably towards the 9350 USD price, which will be close to the resistance before we either nose dive or break it. We have bull divergence on the Willy chart. FOr a consistency period of time, Thursdays, have been dump days. Fingers crossed for tomorrow.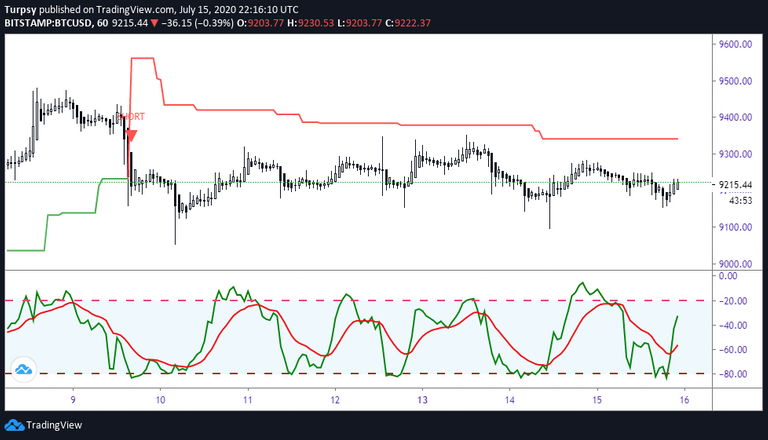 https://www.tradingview.com/x/ufFOKyRg/
30 mins
Ok, ST is short on the 30 min TF. This is a sign of weakness. I will be weary of any upward move now. We have the probability to dump and also we should be careful of how we put our stop loss. The price may give fake out and then move in the direction it wants.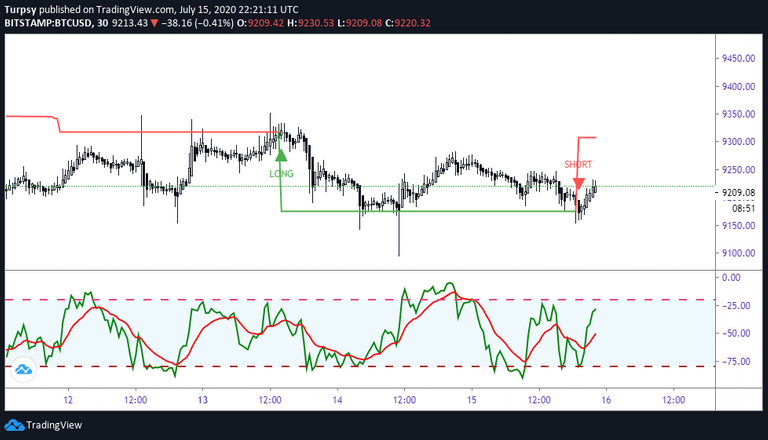 https://www.tradingview.com/x/ZCAbVlzE/
Extras
15mins and 5 mins charts respectively.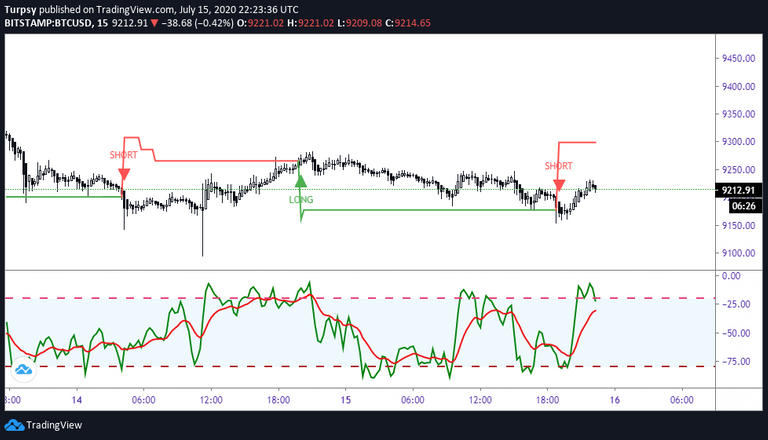 https://www.tradingview.com/x/FWS1AYIH/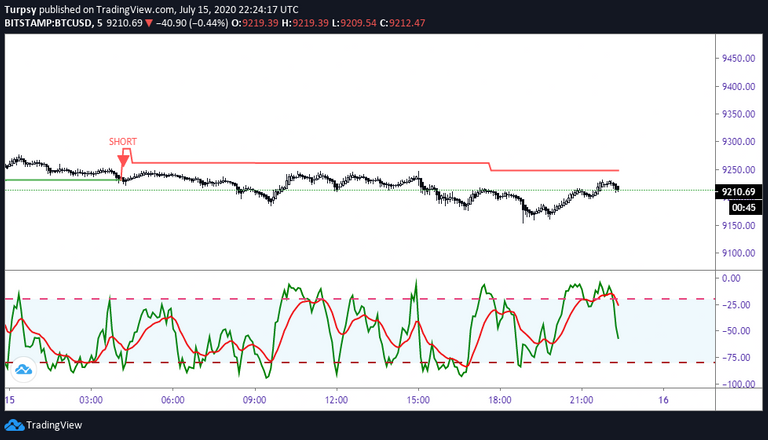 https://www.tradingview.com/x/YK57Ko4n/
Summary:
4hrs ST is long
1hr ST is short
30 mins ST is short
I am weary of my long positions. I may need to re-check them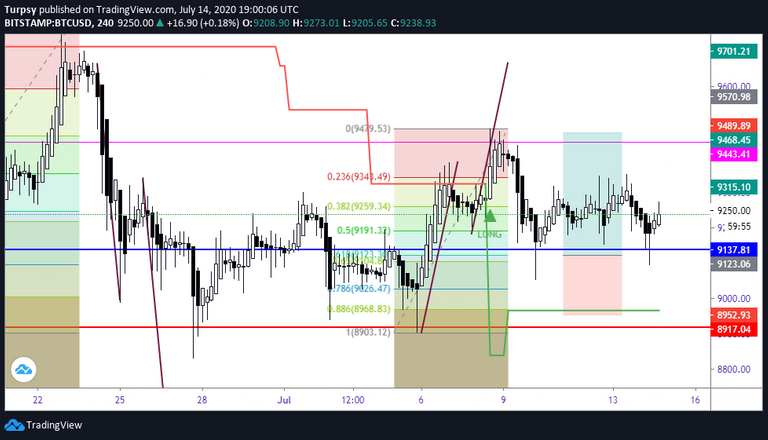 https://www.tradingview.com/x/1G5ueTHY/
Please see the text below for the entries.

Today, it has flipped long. That means I have to look for a long opportunity at any drop. I will be longing.
This long entry will be at 0.382, 0.5 and 0.618 Fibonnaci retracements numbers, stop loss at 0.886, Target at 9700+.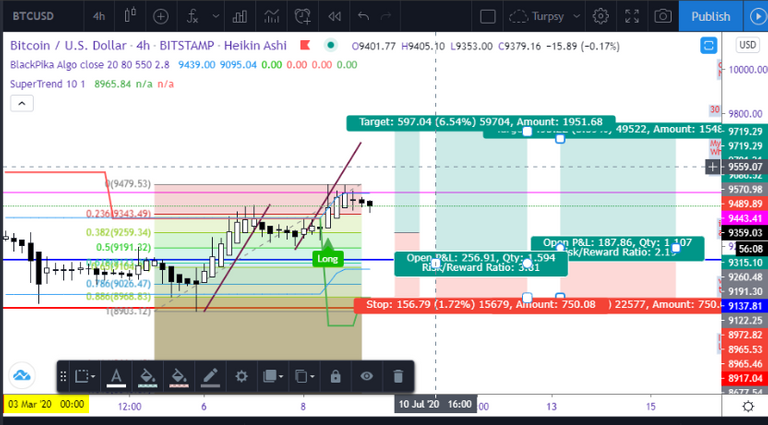 Please note: This is not financial advice. This is rather a way I am seeing the market.
Have a great week and successful trade.