We closed the gap at 9240 uSD and 9400 uSD yesterday. In the past few days, I am thinking gap up fills faster than gap down. This has been occurring with gaps at the low prices. Today we still have some gaps too.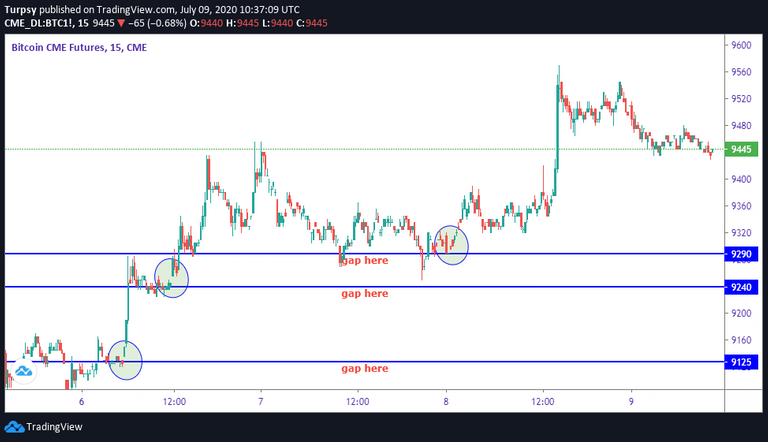 https://www.tradingview.com/x/c21PpU9s/
We now have gaps at 9125, 9240 and 9290. This might be filled maybe.
I have a friend that has made this theory that Thurdays are for dumping. We will see if we dump today.
This is my entry for the 100DAYSOFTA challenge, Thursday 9th July 2020.
__
I am joining a challenge by a group of traders. The challenge is #100DAYSOFTA. Some of the people in this group have posted on $Youtube, $Twitter but I will be posting mine on Hive.
The convener of this challenge is https://twitter.com/CryptoluXP
However, the frequency might not be daily but it will be sequential.
Having said that, here is what I have:
__
4 hr
Yeay, now its time to long BTC Hurray. ST is long on 4hrs and being a higher TF, it works at least 70% of the time. The price went above the ST resistance and made few closes above it, changing the trend to long. We have the opportunity to long now. To do this, we need the help of Willy. This means whenever willy is oversold on the 4hr TF< that is the time to start scaling in. We may get sharp reversal, but we should start buying as the price drops. The invalidation is at 8966 USD. This means, it is better to do spot buy or long with low leverage. We can see that Willy is already trying to reset.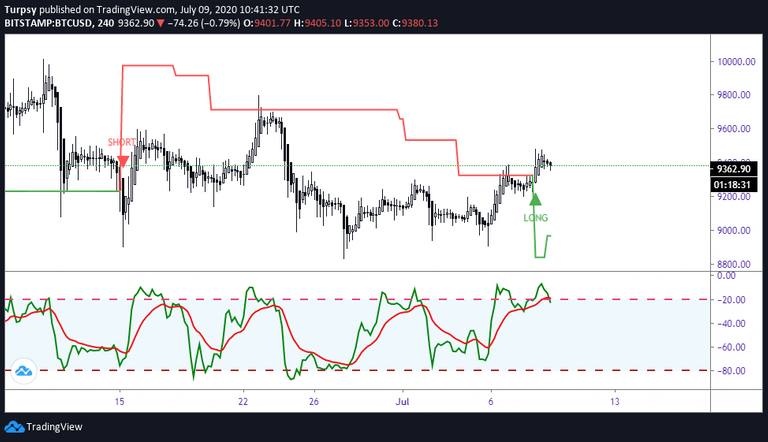 https://www.tradingview.com/x/utX7q4EV/
1h
The trend has been long on this TF for a while. We have seen this TF as long before now. This is also a good TF to use in trading. However, I will not recommend it since I prefer larger TF. Willy is already getting oversold and the price looks like it will be correcting for some hours.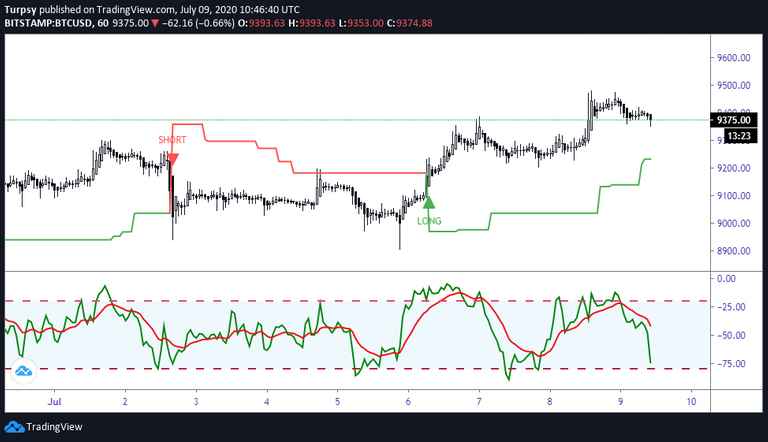 https://www.tradingview.com/x/3RQNXMtK/
30 mins
On this TF we look oversold and may want to do some sharp moves. However, the overall trend is long but we need to know when to enter the market at a fair price. Willy is quite oversold, but it can still get massacre down.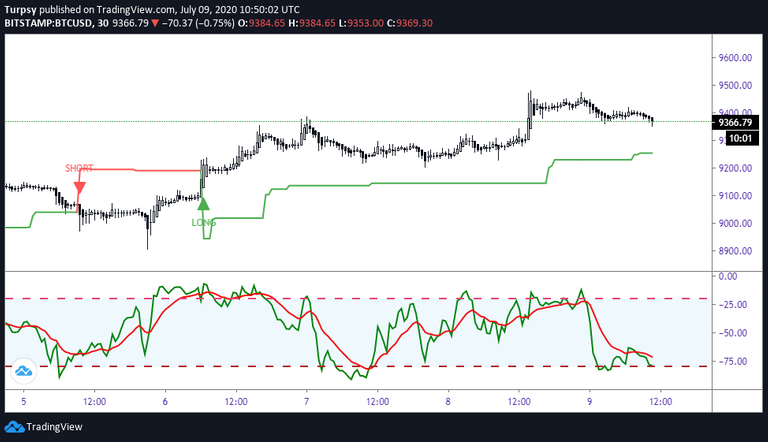 https://www.tradingview.com/x/ZbiQBP3S/
Extras
15mins and 5 mins charts respectively.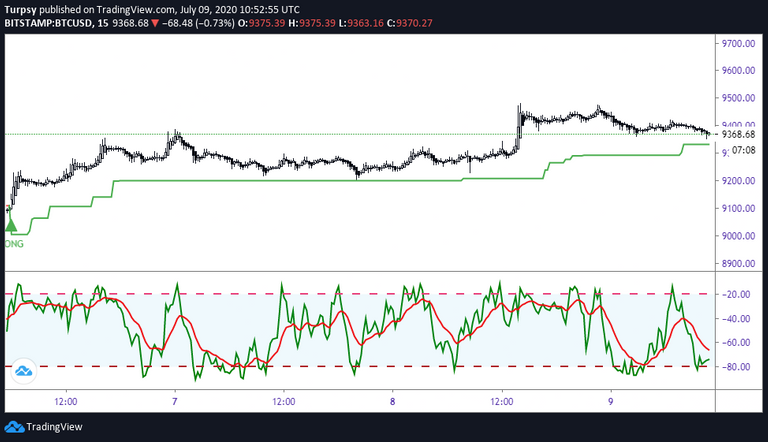 https://www.tradingview.com/x/33nX7677/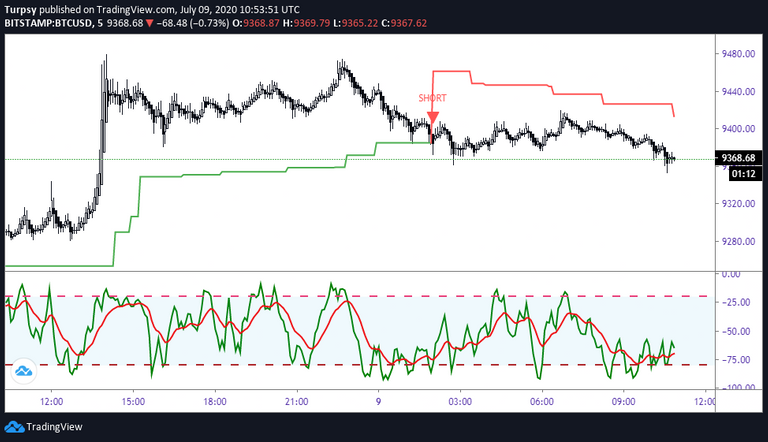 https://www.tradingview.com/x/dtkBuMK1/
Summary:
4hrs ST is long
1hr ST is long
30 mins ST is long
My position yesterday hit stoploss. I followed the indicator, because it was still short yesterday.
Today, it has flipped long. That means I have to look for a long opportunity at any drop. I will be longing.
I used the 4 hr TF and positioned already filled. Now fingers crossed to see which way BTC goes.
You can't see the TP/SL because I have an order that is not yet filled incase btc goes a little higher to the last highs. When that fills, my TP/SL will be activated.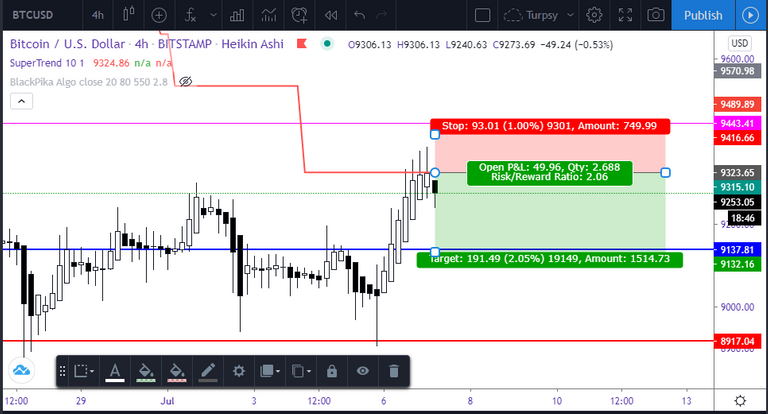 https://www.tradingview.com/x/KgPvCzGr/
The R:R is around 2.06.
This long entry will be at 0.382, 0.5 and 0.618 Fibonnaci retracements numbers, stop loss at 0.886, Target at 9700+.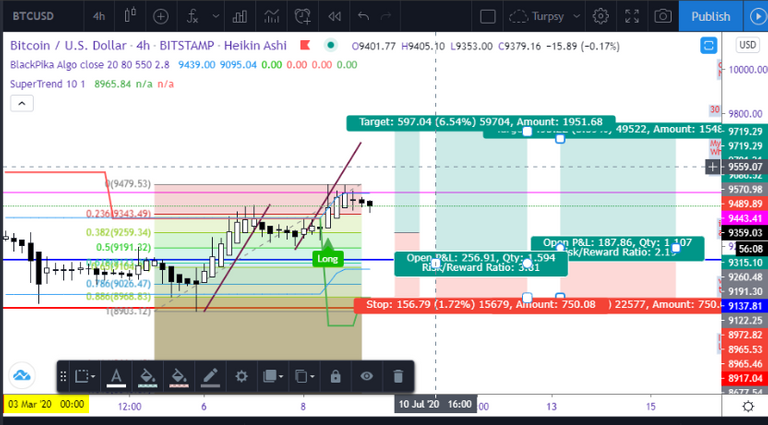 Please note: This is not financial advice. This is rather a way I am seeing the market.
Enjoy a profitable day.