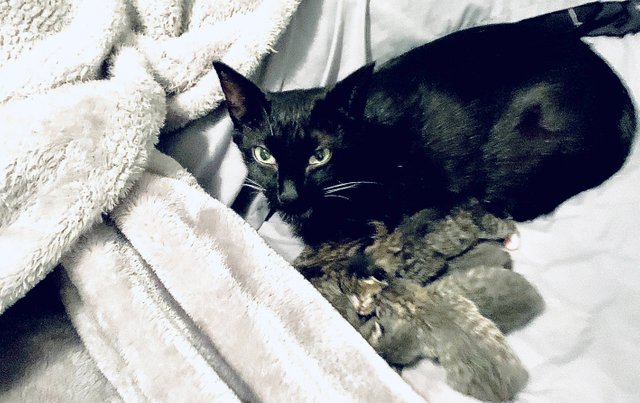 Soooo ... here's a long-ass story that nobody is gonna read.
NOBODY CARES ABOUT YOUR CAT STORIES ISARIA!
Anyhoo, a few weeks ago I was outside when a tiny kitty ran up to me and started yelling at me. I gave it some food and then it proceeded to adopt me.
The Shane said, "WE ARE ABSOLUTELY NOT BRINGING IN ANOTHER CAT."
At that point, we already had 7 cats and I agreed that we should not have more.
Shane found someone to take the kitty, but this woman was going to keep it outside and she said she would feed it along with her other outside cats. It wasn't the best situation, but I was grateful for her.
Then this woman had some medical problems and said she needed to wait 2 weeks before taking her.
Every day and night I would sit outside and this little kitty would just crawl around on my lap, making biscuits and purring.
I didn't want to name it because once you name it ... it becomes yours.
But I jokingly called it COVID kitty lol
Then one night Shane simply said, "Bring the cat inside."
It was done.
Kitty was now ours.
For some reason, I thought this kitty was a boy and ended up naming it Benny.
We tried several times to make a vet appointment to get Benny checked out and get all the shots.
But, each appointment ended up being canceled due to the COVID situation. We would get calls at the last minute saying the doctor wasn't there. Or we would actually go to the damn vet at our appointment time and they would be like, "OH so sorry! The doctor isn't here."
In the meantime, I noticed that Benny was getting bigger and then was able to see all her nipples.
And I was like, "Well shit, Benny is pregnant ... and she's not a boy!"
We finally found a vet that honored an appointment where we found out that it was too late to abort and spayed.
We had to have the kittens.
And the vet said it would likely be a litter of 6.
😭😭😭😭😭😭😭😭😭😭😭😭😭😭😭😭😭😭😭😭😭😭😭
So now we have to try to get these kittens adopted in a world with an overpopulation of cats.
Anyway, we got all the birthing supplies that were needed including the birthing bed, which was a large plastic bin.
We got the hot tool needed to cut a little door on the side and filled it with baby blankets and puppy pads.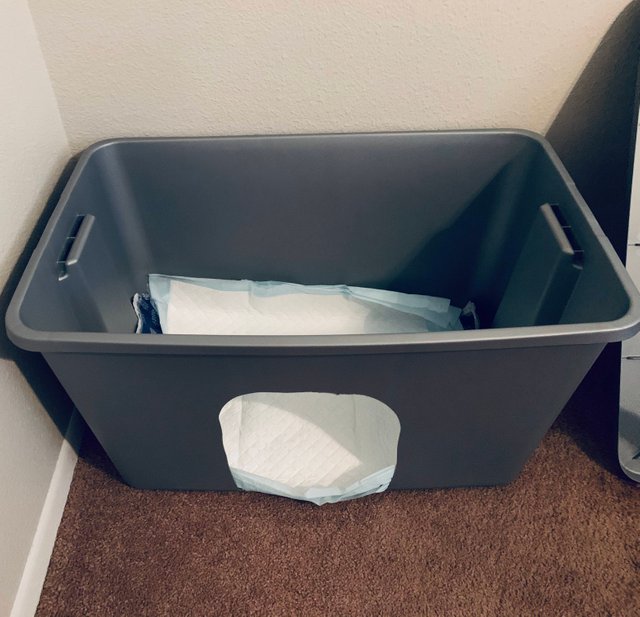 I showed it to Benny several times, but she was not interested.
All the other cats were interested, but Benny didn't give one fuck about it.
I read online that you can set up a birthing bed, but it doesn't necessarily mean the cat will choose to use it ... because cats are stubborn poop heads.
So, we figured Benny would give birth any day now and decided that we needed to quarantine her in the room with the birthing bed.
But, Isaria sucks and didn't do it.
I woke up at 4 AM and Benny was walking around me pacing and meowing.
That's one of the signs that she was going into labor.
I made sure her bed was set up nicely, showed her the bed again ... then went back to sleep.
My half-asleep brain was somehow convinced that she would not give birth in the middle of the night while I was sleeping because ... well ... half asleep.
I also didn't close her in the room with the bed because half-asleep and stoopid.
I left the door open which leads to the bathroom which then leads to the master bedroom.
I woke up at 8 AM and I couldn't find Benny anywhere.
Shane and I searched the whole house.
GROSS PART:
Shane noticed movement under the comforter on our bed.
He lifted the comforter to find a large amount of blood, Benny, and 3 kittens.
She still needed to give birth to 3 more so we couldn't move her.
Hours later, after she had given birth to all 5 (One poor baby didn't make it and was stillborn), Benny left the bed and asked me for food.
While she was eating and drinking, I gently moved 3 babies to the birthing bed. I still had to get 2 more when Benny reached inside the bin and grabbed one of the kittens with her mouth and moved it back to our bed. lol
She was like, "DON'T MOVE MY BABIES YOU ASSHOLE." lol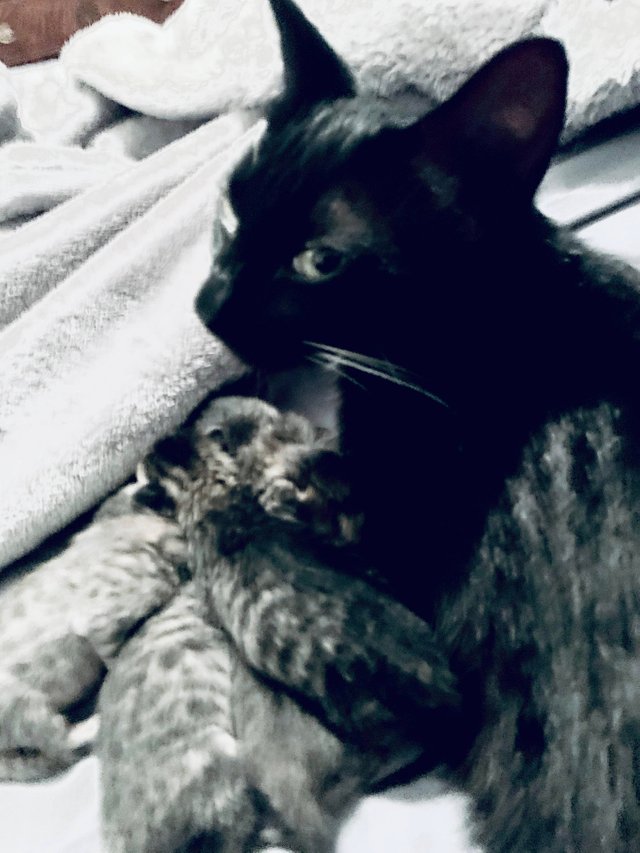 Shane just got home from work with new sheets and a blanket.
We are going to attempt to move the babies and Benny to the birthing bed tonight.
Hopefully, Benny won't be too upset.
But it's not safe for the babies to stay in our bed because we could roll over in the middle of the night and hurt them.
So it must be done.
Wish me luck.