BeerSaturday 299 - Propolis (Dunham)
As I did my "dry weekend" (involuntarily) last week because of a stomach ache, I didn't participate last week BeerSaturday. But this sunday I was able to enjoy a beer. So here is my participation to the BeerSaturday 299,with the last beer I bought during my visit to the Dunham Brewery with the Propolis, a seasonal beer with honey coming from the Trois Acres, a "honey factory" also installed in the village of Dunham in the Eastern Townships.
Comme j'ai fait mon dry weekend, involontairement, la semaine dernière à cause d'un mal de ventre, je n'ai pas participer la semaine dernière. Mais ce dimanche j'ai pu de retour déguster une bière. Alors voici ma participation au BeerSaturday 299, je vous présente la dernière bière achetées lors de ma visite à la brasserie Dunham avec la Propolis, une bière de saison avec du miel provenant des Trois Acres, une "miellerie" aussi installé dans le village de Dunham dans les Cantons de l'Est.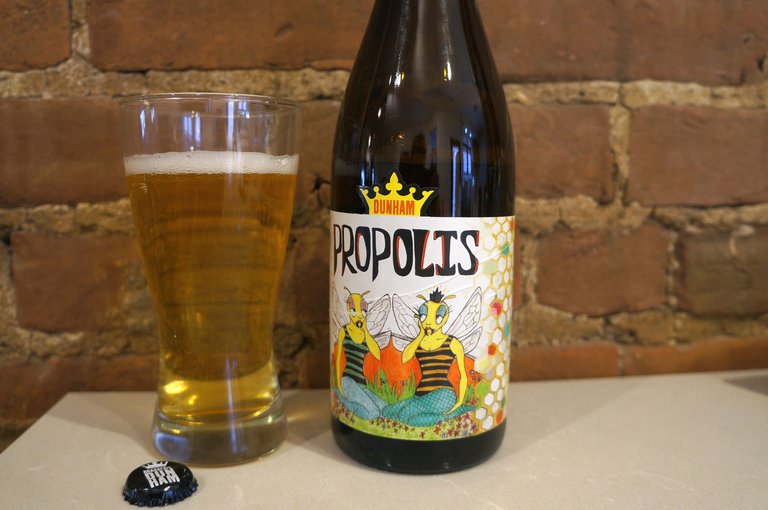 Photo taken in the last snow of the winter, well I hope so / FR : Photo prise dans la dernière neige de l'hiver, enfin je l'espère 🤞
Here is the map of Quebec where I can show you precisely the location of the brewery. Today, we're going, again, east of Montreal to the town of Dunham in the Cantons de l'Est on the Wine Route to visit the Dunham Brewery.
Voici la carte du Québec ou je peux vous montrer précisément la localisation de la brasserie. Aujourd'hui, nous allons encore à l'est de Montréal pour aller dans la ville de Dunham dans les Cantons de l'Est sur la Route des vins pour visiter la brasserie Dunham.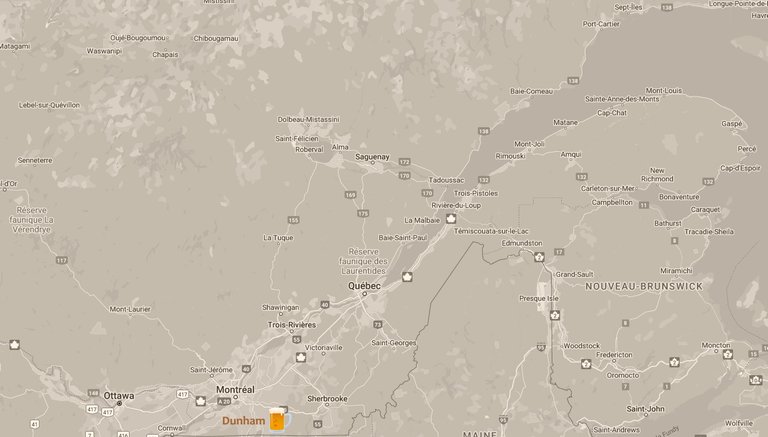 Brasserie Dunham - Propolis
---
📜 Brewery / Brasserie :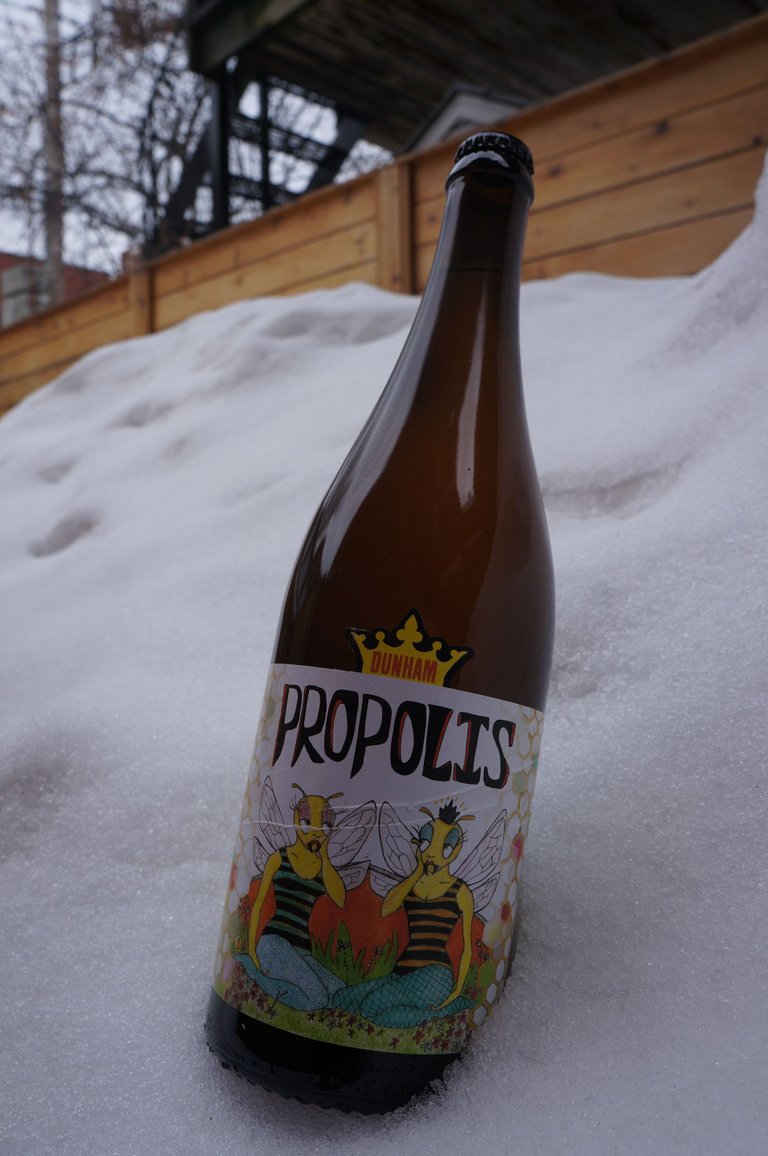 This is the same as the last BeerSaturday in terms of information about the Dunham Brewery, still founded in 2011 in the spirit of exploring new techniques and flavors thanks to its team composed of Sébastien Gagnon, director, Eloi Deit, brewmaster and Eric Beaulac, manager. You can visit BeerSaturday 296 to see some pictures of the facilities and the brewery.
Cela ne change pas depuis le dernier BeerSaturday niveau information sur la Brasserie Dunham, toujours fondée en 2011 dans l'esprit d'explorer de nouvelles techniques et saveurs grâce à son équipe composée de Sébastien Gagnon, directeur, Éloi Deit, maître brasseur et Éric Beaulac, gérant. Vous pouvez aller voir le BeerSaturday 296 pour voir quelques photos des installations et de la brasserie.
---
🍺 Tasting / Dégustation :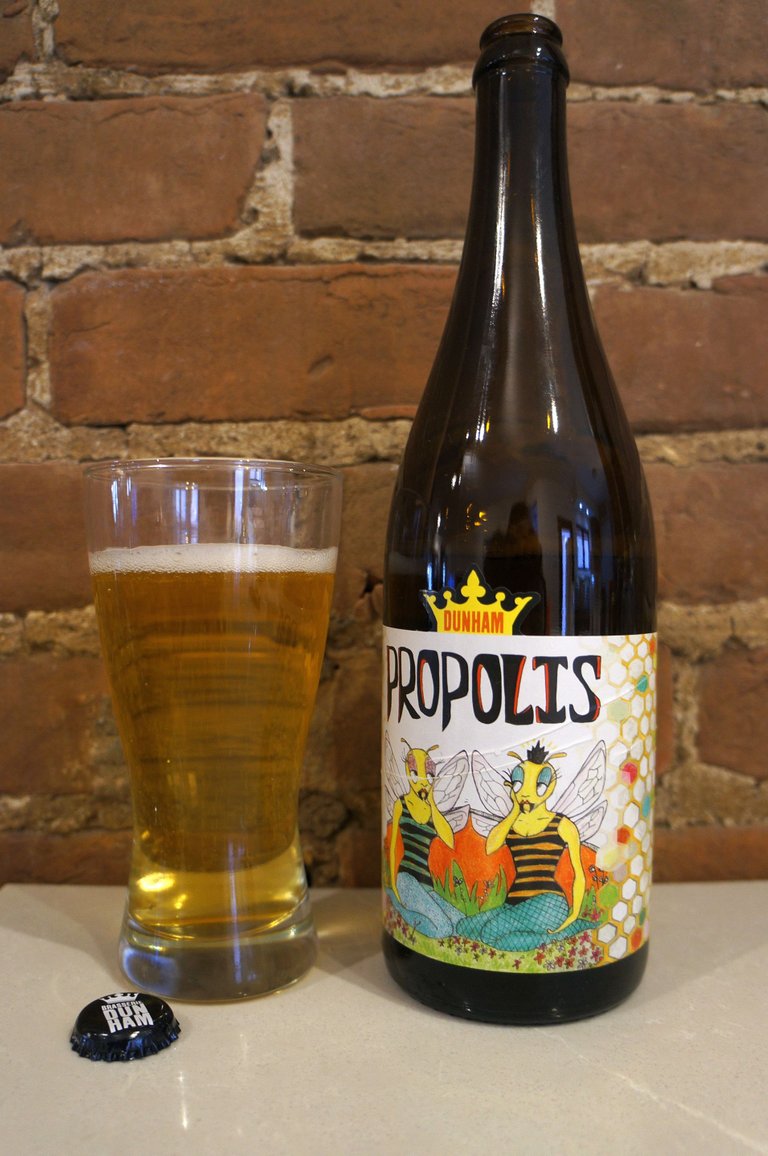 The Propilis is a strong beer of 5.2%, multi-grain (rye, wheat and oats) honey season blended with barrel aged sour beer. At the opening, a light foam settles on a beautiful light blond color despite the fact that the beer isn't filtered. On the palate, we find of course a light taste of honey as well as apple with a slight bitterness. It drinks very well. But as usual, the 750ml size is a bit too much for me. 500ml would have been enough.
La Propilis est une bière forte de 5.2%, multi grains (seigle, blé et avoine) au miel assemblée avec de la bière sûre barriquée. A l'ouverture, une légère mousse se dépose sur une belle robe blonde très claire malgré que la bière ne soit pas filtrée. En bouche, on retrouve bien sûr un léger gout de miel ainsi que la pomme avec une légère amertume. Elle se boit très bien. Mais comme d'habitude, le format 750ml est un peu trop pour moi. 500 ml m'aurait suffi.
Design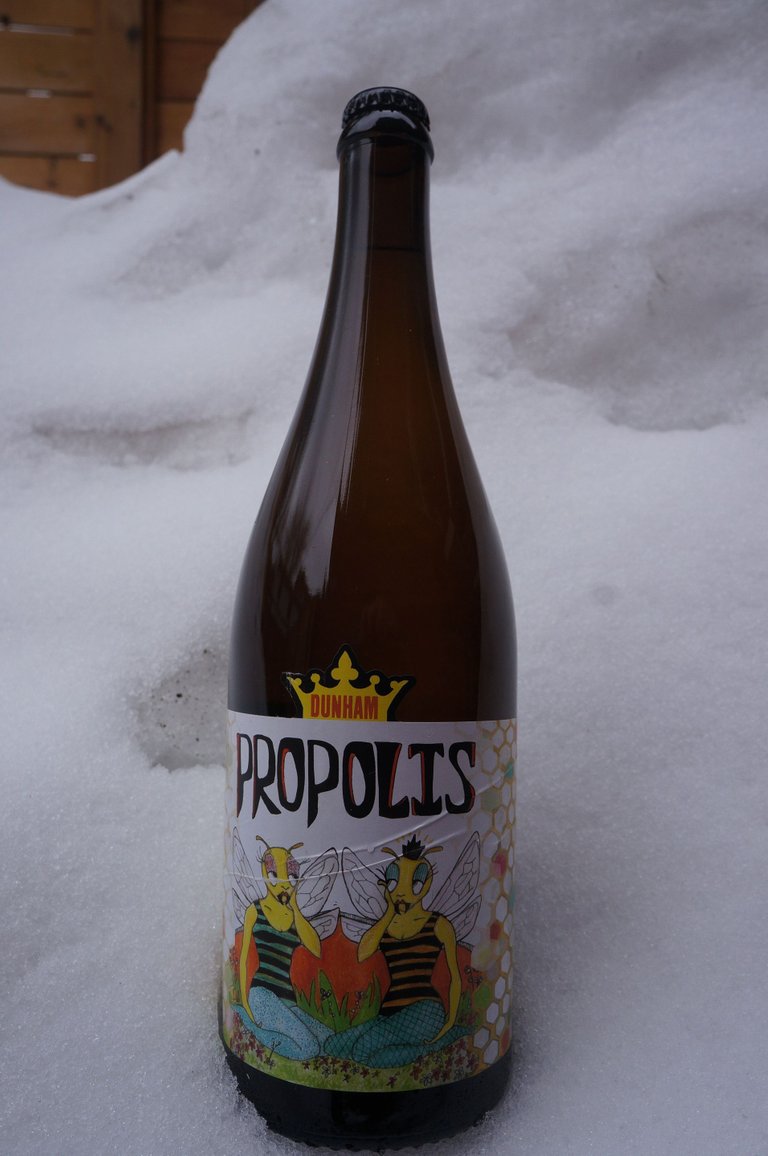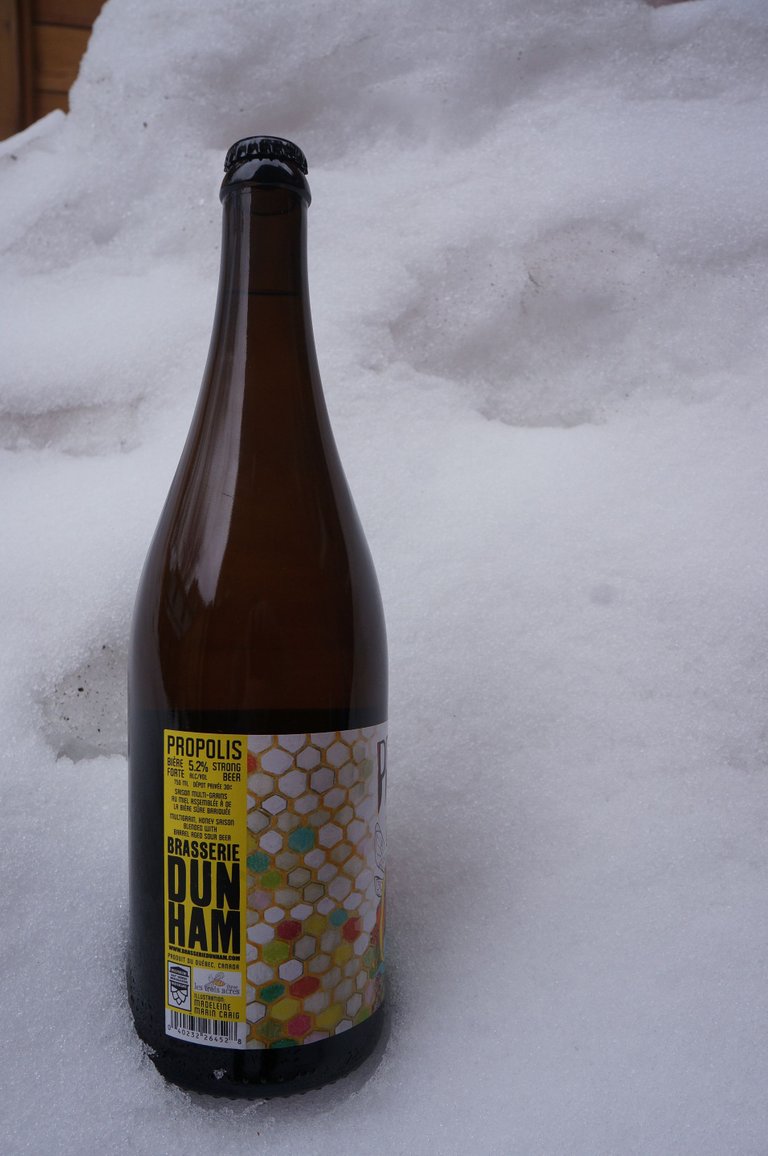 The label was made in 2017 by Madeleine Marin Craig Dallas-based artist and photographer. It features two bees that appear to be having a conversation. This refers to the name of the beer, Propolis (source : Wiki) which is a resinous material produced by certain plants and used by bees. Always cool to learn something while drinking a good beer 😀
L'étiquette a été faite en 2017 par Madeleine Marin Craig artiste et photographe basée à Dallas. On retrouve deux abeilles qui semble être en train de discuter. Cela se réfère au nom de la bière, Propolis (source : Wiki) qui est une matière résineuse produite par certains végétaux et utilisé par les abeilles. Toujours cool d'apprendre quelque chose en buvant une bonne bière 😀

Have a great week. / Très bonne semaine à tous.
Cheers / Santé / Salud 🍻
---
---